10 years ago, simply making video content was enough to stand out and gain traction. Today, if you want to stay on top of the video craze, it's time you begin A/B testing your videos. I'm just going to go ahead and assume you're familiar with A/B testing and its importance, if not, you can check this out.
Why should I Carry Out A/B Testing for Videos?
To most marketers, video is time-consuming and expensive to produce. Then why am I suggesting you to make multiple variants of your videos? Because your video is useful only if people actually watch it. And honestly, video that isn't increasing your viewer engagement is a waste of your time and money.
A/B testing will tell you what factors in your videos influence the probability of the viewer watching the entire video. And you can then use this insight to make more videos that your viewers love!
In fact, brands carry out A/B testing video ads on Snapchat and Instagram more often than you'd imagine.
Here is how to A/B test your marketing video.
What Metrics Should You Measure While Carrying Out A/B Testing?
The effectiveness of a variation is usually measured by comparing the Click Rates of all the variations. But this does not work for online videos because it only tells you how many times your video was viewed.
You need to learn how relevant and useful your content is and how the viewers are reacting to it.
For a video ad, you should be tracking the Lead Conversion Rate. It is the percentage of viewers that perform an action after watching your video and are transformed to leads in your pipeline. By measuring this, you know how many people haphazardly clicked on your video and how many were actually intrigued by your content.
For videos that you put up on social media, you should track the Post Engagement scores. Most platforms like Facebook, YouTube, Instagram and Twitter share these metrics with you. Different social media networks measure engagement differently – views, likes, dislikes, shares, reactions, comments and upvotes are a few examples.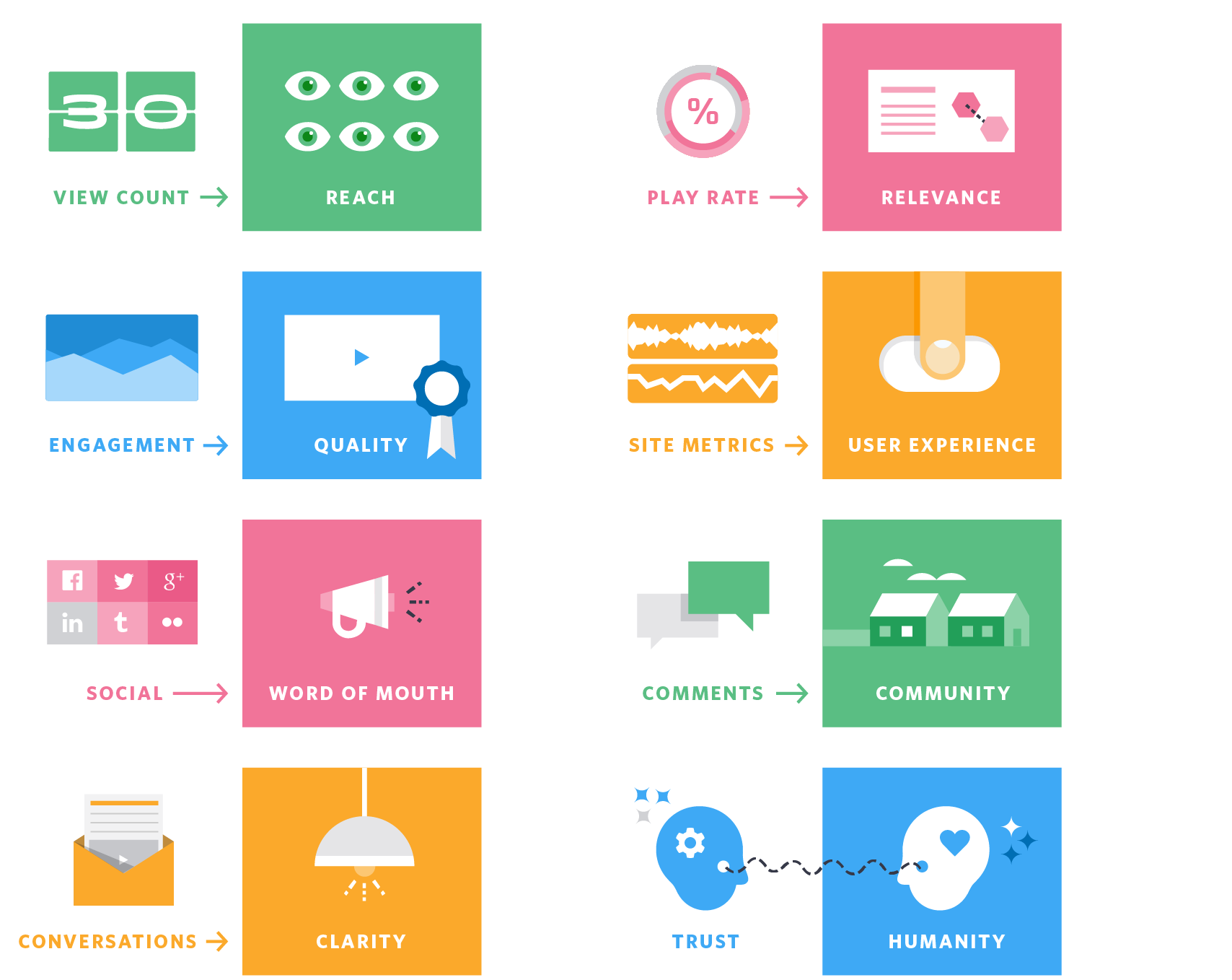 5 Steps to Optimise A/B Testing for Videos
STEP 1:

Identity what element you want to set as the variable
There are several elements of your video that you can run variations for. These elements can be categorised into external and internal elements. The external elements influence the probability of a user clicking "Play" whereas the internal elements influence the view time and the actions a viewer performs after watching the video.
External
Description of the Video
Video Title
Platform (own website, blog, social media, etc)
Internal
Video Content
Media Files (Image vs Video Clips)
Length of the Video
Animations

(Transitions and Overlays)

Call to Action/Outro scene
NOTE: Keep only 1 element as the variable. If you vary multiple elements, you cannot credit a single element for the better performance of your winner variant.
STEP 2

: Build a hypothesis
After you've decided what element to vary, conduct research on your target audience and create a hypothetical statement which is backed up by your research.
For example, your statement can be something like, "Changing the music track for the video on my landing page will increase the conversion rate". Here is another example: "Reducing length of my video by 30s will result in more users on Facebook clicking on the play button".
The goal of the experiment is to prove or disprove your statement.
STEP 3:

Create Variations of Your Video
Using video making tools like Rocketium, you can clone your existing videos, and make changes to them.
For example, if you've decided to test that changing the music track will lead to more number of users watching the entire video on Facebook, then clone your video from Rocketium's dashboard, enter Studio, and choose a different track. You will find this option under "Music". Publish it, and save it on your dashboard.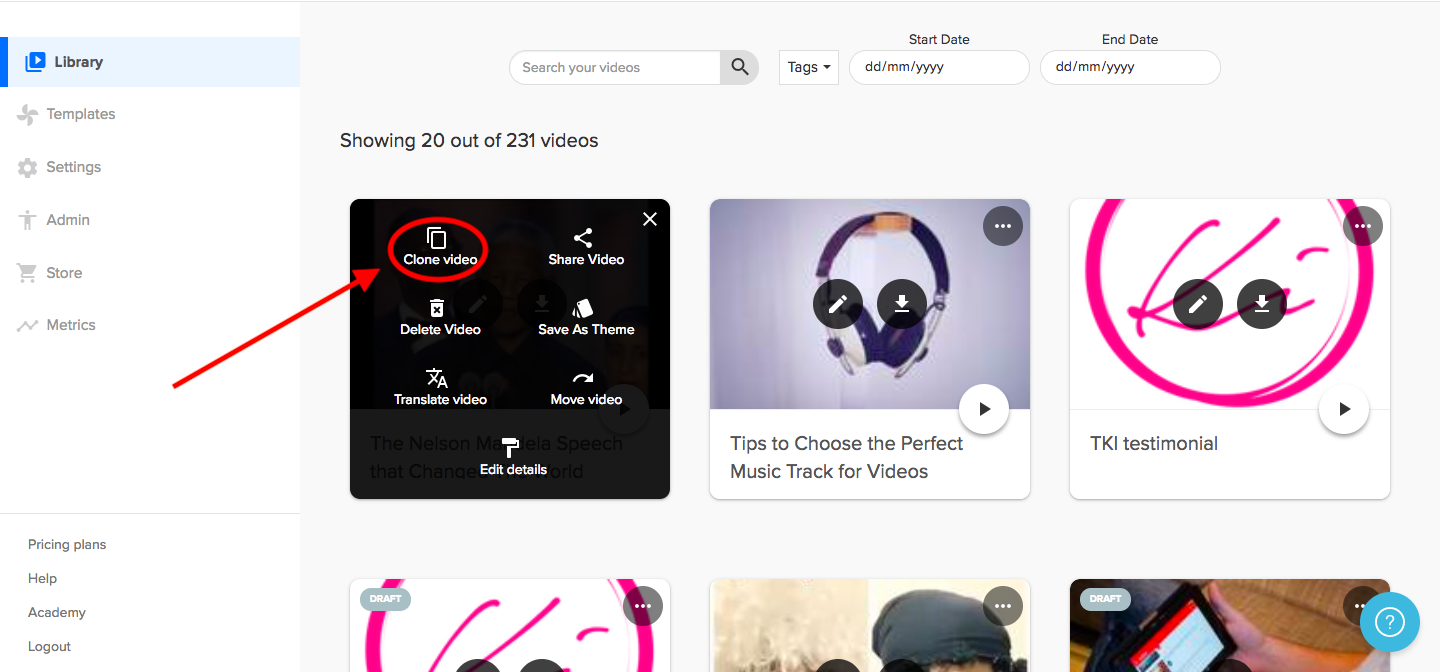 VIDEO TUTORIAL:
THAT'S RIGHT, I JUST CREATED A VARIANT IN UNDER A MINUTE! Who said that making videos was time consuming?
STEP 4:

Run tests
If you're running tests for video on your website/blog, you can use Vidvision to set up the experiment. Vidvision will randomly show either of the 2 variants to your viewers, and will give you metrics of how each variant performed.
This is especially useful when you've got a video on your landing page and you want to increase the conversion ratio.
If you plan on running tests on Facebook for video ads, then you can use Facebook Ads Manager to run 2 variants of the same video. For a step-by-step guide, you can check out SocialMediaExaminer's post here.
YouTube does not provide an A/B testing feature internally, but you can use third-party apps and extensions like TubeBuddy to conduct experiments on YouTube.
You should also set a date and time for when you want to end the experiment.
STEP 5:

Analyse and repeat
Once the results of the experiment are in, sit down and analyse which variant worked better. Use this to determine if your hypothesis was correct or wrong.
But don't be satisfied by one experiment. There is more room for optimisation and you can achieve that by running tests for other elements.
After a while, use these analytics and reports to set a standard for your videos on all other landing pages. You can confidently build a winning combination of the elements because you would've ran several tests by then.
Conclusion
A/B testing is a traditional approach to improve and optimise metrics. Maybe you were not aware of how this approach works with videos, or maybe you felt that A/B testing with videos is expensive and time-consuming. Whatever reasons you had to not run experiments with videos before, they should not hold you back now.
 Rocketium makes it extremely easy to create multiple versions of a video. Hence, it has proved to be an effective way to carry out A/B testing for videos.