How many times have you spent quality time making a video script and adding breathtaking animations, but still ended up with little views and engagement? This has happened to me plenty of times. However, you can change this by focussing on a very tiny, but important part of video marketing – the video thumbnail!
What is a video thumbnail?
A thumbnail is a reduced-size version of an image or video. Originally it got the name from being about the size of the nail of a human thumb.
Thumbnails are used by various platforms (especially social media) because they're easier to scan and organize than the original files. By using thumbnails, platforms can make smaller and easily viewable pages and allow users to have control over exactly what they want to see.
Why is a video thumbnail important?
You've probably heard this phrase plenty times – "Don't judge a book by its cover". Though these are words to live by, it is often the most neglected advice.
Every day, every minute, every second, your videos are judged by their thumbnails. In fact, video thumbnail plays a very important role in encouraging viewers to hit the PLAY button.
With so many videos on the Internet competing for attention, a video thumbnail can determine whether your video is watched or ignored.
How do I select an engaging thumbnail?
A thumbnail should achieve the following things:
Hint at the premise of the video content
Compel viewers to click
Branding
Look amazing on any device screen size
Here are a few points to keep in mind when you select a thumbnail for your video:
1. Add text to represent your video content
Your thumbnail should convey your viewer what they're going to see in the video. This is why it should sync with the title, description and the content of the video.
A good tip is to include some text in your thumbnails. Platforms like Facebook have a restriction on the amount of text you can put into a video thumbnail, so keep that in mind!
In fact, you can also include some hashtags in the thumbnail. Compare the views of this Jimmy Falon video to others: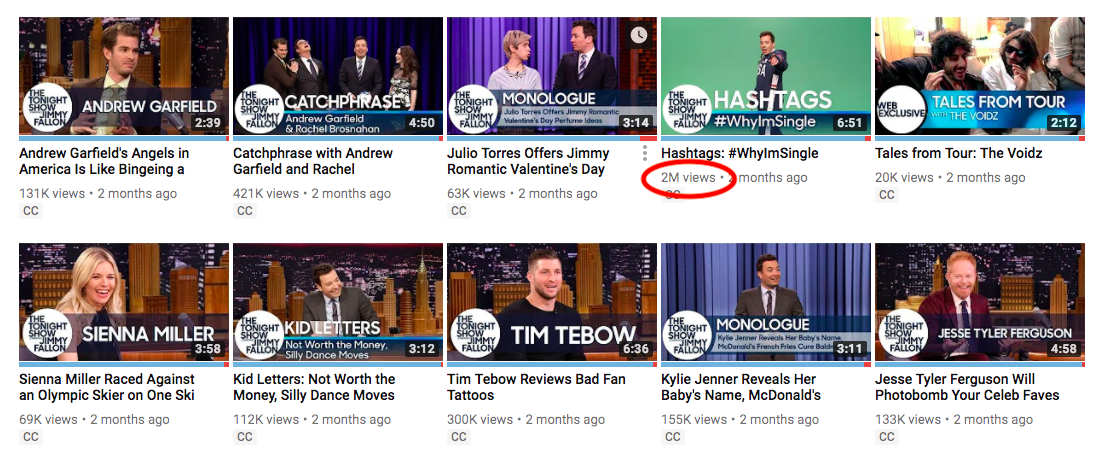 As someone who regularly watches videos on different platforms, I request you to avoid using click-bait video thumbnails. This causes a lot of annoyance to the viewer and give out a 'cheating' vibe. And this is not good for your brand.
In the not so distant future, platforms like YouTube and Facebook can slowly start identifying such users using machine learning and start penalizing them.
2. Make it visually appealing
Impress your audience at first sight. Use the right color palette, but also make sure it doesn't end up too gaudy and bright. You can use some image editing tools like Pixlr to enhance the colors by editing the image's saturation and by using hue filters.
Tubular Insights claim that something as simple as sharpening the edges can have also a subliminal effect on your thumbnail!
3. Include a human face to build an emotional connect
This usually makes people click your video because it makes them feel more connected. Once that connection is made, viewers are more likely to watch the entire video.
If possible, use a close-up shot because it helps the image stand out, irrespective of the device it is being viewed on. Look at the views on these BuzzFeed videos:

Tip: Based on what emotion your video is trying to evoke,  use a face that exaggerates this emotion!
4. Brand your thumbnails
Given the real estate of the thumbnail, it can become difficult to add your brand's logo. But try to include it whenever you can. This ensures your video stands out in a collection/list and helps the viewer identify your content.
Amelie Clarke, the head of marketing for
Top Writers Review
 adds: "A professionally designed logo isn't the only way to brand your videos. You can create a thumbnail template with the same visual components for different videos. Think of specific sidebar elements, font, and text style to help viewers recognize your content in the feed."
Have a look at the Vice YouTube channel: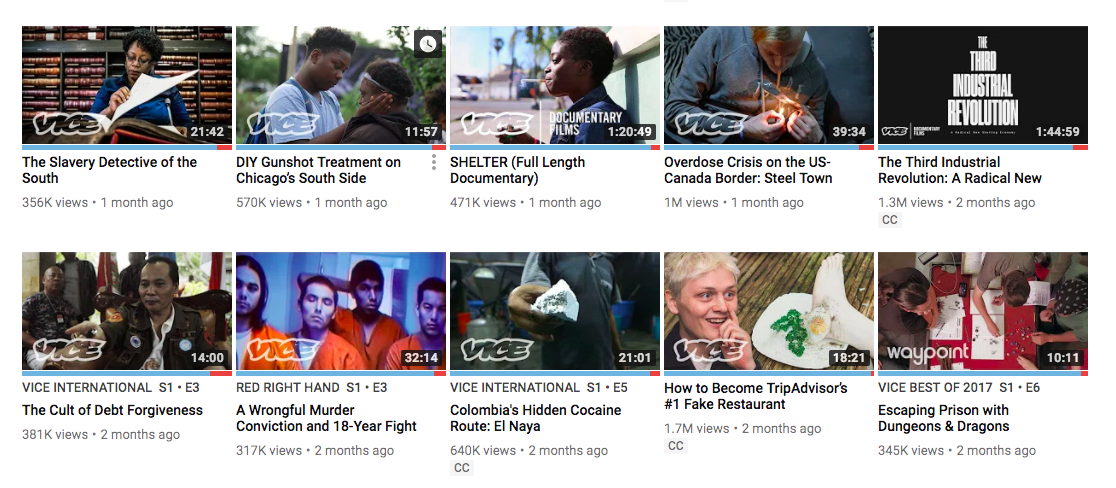 5. Run A/B tests
Using tools like TubeBuddy and Vidyard, you can conduct split tests to determine which thumbnail drives more clicks and views to your videos.
Well planned A/B experiments will improve the performance of your videos almost instantly, so don't ignore this valuable strategy!
How to add a thumbnail to YouTube video
YouTube picks 3 frames your video and lets you select any one of those. If you're uploading a new video, you'll see this option AFTER YouTube has finished processing your video: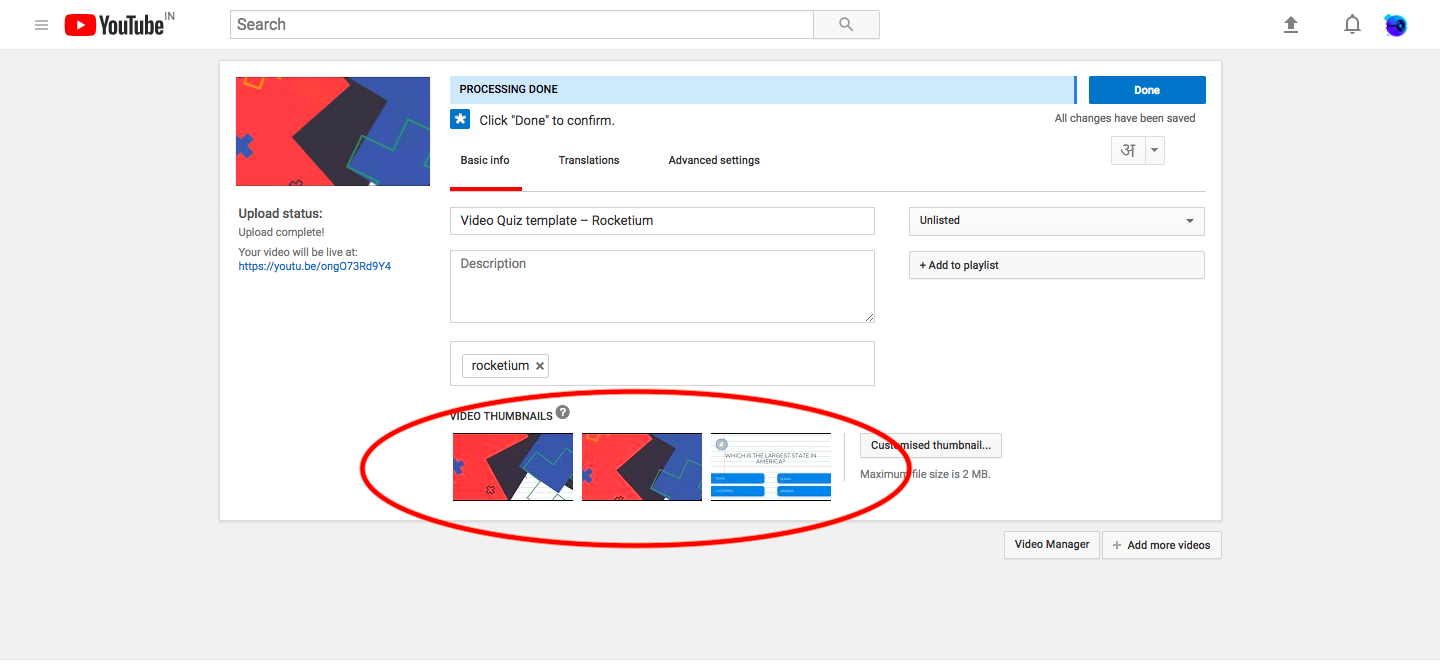 If you're editing an existing video, you'll see this option right beside the video's preview: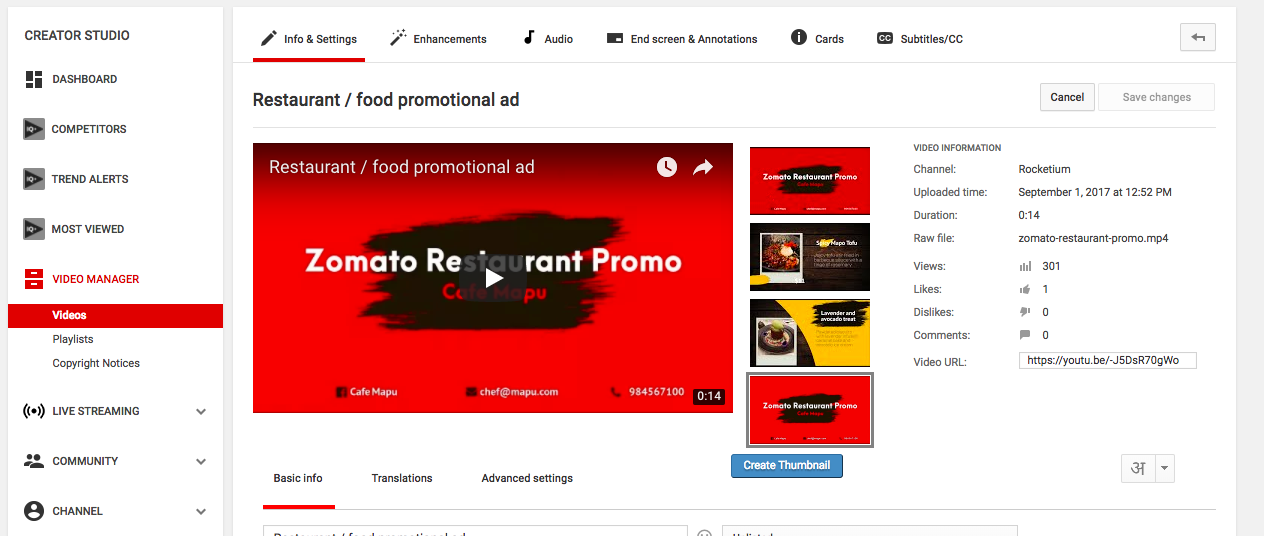 YouTube also lets you upload your own thumbnail by clicking on "Customised Thumbnail"
How to add a thumbnail to Facebook video
Facebook picks up to 10 frames from your video and lets you select any one. This is the screen you'll see when you upload a new video: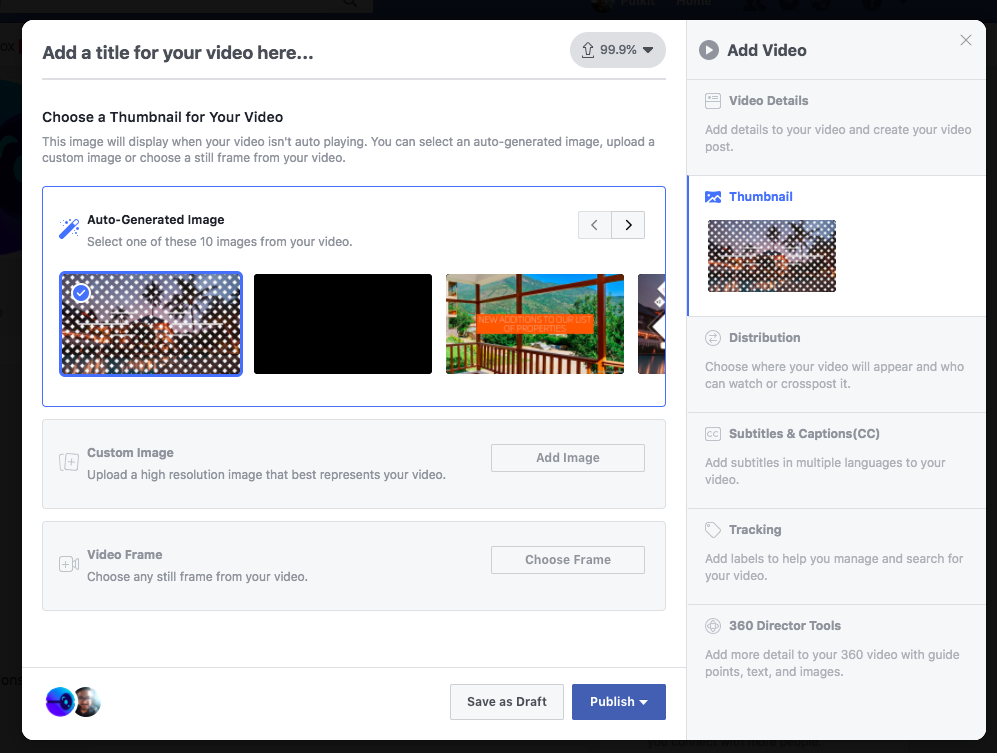 As you can see, you have the option to upload your own custom image as well.
In case you missed this, you can also add thumbnails for your existing videos:
Step 1:

Click on EDIT VIDEO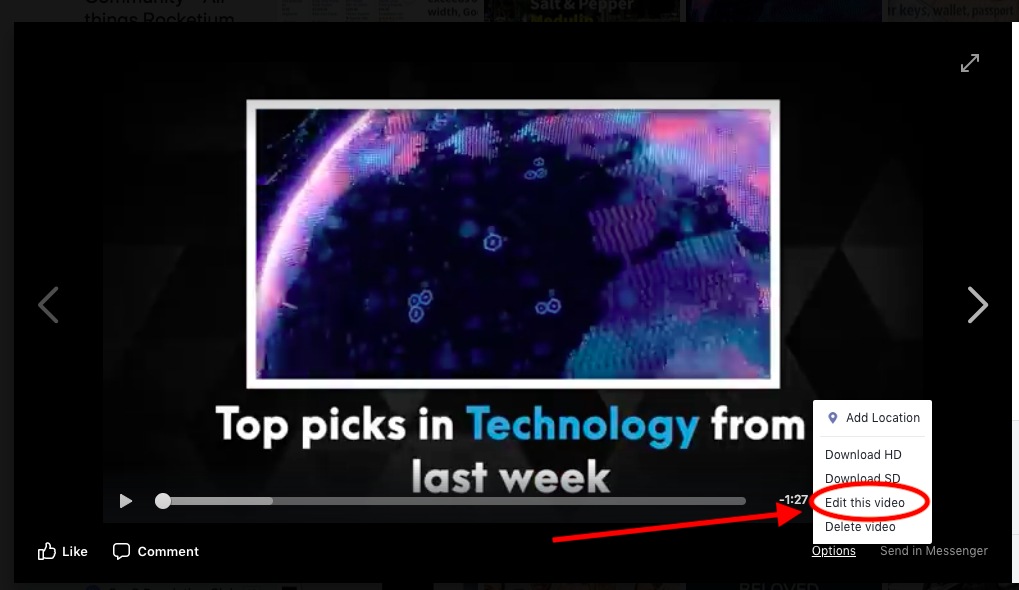 Step 2:

Select thumbnail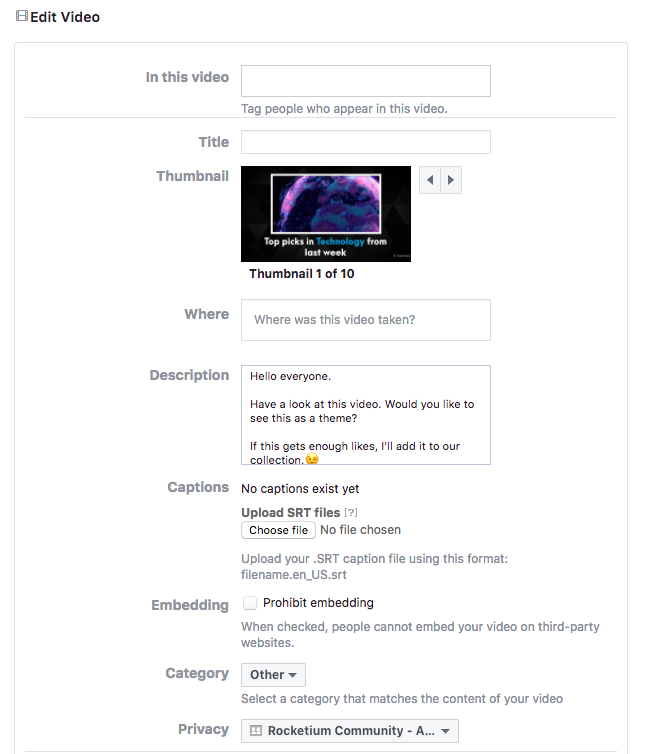 How to add a thumbnail to Instagram video
You can choose the thumbnail from within the Instagram app. This is the screen you'll see when you upload your video: