Today, ecommerce companies are firmly committed to creating mobile-first promotional campaigns instead of focusing on desktop led advertising that is on the decline. But another subtle shift has already begun taking place. Marketers are now paying more attention to in-app advertising, in particular, as opposed to creating communication for the mobile-web.
There are many reasons for this ongoing shift in strategy. For one, mobile apps offer a much more engaging and dynamic environment compared to that of the mobile web. This makes in-app messaging a more effective medium for marketers who want to capture consumer attention. In this article, we will look at the advantages offered by advertising in an in-app environment. We will also share a few use-cases, to inspire ecommerce marketers and business owners.
1. Apps Offer More Opportunities for Monetization
In-app advertising has proven to be an effective monetization strategy for mobile publishers. Nowadays, app developers being paid to serve ads within their mobile apps. For instance, Zillow the online real-estate database company helps allied businesses reach out to relevant audiences via targeted communication on their app-based marketplace.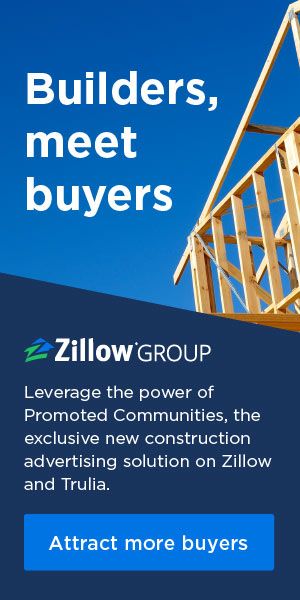 However, ecommerce marketers also use in-app banners to upsell and cross-sell existing inventory to customers basis multiple parameters. Take GrubHub for instance. The online restaurant aggregator and food delivery app incentivizes their audiences by serving up banners to highlight offers available in their locality. Similarly, apps across a host of verticals, say fashion, food, hyperlocal E-delivery, furniture, and real estate gather actionable data about their users by analyzing their past actions and their demographic details.
You, too, can create an actionable, highly relevant offer for your customers to achieve higher conversions. You also can showcase these to highly targeted audiences in just minutes using the Rocketium Banner Builder tool.
Check Out Rocketium's Simple and On-demand Banner Creation Tool To Roll-Out Dynamic App-Based Offers.
Read on for more benefits offered by in-app advertising.
2. Consumers Spend More Time On Apps Vs Mobile Web
These are many advantages of in-app advertising but the most obvious reason to consider lies in user behavior. 90% of all time spent on mobile is being spent on apps, and as Dan Rosen, COO of M&C Saatchi Performance says in this report: "Mobile app continues to be the preferred access point to the consumer's digital world." Smaato, an in-app advertising platform further validates this approach. They noted that consumers spend just 33 minutes on their mobile browsers. But they spend a whopping 3 hours 8 minutes on mobile apps, on average every single day. So, it makes sense for advertisers to focus the bulk of their marketing spends on in-app advertising.
3. In-App Advertising Yields Higher Conversions
Research has also shown that apps convert better than mobile web. A report done by Criteo confirms this. According to the report, mobile app interactions result in greater success with consumers viewing 4.2x more products per session, compared to mobile sites.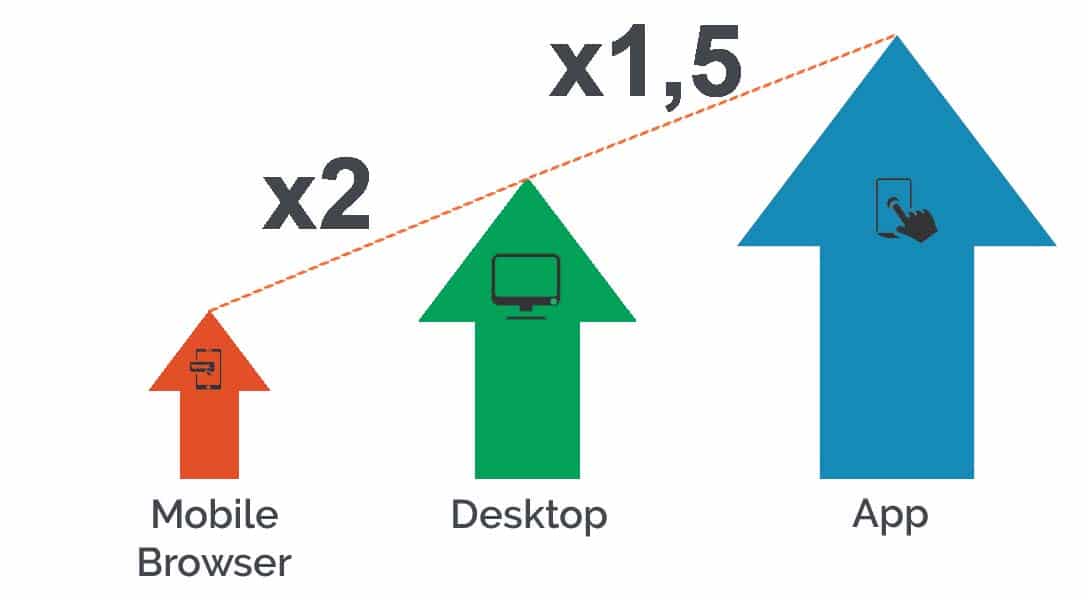 In the ecommerce space, in particular, mobile app users spend an average of 20.18 minutes per month shopping, compared to website users clocking in just 10.9 minutes per month. Studies have also shown that advertising on apps pushes more people towards an actual purchase. This is because apps accounting for 3x higher conversion rates compared to mobile sites, and 1.5x more conversions per session than via desktop. Additionally, mobile browsers have very high cart abandonment rates. Users drop off when they are prompted to enter their personal details. On the contrary, mobile apps rank highest on convenience and make it easier for customers to check out by saving user data.
3. Ad-blockers Are Less Effective Inside Apps
It is no secret that audiences suffer from banner blindness as a result of being bombarded with advertising messages on everywhere.
Juniper Research points out that publishers could lose as much as $27 billion in revenue by 2020 due to ad blockers – nearly 10% of the cumulative digital ad market spend. But in-app advertising offers more immunity against ad blockers. This is because ad-blocking technology for apps hasn't evolved at the same rate as it has for mobile and web browsers. This means that there is a better chance of your banners and creatives actually being seen by your target audience on a mobile app.
5. In App Advertising Allows You To Target Customers More Accurately
Targeting a potential customer when they are browsing on their smartphone, yields information about their web activity. For instance, you can access data about their shopping habits and favorite websites. In-app actions, however, provide more actionable intelligence to marketers. Instead of relying on cookies, a device ID is used on mobile apps. This allows marketers to track user behavior and attributes including GPS location, device type, OS, gender, age, wireless provider and more.
For example, within the in-app environment, advertisers can extract location data to ensure that they are reaching users at the right time and in the right place. See how the San Francisco 49ers partnered with Amazon to enable football fans to order last-minute tailgating supplies and have it delivered right to the stadium. This offer is an example of a highly personalized offer created using sophisticated data tracking and focused user targeting with pinpoint accuracy.
6. In-App Advertising Can Be More Personalized
A study shows that 78% of consumers are open to mobile advertising that matches their interests. In-app advertising allows marketers to design highly personalized and relevant communication that is more likely to interest their buyers. Since apps seek permission to collect first-party data from consumers upon installation, marketers can identify their audience. This enables marketers to understand user preferences using a wealth of more nuanced demographic data, to create more effective buyer personas.
Ecommerce marketers can mine these parameters to tailor-make creatives for customers. This allows marketers to showcase highly relevant offers to the right audience for the greatest efficacy and better ROI.
7. In App Advertising Formats Are Evolving
In App advertising also enables marketers to experiment with new and evolving rich-media driven formats. These formats include HTML5 animated display ads, dynamic ads, rewarded video ads, and playable ads. For instance, an in-app rewarded video within a gaming app may reward users with in-app currency for viewing a 20-second ad. These opt-in ad formats have proven to be a hot new revenue generator for apps. They also seem to be equally popular with audiences. OpenX reported that 77% of users would agree to watch a 30-second ad in exchange for a discount from a retailer. Explore the whole range of options on offer, including interstitial, rewarded, out-stream, and in-stream pre-roll, video ads here. You can further learn all about display advertising formats here.

Interested in launching your own in-app advertising campaign? Are you daunted by the many design resources it will take to create a stockpile of sleek, visually-arresting product banners? Look no further. Go to market faster and test drive Rocketium's hassle-free, automated banner builder to improve conversions for your in-app advertising campaign. Learn more about how we help in-house teams be more creative, eliminate repetitive design tasks, make real-time modifications, and create mobile creatives in bulk.

Did you like this article? Share it with your network and give us your take on why you think in-app advertising is or isn't the way to go.