As we step into a brand new decade, more and more people are spending a significant part of their lives online, connected wherever they go. And where consumers go, brands and marketers follow. By 2021, worldwide digital ad spending is expected to cross $375 Bn.
Most of this money is used to power two kinds of advertising: search advertising and display advertising.
Search advertising refers to text ads served up by businesses in response to a particular search query entered by users directly into a search engine.
Display advertising refers to a variety of marketing messages that are embedded onto almost every monetizable square-inch of the internet.
It is no exaggeration to say display ads are everywhere you look online. According to Google, their Display Network reaches over 90% of global internet users expanding across 2 million sites!
Search Advertising Vs Display Advertising
While search ads help reach people who are already searching for a specific product or service, display ads help marketers capture the interest of potential customers, earlier in the buying cycle.
Display ads are a part of the landscape when users are simply scrolling through their social media feed, playing games, checking email, reading an article, watching videos on YouTube, or swiping right on a dating app.
No wonder display ads are a great tool when it comes to building brand awareness. That said, they also play a huge role in educating consumers & generating leads by programmatically relevant products to consumers. No to forget remarketing to customers who have already demonstrated an interest in a product or service.
Display advertising offer possibilities to entice users using rich media. Unlike search ads that are text-driven, rich media ads, display ads use an array of cues and formats to hook users.
Bold headlines are packaged along with slick visuals that compel users to take a specific action. Businesses design a display ad with a clear call to action, so users click through to a landing page, opt into a newsletter, complete a purchase, sign up for a subscription or avail of a discount offer.
Kinds of Display Advertising
Display ads come in all shapes and sizes.
Traditional formats include banner ads and interstitials that are served to users before they are led to the page they intend to visit. Rich media-driven display ads increasingly make use of video and new technologies like VR, AR, and 360 views to attract audience attention.
A study by Adform showed that clickthrough rates of rich media ads are 267% greater than those from static ads
Wallpaper Effect: Users are Immune to Typical Display Advertising
On average, each person online is served about 1,700 banner ads each month but only view half of them. The downside of display ads is developing a blind spot, driven by infamous ad fatigue, to the typical display ad. Unless the display ads are highly relevant and cleverly designed it won't help the business to break through the clutter.
Display ads with a video have 18.4% better CTR.
Explore templates and create your display ad campaign in minutes using Rocketium's Video Ad Builder.
Rise of Ad Blockers
48% of users employ ad blocker to avoid getting served too many irrelevant ads. A quarter of paid advertising messages never reach respective audiences.
However, marketers have developed a number of innovative strategies to combat customer fatigue.
Seven Tips To Create Display Ads That Cut Through The Clutter
Here are some key elements to keep in mind while creating a digital ad campaign designed to be highly visible and effective, so you can boost CTR as well as increase conversions.
1. Embrace The Power of Video
The consumer responds better to video. The average click-through rates (CTR) of video ads in mobile apps are 7.5 times higher than for display ads.
With the continuing popularity of video-rich formats, digital video ad spends are surpassing the growth of all other formats, according to the IAB.
Facebook has joined the bandwagon by supporting video growth with an updated video-ranking system.
Innovative formats like Thumbstopper Videos are inspiring agencies to create compelling 10-second ads tailored for mobile viewing.
2. Leverage Native Advertising
Native ads receive 53 percent more views than traditional display ads. These ads help increase purchase intent because don't appear like a direct piece of marketing at first sight.
Native ads are designed to match the look, feel and tone of communication of the third-party website, or media platform where they appear.
For instance, a native ad may appear within your feed on Facebook, LinkedIn or Instagram or can appear as widgets that recommended posts, articles about a specific product or resources.
Less intrusive than other forms of communication native ads are accepted more readily by consumers. Native Ad Spending is projected to account for 61% of all digital display ad spending in the US.
Businesses are spending big on native advertising and for good reason. These ads offer brands a seamless way to attract new followers, increase engagement and enhance visibility.
3. Better Targeting = More ROI
Get your targeting right because when customers are shown highly relevant ads they are inclined to click on them and follow through.
Marketers can make sure that their display ad reaches the right audiences with better targeting. The messaging, placement, timing and frequency of a display ad can be tweaked keeping in mind customer demographics, geography, their interests & their buying lifecycle.
4. Serve up Dynamic, Personalized Ads
Dynamic creatives refer to display ads that adapt to viewer choice. by serving up specific messages and creatives tailored to meet the needs of consumers, real-time.
For instance, geolocation or weather-related data can be used to inform a data feed and create a specific offer based on consumer location. Ads can also be personalized in response to browsing history, to cross-sell and upsell products, remarket to customers who have abandoned a transaction midway, and so on.
Location-specific digital ad campaigns are 20x more effective than traditional banner ads that are not location-based. (Source: LYFE MARKETING)
5. Explore New Display Advertising Formats
More than 400 million people now view Instagram Stories daily and the product is expected to drive video spend on the platform to double. Explore newer formats like Drinkfinity's high visual Snapchat ad for greater engagement and check out this conversational display ad from Barilla.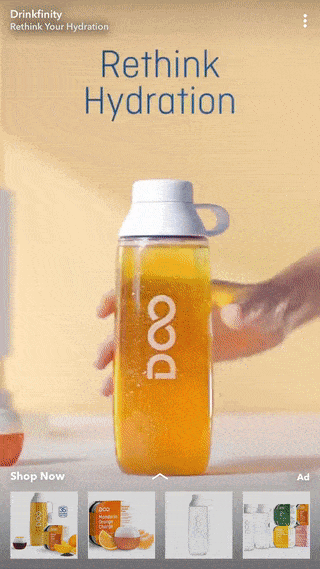 The average smartphone conversion rate is up by 64%
6. Create a Clear and Customized Call To Action
The ad style and format should reflect the final CTA, for instance, this Facebook Store Visit Campaign is clearly made to increase actual footfalls by integrating with Google Maps, so customers can get directions to the nearest store or outlet and take action in the offline world. Here are some CTA text inspirations that you could use.
7. Better Measurement = Higher CTR Over Time
Most display campaigns are charged on a cost per click (CPC) basis. Every time users click on an ad, the advertiser gets charged an amount based on their overall bidding strategy. It is important then to ensure that your campaign is designed to generate maximum bang for your buck. This can be done by tracking key metrics like clicks, impressions, and conversions from Google Ads, as well as Google Analytics. Tag Manager makes it really easy for marketers to set up these conversion events.
Diligent tracking and campaign performance management can yield rich results like more clicks and greater conversions. For instance, brands can track engagement carefully to see where users drop off in the sales funnel, to build better remarketing strategies. And performing A/B testing on creatives can help assess how certain elements of creatives perform in the right circumstances. All this data can be analyzed to iteratively refine campaign creatives, change placement, and better manage ad spends.
Four New Trends That Will Shape Display Advertising Campaigns in 2020
1. Rise of AR and VR
With 5G superfast connections becoming a reality, the Augmented Reality market is all set to explode. Statista estimates that the value of the AR market will explode from a mere $5.91 billion in 2018 to $198.17 billion in 2025. This trend will be most discernible within ads targeted at the mobile gaming community but will soon cascade to other sectors with Gartner predicting that 100 million consumers will shop in AR in 2020, both online and in-store.
2. 'Smart' Display Advertising Powered By AI
Sellers are increasingly exploring fully ML/AI and the use of automated tools for both ad creation and ad buying. For instance, the page below features a smart banner ad built using AI. The software recognizes on-page content to sort through 100s of potential messages to dynamically and instantly create the perfect companion ad content which best suits the context of the page on this real estate website.
3. Programmatic Ad Buying
Programmatic ad buying is another trend that reveals the increasing shift towards automation. The programmatic display ad spends in the U.S. is forecasted to reach $68.87 billion in 2020 compared to $47.37 in 2018. This approach relies on the use of AI-powered algorithms to purchase digital advertising, eliminating the burden of boring, repetitive campaign management tasks.
4. Automated Ad Creation
Customers are also turning to video and image automation using tools provided by companies like ours to create marketing collateral, quickly, and at scale. Check out Rocketium's suite of automation products. Our products will help you create high-quality product and seller videos by converting text to images in minutes.
Watch this space for more actionable intelligence on online advertising. Share this article with your networks and comment to share your own tips for more effective display ad creation and distribution.
Subscribe to our newsletter
Recieve such insightful content on Design & Marketing every month!
Thank you for subscribing.