Almost every eCommerce brand runs up to 3-4 high-impact digital marketing campaigns in India.
While some of them are spread across the year, the majority align with festivals or important events.
It's why close to 40% of the ad spend happens during the festive period, and in eCommerce, the number is north of 40%.
These digital marketing campaigns have dedicated objectives and are a primary driver of revenue and user growth.
In 2020, the total eCommerce festive season sale in India that started on Oct 15th and ended on Nov 15th generated $8.3B+. Compared to 2019, it saw a 52% jump, and that was despite the pandemic.
Best Practices for Festive Digital Marketing Campaigns in India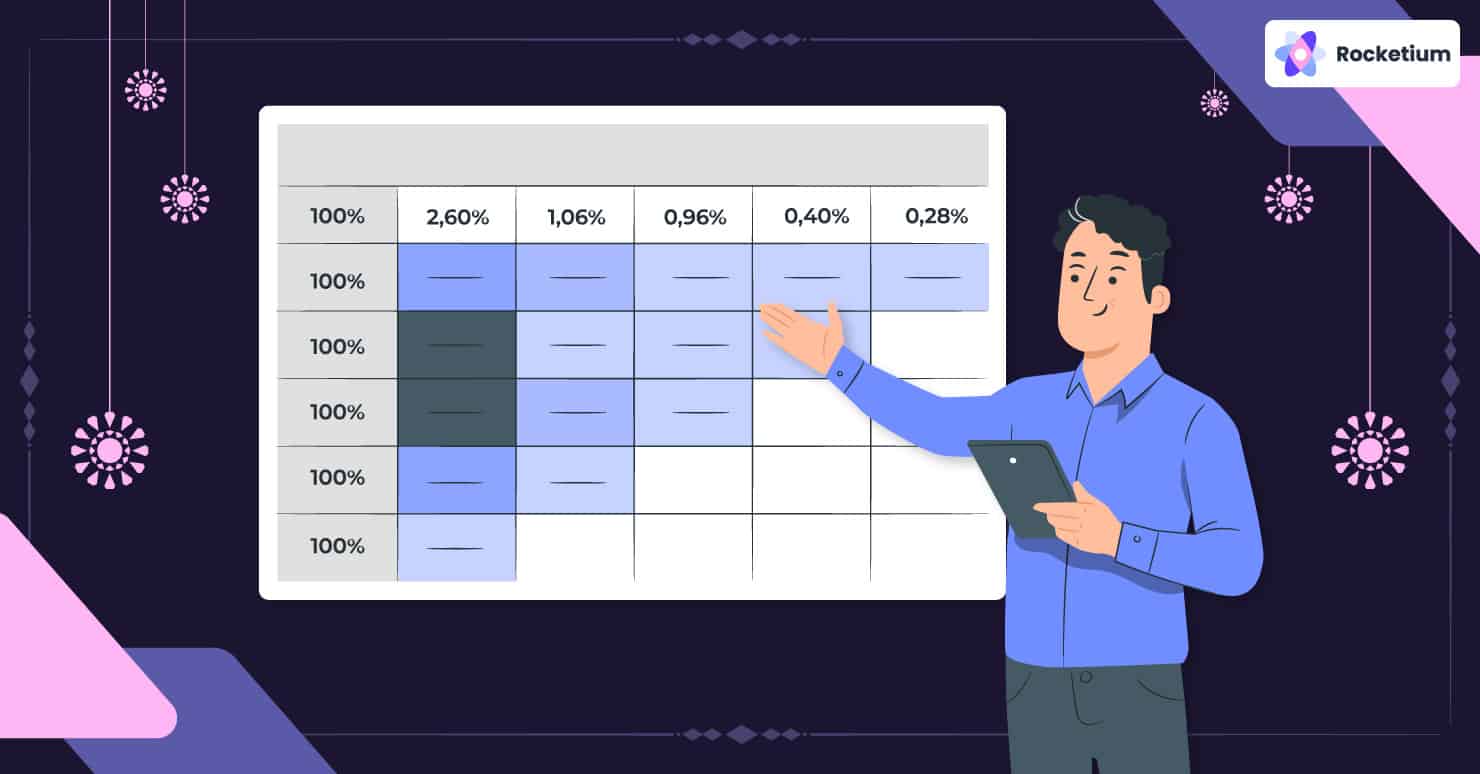 High-impact marketing campaigns give you the biggest bang for your buck, but these large-ticket events are a challenge. And not just because they necessitate intense branding and end-to-end operations, but due to the volume of traffic they bring in.
With that as the backdrop, we explore how to plan omnichannel eCommerce campaigns for the highest possible impact. The insights are taken from Rocketium and ET Brand Equity event with guest speakers from Myntra, Tata 1MG, Sugar Cosmetics, and Tata CliQ.
Myntra's Focus on Price-Sensitive Customers
From a customer's standpoint, the best time to shop on any eCommerce platform is during the festive season because of the fantastic offers. Top it up with new launches and exclusive brand catalogs, and it becomes akin to a shopping festival.
From a marketing standpoint, it's an excellent opportunity to create a lot of demand in the market, acquire new customers, and retain the existing crop.
Since 59% of the total festive season sales come from Tier-2 and Tier-3 cities, Myntra uses the campaigns to onboard price-sensitive customers and people whose shopping radar is activated during a high-revenue event.
"Customers from smaller markets, where the offline to online journey is happening now, are price sensitive and value-seekers. Large sale events make them experience the full glory of e-commerce shopping and help get them on board."
Akshay Ambardar, Associate Marketing Director, Myntra
Engaging existing customers
This online shopping site for fashion and lifestyle views festive digital marketing campaigns from two perspectives.
One is from a revenue standpoint, and the other is to deliver good experiences to customers who are shopping for the first time. This allows them to focus on the holy grail of eCommerce brands – acquiring customers.
Moving beyond Myntra uses one of the most innovative marketing strategies in India to increase the LTV of customers.
After a customer has experienced Myntra as a shopper, the brand positions itself as a fashion expert.
It does so with Myntra Studio, a place that fills the white space in customers' lives through extremely value-adding content on personalized styling and fashion.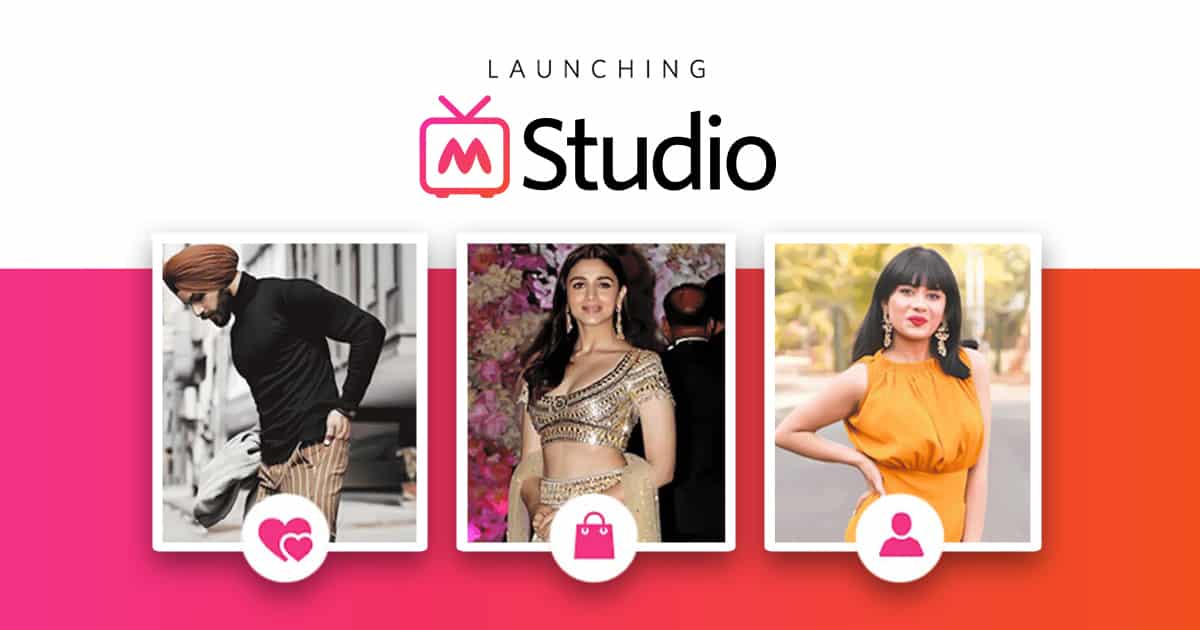 Hard data shows that first-time Myntra shoppers that engage with Myntra Studio content show higher engagement and retention rates compared to those who don't.
The studio becomes a way for Myntra to increase the LTV of customers.
Banking on creative refresh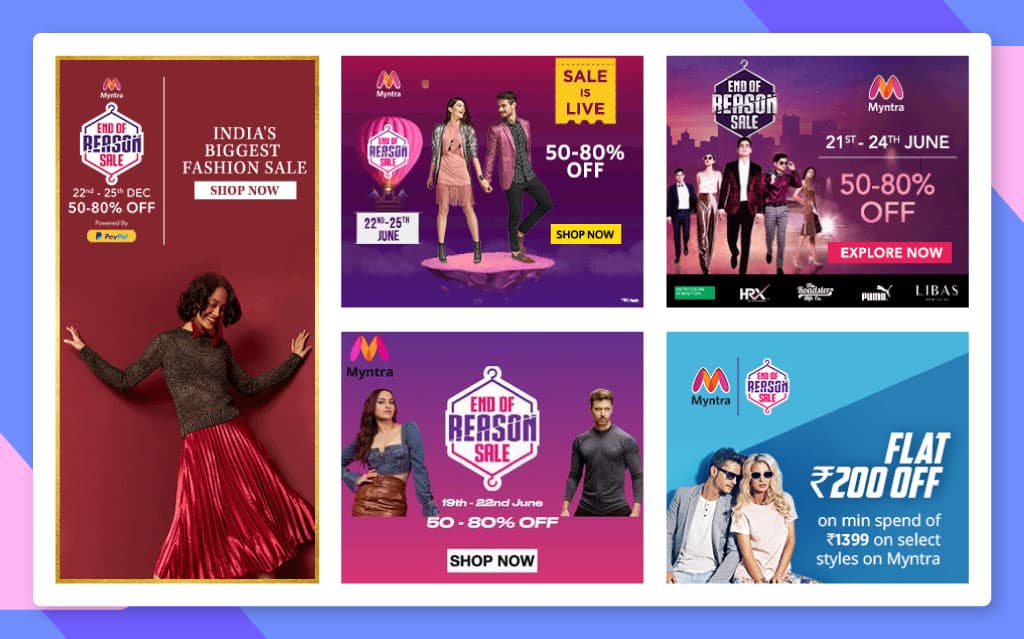 Another innovative marketing strategy Myntra utilizes is the End of Reason Sale (EORS). For such campaigns that span 10 or more days, a high creative refresh rate becomes essential.
That requires producing a massive number of creatives to help maintain a sustainable scope for experimentation. And, more importantly, combat performance plateaus.
Automating creative refresh is a tidy solution here. It saves hours on experimenting with copy, colors, etc., and staying on-brand.
You can pick and choose high-performing content for edits and archive the rest. Automating also allows for instant, last-minute corrections and offers the ability to experiment faster with quick bulk editing across sizes.
Tata 1MG Focuses on Spiking Traffic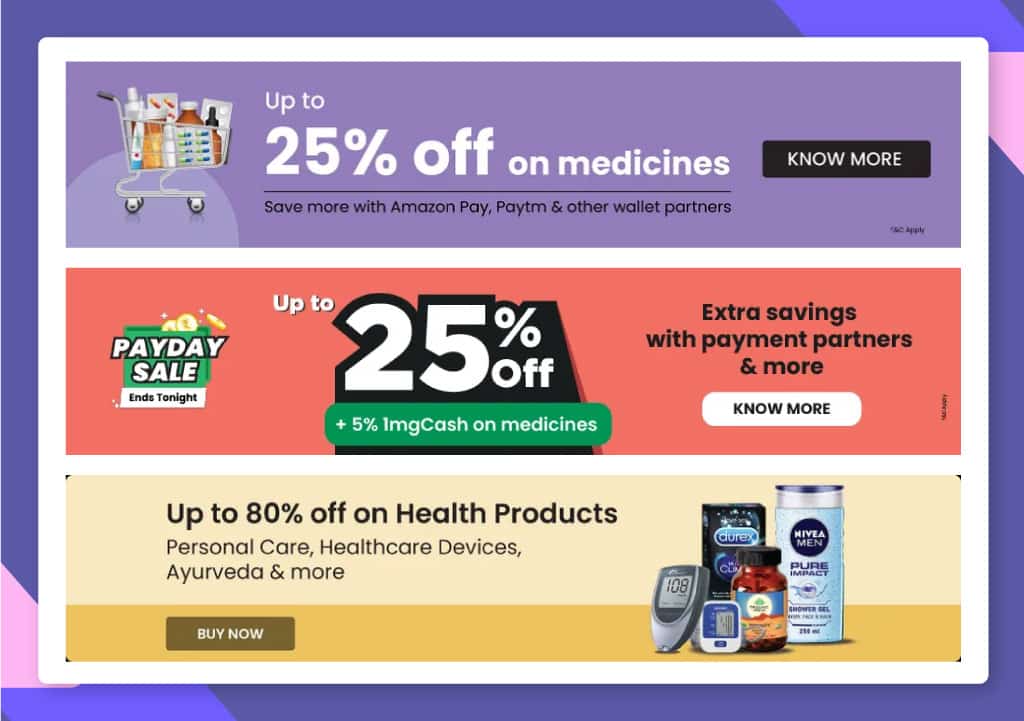 Healthcare eCommerce is a need-driven segment. So, compared to other verticals within eCommerce, it does not see much of a spike in traffic during festive seasons.
Tata 1MG identified that the need for healthcare occurs at the beginning of every month when users replenish medicine stock.
And unlike most digital commerce brands, it saw massive growth in sales and revenues during the pandemic because of obvious reasons.
"What we have seen in 1MG is – festivities play an important role, but if we do not stitch any incentives to the campaign; we won't see the same kind of liquidity as with other eCommerce platforms."
Priyang Agarwal, Director – Marketing & Growth, Tata 1MG
Consequently, the marketing team runs offers to align with the same. They run incentivized digital marketing campaigns in India during the first week of every month to increase adoption.
That said, they do have some campaigns during festivities, but they offer value additions like better deliveries.
The takeaway here is that the key to driving higher adoption is to deeply understand your users and have the agility to launch campaigns based on the same.
Tata CliQ's 3-Pronged Approach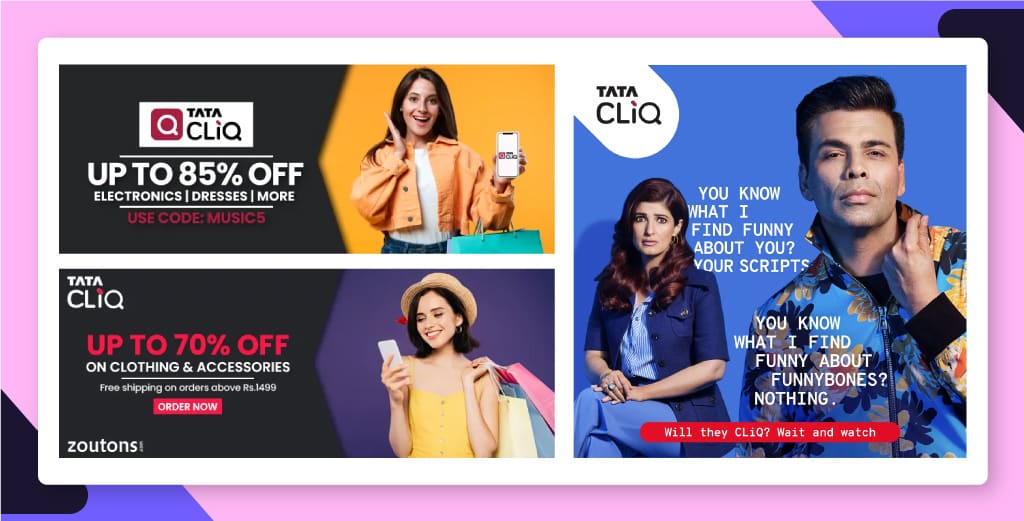 One of the best marketing strategy examples in India is Tata CliQ. When it comes to planning festive campaigns or any tower event, they take a dual plan approach.
They plan the goals and metrics for BAU activities, the bread and butter of all digital strategies, and a separate 6-month plan for the event.
The marketing team further breaks down high-impact digital campaigns into:
A six-month plan that states ambitions and goals.
A monthly plan concerning each category.
A monthly plan with respect to traffic.
"We identify six months ahead, saying that if we need to create an event of X crores; we will need X number of customers and try to dig into the customer pool to find out how many are in repeat, what is the repeat frequency, etc., and figure out the new customer pool we really need to build. Once we achieve that, it comes to figuring out a combination of how many visits, should we target new customers, where should we spend more money, and how to incentivize customers."
Divesh Sawhney, Head of Performance Marketing, Tata CliQ
Their fundamental philosophy for tower events like those during festivities is a customer-centric approach. To that end, they take a three-pronged approach that allows them to grow week on week by 5% to 10%:
They keep a forward perspective when planning.
Course-correct every week on their rolling plan mechanism.
And identify customer cohorts that work for them, and then double down on them.
For instance, they have a very loyal Westside base. These are regular and sale season repeat customers. By identifying this cohort, they've been able to scale Westside to triple-digit numbers.
Work on hyper-personalization
During large-ticket campaigns, Tata CliQ uses an inward-going strategy for success. Through competitive intelligence, they classify niches and bet on them by targeting them more aggressively than their competitors.
For every cohort, they utilize relevant incentives and show different messaging to users to suit different stages of the buyer journey.
Further, they keep track of soft signals like improvement and conversion rate or RPV of these categories.
The takeaway here is creating hyper-relevant content by tailoring it to suit cohort behavior, product, and season.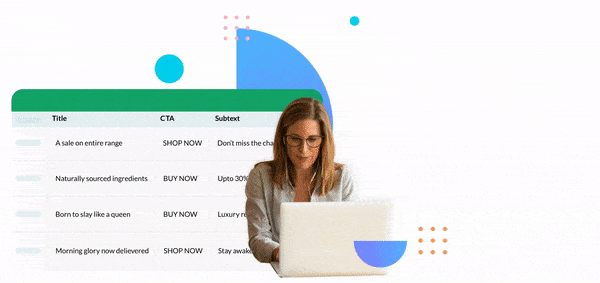 To maximize the ROI of any digital marketing campaign in India, brands also need to create content for different markets. That means localized and multilingual messaging on all channels.
Sugar Cosmetics' Marketing Strategy Around Content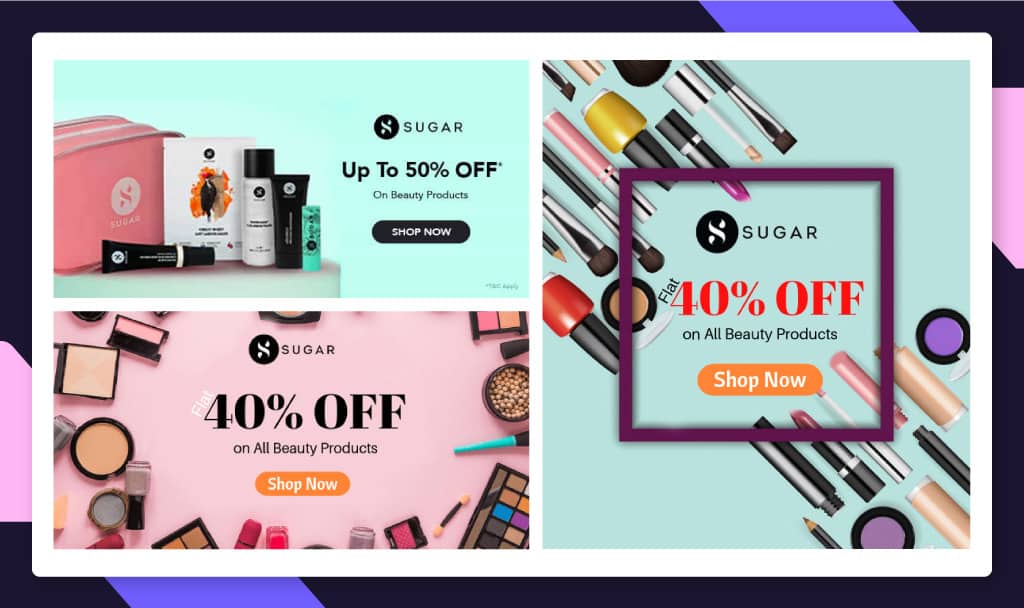 Sugar Cosmetics, cognizant of the fact that it's impossible to compete with discount offers from bigger eCommerce platforms, takes a fresh approach to digital marketing campaigns in India.
"Everyone else is going through super deep discounts which we can't possibly match, so we take a relevant content and engagement route."
Resha Jain, Content Head, Sugar Cosmetics
There is an immense focus on creating relevant content throughout the year with the objective of building up to a big-ticket event.
So, they double down on influencer marketing, creating demand generation through creator-based content while still leveraging the power of discount offers.
The objective of their content-central tactic is not conversion. Rather, it is to position the omnichannel eCommerce brand as thought leaders of the industry, hence setting themselves apart from the competition.
The takeaway from Sugar Cosmetics' marketing strategy is two-fold. First, if your core strategy focuses on building a stronger brand perception, ensuring design consistency across your creatives becomes crucial.
It helps build brand love and drives a lot more stickiness in the long run.
Two, with social media marketing, keep the approach based on awareness and consideration, given that 54% of browsers use social platforms to research products.
For the first, track reach and impressions, and for the latter, click rates and search volumes.
How Rocketium Enables High-Impact Digital Marketing Campaigns in India
No matter how compelling the ad copy is or how lucrative the offers are, if traffic doesn't materialize into real customers, the campaign is all for nothing.
It is not enough to plan a big-ticket marketing campaign. It has to be high-converting too, and for that reason, brands need to remove friction through relevant and attractive content.
The "let's throw it on the wall and see what sticks" approach doesn't translate to conversions. The content has to be on-brand, hyper-personalized and refreshed frequently.
Only then is it optimized for conversions. For marketing and design teams, the people who toil behind the scenes, it translates to a lot of extra work hours.
More than that, throughout the lifecycle of the digital marketing campaign, they have to do a lot of manual, humdrum work, sometimes at odd hours.
That's what Rocketium eliminates. It empowers businesses to combine human creativity with automation during high-impact events like festival sales.
1. Creatives with 100% brand consistency
In omnichannel eCommerce campaigns, having a consistent voice and tone is critical. With Rocketium, teams can enforce brand elements across campaigns.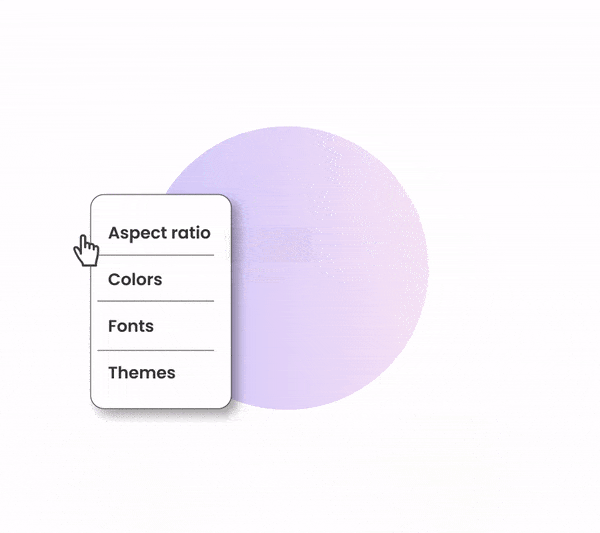 For example, you can upload your brand fonts and colors and implement them across all creatives.
Taking it a step further, you can use themes to tailor the platform experience for your brand, or maintain brand consistency by setting up rules and user roles.
With preset styling and layout placement feature, you can eliminate redundant restyling and get one-click transformation.
2. Auto-sizing for faster omnichannel eCommerce campaigns
When a digital marketing campaign spans multiple channels, a niggling pain is aspect ratios. Each creative has to be optimized for that particular platform.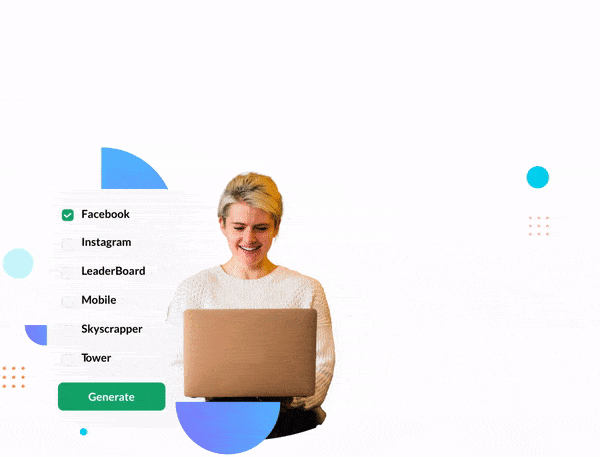 Rocketium offers AI-based auto-sizing, where brands can pre-save ad sizes frequently used and auto-size new sizes with just a click for instant, channel-ready versions.
3. Go live with campaigns in one-click
Campaigns during the festive season need bulk visuals that need to be refreshed frequently.
Rocketium allows both in real-time with one-click sync of your visuals, audience, and budgets. You can edit all attributes, from copy to CTA or from timelines to budgets.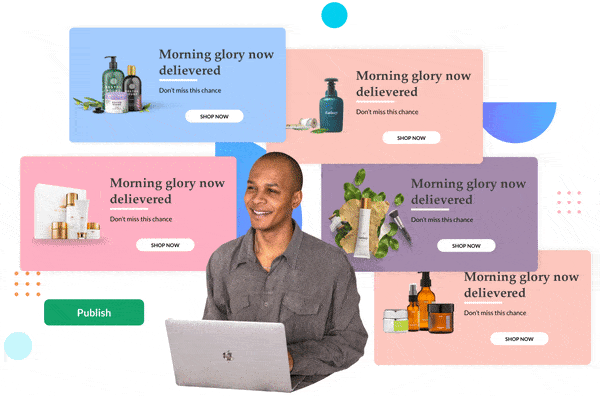 It gives marketing teams the power to update campaign creatives based on changing performance or create multiple ad sets for demographic targeting.
"Take Purplle, for example. During sales, it relies on 1000s of creatives for ad campaigns on its app and website. Before Rocketium, they would have spent 15 hours a day for a whole week on it. With automation, they spent a third or a fourth of that time."
Satej Sirur, CEO, Rocketium
To Sum Up
Successfully running high-converting digital marketing campaigns in India is not a simple task. The best practices discussed here, taken from the ET Brand Equity event, go a long way. Automating creatives during the festive season can help businesses traverse the rest of it, and Rocketium can help your brand achieve that.
Need more insights on how to automate creatives?