Marketers in the post-pandemic world have had to pivot strategies and cater to the market's tectonic shifts. Like they say, if you aren't busy, overworked and between multiple campaigns, are you really a marketer? But, remember, amidst actually marketing, measuring and creating, the role of creative workflow optimization could be that of a guardian angel's! No that isn't a stretch. Read on.
What is a creative workflow?
A workflow is a repeatable pattern of activity with predictable steps. While your tech stack could very well make it seamless, you could also optimize the process you currently run with a whiteboard. The creative workflow is a dedicated process that typically streamlines the creation, (often involving marketers, writers and designers) specifically improving efficiency and making scale easier. It also takes into account the tools and the steps involved. It is a complete circle from the ideation and briefing stages to creation, iteration, completion, and publishing ones.
While the creative workflow is almost self-explanatory, there remains an obvious question…
Why should creative teams optimize their workflows?
Hubspot's findings state that a marketer spends as many as 16 hours a week on routine tasks, 7 hours of which are spent collating data and sending emails alone. More so, the deep-seated lack of processes within creative workflows is best felt during campaign launches. But given how customers have diminishing attention spans and marketers have tough targets, workflows give you the platform to scale effectively, at a pace that suits your busy team.

Imagine the infamous launch day… A manager at loss, an agency at the brink of a meltdown, a designer who is on the 5th cup of coffee, all judged by management that is desperate for concrete ROI numbers of this vaguely busy team…

Things only get harder when operations are remote, unless the team chooses to stay organized.
No, don't be a 'vaguely busy' team. Here is how a creative workflow helps –
Creative workflow maps let you resolve bottlenecks and get to market faster
Most often, a marketing team's problems stay unresolved because there is pain that is quietly endured. Yes, approvals take forever and there are few restrictions on the number of iterations made. Worse, briefs are often shared without consistency or enough context. Such context is all that is required to save many, many rounds of changes. But unless the 'creative team' gets organized and understands the bottlenecks that are existing, time to market is arduous. A workflow not only defines steps but actually marks custodians associated with those steps. Besides, the predictability makes it easier to plan impromptu campaigns without facing burnouts.
Math Matters — 16 hours per marketer, per week totals to 768 hours a year. Even at a meager $20 an hour, that is $15,360 of marketing dollars spent sending emails, collecting data, and executing other rudimentary tasks! Now, imagine how bad workflows multiply when senior members and multiple teams get involved.
The workflow management process is an efficient way to track ROI
Every marketer has a love-hate relationship with ROI. You try hard to prove the worth of campaigns, solutions, and products. Yet, when it comes to the team's utilization, it remains a delicate subject because of the sheer redundancy involved. Yet again, the right workflow helps understand the hours required to purely create, maximize them and hire better talent. Besides, the process typically balances reliance on quality checks and approvals. Your optimization does not cost you perfection.
A functional workflow lets you track, do more with less, and get more creative!
Although rather counterintuitive, a good workflow is a way to harness more creativity! Processes may sound anything but creative — but they free you from the weight. "Professionals take 18 minutes on average to locate a document manually and spend 50% of their time searching for information." Given such numbers, imagine the time that could go into work that actually matters! (source whitepaper). The precious hours can be used to soak up all the stimuli you need and create more and better.
For those of you who are still skeptical, let us demystify the jargon overkill that is bogging the process down.

Creative automation vs. workflow automation vs. creative workflow
For a fairly nascent space, there are far too many 'automation' variants that confuse users. Add to this the misplaced fear that automation will likely take creative jobs away, what is left is a general disregard for automation and organization — its prologue.

Fun fact – G2 is on a discovery process too with Creative Management Platform, Marketing Automation, Digital Marketing, Social Advertising, Campaign Management being a few of the many categories it has created.
The three favorites doing the rounds are –
Creative automation – Creating at scale with a reliance on software solutions. Marketers must understand how such solutions eliminate repetitive, redundant tasks while strategizing and creation themselves remain untouched. Besides, personalization should be every marketer's new best friend, right? Will the software illustrate as per brand guidelines? No. Heck, will it even correct a typo by itself? Nope. Creative automation may very well be called redundancy elimination because all it does is help marketers take brand-compliant templates, make strategic changes at scale, and go to market faster.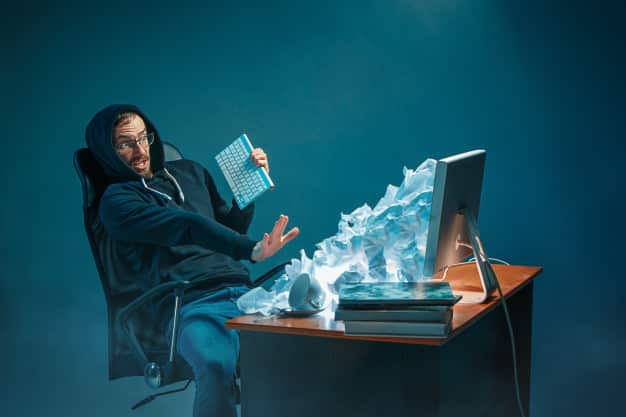 Workflow automation – A fairly generic term that includes everything from the mini workflows within marketing such as Demo sign up — CRM add — trigger nurture to various business processes. Workflow automation refers to the overall reliance of the function or the business itself on technology. Most often, the agenda of the digital transformation wing, workflow automation is a macro process that you rely on even without consciously meaning to.
Creative workflow – The creative workflow, as stated earlier, is the process governing your creative flow — briefing to publishing. It can include automation and be part of the overall workflow automation process of the enterprise or not.
Now that the basics are right, time to go ahead and understand how you could create a Creative Workflow of your own –

The only workflow outline you need to get started
Teams go by different definitions and expectations of a creative workflow. But for those of you building a new workflow, it helps to have an all-encompassing one, so you can cater to various functions. Have the same outline — but make the changes you need to, for content marketing, creative campaigns, videos, and other properties.

The set outline helps you build consistency without having to spend too much time building new processes, while the flexibility is an obvious need because timelines and stakeholders are different, each time.
Definition and ideation
Possibly the most underrated step, this step builds clarity on what is being built, its importance, the people involved, the timeline, and resources available. It also highlights the outcomes the project should have.
A basic template can be a good starting point if you do not know what you should start with. Such templates include columns for summary, budget, stakeholders, milestones, roles, outcomes, and timelines. You could begin by creating a simple form online with such fields.

Further, if you are working with clients or stakeholders from other divisions, understand scope like your life depends on it. A blog's brief cannot be the impetus to write a whitepaper. Can it? The more information you get at this stage, the fewer the revisions will be, going forward.
Creation
Creation comes naturally to the team. But choose to associate tangible goals, attainable timelines, and quality benchmarks with a fixed schedule. Your workflow could include milestone checkpoints, prototype discussions, or straightforward daily stand-ups that highlight bottlenecks. Also, define clear roles and responsibilities — ensuring nothing about the process remains vague.

– Sync your tech stack, Slack, and other software for seamless back and forth.
– Build a process based on previous experience — your creative workflow map is likely different from that anyone else claims to be 'the ultimate one'.
– A collaborative Project Management solution such as Asana, Monday.com, or the likes could make it easier to update each other without having to feel micromanaged. They typically integrate with slack, CRM, and other tools.
Review and feedback
As creative folks, we are used to accepting the different opinions and experiences that get thrown at us as feedback. But as marketers, it is important to quantify those — begin by assigning approval owners too. Whose say would you go by when multiple owners talk? Do they have a consensus, internally? If the feedback loop exceeds the 3rd round, would you rather go back to the drawing board to build new briefs? When the feedback loop is streamlined and kept to objective points, you are less likely to miss the deadline.
– You can integrate with a ticketing solution to streamline changes that reach the designer. Jira, Zendesk, Freshdesk, and the likes integrate with other solutions so it is easy to both raise requests and provide updates.
Iterations and revisions
The feedback loop can be made more functional as well as quicker with a process that captures feedback comprehensively and keeps stakeholders informed. Make the process transparent with open channels of communication. You also must hold meetings with different key stakeholders, take written notes back to the team, and place timelines for revisions as well.
Final approval
For the sake of congruence and predictability, have approvals recorded too. Besides, when multiple versions are made, this eliminates confusion and publishing errors. Most importantly, this fuels the whole creative workflow process — you know what creative got approved and how soon. Now, you can plan on how to recreate the success.
After delivery
The process will also help you take it to social channels, the market, or your clients, post-delivery. As a result, the right size, language, timing, and visual flavor are boxes you would have checked off.
Now that there is a sample process for your creative workflow, you can build similar ones for other processes. But how can you optimize your steps?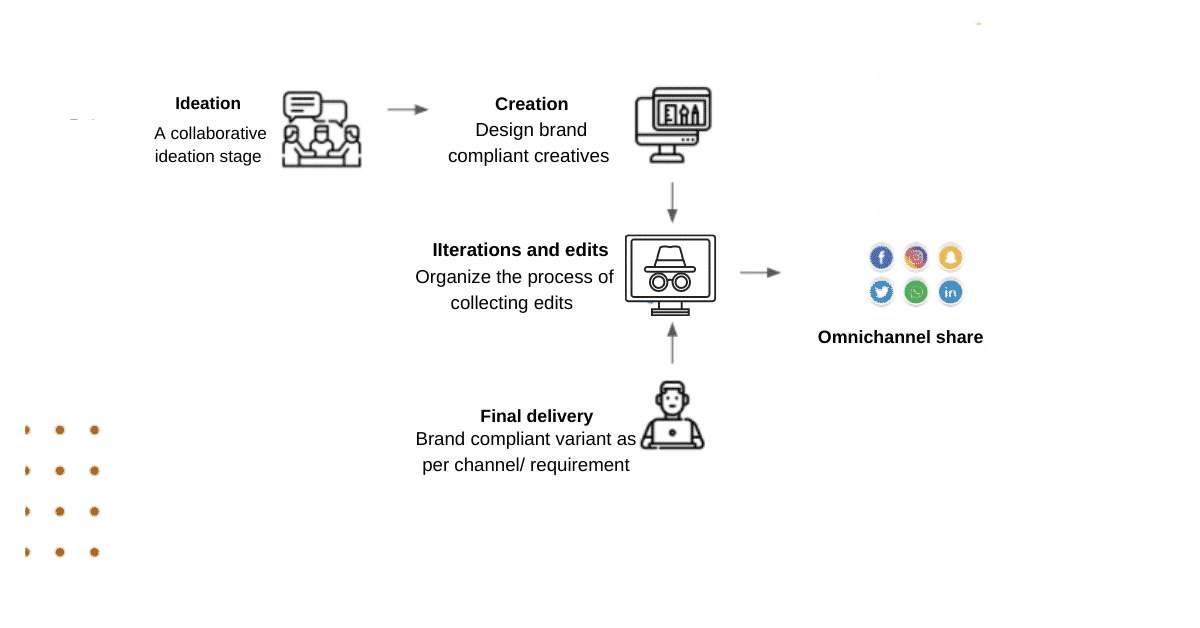 Pro tips to get your creative workflow power-boosted, today!
Generating buy-in is probably the most intangible step in the whole process. You need the team to understand how useful a creative workflow is to motivate them to follow the steps. Once achieved, the buy-in can help you procure the right tools and solidify the workflow.
Roles and responsibilities are never vague. If the CMO has a role in the process, define that too. The democratic setup of the process is another vital component required to make it successful.
Involve the team. Your creative workflow is likely going to miss the mark, initially. But having the team voice their opinions and talk about how to get the ball rolling will help you design a system that works.
Document and be precise with everything — the initial brief as well as the feedback loop. Use previous data to make changes.
Frevvo's calculations on automation illustrate how your savings compound when you invest on the right kind of solutions.
Looking for a creative workflow management solution?
Let's start at the very beginning. If you are facing trouble with your workflow, chances are you create at scale and are saddled by mundane tasks — involving too many iterations, steps that are repeated, and a team with a few objections to having a set process in place.
Explore our creative automation solution to learn how things could change for your organization — without a large stack or 'boring' processes weighing you down.