Video is killing it on social media, and it is no surprise. Videos engage, inform, entertain, and successfully convey your message in a way other mediums struggle to. In fact, Twitter videos are becoming increasingly central to the real-time conversations that happen on the microblogging platform.
8 Benefits of Twitter Videos
Adweek analyzed Twitter's annual online video playbook and created a delightful infographic. Here are a few stats from it:
Twitter sees 800 million visitors a month
82% of users on Twitter actively engage with brands
93% of Twitter video views are from mobile
Videos are 6x more likely to be retweeted on Twitter than photos, and 3x more than gifs
Twitter videos have increased by over 50% since the beginning of 2016
48% of videos included a sequential resolution, i.e. a problem set up at the beginning was solved at the end
37% of Twitter users would like to see more Twitter videos from their favorite brands
41% of Twitter users favor Twitter as a way to discover video content
Twitter video consumption is on the rise and will continue to grow as the network develops new features for users and marketers.
Here are some practices you can follow to make sure your Twitter videos perform well and gain traction. Do note that following these is not an absolute necessity, but since they've been tried and tested by many businesses, it is a good practice:
What is the best Twitter video format?
Twitter supports all 3 formats – landscape, square, and portrait. As a marketer, you want your viewer to watch your video without any distractions. This ensures your viewer understands the message you want to convey. To reduce distractions, your video must take up the maximum real estate of the screen.
Square and Portrait videos are the best formats for Twitter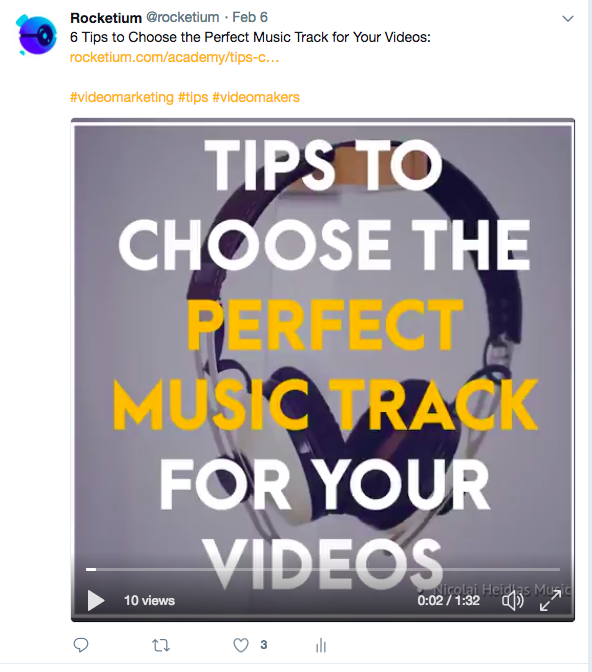 How long can Twitter videos be?
Twitter supports a maximum length of 140 seconds. But you need to grab a user's attention quickly, especially on Twitter. If the first few seconds of your video fail to do that, then the length of your video does not even matter.
To use a Twitter video to teach your audience something interesting about your brand, you can extend the video to up to 90 seconds. If your content is gripping, viewers don't mind watching lengthy videos.
To use Twitter videos to generate leads, create short videos up to 30 seconds on topics that makes the user click on your brand or the CTA to know more.
How to improve Twitter video views?
Include your brand logo in your video. By doing this, you increase purchase intent by 9%! Here are a few other tips to kill it in Twitter videos:
1. Make text-based videos
Twitter videos are set to autoplay without sound. The text has now become an integral element of videos on social media. As a social media marketer, you cannot ignore text-based videos. With the abundance of online video making tools, you cannot even have excuses like "video making is time consuming and expensive".
---
Rocketium is an online text-based video maker with over 300 built-in animations
---
2. Increase conversations on Twitter using hashtags
Twitter really is all about having conversations. Pick a trending hashtag, and either start your own conversation or join one. Hashtags are an easy way to get your videos in front of a wider audience, and not just the people that are following you.
Reply to queries with a how-to video or live video message as this is much more engaging than a generic message.
3. Talk about on-going events
Videos around live events have known to increase brand favourability by 63%.
Lowe's and BBDO New York delivered this on the Fourth of July, 2013:
4. Collect and share user-generated content
People love fame. Create a campaign where you ask your audience to submit fun videos around a brand-related theme and then reward them with goodies and vouchers. User-generated content campaigns receive a lot of traction and can take your social media marketing to the next level.
👉 Continue reading: Why video and UGC are marketing wins
5. Include people in your Twitter videos
When people are in the first few frames of your video, viewer retention doubles!
Short, people-focused videos can help tell your brand story and introduce your people to your customers. This is also a wonderful way to create testimonial videos and success stories.
6. Go Live
Periscope lets anyone broadcast live video via Twitter. You can do this while you're attending a fun promotional event representing your brand or if you're hosting twitter in-stream video. Give people a sneak peek of what your business is really like by creating Periscopes of industry events, special launches, or product tutorials.
What are the types of Twitter videos?
A typical twitter video could be either of the 4 types, depending on your Marketing goal:
1. Recorded Video
You can use the Twitter app to record videos through your device's camera, and then upload it from within the app. In fact, there are talks that Twitter is working on a Snapchat-style video sharing feature.
How to record a video on Twitter:
Tap the 'Tweet' icon then tap the 'Photo' icon
Tap the 'Video' icon to access video mode.
Record a video by holding down the 'Record' icon To add more to your video, simply press and hold again. You can record up to 2 minutes and 20 seconds (140 seconds) of video.
When you are done recording your video, tap 'Done'. You can preview your video before Tweeting it by tapping the play button. You can make additional edits to your video before sharing.
Tap 'Tweet' to share your message and video.
2. Live Videos
Live video is the most immersive way to experience what's happening around the world. From monumental moments and sports events to celebrations and things that make you LOL, it is very easy for you to broadcast a live video straight from the Twitter app.
How to go Live on Twitter:
Tap the 'Tweet' icon
Tap 'LIVE'
You will see the pre-broadcast screen where you can frame your shot
When you're ready, press "Go Live" to start broadcasting.
Once you're live, anyone on Twitter and Periscope can join your live video and participate in your experience.
3. Imported Video
You can import videos to Twitter using the Twitter app.
How to import a video on Twitter:
Tap the 'Tweet' icon
Find the video you'd like to Tweet and tap to select it.
You can trim the length of your selected video by dragging either side of the bar at the bottom. Maximum video length is 2 minutes and 20 seconds (140 seconds).
Tap 'Trim' to finish your edits. You can preview your video by tapping the play button before Tweeting it. This also allows you to make additional edits to your video before sharing.
Tap 'Tweet' to share your message and video.
4. Promoted video
Twitter allows brands to run video advertisements to those looking to target and engage with their customers on Twitter. All promoted video tweets show up in targeted users' feeds and have the label "Promoted" added to it.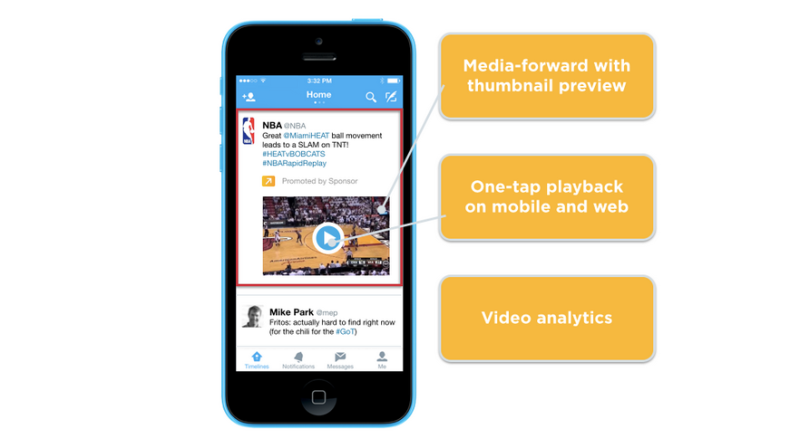 How to run video ads on Twitter:
Subscribe to our newsletter
Recieve such insightful content on Design & Marketing every month!
Thank you for subscribing.