It is simple to manage videos if you rarely make them. It is easier to track who was involved and how the script of the video content was built. But what happens when you scale video production and have multiple video campaigns running simultaneously? What do you do when you want to know who was involved in making a particular video? How do you manage video creation, review, distribution, and analytics?
If your team is making more than 2 videos a day, you need a video management solution. Period. Instead of relying on multiple tools to create, review, track and analyze different video campaigns, you need one platform that can manage all your campaigns and monitor the processes at once. One platform to rule them all! Only then you can do what you do best – ideate and optimize.
Why your business should scale video production?
For a moment, imagine that your team can scale video production to 10 videos a day. You will realize that this opens up opportunities that you had never even considered before.
1. Generate more qualified leads
With video production not being an issue, you can have better targeted and more personalized video ads. You can explore new ad networks, platforms and audiences, run A/B tests, and experiment just like you do currently with images and text.
2. Reduce drop-off in your sales funnel
Including the word video in an email's subject boosts open rates by 19%, improves click-through rates by 65% and reduces unsubscribes by 26% (source).
Your team can now create videos for every drip you're running for your inbound traffic. You can have industry-specific emails, usage-specific emails, location-specific emails, device & OS specific emails – all with relevant videos.
3. Boost SEO for all landing pages
You already know that including a video on your landing pages helps in SEO. Why restrict yourself to only the homepage? Create a video for every landing page you have. You can add demo videos, explainer videos, and even testimonial videos to boost conversions on your landing pages.
4. Increase the efficiency of your content strategy
Is your content generating quality leads for your sales team to convert? You can improve this by establishing your brand as an authority in your industry, which in turn, can be achieved by producing premium quality content that your users will find value in.
Make a video for every article you produce. The video can be a short 1-minute introduction to the article, where you mention prerequisites, statistics, etc. You can also summarise your article and present it as a 1-2 minute video. Just make sure you put the video in the first fold of the article so that users can view it before they read your article.
Create thousands of videos at once!
Use Rocketium's video API to make multiple videos automatically at scale. Easy and hassle-free integration in minutes.
---
Create your own video library on your blog. If you use WordPress, you can select themes that support video uploads. If not, you can create a video gallery on your existing blog with the help of your web developers. These videos can be a part of your existing content strategy, or you can build a new one around it.
5. Get traction on social media
Social media is a breeding ground for videos. By posting videos, you can boost user engagement and increase brand awareness efficiently.
Honestly, apart from YouTube, no other social media platform will help you generate revenue by producing more videos. But you will get something more valuable from this – a solid social media presence! You can generate leads to fill the top of your funnel, build your brand's authority, and engage existing and potential users by running competitions.
Different social media platforms like YouTube, Facebook, Instagram, Twitter, and Snapchat support different video formats (square, landscape, and portrait). You can create copies of the same video in different formats, and experiment to see which format and platform work the best for your brand. This article is a good place to start.
How to scale video content production?
You can scale video production in 2 ways – increase the number of videos for existing campaigns, or build new video campaigns.
1. Increase the number of videos for existing campaigns
You can increase your current video production rate by either scaling your team or by decreasing the time spent on producing a single video.
Scaling your team gives rise to new complications which I will address below. Ideally, you would want to optimize the video creation time without doing any changes to the team. This is why online video making tools like Rocketium are used by businesses to make more videos using their existing teams.
It is important that you do not compromise the quality of your videos when you start making more of them. Ferry from Instrktiv has written these 21 beautiful tips to create better videos. Check it out!
2. Build new video campaigns
Here are a few ideas for new video campaigns you can run:
Video emails - you can use videos in sales emails to convert users to paying customers, or in newsletters to boost customer engagement and build stronger relations with your customers
Testimonials - make videos where clients share how great it's been to work with you, industry partners who have benefited from your collaboration, or even your own team talking about what it was like to be part of your latest project
Reviews, UGC (User Generated Content) - run competitions asking your users to submit videos of how they use your product, or ask them to review your product through a video and string them all into one detailed video you can use in emails or landing pages
FAQs - checkout the FAQ microsite of McDonald's Canada and how they use videos to answer frequently asked questions
Complications that arise when you scale video production
If you've decided to boost your video production rate, you need to brace yourself for these potential hurdles:
1. Managing multiple videos becomes difficult
With multiple video campaigns running simultaneously, keeping track of what campaigns are live, and the stage of each campaign becomes cumbersome.
Slack, Google Sheets, Trello – you'll realise that each have their own restrictions and limitations.
2. Tracking video creators and their contributions is a pain
There are times when you would like to know who was involved in making a particular video – maybe you want to replicate it, or maybe you want to run A/B tests. But this becomes difficult and time-consuming, particularly if the same team is involved with multiple video campaigns.
3. Communication gap increases



The communication between your video creation team, video design team and the distribution team must be quick and precise.
The distribution team consults video analytics and determines what content works best on what platforms. This information should be conveyed to the video creation team so they can ideate and come up with engaging content for different channels. The video design team collects input from both the teams and styles the videos so they go hand-in-hand with the content, ensuring that viewers complete watching the whole video.
If communication breaks at any point or the information is delivered later than expected, it could affect your entire video campaign. How do you scale video production and maintain clear communication at the same time?
4. Video review becomes complicated
There is a general review process followed in most media houses and business where there is a high content creation rate:
The video creation team creates a script and sends it to an editor for a review via email (or Slack). After reviewing, the editor sends corrections to the team, who make the changes and send the script back to the editor. After getting the final green signal, the video creation team fills in the content and proceeds to forward the video draft to the design team. The design team finalizes the styles and sends it back to the editor for a final review. Post this, the distribution team picks up the videos and puts them in respective channels.
This process works seamlessly when you have very few videos. But once the video numbers go up, following the process becomes time-consuming and complicated. There are times when either the creative team or the styling team sits idle because videos remain in the queue for review. This ultimately results in decreasing the efficiency of your video campaigns. This affects all the efforts you've put in to rate video production.
5. Educating new recruits of different tools & processes is time-consuming
When you have new members in the video creation, styling or the distribution team, you need to train and familiarise them with the multiple tools you're using for communication, video creation, review, etc.
It may take close to a month for them to get to speed and perform efficiently.
Rocketium – One platform to rule them all!
Features
1. Kanban style video management UI
You can create different lists which represent each stage of your video creation process. Using simple drag and drop, you can move videos from one list to the other, as it progresses through the video creation stages.
If you use Trello, Workspace is a breeze!
2. In-built video editor
After you jot down ideas for videos, you can assign videos to individual members and create the video right there! The Rocketium editor is integrated inside this, so you don't have to depend on more than one tool to ideate and create.
3. Real-time comment and review
You can view the drafts, review them, and comment right there the changes you would like to make. Just like Slack, you can tag your teammates and just like Google Docs, you can track the changes in real-time.
4. Integrations
Workspace comes with tons of integrations to help you create and manage videos.
For creators and editors:
You can access over 1.5 million royalty free media assets from Storyblocks, Shutterstock, Lobster (for UGC), Pexels and Pixabay
Creators can access copyright free music tracks from Soundstripe and individual composers
You get notifications via email and Slack
You can connect your website's RSS feed to Workspace and create video entries automatically for every new article
Distributors can share videos directly to Facebook, Twitter, YouTube, Brightcove, and Dropbox.
5. Analytics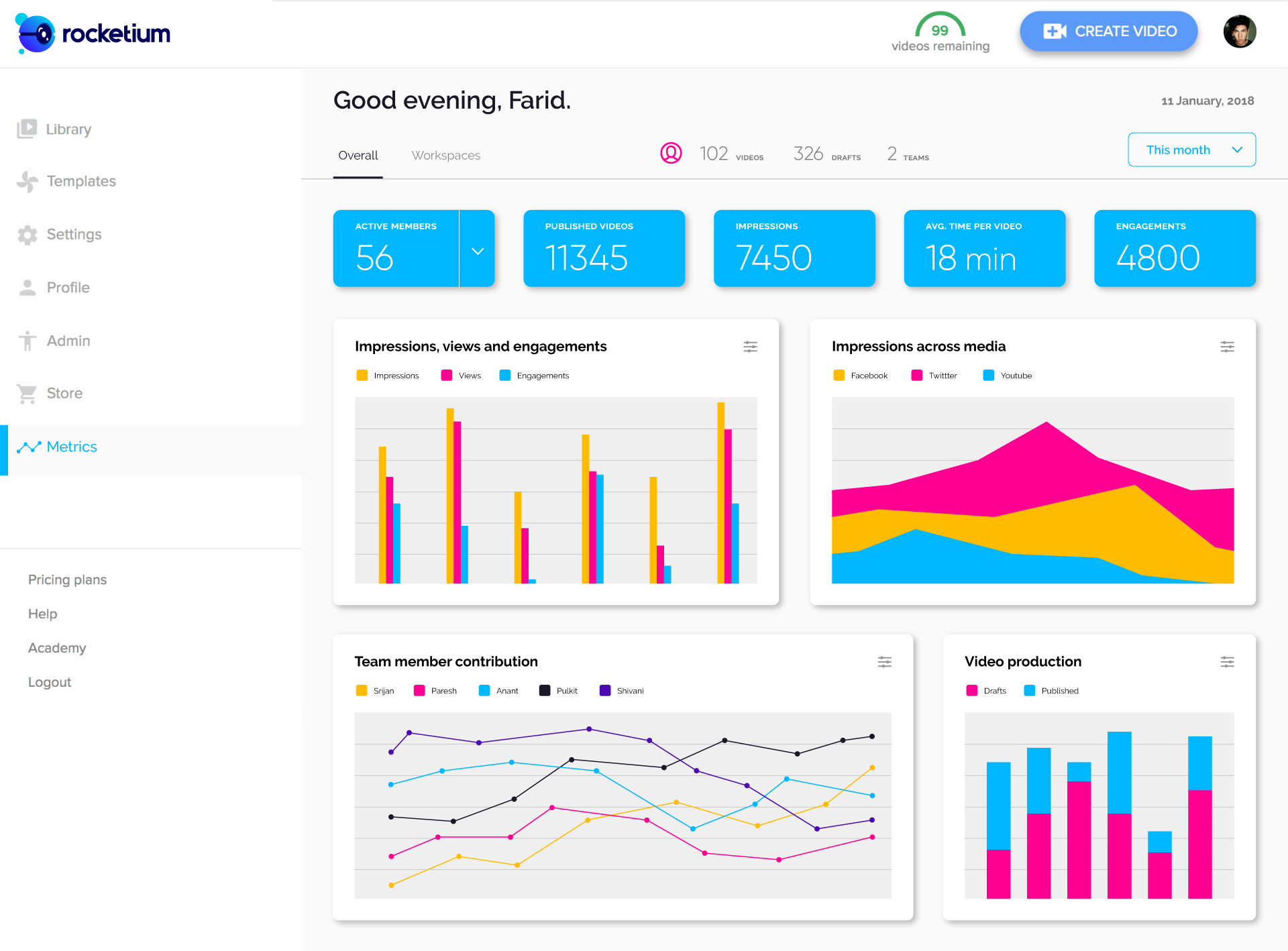 Get metrics, numbers and visually appealing charts that let you know how your video campaign is performing, the contribution of every team member, and how much time it takes for you to make one video.

Use these to optimize your video creation process further!
You can sign up for Rocketium here.