Today, brands don't have a choice but to compete for the constantly shrinking attention span of their users. As a result, there is a lot of emphasis on the innovation that goes into crafting hyper-relevant messages that instantly resonate with consumers. In order to deliver contextual, personalized messages, marketing and design teams spend both significant time as well as money. For example, if you're an eCommerce brand creating assets for an upcoming sale, you will likely have a defined brand language (colors, logos, fonts etc) for guarding your visual creatives on multiple platforms. What would change is the offer and product details for different cohorts.

When scale is of importance, manual creation naturally tires out your resources and comes at very steep costs. More importantly, workflow inefficiencies and disorganized campaign delivery are hard prices to pay. However, when you automate certain steps in your asset creation and distribution workflow, you relieve your designers, copywriters, and marketers from the shackles of mundane tasks so they can dedicate more headspace to ingenuity and innovation.
Solutions available today aim to empower marketers to do more with fewer resources. The comparison in question today evaluates Smartly and Rocketium. Read on to know if they are alternatives to one another. Equipped with powerful technology and a persuasive design sense, Rocketium is a creative automation platform for companies looking to create, manage, and distribute on-brand digital assets at scale. On the other hand, Smartly is a powerful platform in the advertising landscape that enables brands to automate the social advertising workflow.

In this post, we will go over the many capabilities of both Rocketium and Smartly, so you are in a better position to gauge how well-suited they are for your company. Let's get started!
Brand compliance
Brand guidelines are a blueprint for your brand. They offer direction to anyone, including your team of designers, making use of your logo, typography, color palette, and even the way your copy is written. At the same time, it establishes consistency for your audience and affects how they perceive your company.

When relying on automation to create hundreds and thousands of visual assets, upholding the brand identity while also leaving room for personalization can be a challenge. While both Rocketium and Smartly allow creation of custom-made banners and video templates at-large, Rocketium ensures a smooth creative production pipeline with role-based access for every stakeholder.

For instance, you can create separate folders containing fonts, brand palettes, and digital assets for every campaign and offer access only to certain team members. This goes a long way in ensuring that everyone in the company, including product managers, designers, and marketers, is on the same page about the creative assets.

Think of it as a game of bowling. You need the bumpers in the gutters to ensure that the ball is rolled in the right direction to strike the pins. The bumpers here are representative of brand guidelines set by the designers, whereas, the bowlers are digital marketers who are now free to play the game without going off the rails. There are several ways in which they can, metaphorically speaking, roll the ball without compromising the brand identity.

With brand compliance taken care of, your team can broaden their inspiration process and strengthen their creative output.
Workflow integration
By eliminating redundancy and empowering users to do more with fewer resources, creative automation has been a boon for organizational efficiency. However, without connected systems, wherein the information flows freely between various platforms, it's impossible to meet the ever-increasing customer demands.
Simply put, you need the creative automation platform to smoothly integrate with your business processes and ensure data harmony on a large scale.

Whether you're creating digital assets for sales outreach, promotional ad campaigns, or educational content, Rocketium's API easily integrates with your native configurations to create customized videos and images in bulk. For example, Commonfloor, India's largest real estate platform, has seamlessly integrated Rocketium's visual content API with their database, to create more than 2,000 videos for properties listed on their website.
While Smartly is quite powerful in terms of supporting third-party integrations, their capabilities are geared more towards the social advertising landscape. You can easily push creatives to Instagram and Facebook ad managers for publishing, where your ads are also dynamically updated in real-time. On the other hand, Rocketium integrates with your entire creative workflow, both in terms of publication as well as asset management.

On the uploading front, Rocketium lets you use CSVs to upload high-volume data, which comes in handy for eCommerce businesses looking to import catalog data through a user-friendly API interface.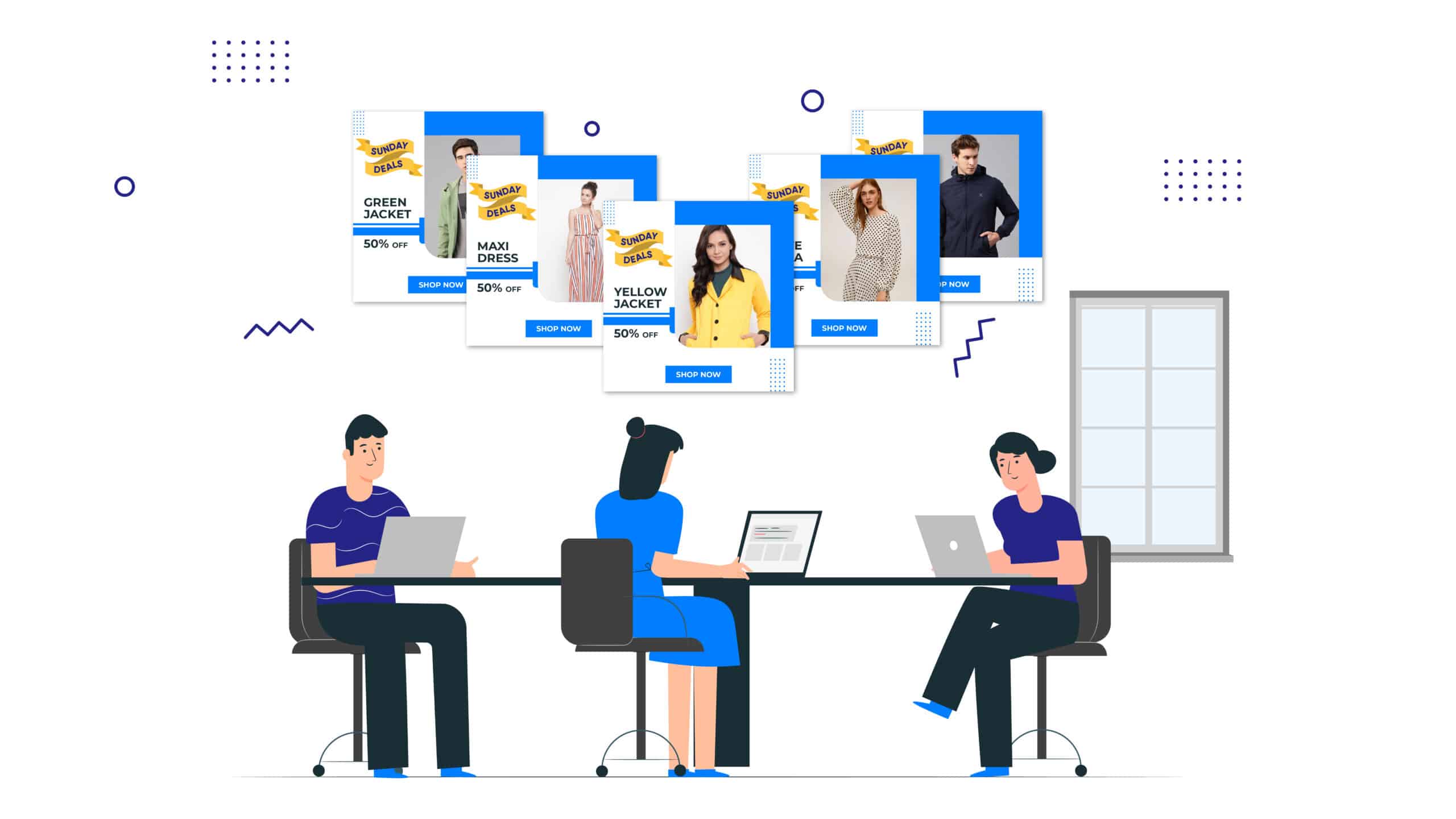 Template capabilities
Image and video templates are instrumental in automating the creative process as they let you create hyper-targeted visual assets by combining static graphic layers with dynamic information. This saves significant time, in addition to the production costs usually associated with digital asset management.

Rocketium offers a repository of pre-built, flexible templates that can be easily modified using a simple drag and drop visual editor. You can also import an existing design from Photoshop or After Effects and generate multiple variants of the same template to run A/B tests for maximum CTR optimization. At the same time, if you're targeting a global audience, you have the option to localize your creatives in multiple languages. Smartly also allows you to import creatives from the Adobe Creative Suite, or use preset templates.
Collaboration
When you combine creative automation with collaboration features, you are bringing together people and processes into one cohesive system to successfully deliver creative assets. 

When linked to your database, Rocketium stores all your media and simplifies stakeholder accessibility. You can set up a unique workspace for every campaign and folder-level access control for different teams to ensure that the final creatives can only be viewed, edited, and downloaded by the right people.

Label your creatives using tags to ensure easy retrieval and assign creatives for approval to multiple stakeholders. This is an absolute must-have when you're working with cross-functional teams and external agencies for campaign management.

The highly-configurable, Kanban-style project management ensures that you have a visual overview of all the 'moving pieces' in a campaign. As a result, you can track the usage of all visual creatives (images and videos) within Rocketium.

On the other hand, Smartly grants user permissions based on different roles. As a company admin, you can add an Analyst and Designer to a campaign.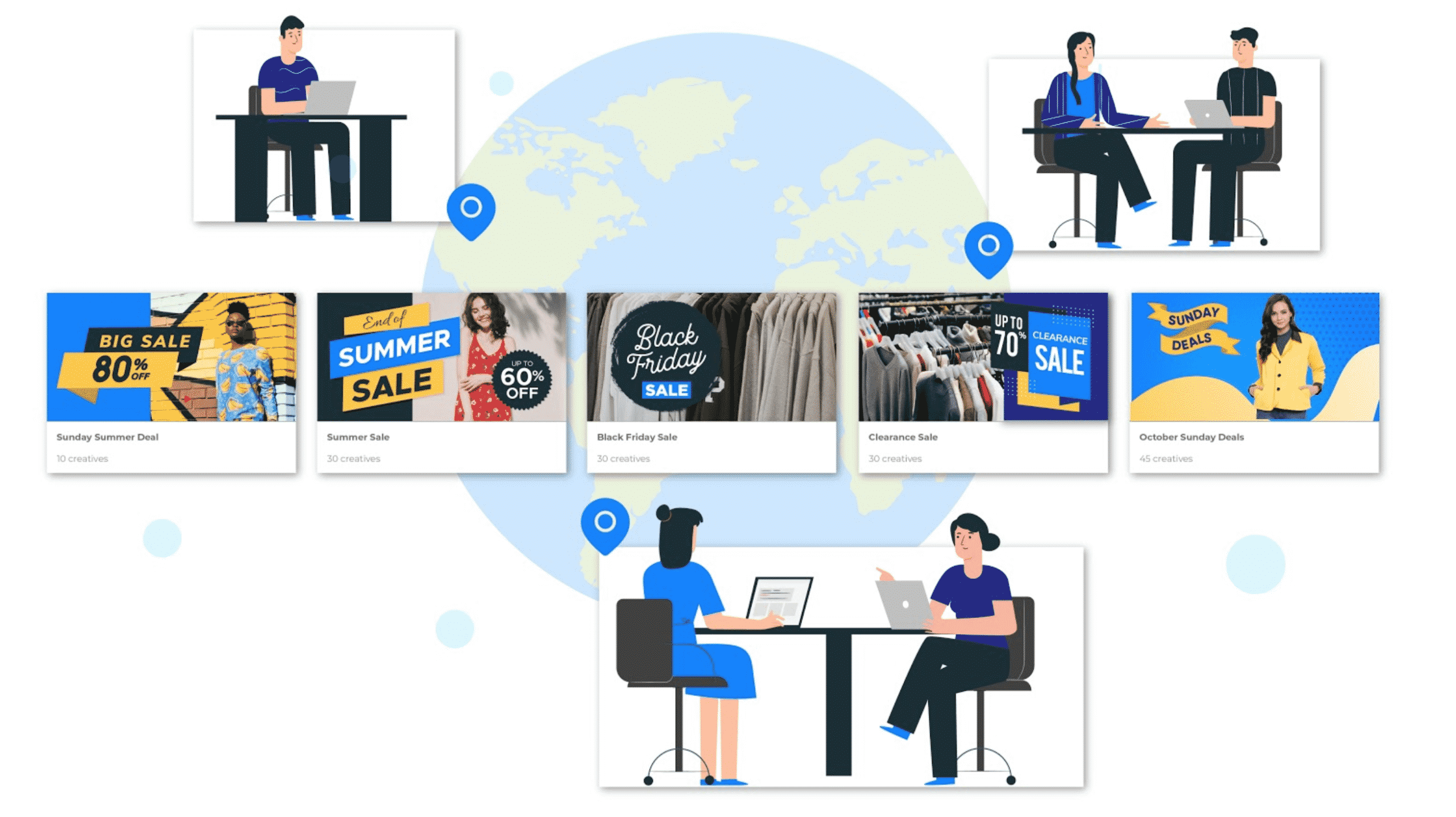 Pricing
Smartly's pricing is largely based on your company's monthly ad spend—starting at a flat 5% (with a minimum of $6000) per month. On the other hand, Rocketium's pricing curve starts at an incredibly competitive rate of $1,000 per month. Depending on your team's requirements, and the magnitude of creative production at-hand, you can choose to opt for a more advanced plan.

Start by analyzing your existing workflow to get a better idea of what rule-based, high-volume, repetitive processes in your company can benefit from creative automation. Choose a software that's agile enough to work alongside your team to maximize return-on-investment.

Regardless, when you go for something more cost-effective, you can use the remaining capital to invest in your company's growth—for example, add more hands on deck or expand your operations to another city.

In conclusion…
Remember, automation doesn't necessarily eliminate human intervention. For instance, you still need a team of professionals to weigh in on creative ideation, direction, and planning. At the same time, production and distribution can more or less be completely automated with minimal supervision.

In a time where brands can leverage a plethora of digital channels to reach potential customers, it is a business imperative to optimize your resources in a way that boosts your bottom-line.

With tools like Rocketium and Smartly, you can build a collaborative ecosystem where automation and manual intervention come together to enhance your teams' creative output. Imagine all the ground-breaking ideas your team can come up with when they don't have mundane manual tasks obstructing the way to their inspiration reservoir!