Digital brand management is a fundamental aspect of brand appeal maintenance. Although internet marketing platforms and digital channels have massively succeeded, some areas require more attention. In fact many digital marketing efforts aren't as intense with careful management as their offline counterparts.
Unlike the obsessive treatment fliers, brochures, and other offline marketing get, many online marketing strategies are less detail-oriented. Similarly, one may observe that the details of each tweet, sales copy, and other e-marketing platforms aren't always uniform.
However, the lack of homogeneity could be a problem for customers that see your brand across multiple channels. Thus, the role of brand management is to maintain brand appeal by ensuring consistency across these channels.
It ensures details like:
Same sized logos
Uniform style
Consistent colors and more
To establish a uniform brand identity and avoid the risk of confusing your customers. For example, two of the top companies that show such observable integrity and detail-oriented focus on branding are LEGO and Patagonia. But where does employee branding come in?
Moreover, employees are involved in some design procedures, representing your brand, and are the best advertisers you have in your arsenal. Hence, an employee with a proper understanding, like a loyal customer, can market you vigorously.
Image by Gerd Altmann from Pixabay
What is Digital Brand Management?
Digital brand management is the merger of all strategies that affect how customers communicate (directly and indirectly) with your brand online. Digital brand reputation management efforts seek to unify digital marketing mediums like:
PPC
Website design
Landing pages
Applications
Social media platform engagement
Blog marketing and other online marketing practices and channels
However, the processes of offline brand asset management are more uniform and straightforward. A central team or a single authority (usually the brand manager) approves all marketing campaigns before reaching the public eye. That is to say, this approval means that flyers, print adverts, brochures, posters, and more will have similar themes, logos, and other details.
Whereas digital brand management requires more attention since most companies outsource online advertisements and marketing efforts. Above all, if you can ensure proper communication with your third-party employees and service providers, it will be better for your brand image.
Benefits of Digital Brand Management
Many industries depend on digital brand management for customizing and distributing their content. Some of them include:
Healthcare and pharmaceutical companies
Manufacturing
Financial service providers
Non-profit organizations and other associations
Educational institutes
Retailing and franchise Organizations
It's certainly hard to imagine that such pivotal industries will keep using something that isn't useful or offering potential. But here are some of the benefits that brand asset management offers.
It Creates Room for Consistency Across Multiple Platforms
One of the most significant benefits of digital branding is its usability across numerous digital channels like:
Search engines
Social media
Online adverts
Websites
Using all these platforms poses a risk for inconsistency. Nevertheless, brand reputation management helps you avoid that while ensuring that you reach a massive audience.
Builds Credibility and Relationship
Digital branding helps increase your reach with customers. Moreover, including digital brand management in the mix acts as a boost to developing and maintaining relationships. Lastly, with consistency and uniformity, you eventually create credibility and get loyal customers.
Other Benefits
Improves your brand's scaling.
Boosts customer advocacy and sales growth.
Increases your pricing leverage.
Improves your brand's awareness.
Potential Limitations or Disadvantages of Digital Brand Management
Surely, It's no doubt that online platforms are improving at a steady pace. However, one cannot be completely blindsided by the benefits and fail to see the places that leave you desiring more. Likewise, here are two significant limitations of digital brand management.
Limited Control
Despite all efforts pushing brands towards digital brand management, they cannot completely control what customers see. On the other hand, offline brands have complete control of every detail in the materials they release. Hence they can control what the final consumer sees.
Although you can ensure you have an excellent landing page, some other factors (for example, system contrasts) vary with online brands. Where you have a specific shade of blue as a brand color, customers could see any shade because of their device.
Third-Party Platform Policies
Overall most common digital marketing platforms have policies for the content you can place on them. Occasionally, these policies limit the content you can upload, which can get flagged as inappropriate. Consequently, it defeats the aim of brand reputation management.
Even if you want to be independent and own a website, Google also has policies that could have inhibitory effects.
How Digital Brand Management Software Helps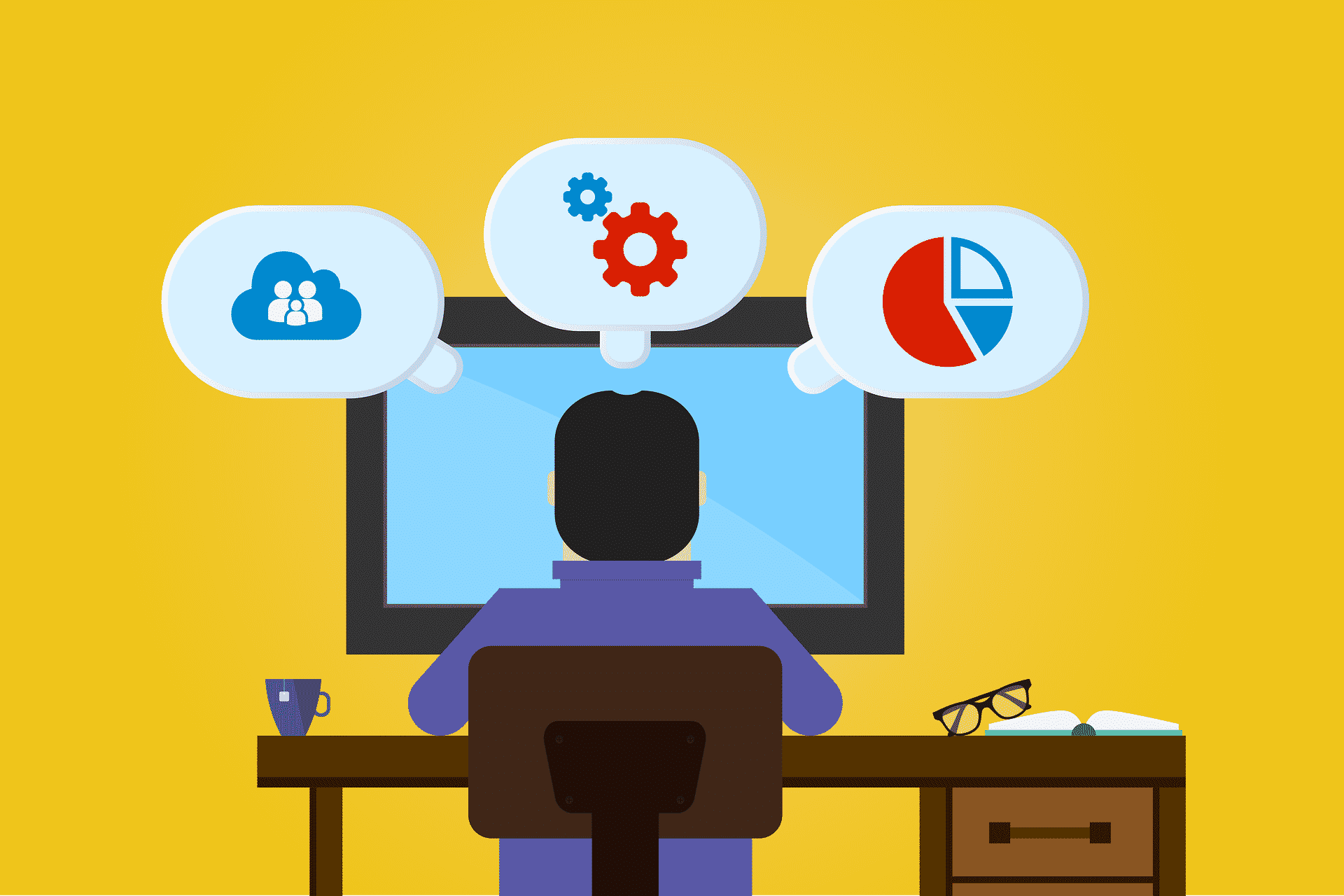 Image by Mudassar Iqbal from Pixabay

Brand management software displays the impact of technology on brand marketing. While one can establish an acceptable brand policy, collaborating with your creators is a different story.
This is where digital brand management software comes indeed. Basically it helps in the process of communicating with significant stakeholders.
Brand management software captures every aspect of your company's desired perception through design, delivery, and regulation. It helps companies secure maximal brand control while maintaining global management and market locally in more complex terms.
However, there is always a chance that new employees could make mistakes and cause inconsistencies in brand features (one of the significant problems of employee compliance). Digital brand management software protects your brand by solving issues like this one. Thus, they keep your brand safe and build it across all the channels you need for engaging prospects, partners, and current customers.
These are content management technologies that software developers design to tackle the challenges of brand managers and marketers. They also differ from systems and processes companies develop internally.
There are three significant purposes digital brand management software serves that reflect how it helps a brand.
It Saves Time and Allows Room For More Self-Serve Marketing
Digital brand management software has approved branded assets on standby, so employees can access them at any time, wherever they are. As a result it eliminates the time spent making and processing requests and increases the time spent on creativity and self-serving. Software use also reduces the burden on your marketing team.
The Software Protects Brand Integrity and Identity
Digital brand management promotes brand integrity. Basically, a software that makes sure it follows a smooth procession would be involved in driving its role forward. Thus, by guaranteeing brand reputation management, digital brand management software indirectly ensures that you maintain integrity across all channels.
Serves as a Tool for Sales Enablement
A helpful feature of sales and marketing is speed and maintaining relevance. You have a better chance of thriving in the market if your sales team can have easy and speedy access to content that is:
Relevant to customers
Maintains brand integrity
Moreover with brand management software, your sales team can avoid going rogue. It is because they will have access to approved assets as quickly as they need them.
Digital Brand Management Tools
Image by Mohamed Hassan from Pixabay
With digital brand management's help in creating a unified front for customers, it's imperative to find one that works. However, there are many digital brand management tools, and each one offers its unique perspective and functions. While some combine digital marketing with their functions others ensure employees can collaborate in the same space for consistency.
Rocketium
Rocketium helps businesses with video, display banner creation, and more, and it uses your customized brand template for uniformity. Further, they offer brand management and digital marketing tools in one space, which makes them extremely useful. On the whole, their Brand Management and Enterprise Design Management platforms are handy brand asset management tools, among other venues.
Features
Advertisement: task management, project management, campaign management, document management, collaboration, and file sharing
Content marketing: conversion tracking, audience tracking, multi-channel publishing, brand management, categorizing, editorial calendar, video management, distribution management, and social media management
Graphic design: collaboration, templates, image editor, data visualization, and image database
Video management
Influencer marketing
Video editing
Non-profit
Brand management
Presentation
Enterprise design management
Bynder
Bynder helps professionals to create, share, and find their assets while ensuring consistency across platforms. They manage the digital files while ensuring homogeneity in the content and brand fo the following:
Brand managers
Brand consultants
Marketing departments
Creative agencies
Communications departments
Features
Enterprise content management
MRM
Digital asset management
Content management
Document management
Video making
Creative management
Brand management
Kontentino
Kontentino is useful for franchises, global or regional businesses that run social media teams and want to optimize content for "near me" searches. Due to the distance barrier, many companies outsource to different agencies in each location for market specificity.
In fact, this business strategy poses a threat to branding, and Kontentino offers a way out. Furthermore, it provides more control over content quality and staying within the brand's picture.
Features
Brand management
Collaboration
Social media management
Creative management
Social media marketing
Advertisement agency
Remote work
WoodWing Assets
The digital brand management system WoodWing Assets helps creative agencies, marketing departments, and publishers attain their branding and marketing goals. Some of these goals are:
Quality
Faster time to market
Cost-effectiveness
Additionally, it supports them in storing, organizing, sharing, managing, and accessing rights and permissions for media assets. It also integrates Adobe InDesign in its functionality.
Features
Digital asset management
Brand management
Content management
Third Light's Chorus
Chorus by Third Light is a digital asset management solution that makes collaboration a mobile ordeal. It creates:
Flexible and secured spaces for teams to remain connected during their projects
Organized file-by-file comment order to keep collaborators connected
Project files synchrony with team members desktops
Features
Creative management
Digital asset management
Brand management
Percolate
Percolate offers marketing teams visibility into the marketing process. It helps improve work coordination and build marketing content and campaigns while using analytics simultaneously to measure its impact. Many large enterprises utilize it to create an enhanced, coordinated buyer experience and boost marketing impact while reducing production costs. Some of these well-known companies include:
Mars
American express
UPS
Rockwell automation
VMware
Eaton
Basically, Percolate is useful for B2B and B2C marketing teams. Above all, it is most useful in the process of delivering content and campaigns on a more impactful scale.
Features
Digital asset management
Marketing analytics
Content marketing
Brand management
Channel management
Campaign marketing
Reputation management
MRM
Marketing planning
Brandox
Brandox is a digital brand management portal that busy marketers and communicators can use easily. Certainly one of its selling points is its user-friendly nature. Consequently, it allows you to find and share brand material internally rapidly. Additionally, it features a user-friendly visual interface to share brand material externally efficiently.
Moreover, Brandox does not require complicated setup procedures or ongoing maintenance. It is perfect for:
Small and medium business owners
Photographers
Marketing departments
Communication departments
Public relations and events
Print shops
Advertising agencies
Press, and more
Features
User-friendly interface
Visual
Brand management
Send Social Media
Send social media is an easy way to measure, manage, track, and monitor all your marketing efforts. Additionally, it allows you the liberty to post on numerous (over thirty platforms) social media platforms, including mainstream ones like:
LinkedIn
Youtube
SlideShare.net
Google Plus
Twitter
Facebook
Pinterest and more
Also, It offers in-depth, detailed reports of results gotten from close brand monitoring across the web. As a matter of fact all you need to do is import your contacts and let the tool manage customer relationships. It is the perfect tool to use for social media management, specifically in:
Enterprises
Agencies
Businesses
Marketers
Features
Brand management
Social media marketing
Email marketing
Brand monitoring
Ease of use
Multi-training options
Multi-device compatibility
Reliable support with 24/7 live chat availability
Final Thoughts
The field of digital brand management is an ever-growing one that is quickly becoming an integral part of brand strategy. Above all, companies must look at developing well-carved approaches that fit each platform without compromising value or brand identity. It would also help to include digital brand managing tools like Rocketium and others for brand improvement.