LinkedIn has come a long way since they started advertising avenues on its platform. If you want to promote your product or services to B2B professionals, LinkedIn Ads should be your go-to channel. In this guide, I'll show you why LinkedIn Advertising is worth it with noteworthy statistics and how much LinkedIn Ads cost. I will also list down the different types of LinkedIn Ads, and answer all your questions about LinkedIn Video Ads.
You will find LinkedIn ads different from other social media advertising platforms like Facebook, mainly because of LinkedIn's B2B targeting options. And this is LinkedIn's biggest selling point.
Why use LinkedIn Ads?
This is probably the first question you as an advertiser would've asked yourself before deciding to invest in LinkedIn Ads.
LinkedIn user statistics 2019
LinkedIn is arguably the largest global community of business professionals you will come across online. There are 630M professionals on LinkedIn, which is a combination of:

90M senior-level influencers,
63M decision-makers,
40M mass affluent (individuals at the wealthier end of the mass market),
17M opinion leaders,
10M C-level executives,
6M IT decision-makers, and
3M MBA graduates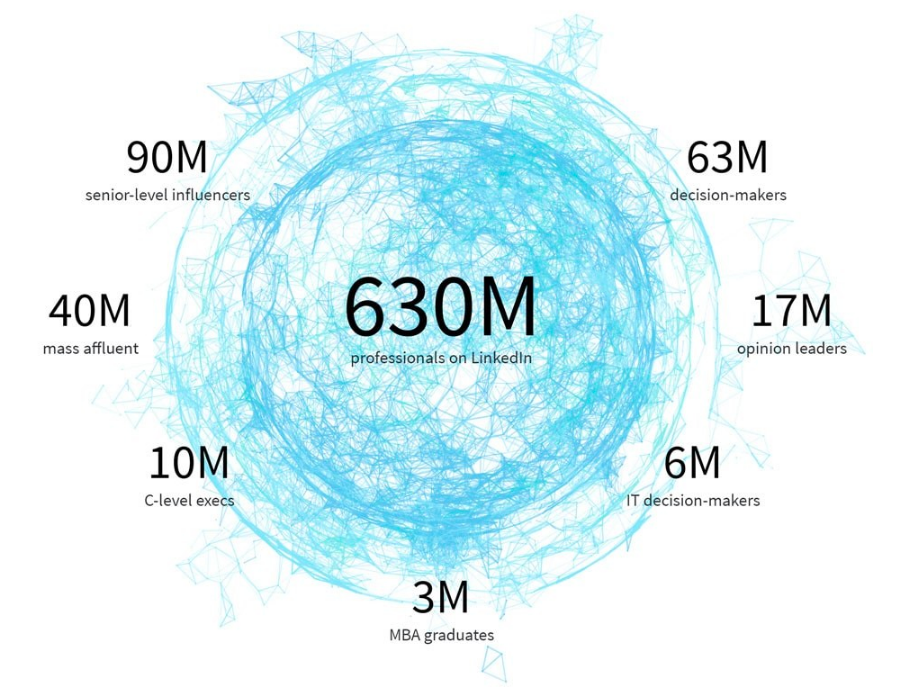 LinkedIn has 303M monthly active users (MAU) and over 121M daily active users (DAU).
77% of business claim that LinkedIn is their platform of choice for all social media-based recruitment efforts. To add to this, job seekers spend close to 30 minutes every day on LinkedIn.
44% of all LinkedIn users are female.
There are close to 87M millennials on LinkedIn, and 11M of these are in decision-making positions.
98% of LinkedIn users are a part of at least one LinkedIn group.
57% of LinkedIn users access LinkedIn on their mobile phone.
LinkedIn's audience has 2X the buying power of the average web audience.
LinkedIn Marketing and Advertising statistics 2019
B2B companies say that 46% of their social media traffic comes from LinkedIn.
97% of B2B marketers admit to using LinkedIn as a content distribution channel.
91% of marketing executives on LinkedIn claim that LinkedIn is their source of top quality content.
78% of B2B marketers have reported that LinkedIn is the most effective social media platform for their Content Marketing efforts.
LinkedIn's visitor-to-lead ratio is 2.74%. This number is much higher than Facebook and Twitter.
43% of B2B marketers have said that LinkedIn has generated direct revenue for them.
In 2018, LinkedIn raked over $1.46 billion in ad revenue. A study from Buffer showed that 26% of social media marketers invested in LinkedIn Ads for promotion.
58% of B2B Marketers have said that LinkedIn Ads have delivered the highest ROI for them, on par with Facebook.
B2B Marketers have reported a 30% view-through rates of their LinkedIn Video Ads.
LinkedIn InMail has a 300% higher response rate than email.
How do LinkedIn Ads work?
Just like most ad platforms, you need to participate in an auction for a target audience where your bid will be pitted against advertisers targeting the same audience as you. After that, you need to select a pricing model – either CPC (cost-per-click) or CPM (cost-per-thousand-impressions), and then you can set your own budget and schedule your ads on LinkedIn.
Choosing an objective or a goal for your Ad
The first step is to decide what goals or objectives you want to achieve with your LinkedIn Ad.
The different objectives available are:
Build Brand awareness,
Increase Website visits,
Grow engagement,
Boost video views,
Generate more leads,
Improve website conversion, and
Get applications for your job listing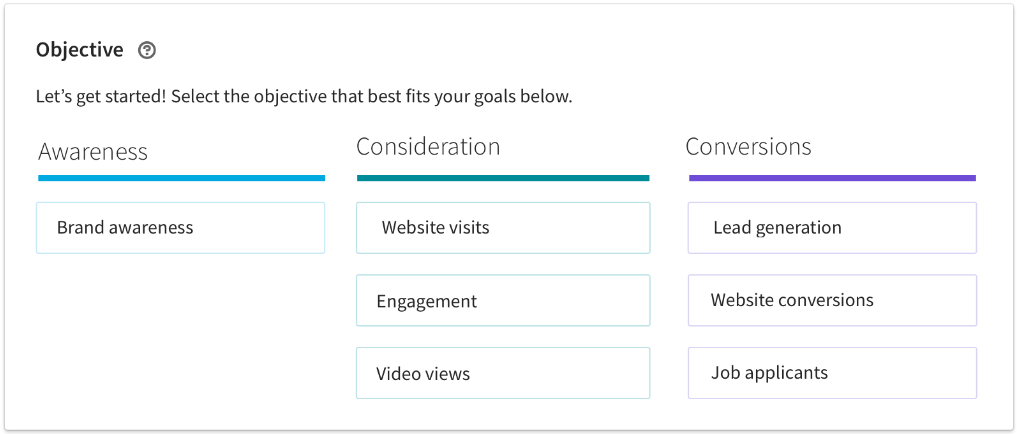 Selecting a target audience for LinkedIn Ads
The next step is to select a target audience for the goal you have decided. Job Seniority describes the rank and influence of a member's current role in their organization. This option is determined by a member's job title.
If you want to reach out to those who influence buying decisions in their companies, you should create a target audience based on seniority.
| | |
| --- | --- |
| Job title | What it means |
| Owner | Has full or near-full ownership of an organization |
| Partner | Has substantial partial ownership of an organization |
| CXO | Has leadership responsibilities for the entire business function within an organization |
| Vice President | Executive management position that has leadership responsibilities for one particular business function or unit |
| Director | Multi-functional management position that has leadership responsibilities for multiple groups of individuals |
| Manager | Positions that have leadership responsibilities for a single group of individuals |
| Senior Individual Contributor | Individual contributor positions that do not have direct reports but have leadership responsibility, advanced knowledge, and do not require immediate guidance |
| Entry | Individual contributors that do not have direct reports, no leadership responsibility, no advanced expertise and contribute without immediate guidance |
| Training | Students, interns and trainee positions that need immediate guidance to individually contribute |
| Unpaid | Includes volunteer positions and positions that do not refer to a job |
To help you get a better grasp at the whole targeting piece of LinkedIn Advertising, here is an example:
Alexis is a marketer in the tech industry who works at a small to mid-sized company with marketing-related skills such as demand generation, SEO, social media, and project management.
How will you use LinkedIn targeting to reach out to this user persona?
There are 4 different types of campaign you can run to reach out to an audience like Alexis.
Campaign 1: You will target people like Alexis based on Job Function and Seniority. You will pick Marketing, Media & Communications as the Job Function, and Senior, Manager, Director, VP, CXO, Partner, and Owner as the Seniority.
Campaign 2: You will set up this campaign to target people like Alexis based on Company Industry and Company Size. You will pick Computer Software, Internet, Computer Hardware, Marketing and Advertising, and Information Technology and Services as the Company Industry, and
exclude 201-500, 501-1000, 1001-5000, 5001-10,000, 10,000+ from the Company Size.
Campaign 3: In this campaign, you will target people like Alexis based on Job Function and Skills. You will select Marketing, Media & Communications as the Job Function, and Digital Marketing, Lead Generation, Demand Generation, Social Media Marketing, Content Marketing, Online Marketing, Web Marketing Strategy, Email Marketing, Social Media, SEM, SEO, Marketing Automation, Integrated Marketing, and Google Analytics as the Skills.
Campaign 4: You will target people like Alexis based on the LinkedIn Groups they are a part of. This will include groups like Marketing Pros – Largest Marketers Group: Digital Inbound Social Media Content, Search Email SEO Jobs, Tech Jobs: Telecoms, Developer, IoT, Cloud, Digital Marketing, and B2B Technology Marketing Community.
You can also build a target audience group for your retargeting efforts using LinkedIn Ads. Retargeting helps you bring users back to your website to increase user engagement and drive product usage.
Bidding for a target audience on LinkedIn
The final step is to place bids so that your ad is shown to the audience you have selected. You can use the following filters to pick a target audience on LinkedIn:
Demographic data – filter your target audience by age, gender, and geography (location). Note that location is the only mandatory targeting field on LinkedIn.
Interests – target members by the LinkedIn Groups they belong to, their field of study, skills, and interests.
Persona targeting – reach audiences like job searchers, opinion leaders, business travelers, and more based on the user's profile data and LinkedIn behavior.
Company details – pick a target audience based on company connections, followers, company industry, company name, and company size.
Education – select LinkedIn users based on their degrees, fields of study, and member schools.
Job experience – choose your target members based on their job function, job seniority, job title, member skills, and the number of years of experience.
If you're just getting started with LinkedIn Ads, you can select some of their preset Audience Templates. Using these you can pick target key audiences such as Recent Graduates, Event Planners, Millenials, Doctors, and more, instead of doing it manually. You can also save your own Audience Templates for future use.
Tip: Combine the 'Job Function' option with the 'Seniority' option to include decision-makers with specific expertise or skills in your target audience.
What are the types of LinkedIn Ads?
Like Facebook or Twitter, there are multiple types of Ads on LinkedIn that you can use to ensure your message reaches the right audience.
1. Sponsored Content
You can run native ads (or Sponsored Content) on LinkedIn to raise awareness, increase leads, and nurture relationships at every stage of your sales cycle.
Sponsored Content can be viewed by LinkedIn users on both desktop and the native mobile app.
LinkedIn native ads are of several different types:
Single Image LinkedIn Ads
These are image posts on LinkedIn that you can put money behind and promote it to an audience of your choice.
LinkedIn Video Ads
You can also use videos as creatives for your ad copies, and use LinkedIn Video Ads reach out to your target audience.
Content is at the heart of a successful video ad campaign. You need to make different video content to achieve different marketing goals and objectives. The best way is to keep your video concise, visually compelling, and mainly focus on the storytelling to drive your point home.
Before you get down to creating videos, identify your objective to ensure that your video ad aligns with the type of goal you want to achieve. Here are the key content types for each objective.
For brand awareness and consideration:
Position yourself as a thought leader
Tell your brand's story
Share stories or testimonials of existing customers and clients
For conversion:
Show a quick demo of your product
Give a sneak peek of your webinar
Preview your upcoming event
👉 Here are some best practices to create LinkedIn Video Ads.
Lead Gen Forms
Using Lead Gen Forms, you can collect high-quality leads from your Sponsored Content. These forms get pre-filled with the data of the user who interacts with it, letting them send you their professional info with just a few clicks.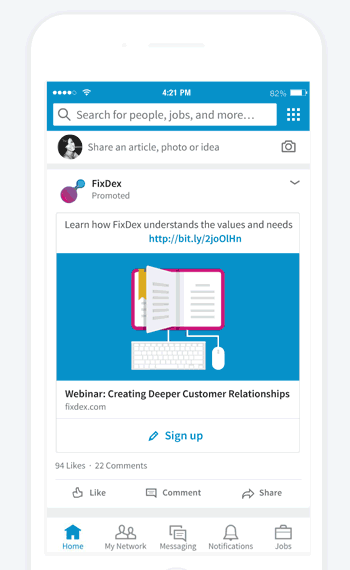 You can track your campaigns' cost per lead, the lead form fill rate, and the number of leads you're getting from specific audience segments.
Carousel Ads
Carousel ads on LinkedIn are interactive. Your target audience can scroll through a collection of images and take action. Note that each image can have its own accompanying text.
This is really useful if you have multiple products for sale on your e-commerce store. Tech Saas companies can also use Carousel Ads to showcase their features or user testimonials to increase the click-through rate (CTR).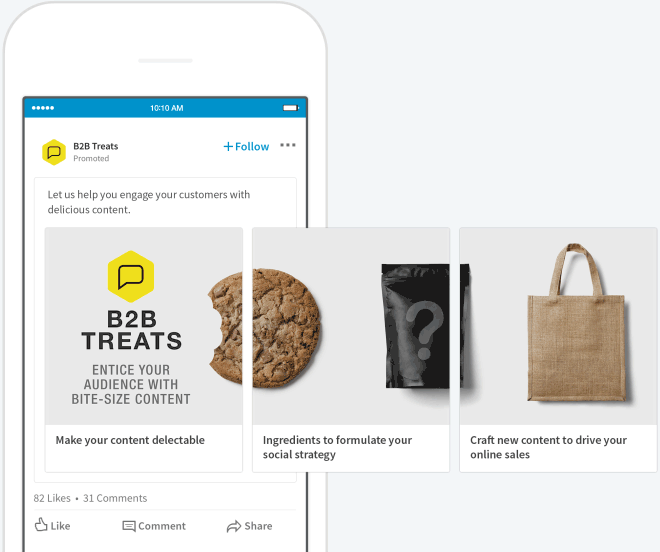 Best practices for Sponsored Content
Keep your Ad Headlines under 150 characters. Remember, crisp and concise headlines lead to more clicks.
Make sure your ad's descriptive text is under 70 characters. Note that anything over 100 characters will be cut on desktop, and the text will appear as a snippet with trailing dots (…).
Use large images instead of standard thumbnails. An image size of 1200 x 627 pixels is recommended for Sponsored Content. Content with larger visuals gets up to 38% higher CTR.
Add a clear call to action (CTA)
Be specific with ad targeting. Choose the location and any two other targeting criteria to start with.
Offer key insights and takeaways because this will keep your content from feeling too generic. This will also help your brand to establish thought leadership in your industry.
Make Content Marketing a huge part of your strategy. Curate and share information that is relevant to your audience.
Repurpose your own articles to videos and infographics, and share them on LinkedIn.
Run A/B tests to compare different versions of your ad creatives. Pick the one which resonates the most with your target audience.
Every 1-2 weeks, pause the ad copy with the least engagement and replace it with a new ad creative. Over time, this will improve your ad relevance score and will help you win more bids.
Optimize your website's ad landing pages for mobile. If your page does not load properly on mobile, it gives a poor experience to the people clicking on your ad.
2. Sponsored InMail
As a LinkedIn user, you get access to your own personal inbox. This is where you can send messages to your LinkedIn connections and followers.
By opting for a Sponsored InMail campaign, you as an advertiser can send personalized ads to your target audience's LinkedIn inbox.
Since LinkedIn users can access their inbox on both mobile and desktop, your Sponsored InMail messages can also be opened on both mobile and desktop.
Note that Sponsored InMail messages are only delivered when the user is active on LinkedIn.
What you can do with LinkedIn's Sponsored InMail messages:
Boost registrations to webinars or events by sending personalized invitations,
Improve the conversions for your product or service website, and
Promote content downloads for infographics, white papers, and eBooks,
Best practices for Sponsored InMail messages
Keep your messages short. Body text under 500 characters is known to have a 46% higher CTR.
Be personal. Sponsored InMail allows you to add personalized fields such as the first name.
Make your message interactive by adding links to articles or case-studies. Messages with links in the body text have been shown to lift CTR by 21%.
Add a clear CTA. Use simple, user-friendly one to three words for your CTA. The top 5 performing CTAs for Sponsored InMail are:

Try
Free
Today
Click
Apply
How much do LinkedIn Ads cost?
The cost of running advertisements on LinkedIn depends on the following factors:
Your target audience – After you pick a target audience, you bid against other advertisers that are trying to reach the same target group as you. The cost required to win this auction depends on the competition for your target audience.
Your ad bid – You can set the budget (maximum amount) you're willing to pay for a click, impression, or a delivered LinkedIn InMail. Note that if you win the auction, you only pay one cent more than the next highest bid.
Your ad relevance score – Your ads receive relevance scores based on the click-through rate, comments, likes, and shares on your ads. LinkedIn auction rooms reward relevant, engaging ads, which means that the higher your ad relevance score, the lower the price you pay.
There are three pricing models for LinkedIn Ads:
CPC (cost per click): In this model, you pay LinkedIn only when your target audience clicks on your ad. If you want to drive traffic to your site or generate leads, CPC is the most recommended model.
CPM (cost per thousand impressions): In this model, you only pay LinkedIn when your target audience sees your ad. If your goal is to drive awareness, you should go for the CPM model.
CPS (cost per send): This pricing model is applicable to Sponsored InMail messages only. When you want to drive highly qualified leads or event registrations, CPS is the best model.
What are the recommended LinkedIn Ads specs?
Before wrapping this guide up, I will cover the best specs, sizes, and dimensions of the different types of LinkedIn Ads.
Sponsored Content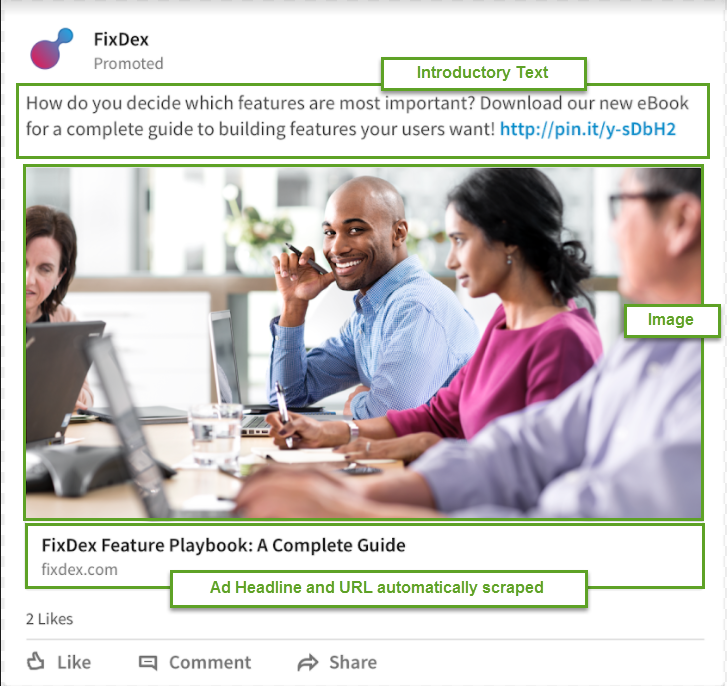 Thumbnail image size should in the ratio 1.91:1 (1200 x 627px)
Minimum image width: 400px
Maximum image size: 5MB
Recommended pixels per inch (PPI): 72ppi
Image ad formats: JPG, JPEG, and PNG
Maximum characters in the heading text: 70
Maximum characters in the description: 600 (note that this includes the number of characters in the target URL too)
Recommended characters in the description: 150 (anything more than this is truncated)
Sponsored InMail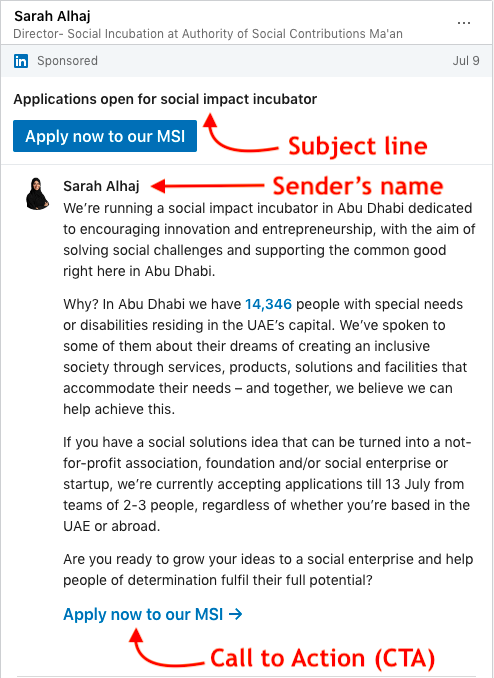 Maximum characters in the sender's name: 30 (note that this includes spaces and punctuations)
Maximum characters in the subject line: 60 (note that this includes spaces and punctuations)
Max characters in the body: 1500 (note that this includes spaces and punctuations)
You can only add 3 clickable links
Max characters in the CTA Button: 20 (note that this includes spaces)
Banner Ad size: 300×250
Supported image formats for the banner: JPG, PNG
Maximum file size of the banner: 40KB
Tuesdays and Wednesdays are the best days to send LinkedIn Sponsored Inmail messages
Conclusion and next steps
If you've reached this far, I'm positive you know everything you need to get started with LinkedIn Ads.
To recap, I recommend you use LinkedIn to promote content, drive traffic to your website, increase webinar attendees, improve website conversions, and to get more job applications.
Since LinkedIn is the largest platform for professionals to connect and read high-quality content, it is highly possible that your ad reaches the decision-maker of your target company easily.
If you're looking for a nifty tool to help you create video ad creatives at scale, check out Rocketium. If you have any questions, feel free to drop a comment below!
Subscribe to our newsletter
Recieve such insightful content on Design & Marketing every month!
Thank you for subscribing.