LinkedIn's Video Journey
Before launching LinkedIn video ads, the professional network platform started allowing users to upload videos in August 2017. Pete Davies, the group product manager, announced in a blog post that they started testing the feature in July, and he shared examples from Edwin Rhemrev, Madison Allen and Chris Chien.
As a user, you have access to insights including companies, titles, and locations of viewers of your videos. You can also get metrics like total views, likes, and comments. These insights are available via the dashboard section of your profile, on both mobile and desktop.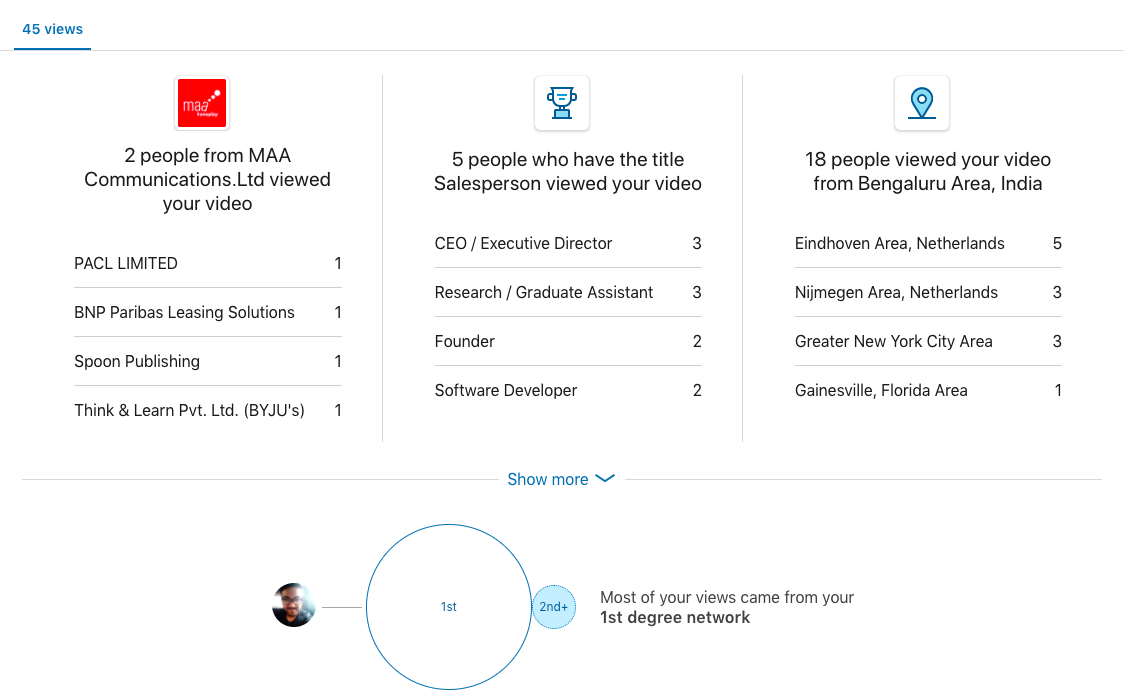 Birth of LinkedIn Video Ads
In 2012, LinkedIn launched support for video ads, but you had to first upload the video on YouTube. There was no autoplay feature. But LinkedIn's mobile presence grew stronger after its purchase by Microsoft for $26.2 billion.
This led to LinkedIn announcing the launch of video ads last October. Currently in closed beta testing, LinkedIn video advertising is available to "a limited number of advertisers". These include Prudential Financial and, unsurprisingly, Microsoft Canada.
LinkedIn video ads will autoplay without sound. This style of displaying video ads has been tried and tested by the likes of Google, Facebook, Instagram, and others. And it has turned out to be a VERY profitable source of revenue.
Vodafone has been testing this offering out as part of its B2B strategy.
"Working with LinkedIn, we are able to make use of the in-depth member data to identify specific audiences, at scale, and target them with our video ads," Philippa Benos, enterprise lead at Vodafone UK said. "We're looking forward to both seeing the results of this beta phase and incorporating more video content into our B2B marketing efforts over the next year."
Understanding LinkedIn Video Ads
The new LinkedIn video ads will initially debut on mobile, and you'll be able to see them on desktop "in the near future."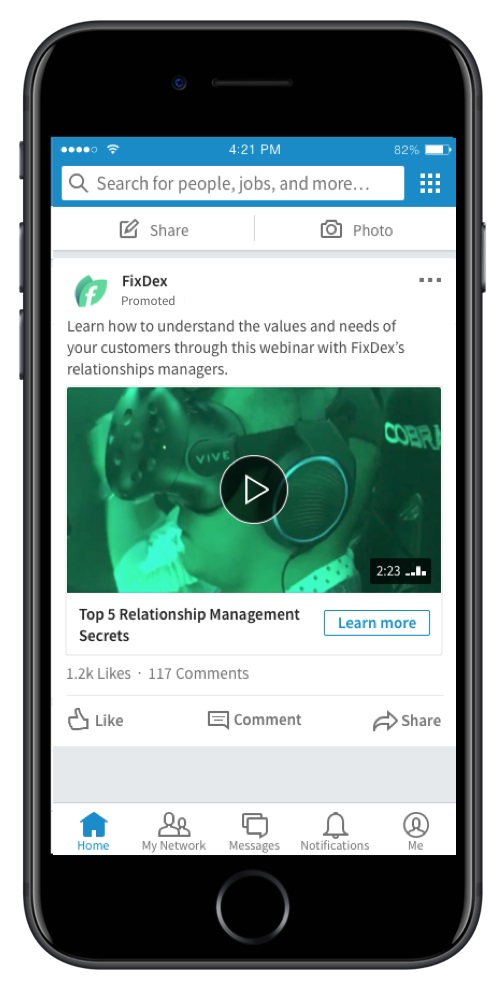 They will appear as a standalone unit with a "Promoted" label to distinguish them as paid or sponsored content. There will be no pre- or post-roll video ads.
You will be able to upload video content via Campaign Manager, your official company page or your showcase pages. You can then promote that content as a part of sponsored content campaigns.
Selecting target audience and tracking metrics
You will be offered the same targeting options as other LinkedIn advertising options—targeting using data from member profiles such as company size, geography and job title, as well as via LinkedIn Matched Audiences.
As an advertiser, you can track some ad performance metrics like view count and views by the percent of video completed. LinkedIn has also said that several additional metrics and data points specifically for video will be added in the next several months.
How does this help marketers?
For a B2B marketer, LinkedIn is paradise. It is, after all, a professional networking tool, meaning that users are primed to find professional services on the site.
80% of B2B leads come from LinkedIn. With the latest targeting improvements, you can virtually place your ad in front of anyone of its 500 million members.
The new targeting options include:
Account Targeting (target specific companies and key decision-makers, at scale).
Contact List Targeting (target users from your email list or connecting select CRM systems).
Retargeting web visitors (target website visitors of your site from the past 90 days).
Increasingly, B2B buyers are visiting LinkedIn for the content they need to move forward in their journey. This means more and more users with decision-making powers are relying on LinkedIn content. 57% of these buyers are on a mobile device. Put together, there are 9 billion content impressions in LinkedIn feeds every week.
43% of marketers say they sourced a customer through LinkedIn. This stat proves that marketers are finding customers who are looking for more than professional services.
61% of LinkedIn users are between the age groups 30-64. Honestly, millennials and boomers are in their prime earning and spending years, making them particularly attractive to marketers. They purchase more consumer package goods than any other age group, and they tend to take more vacations too.
Best practices for LinkedIn Video Ads
Content is very important for a successful video ad campaign on LinkedIn. You need to keep your video creative concise, visually compelling, and mainly focus on the storytelling to make the most impact on your viewer.
Plan video content based on your objective
Identify your objective and the goal you want to achieve before creating the video content. This will make sure your video aligns with the type of success that you want to drive. Here are the key content types for each objective:

For brand awareness and consideration:

•  Position yourself as a thought leader
•  Tell your brand story
•  Share stories and testimonials of your existing customers

For conversion:

• Show a quick demo video of your product
• Give a sneak peek of your webinar 
•  Preview your upcoming events
Tips for creating engaging video ads
The first 5 seconds of your video are very important. Show what you want your audience to see in these first 5 seconds of the video. Viewer attention drops after this.
Include numbers, graphics, text, and human faces in your video ad. This grab's the viewer's attention almost immediately.
A large portion of LinkedIn members will watch your ad with the sound off. Make sure you add some text and/or subtitles.
Keep videos under 30 seconds if you want to increase brand awareness.
Make longer videos for demand generation and to drive high-quality leads.
Sponsor videos you've already uploaded to your LinkedIn Page.
Repurpose videos that you have made for your website, blog or other social channels like YouTube.