Twitter is the second most popular social media platform in North America, coming in just after Facebook. This is why, as an advertiser, you need to get started with Twitter Ads and gather more information on everything about Twitter Video Ads.
In this starter kit for Twitter Advertising, I'll answer all questions you have like – are Twitter ads worth it, how much Twitter ads cost, recommended Twitter ad specs, the best format for Twitter video ads, and tips to make Twitter ads.
Twitter Promotion: Are Twitter ads worth it?
Twitter ads statistics in 2019
69% of Twitter users say they have bought from SMBs because of their ad content
85% of SMB owners say that Twitter is a crucial part of their advertising strategy
Twitter revealed in a letter to their shareholders that the cost-per-engagement on Twitter ads has declined by 54% year-over-year
In the same letter, Twitter claimed that total ad engagements on Twitter have increased by 99% year-over-year
64% of Twitter users have said that their decision to make a purchase was influenced by Twitter ads
85.4% of Twitter users claim that they find Promoted Accounts useful for discovering new B2C brands
Twitter user and website statistics in 2019
58% of the world's top brands have more than 100,000 Twitter followers
93% of Twitter users who follow an SMB on Twitter, plan to buy from them in the future
Twitter has over 336 million monthly active users (MAU)
74% of Twitter users claim they get their daily news from Twitter
92% of brands on Twitter tweet more than once a day, and 42% of brands tweet up to 5 times in a day
---
Twitter video ads statistics in 2019
82% of Twitter users watch video content on Twitter
Among people who use both Twitter and YouTube, 70% watched the videos they discovered on Twitter
Tweets that are promoted as video ads save 50% on the cost-per-engagement for advertisers
In-stream video ads lift purchase intent by 18%
73% of Twitter users have said that video ads aren't intrusive, with a majority of respondents mentioning that video ads are informative
41% of users feel Twitter is a great place to discover videos
Twitter users admit that video ads have increased ad recall rate by 194%
Marketers report that Twitter video ads have improved Brand Awareness by 50%
93% of Twitter video ads are viewed on mobile devices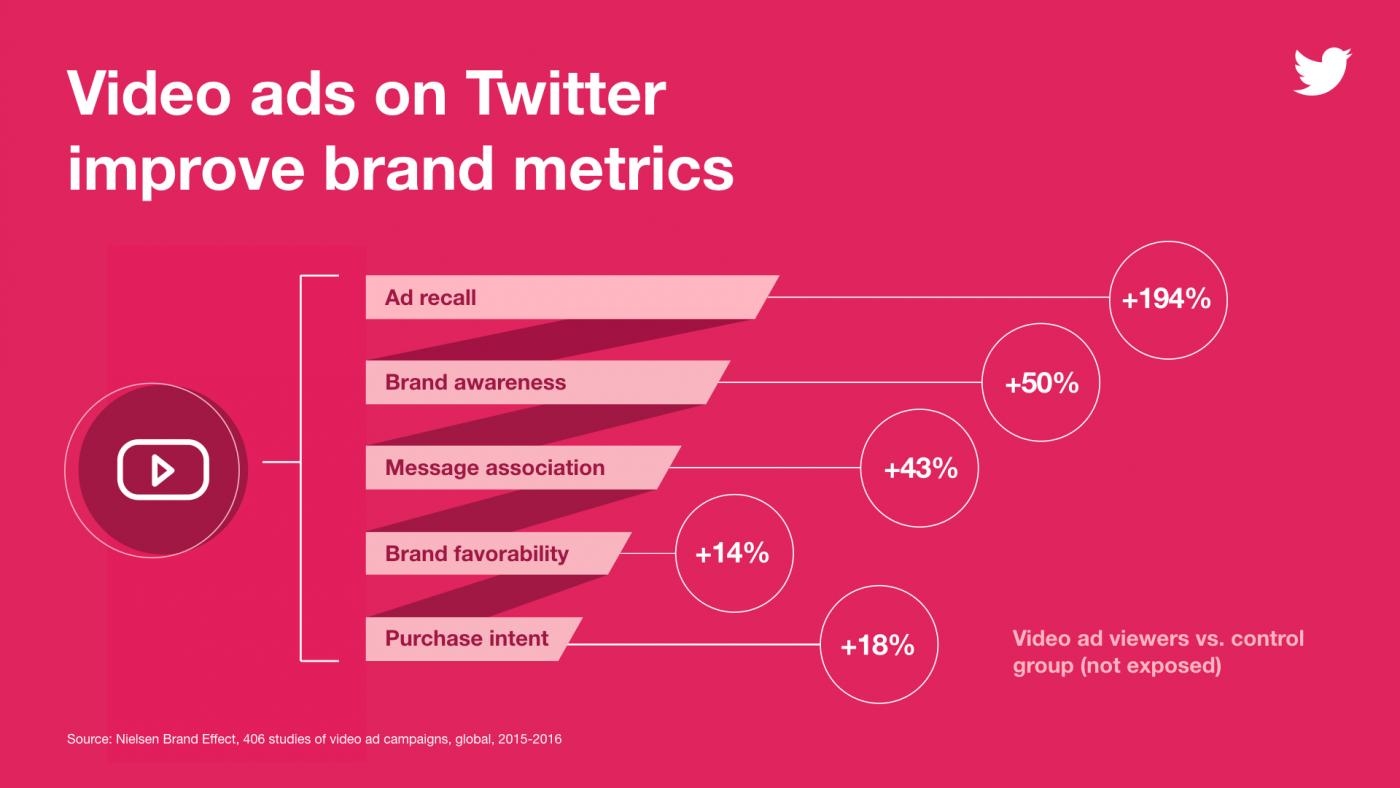 What can Twitter Ads be used for?
Here is a list of goals and objectives you can achieve from Twitter ads:
1. Increase website visits
You can promote your website and get more traffic from Twitter. For these campaigns, you pay for link clicks and Website Card clicks.
Pricing model: cost per click (CPC)
2. Improve Brand Awareness
You can Promote your Tweets to maximize their reach so that more unique Twitter users see what you Tweet about and know your brand. For these campaigns, you pay for the number of impressions, i.e. the number of times your Tweet was shown to your target audience.
Pricing model: cost per 1,000 impressions (CPM)
3. Grow Twitter followers
If you want to increase the number of followers you have on your Twitter profile, you can run Twitter ads. For these campaigns, you pay for each user that follows you thanks to this campaign.
Pricing model: cost per follow (CPF)
4. Boost Tweet engagement
You can increase the number of conversations on your Tweet by promoting your content and putting it in front of the right audience, particularly those who are more likely to start a conversation. For these campaigns, you pay for the number of Tweet engagements.
Pricing model: cost per engagement (CPE)
What is Tweet engagement?
All actions performed on a Tweet are considered as Tweet engagement. This includes:
Retweets,
Replies to the Tweet,
Follows,
Likes,
Clicks on links, cards, hashtags, embedded media, username, or profile photo, and
Tweet expansion
5. Increase video views
If you want your video message to reach to a wider audience, you can do so by promoting the video Tweet. This will help maximize the viewership of your video content. For these campaigns, you pay for each video view.
Pricing model: cost per view (CPV)
6. Get more App installs
If you wish to increase the number of installs on your app, you can promote your app on Twitter and drive more downloads that way. For these campaigns, you pay for app installs or app clicks.
Pricing model: cost per app click or cost per install
How does Twitter Advertising work?
Whether you're an individual advertiser for an SMB, or an agency catering to a large brand, you can customize your Twitter Ads campaigns to accommodate your budget.
Step 1: Selecting a target audience
The first step you need to take is to use Twitter's targeting features to pick a target audience for your ad campaign. You can select specific geographical locations, target the followers of a particular account, or pick the interests of Twitter users.
Step 2: Narrowing down on bids
A bid represents how much you're willing to pay for the objective you've selected. If you remember, I've listed the pricing model for each objective above. Scroll up to check them out, in case you missed them.
In an auction, you can decide how much you will pay for each user action, depending on the objective you have selected.
During the auction, it will compete against other advertisers such as you who are targeting the same audience as you've chosen.
The selected ad will run based on factors like the relevance of your ads to your targeted audience and the bid you have set. Unlike Facebook, the advertiser with the highest bid has a greater chance of winning the auction.
Recommended Twitter Ad bids
Here is a list of an appropriate range of bidding options based on the type of objective you choose (in ascending order):
Tweet engagements campaigns: $1.50 – $2.50
Website visits campaign: $1.68 – $10.00
App installs or re-engagement campaigns: $1.95 – $3.25
Followers campaigns: $2.50 – $3.50
Awareness campaigns: $6.00 – $8.00
In addition to your bid, you can set a campaign budget for the total amount you want to spend.
Step 3: Participating in Twitter Ad Auctions
The amount you pay to Twitter per action is not fixed. Twitter will run your ad on an auction system, where other advertisers such as yourself will bid on available ad space for the audience they want to reach.
How much you pay for your campaigns will depend on the following factors:
How engaging your Twitter ad is,
The size of the targeted audience you have selected,
The number of other advertisers who are also targeting the same audience as you, and
The bid you have selected.
Remember that audiences that are in high demand will almost always require you to bid high.
What are the different types of Twitter Ads?
The three basic types of native Twitter ads are Promoted Tweets, Promoted Accounts, and Promoted Trends.
1. Promoted Tweets
When you pick an existing Tweet that you have made and put money behind it to show it to a wider group of users, or to spark engagement from your existing followers, it becomes a Promoted Tweet.
You have to remember that although Promoted Tweets are labelled as 'Promoted', they can be retweeted, replied to, liked, and interacted with – just like regular tweets.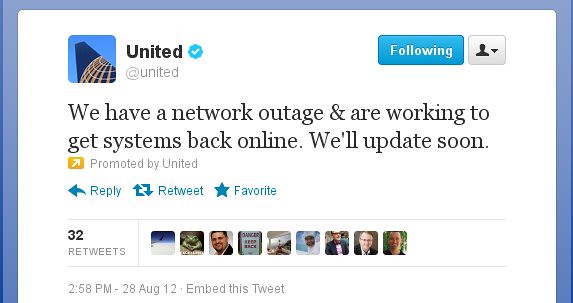 Promoted Tweets a great way to capitalize on your best-performing tweets. You can increase the engagement on your tweet by either targeting your existing followers or a larger audience.
The ad targeting for Promoted Tweets is very similar to Facebook's. You can choose specific user interests, a geographical location, gender, type of device, etc.
Where can I show Promoted tweets?
You can place your Promoted Tweets in the following locations:
Top of search results: If you are Twitter's advertising partner, your ads are called out at the top of relevant search results. You can also place your Twitter Ads at the top of a Promoted Trend.
Twitter timeline: This is perhaps the most common location to place your Promoted Tweet. Your target audience will find this tweet in their timeline, increasing the probability of engagement.
Note that Promoted Tweets will appear just once in your target audience's timeline.
User profiles. Base on your targeting, you can place Promoted Tweets on select Twitter user profiles that fit the credentials you have configured for your ad campaign.
2. Promoted Accounts
If you wish to increase the number of Twitter followers, I would recommend you to invest in Promoted Accounts because they increase the visibility of your entire Twitter account.
The best strategy to promote your account is to use Twitter's targeting to create an audience group that you feel will be most interested in the products you sell or the service you provide. Twitter will then suggest your account to your target audience in their Twitter Timelines, the 'Who to Follow' section, and Twitter's search results.
Remember, just like Promoted Tweets, all Promoted Accounts will have the 'Promoted' label to distinguish them from organically recommended accounts.
3. Promoted Trends
You must have noticed that Twitter's Trends is a list of popular topics that are specific to each user's account, and are based on their geographic location and hashtag usage.
You can choose to show your own hashtag at the top of your users' Trending Topics list, thanks to Promoted Trends, and are clearly marked as "Promoted." They can also show within users' timelines.
When your target user clicks on a Promoted Trend, they will see Twitter search results for that topic, and a related Promoted Tweet from you at the top.
Remember that all Tweets on search result pages for Promoted Trends are unfiltered, open, and authentic.
How much do Twitter Ads cost?
Before you start with Twitter Ads, it is important to note that Twitter advertising is slightly different from Facebook advertising. Twitter differs in terms of pricing models and types of ads. Here is a quick analysis of how much it costs to advertise on Twitter:
Promoted Tweets and Promoted Accounts on Twitter cost between $1.35 – $4.00 per engagement, and promoted trends cost approximately $200,000 per day.

Twitter
Remember, there is no minimum spend required for Twitter Ads. This means you get more flexibility to run multiple experiments on Twitter.
Types of Twitter Video Ads
There are 4 types of Twitter video ads that advertisers can make and invest in. They are – promoted video, video website cards, in-stream video ads, and sponsorships (available to the brands in the UK and Europe only).
1. Promoted Video Ads
Promoted video ads appear natively in users' timelines or feeds. You can only promote an existing video tweet, so you'll have to publish your video ads as a tweet, and then promote it. These are auto-played on mute as the users scroll through their timeline or feeds.
You can build lookalike audiences that mirror those of other brands that attract the same kind of people you're trying to reach!
Here is an example by NFL:
Tony Romo. FOR. THE. WIN. #NFLPlayoffs #DETvsDAL http://t.co/yTDSlmwDHX

— NFL (@NFL) January 5, 2015
2. Twitter Video Website Cards
In October, Twitter unveiled a new ad format called the Video Website Card, which it describes as "a creative format that combines the power of video with the ability to drive users back to a site to learn more or take action at the moment."
Basically, the ad will start out as a video (auto-played) with a headline you can customize. It then opens up to a larger video and website preview and ultimately directs you to the advertiser's chosen website when you click it.
These campaigns can be optimized for different goals, whether that's video views, website clicks or awareness. Here is an example by Bank of America:
It's nice to be alerted when something's a little off. Stay on top of things like unusual account activity.

— Bank of America Tips (@BofA_Tips) June 5, 2017
3. In-Stream Video Ads
If you're a part of Twitter's Amplify ad program, you can opt for pre-roll or mid-roll video ads around premium content. The experience is similar to YouTube video ads.
Twitter has been testing in-stream video ads in the UK since July by partnering with more than 260 publisher accounts. This includes Sky, ESPN, football clubs such as Manchester City and Arsenal, Global, Bauer Media, Huffington Post, and Viacom, as well as global publishing partners such as Mashable, Bloomberg and Business Insider.
Here is an ad by GSuite:
All you need to do your best work, together in one package that works seamlessly from your computer, phone or tablet

— G Suite (@gsuite) August 1, 2017
4. Moment Sponsorships
Twitter's Sponsorship program enables the UK and European brands to sponsor the best video content from their video content partners.
Recently, Twitter enabled Moment Sponsorships, allowing advertisers to sponsor Moments from premium content partners and reach audiences at scale. By working with premium publishers as part of an In-Stream Sponsorship, brands know exactly which partner they are working with, and can develop deep brand integrations within said partner's content.
Twitter Moments are the Stories-like feature that includes a series of tweets, including images, GIFs, and video.
What are the best practices for Twitter Video ads?
Below are a few practices that have been tried and tested by many brands from different industries. Consider them as a guide, and please note that you don't have to follow everything religiously because you understand your target audience better than anyone else.
1. Choose What to Promote
Twitter video ads are a great way to show off your products and services and create awareness among your target audience.
You can make a video catalogue for your products, like Android Wear:
All the essentials right on your wrist. With thousands of apps, there's no limit to what you can do with #AndroidWear: https://t.co/MWn4dTr1Xh pic.twitter.com/PG2EORJXP3

— Wear OS by Google (@WearOSbyGoogle) February 2, 2018
You can also showcase the user experience by including screen recording and snapshots in your video ad.
Offer a visual experience that will put the viewer right in the spotlight, so you can easily convey how your product benefits them, and motivate them to take action by clicking on the CTA.
2. Humanize Your Brand
Humanizing your brand on Twitter is an evergreen best practice because it consistently drives engagement. Promoted videos featuring people, especially human faces, in their opening scenes drive up to 2X more consumers to view beyond the first few seconds of your video.
Have a look at Reebok's video ad:
Take a new point of view on the world. #BeMoreHumanhttps://t.co/C78yJ44b9B

— Reebok (@Reebok) March 6, 2015
3. Experiment With Different Video Types
Choosing a type of video to use depends on your overall social media marketing goals. But some types of video ads tend to get more traction than others. Try experimenting with these videos:
• FAQ videos
Create videos that answer questions your users ask frequently. This will save you a lot of time since it's easier to understand things when they're shown to us visually.
• Testimonial videos
People love reading customer success stories and testimonials because they can connect to these stories. Highlight a job well-done by your customers as this allows other potential customers to see the chances of being successful with your brand.
• Educational videos
These are great for building brand awareness. Showing your followers how to solve a certain problem establishes you as a reliable authority in your niche.
Plus, people love 'how-to' content!
• Story videos
Twitter users don't want to feel like they are being sold. Instead, they want a story that draws them in. Create videos with a defined script–a clear beginning, middle, and end. Take consumers on a narrative journey and deliver a resolution.
Twitter reported that this type of content drove a particularly impressive 9% lift in purchase intent!
4. Make Text-Based Videos
Since video ads auto-play without sound, the text has become a must-have element of a social video that you cannot afford to ignore.
You can use text to keep your viewer's attention on the message you're delivering. To get some tips on how to use text in your videos, you can refer to this article.
5. Keep it Mobile Friendly
Nearly 90% of all video ads are viewed on a mobile device. I'd personally recommend you make videos in 2 orientations only: Square and Portrait.
These videos formats are the best for Twitter video ads as they take up the maximum real estate of your viewer's screen.
6. Use Hashtags
Relevant hashtags make your video ad feel like a native tweet. This is particularly important since most of us hesitate before sharing an ad, so make it feel as natural as possible!
7. Don't Forget to Add a CTA
To get closer to the goal you've set for your video ads, strong CTAs are a must. Let's say a user views your video and wants to sign up to use your services. If you don't provide him with a CTA, or if you add a non-relevant CTA (like, "Follow us" in a promo video), you'll lose this highly interested user.
Conclusion
Twitter video ads are the perfect way to combine rising trends like mobile usage and the popularity of online videos to boost the impact of your digital ad campaigns.
Understanding the elements that go into a successful Twitter video ad and knowing how to replicate those best practices in your own ads is vital to driving revenue and reaching Twitter performance goals.