What is Zwende?
Zwende is a unique e-commerce platform that enables its users to buy fully customizable, hand-crafted lifestyle products. Users can choose a product, its material, designs & colors and visualize their creation in real-time with a 360 degree live preview. All orders are manufactured on demand and delivered to the buyer in 3-15 days.
Through the various design permutations and combinations, Zwende boasts of having a total of four billion SKUs on its platform today. With a rich variety of products inspired by different art forms from India and a delightful online interface for product customizations, Zwende has already grabbed the attention of thousands of buyers across the country.
The Challenge
Given Zwende's unique gamified buying experience, the platform was definitely grabbing interest from a large set of inquisitive buyers. However, due to the choice dilemma created by thousands of possible design permutations for each product, the platform was seeing a huge drop off in the buying journey. Besides, a lack of repeat purchase was also bothering the team.
"The users would create a variety of design options, but not buy due to a choice paralysis", says Innu Nevatia, Co-Founder Zwende.
Zwende team was looking for a solution where smart and personalized visual nudges could push the users to move to the next stage in the conversion funnel. The team wanted to use a multi-channel approach to display these visual nudges.
Solution Overview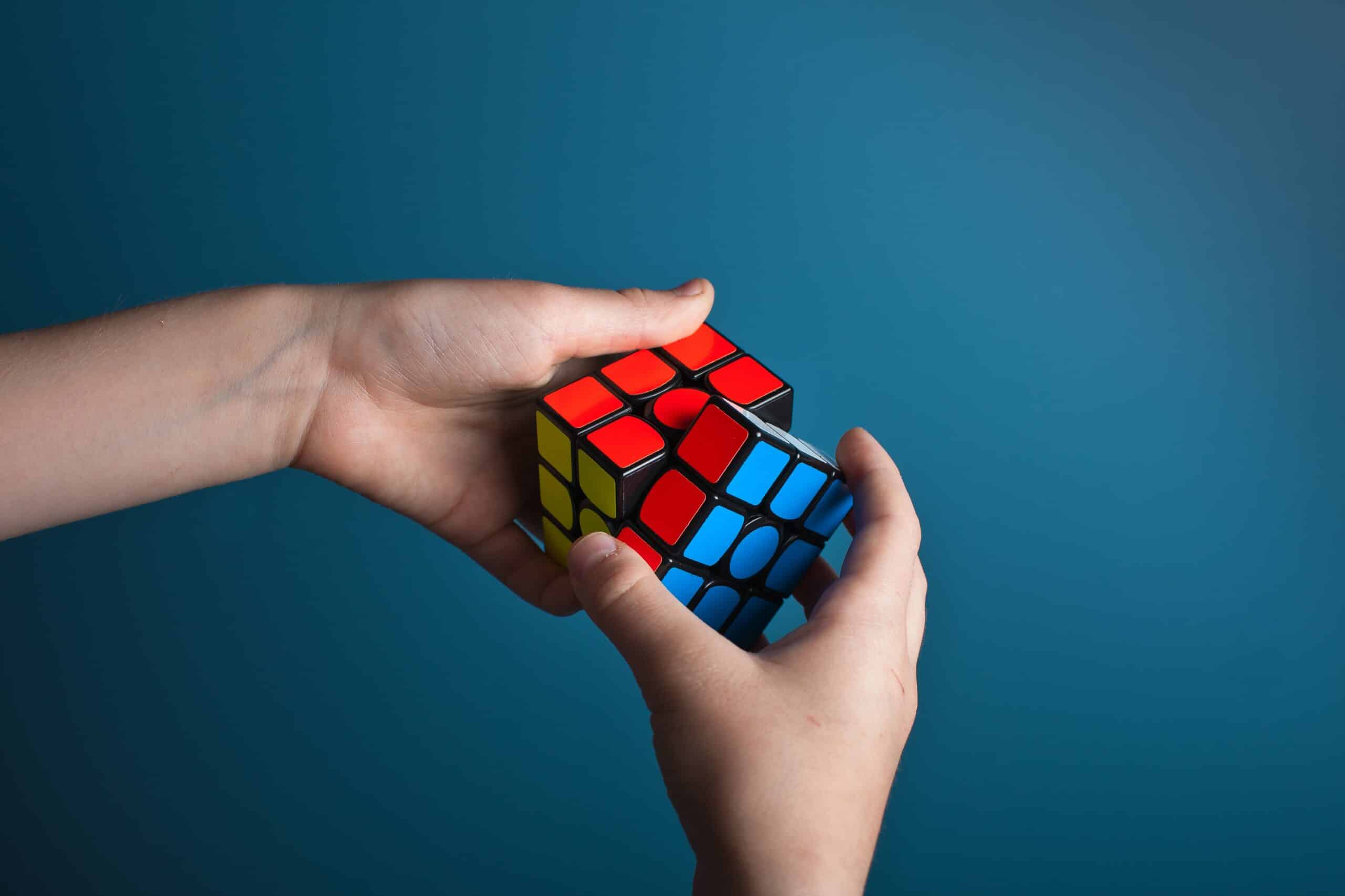 Zwende and Rocketium team worked closely to create a strategy to mobilize the users in the conversion funnel.
This would be done through personalized visual nudges that were to be fed to the users both inside and outside the platform. The visual nudges were a combination of smart product recommendations and personalized offers carefully designed to push the users over the line.
Here the channels where Zwende team decided to use the automatically created personalized nudges:
Website popups (Exit intent and Idle-time popups)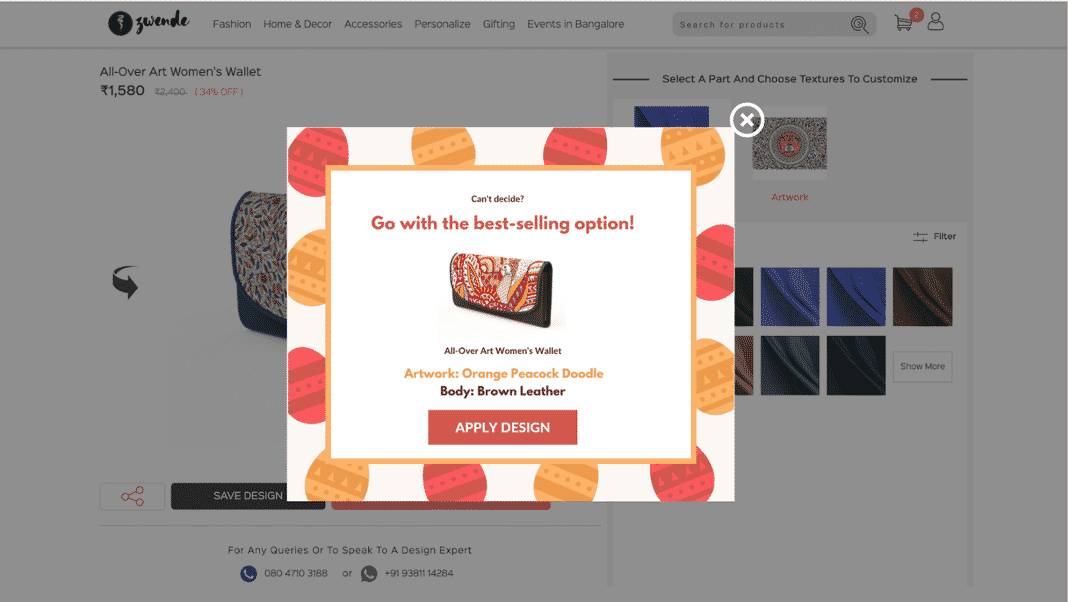 Email drip and nurture campaigns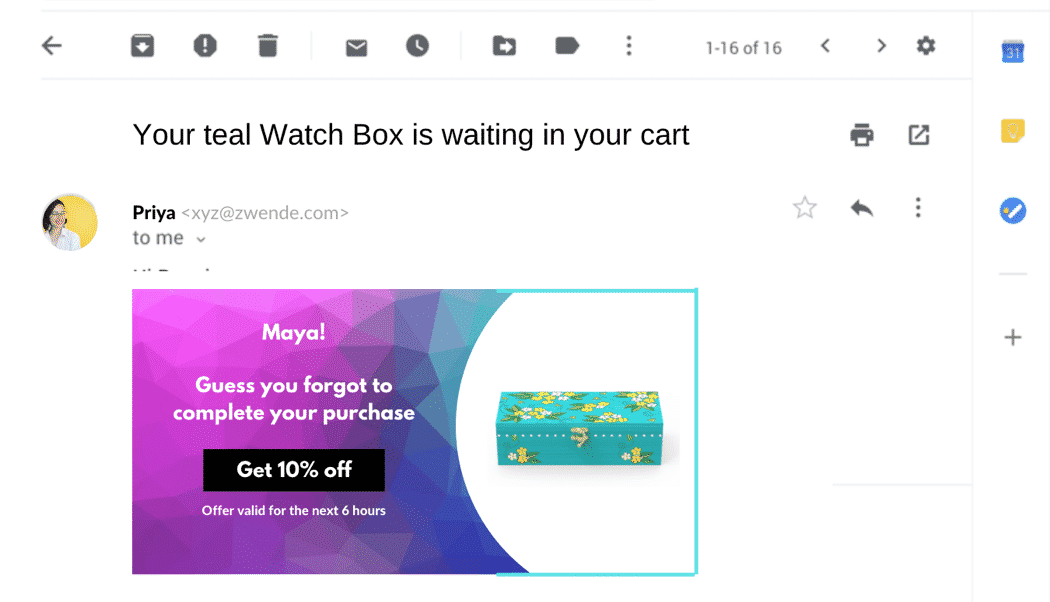 Retargeting ads through paid channels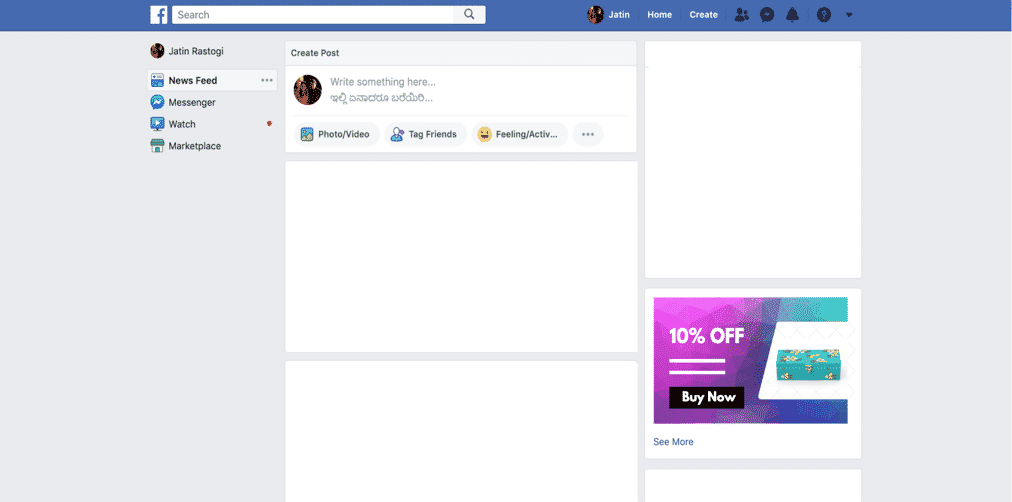 How this works
Data tracking
Any personalized recommendation engine starts with collecting the right set of data. As a part of understanding its user base better, Zwende was already doing a lot of work around tracking user behavior and analyzing their preferences in terms of styles, colors, and choice of products. Besides, Zwende team also collects comprehensive data around user purchase history and ongoing trends to predict which products and which design styles are most likely to be bought.
Template creation
With the help of the design team at Rocketium, Zwende team created custom branded templates for each use case for which they wanted to send a visual creative. The templates would contain fixed design elements along with variable placeholders for content elements like captions and images.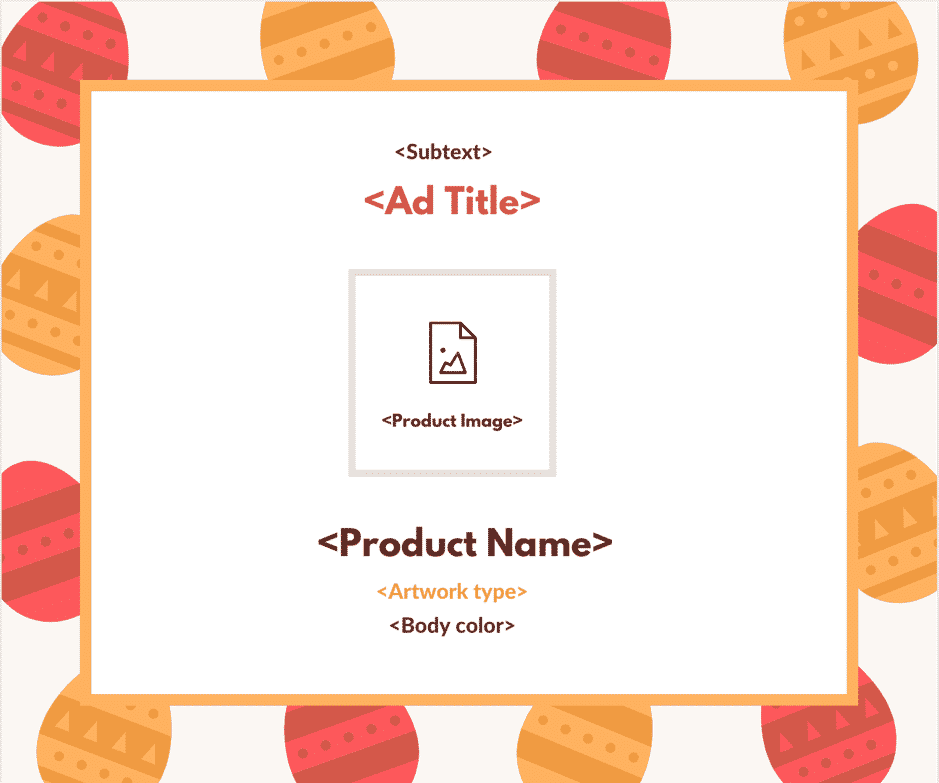 Setting triggers for image creation
The business team at Zwende conceptualized a series of work-flows in the user journey where personalized visual creatives would act as a nudge for a user to take the desired action. Personalized offer/recommendation based visual creatives were to be produced on the fly with dynamic data being fed into Rocketium's visual creation API.
API call
Every time a nudge trigger was fired in the user journey, Rocketium API was called to instantly produce a visual creative using real-time user data. The visual creatives were shown as web-popups inside the product, sent via an automated email or used for Facebook retargeting ads.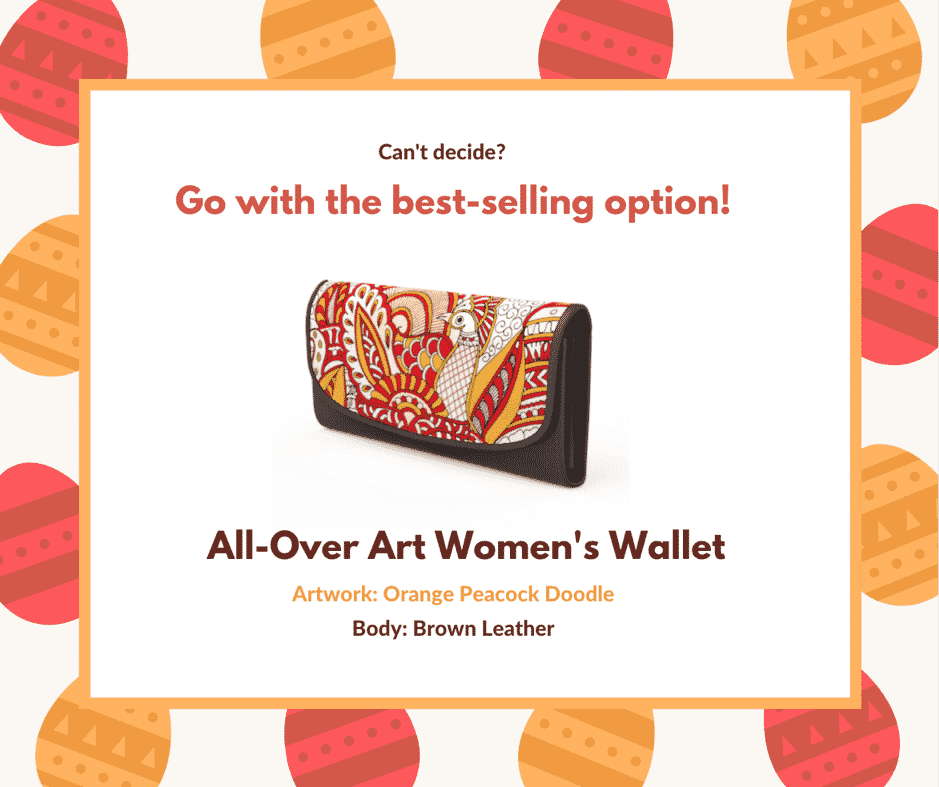 Impact
Personalized visual triggers had an unprecedented effect on some of the key metrics in Zwende's user journey:
230% increase in product conversions (For first-time users)
44% reduction in cart abandonment rate
86% increase in repeat purchase rates.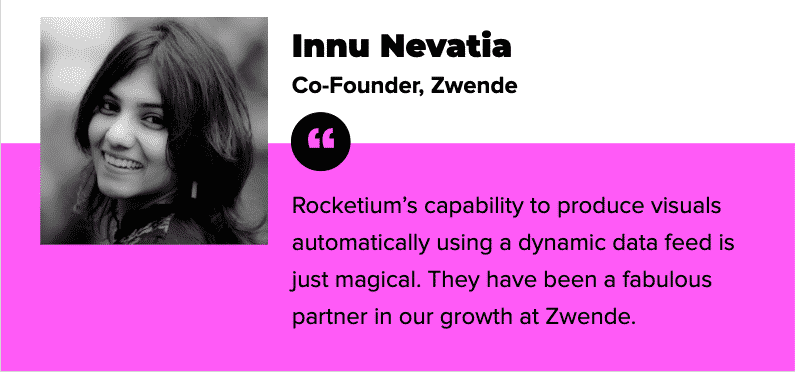 Looking for an automated solution to produce Visual Creatives at scale?