Introduction
How much time on average does it take for your team to launch a new ad campaign?
Your answer could vary depending on how much time your teams spend on strategy and design as opposed to waiting for approval or feedback.
Secondly, if your campaign goals change overnight based on what your competitors are doing, much of the work they may have already done could be in vain.
Creative ad campaigns allow brands to influence customer behavior, boost sales, and build powerful brands over time.
However, a high campaign cycle time – the total time required from ideation to delivery – can impact its very relevance. So increasing the ad frequency isn't always the answer either.
Studies show that it can hurt the CTR and, eventually, CPC. A high ad refresh rate is critical to maintaining relevance across the length of a campaign.
It is a common belief that a high refresh rate depends on the team size and process efficiency. So you might think you are at a disadvantage in case of a resource crunch.
But, at the same time, you'd probably wonder how top brands manage to churn out twice as many campaigns as you do
(Hint: not every one of them puts in lavish budgets or has a large team).
The secret behind their phenomenal cycle time and creative innovation is incredibly simple. The best teams:
Map the campaign from start to finish and set clear goals.
Share feedback seamlessly.
Create templates for the base design and then build on it incrementally.
Oh, and most importantly, they rely on dedicated technology solutions for creative management!
What is a Creative Management Platform?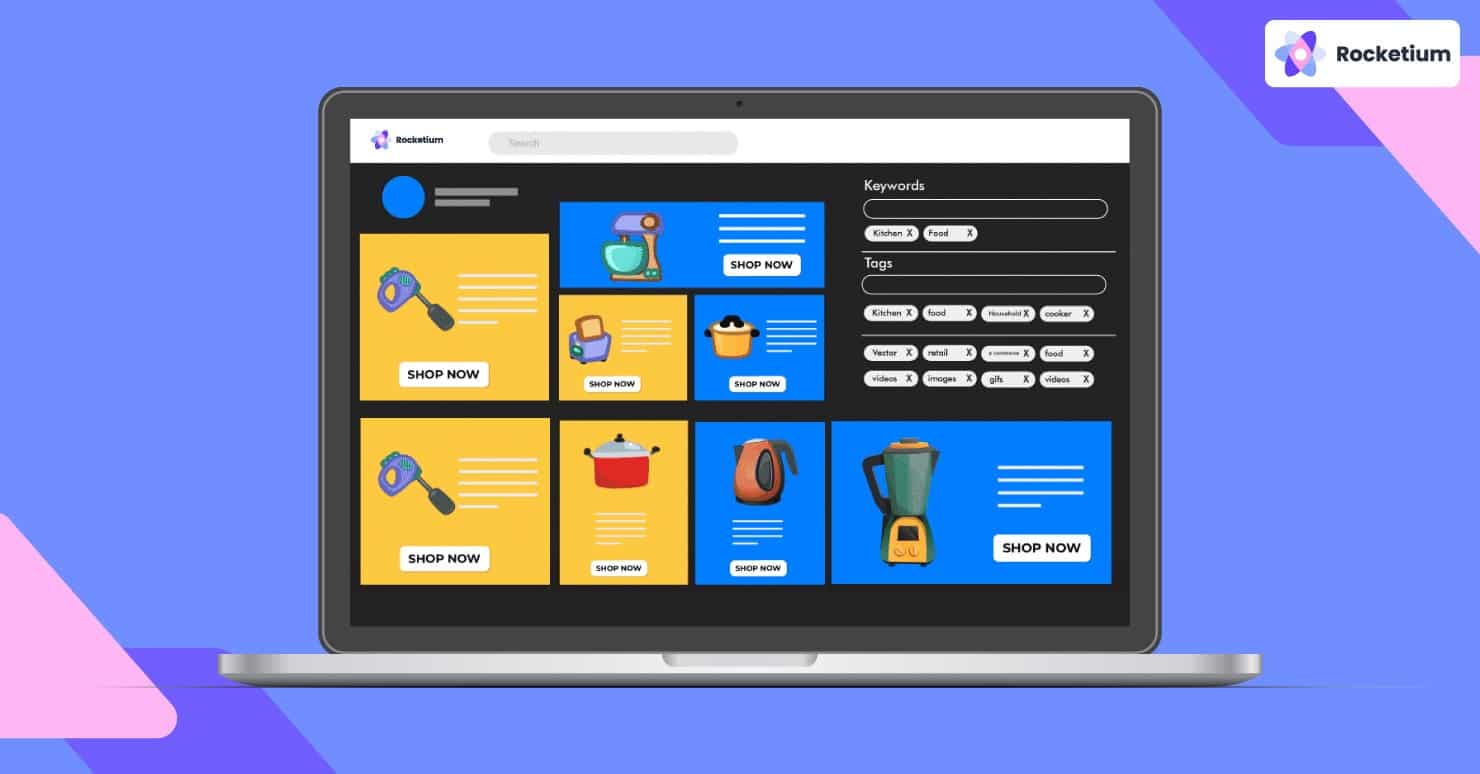 Simply put, a Creative Management Platform offers a complete range of tools to help you design, scale, and manage large-scale creative campaigns – in a single location.
It improves the flow of communication, automates bulk production tasks, and helps teams create on-brand content every time.
The best part: creative automation tools are cloud-based, meaning none of the installation or maintenance hassles associated with on-premise software.
It also provides significant cost savings in terms of adapts and brand compliance.
In fact, the best Creative Management Platforms also come with built-in analytics that provide real-time insights into campaign performance.
Some of the mature ones provide creative intelligence and evaluation, i.e, data-backed suggestions and best practices to optimize the creative.
In other words, Creative Management Software enhances the ability of your team to create relevant campaigns consistently by focusing on creative strategy while automating production.
The result: Faster campaign timelines with more relevant on-brand content.

Factors to Consider before Choosing a Creative Management Platform Vendor
Given the increasing frequency and complexity of display ad campaigns, a Creative Management Platform should provide the following advantages:
1. Seamless creation of images and video at scale
eCommerce brands have been prioritizing retargeting campaigns for consumers displaying purchase intent, and rightly so. Such consumers are ideally suited for cross-selling and up-selling campaigns too.
However, the images and copies must be hyper-personalized for driving the specific action you want the user to take. Yes, that means creating FOMO!
For example, the image of an hourglass can go well with the product images/offers as part of a carousel ad.
However, the colors and fonts may need to change in line with the overall campaign. Based on the target cohort, their language, and culture, this may require thousands of unique variations.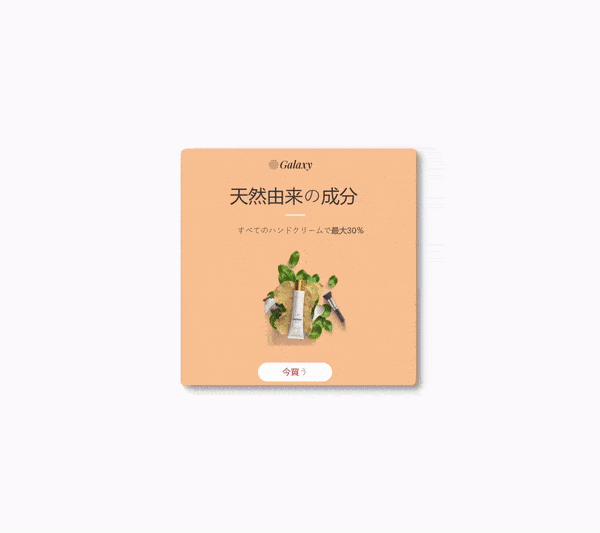 A Creative Management Platform makes it easy to create on-brand personalized creatives through feed-based scale and customizable templates.
Besides, customizing banner variations for various cohorts and channels is much simpler with feed-based editing. These features save a designer time and enable creative innovation at scale.
2. Collaborating with fellow designers and marketers
In a typical business setting, it can take several meetings for a creative design to be approved.
Long email chains and intermittent Zoom calls can make it difficult for marketers and designers to be on the same page.
Now, imagine if you could review, suggest changes and finalize everything online in a single platform.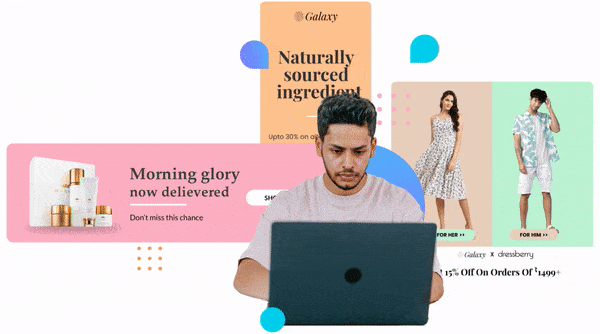 Marketers can provide feedback in real-time, and designers can share updates seamlessly with everyone involved, getting notifications in real-time.
If you have team members working remotely, Creative Management Software can make collaboration effortless.
3. Bulk creation / Bulk editing
With the holiday season just around the corner, velocity and scale will be vital to the growth of any brand. This means pushing out more campaigns in the same or less time.
However, most design teams don't have the bandwidth to focus on creative innovation because of tight deadlines and heavy demand for adapts.
Compromises in quality can affect the overall performance of the campaign.
With a Creative Management Platform, you can test multiple offers and design concepts in different shapes, colors, sizes, backgrounds and choose the best-performing ones.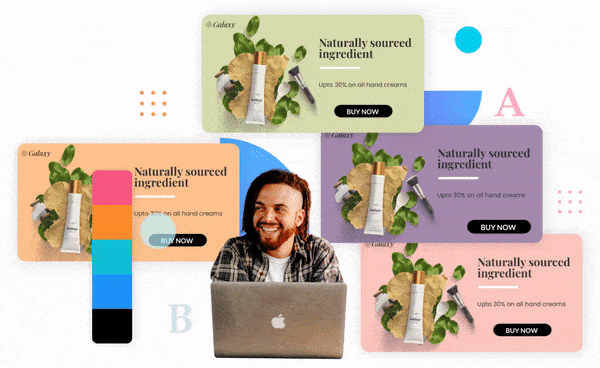 The ability to refresh your creatives rapidly through bulk-editing can also help you counter banner blindness and improve CTR.
4. Creative Intelligence and Evaluation
Some of the mature Creative Management Platforms provide data-backed suggestions to optimize the creative for best results.
Creative evaluation is done based on the CMPs data gold mine. The creative that is being made is evaluated based on the millions of past creatives made on the CMP.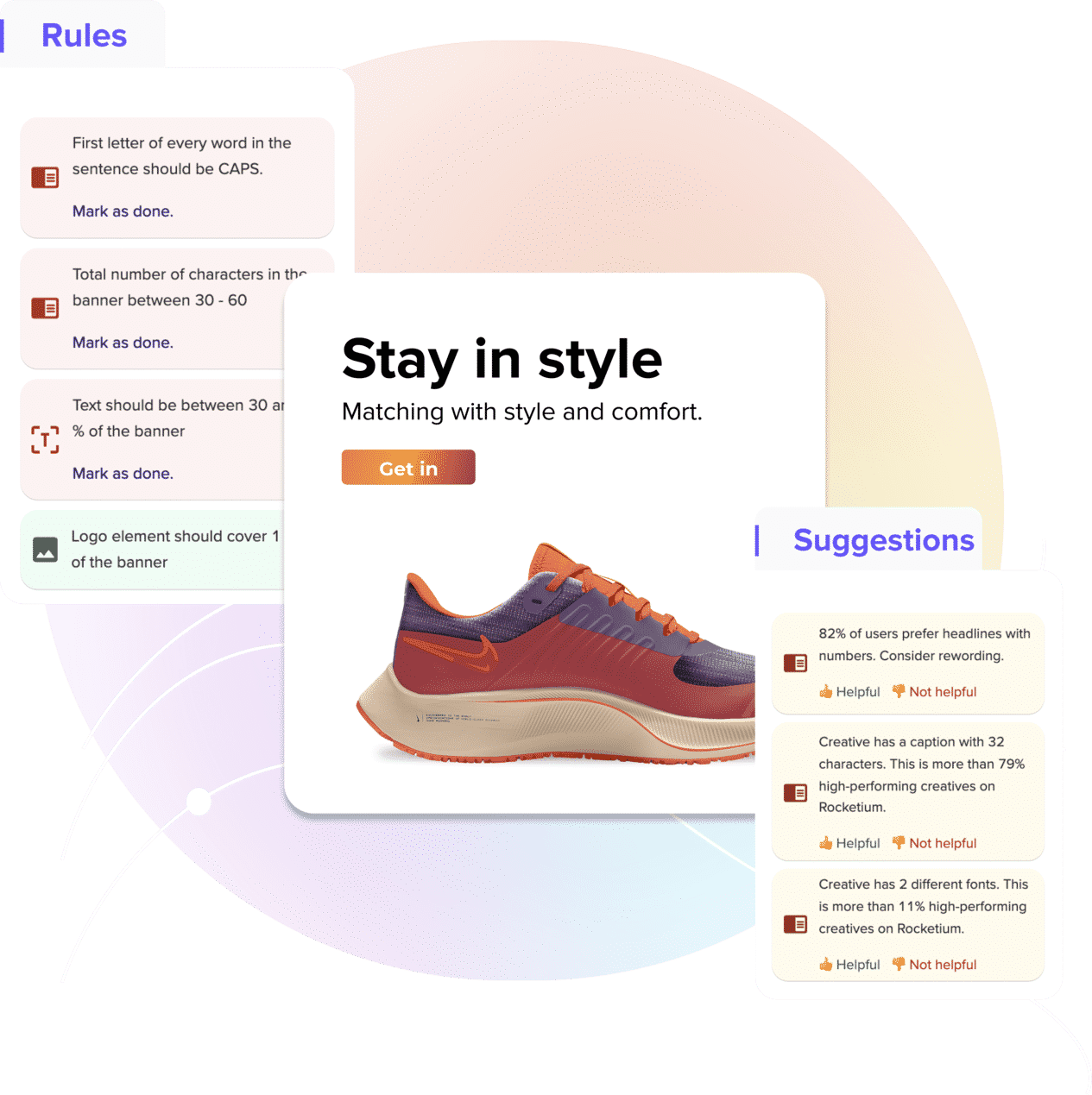 These data-backed suggestions assist users in designing creatives that perform well without having to spend much time on research and general best practices.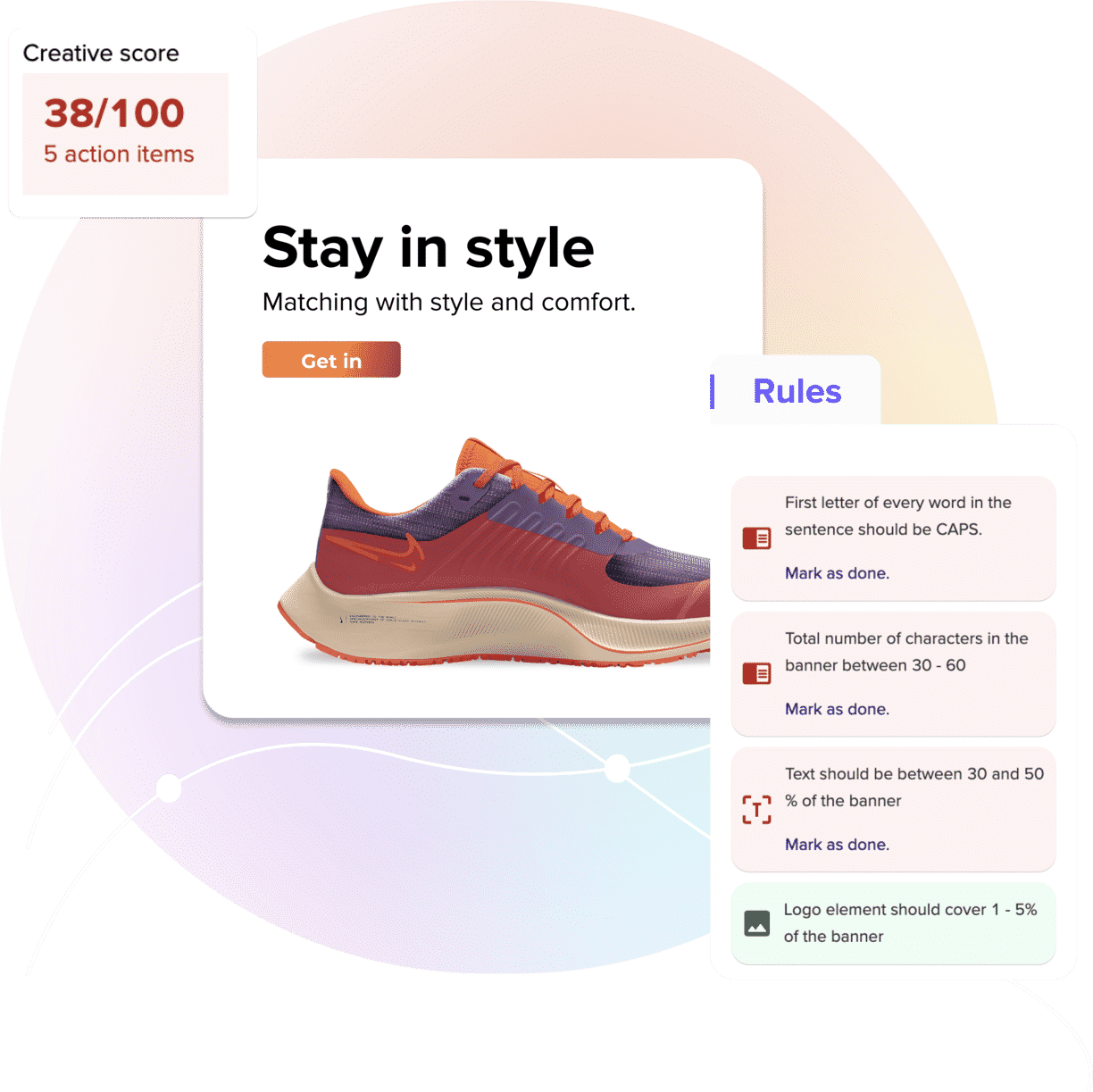 To ensure brand compliance and consistency, users can set up rules based on which the creatives will be evaluated and users will be notified if they are not following the rules.

5. Publishing seamlessly across different platforms
Once the ad creatives are ready, the next step in any display campaign is publishing. This is a labor-intensive and time-consuming process, requiring multiple rounds of tweaking and reposting.
In addition, it is common for minor errors to pop up in terms of font size, spacing, or background color blending in with the text.
Such errors look unprofessional and can even impact brand safety.
A Creative Management Platform is a one-stop shop when it comes to creative post-production.
A key advantage is that you can save time by bulk editing creatives for those last-minute changes and corrections and publish it at the click of a button.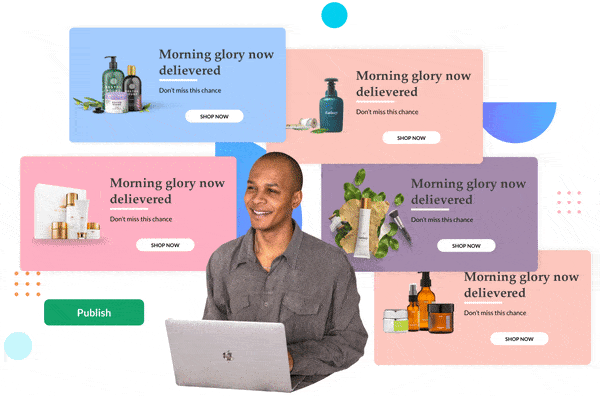 No more downloading and uploading of creatives multiple times.
For multichannel delivery,the layout, copy, and visual elements can all be reformatted in seconds instead of hours.
6. Analyze performance in real-time
Cost-effective ad campaigns rely on data-backed decision-making to drive acquisition or retention, as the case may be.
Demographics and geographic data (among others) help identify the best combination of creatives and copy from the performance perspective.
However, this requires intensive A/B testing of one or more elements on the creative, which can be time-consuming at best.
If done the traditional way, A/B testing usually involves multiple platforms.
For example, you need a platform like Google Analytics for measuring changes in engagement with each variation.
In addition, you would need more time to optimize the creatives themselves in Photoshop or other apps.
Creative Management Software allows you to analyze campaigns and identify trends across different channels in real-time.
It allows you to adapt your creative strategy to maximize conversion potential.
How Do High-Growth Companies Leverage CMP to Run High-Converting Campaigns Across Different Channels?
Here's an analysis of the digital ad strategies of some market leaders to help you discover the power of CMP based automation:
Display Advertising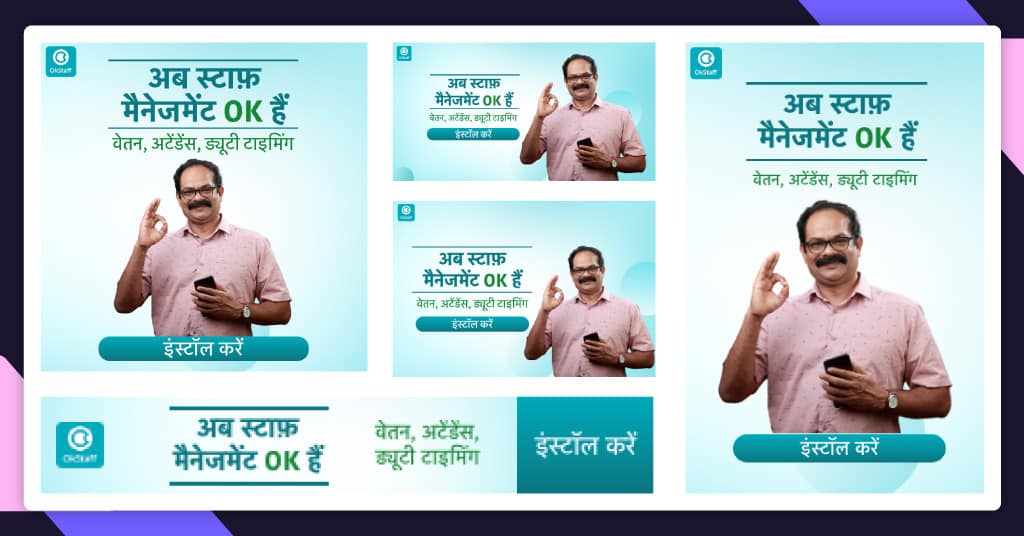 How OkCredit leveraged Creative Management Platform to Drive App Installs:
With more than 5.5 million users, OkCredit is one of India's leading digital ledger apps.
The company runs 4 to 5 acquisition campaigns on GDN to further grow its market share.
As part of its proven language-based targeting strategy, the company routinely pushes banner ads in 10 different languages in multiple formats.
However, the sheer volume of the creative production affected turnaround time and brand compliance.
However, since OkCredit adopted Rocketium's Creative Management Platform, there has been a massive shift in both, thanks to faster size adapts, feed-based scale, and template-based styling options.
Facebook Campaigns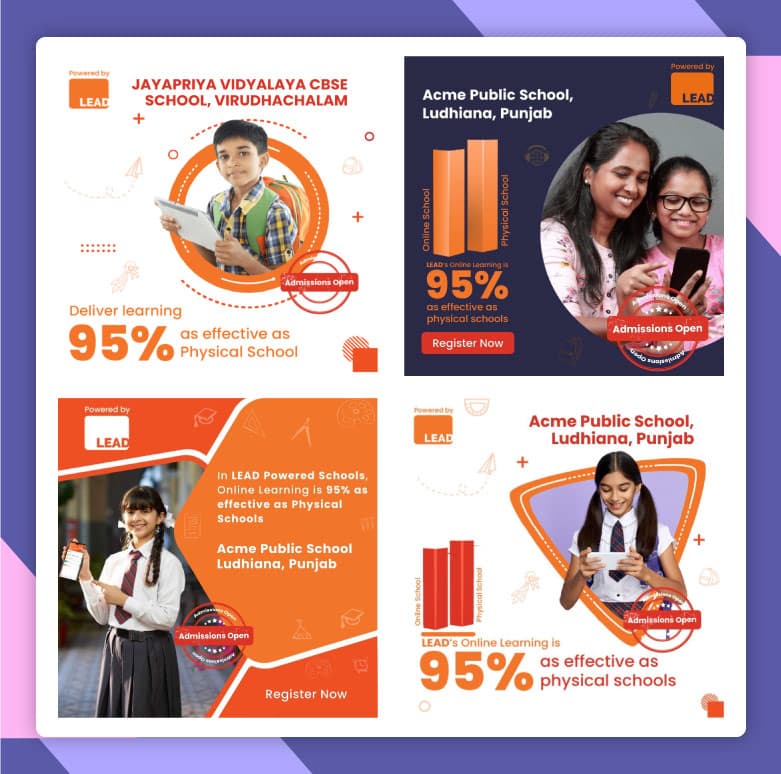 How LEAD leveraged Creative Management Software to create 2,000+ ad banners in minutes to achieve location-based targeting:
EdTech brand, LEAD is a tech-first school transformation system that empowers its partner schools to provide quality education to their students, improve admissions, and facilitate better administration across more than 20 states in India.
Facebook is their platform of choice for engaging with parents and driving them into their sales funnel.
Since LEAD uses a pin-code-based targeting strategy, it routinely needs personalized ad creatives on a large scale.
Their ads are unique in being customized to the needs of parents living in a certain radius of partner schools.
The LEAD marketing team was concerned about the high cost of working with an agency to meet its requirements.
Secondly, brand compliance and consistency could not be guaranteed, given the high volume.
Most importantly, the high turnaround time was a challenge that they had no credible solution for.
With the use of creative automation, LEAD was able to more than address the above challenges.
It allowed the modest in-house design team at LEAD to rapidly adapt to changing campaign requirements.
Creating unique variations of ad creatives now took seconds instead of hours.
The team used feed-based scaling to ramp up creative production. The cost reduced 80% while turnaround time reduced 5X.

In-App Visuals: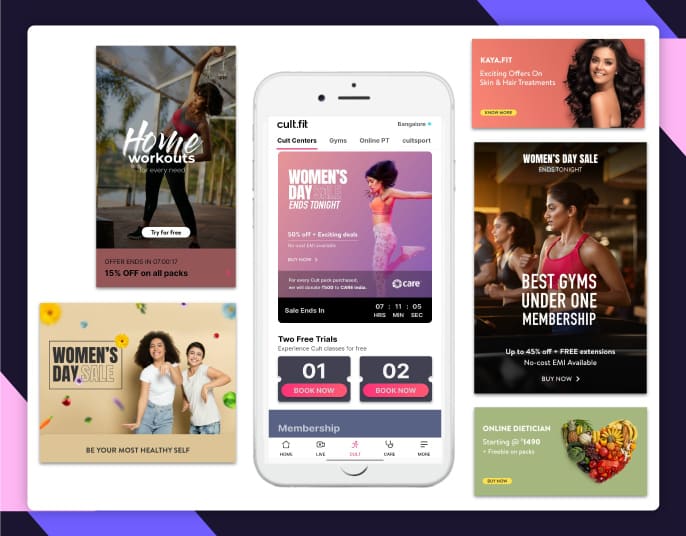 How Cult.fit runs In-App visuals using a Creative Management Platform:
For Cult.fit, a leading health and wellness brand, running high-impact ad campaigns was a challenge.
The company's in-app/native advertising strategy demanded a high refresh rate for storefront creatives.
However, there were multiple offers and pricing-related reviews, which led to increased production workloads.
Today, the Cult.fit media and design teams have reached new milestones – a 5x faster refresh rate and 3x higher production output.
The team credits the turnaround in performance to Rocketium's Creative Management Software.
What Questions to Ask Creative Management Platform Vendors and What to Expect?
The right CMP tool can help you do more with less. However, the needs of the end-user must always come first. It should also fit in with your existing workflow.
Here are a few questions to ask Creative Management Platform vendors in order to understand the productivity impact better. This will help you pick the best possible solution for your needs.
Q1. Does it have custom templates?
Custom Templates are the building blocks of automation and offer a one-and-done solution to creating brand-compliant creatives.
They can be reused across campaigns and can even be integrated with a data layer for live analytics.
This is a must-have for any growth focussed brand today.
Q2. Does it have an option for importing designs from Adobe?
With Adobe being the staple design platform for most designers for almost three decades, check if the CMP has an option for Adobe import.
Designers can thus create the base template on the platform they're most comfortable with and let the Creative Management Platform take care of scale.
Q3. Does it have a spreadsheet import option to create images and banners in bulk?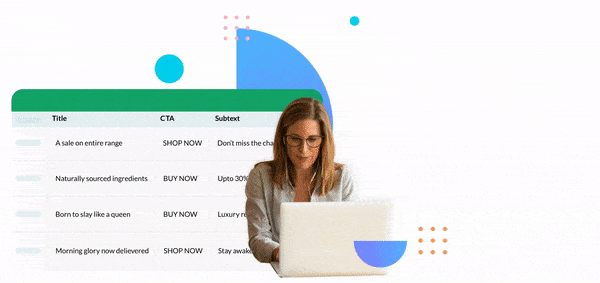 Imagine the jump in engagement and time saved if you could automatically create personalized ad variations for different demographics and offers instantly by importing the info from a spreadsheet.
This feature can reduce the dependency on your design team during those high-priority eCommerce storefront campaigns or festive season campaigns.
Q4. Does it support bulk editing?
It does not make sense to customize images and copies individually for a large-scale campaign when a variety of creative automation options are available.
With bulk editing, you can change backgrounds, colors, videos, and text in line with changing campaign requirements.
If you want to target new channels, resizing and repositioning of different ad elements is done in seconds.
After all, you want to showcase your products in the best possible light, don't you?
Q5. Does it have an AI copywriter?
Creating relevant and fresh copies for a large-scale personalized campaign can be a painstaking process.
The CMP should come with an AI copywriter that generates complete copies with just a few key tags.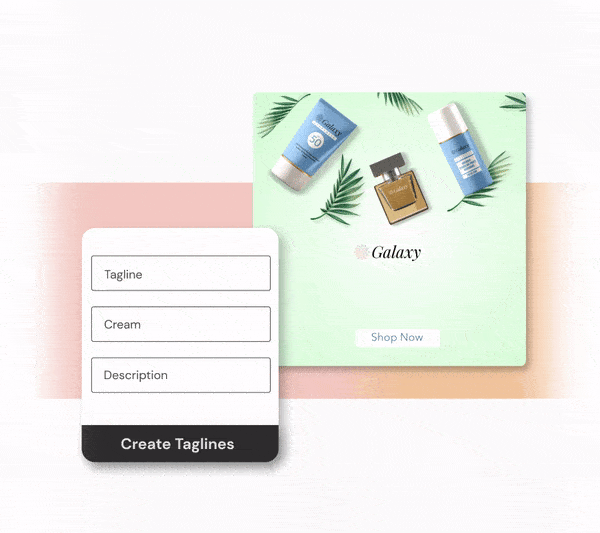 Moreover, it enables marketers to experiment with multiple copies in no time and apply the best version to a live campaign.
Q6. Does it help you create brand-compliant creatives?
Multi-channel campaigns have made brand compliance more important than ever.
After all, consistent communication is important for building and maintaining trust with your audience.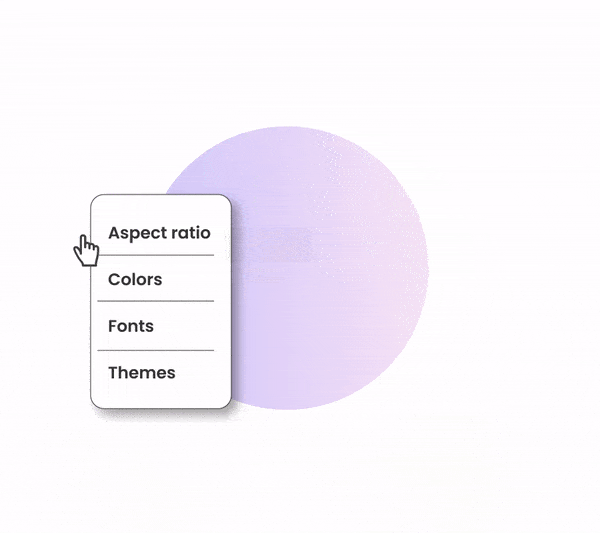 A feature that enables your team to stick to established brand guidelines and reduces compliance risks is vital.
Q7. Does it support API integrations?
An ideal CMP is one that works seamlessly with existing workflows via an open API. This feature directly affects how quickly end-users adapt to any CMP you invest in.
Custom API integration minimizes production bottlenecks and improves cross-functional collaboration.
Q8. Does it support multilingual campaigns?
Multilingual campaigns have been proven to drive relevancy with regional audiences, especially in the Indian market.
This feature allows your team to generate language-based variations with custom images, headlines, CTAs, and offers in seconds.
This is a key CMP feature to look for if your goal is to target newer audiences in your upcoming campaign.

Q9. Does it have role-based access to enable a seamless collaboration?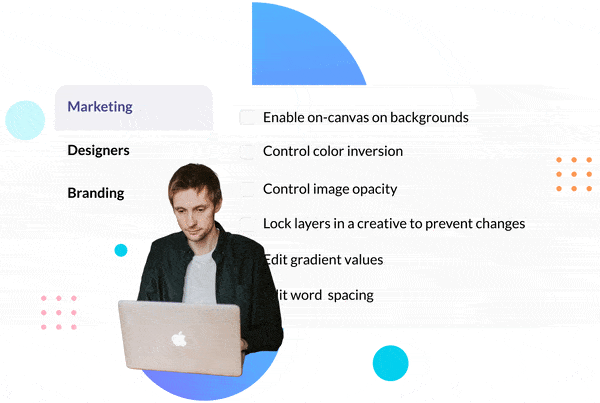 Role-based access improves transparency and accountability across the creative production workflow.
Individual team members can be assigned access to specific assets based on individual roles.
In addition, it rationalizes decision-making, thanks to real-time collaboration features.
Benefits of Creative Management Platform for High Growth Consumer Internet & E-commerce Companies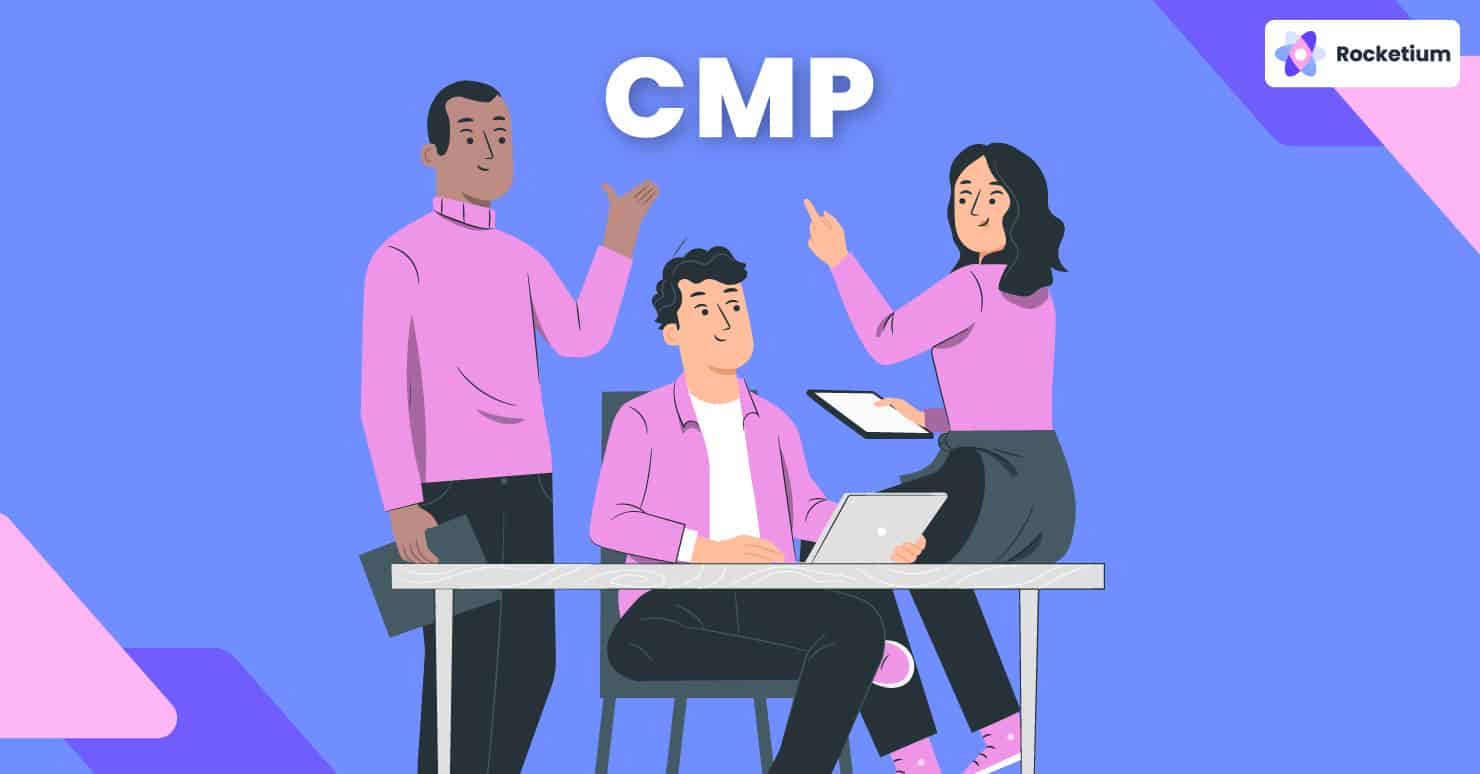 Research shows that contextually relevant ads are up to 40% more memorable.
They trigger an emotional response in consumers and drive action in the most profitable ways for brands.
Dynamic creatives have a key role to play in facilitating emotive user experiences.
Creative management software enables brands and agencies to deliver:
1. Hyper-personalized campaigns at scale
Thanks to feed-based scale, a CMP can accelerate the scale of the average ad campaign, allowing brands to create engaging experiences for consumers.
This allows true creative flexibility for design and marketing teams across the campaign lifecycle—the result: higher engagement and retention.
2. Creative Experiments
The ability to integrate data layers through CMP makes it possible for your team to test a campaign hypothesis through real-time experiments.
You can thus identify creative ideas that are likely to impact your audience the most. Also, CMP allows you to leverage micro-moments strategically.
3. Banner and Video automation
Personalized banners and video ads can effectively communicate your brand's value proposition to different audiences.
In addition, CMP tools make it possible for virtually anyone to create personalized creatives across the buyer journey without depending on the design team.
4. Low Cost
CMPs help reduce campaign cycle time while reducing the man-hours required.
They enable better utilization of resources, allowing the money thus saved to be invested in scaling campaigns to new consumer segments.
5. Auto Adapts: Adapts to multiple sizes
To create an engaging brand journey, you need ad creatives customized seamlessly to different platforms.
CMP allows you to create variations at scale while ensuring brand safety. In turn, this drives customer engagement and loyalty.
6. Creative Ecosystem: Single click integration with productivity tools & ad networks
Seamless workflows are vital to running effective creative campaigns.
CMPs are designed to offer plug-and-play integration with existing analytics, creative design, and publishing systems.
They enable marketing and design teams to work as a single unit in creating innovative customer experiences.
7. Faster go-live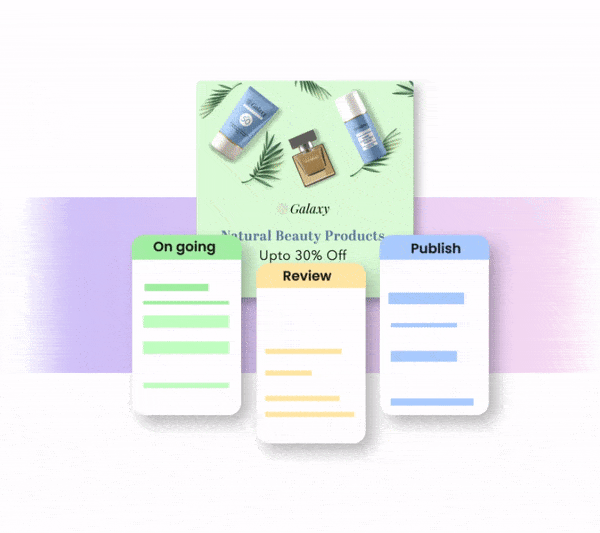 Thanks to automated workflow, data analytics and creative adaptation, CMPs enable you to go live faster with campaigns.
This enables you to quickly respond to evolving customer trends and get a competitive edge.
Final Words
Creative automation solutions like CMP solve multiple execution challenges faced by brands of all sizes.
They automate creative production and provide performance data that can be looped back for better campaign results.
In addition, by standardizing the creative process, CMPs allow teams to think strategically and make confident decisions.
This results in transformational digital experiences that deliver both customer delight and business value.
About Rocketium:
Rocketium is a preferred creative automation partner to more than 120 companies across 95 countries.
We help brands communicate seamlessly with customers across multiple digital channels.
Our platform streamlines and automates video and banner production, enabling design and marketing teams to focus on strategy and creative innovation.
Need more insights on how a Creative Management Platform works?
Subscribe to our newsletter
Recieve such insightful content on Design & Marketing every month!
Thank you for subscribing.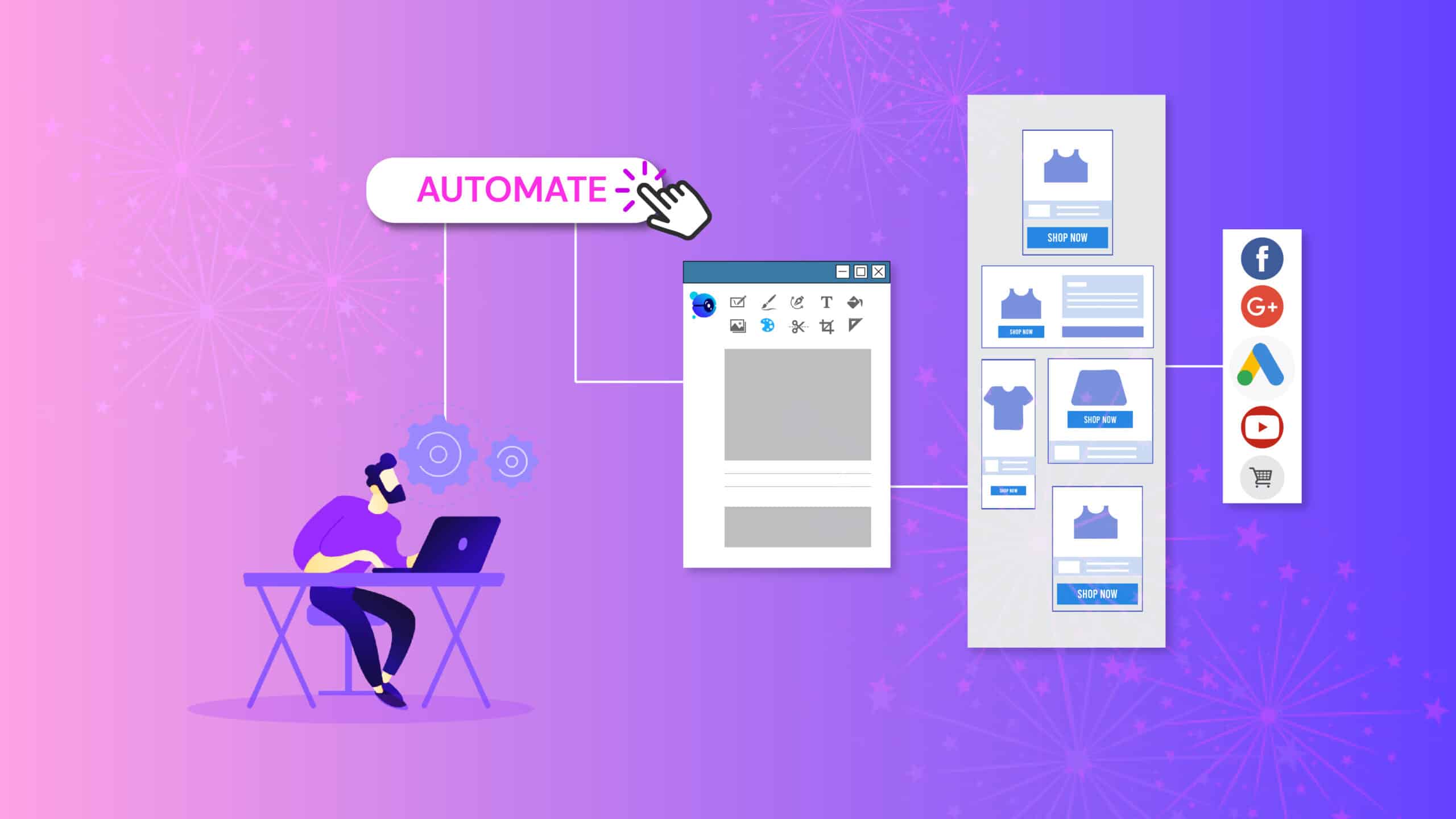 Make campaigns faster and more relevant
Automate creative management with templates, feed data, AI-powered resizing, and writing.
Book a Demo