Any marketer worth their salt would have heard about Cadbury's latest festive campaign that makes ingenious use of video automation.
The campaign features Shah Rukh Khan, allowing any local store to create their personalized ad without spending a penny.
AI makes that customization possible, recreating the actor's voice to say the store's name, shop, or Kirana.
The use of video certainly makes the festive campaign high-impact. There are plenty of stats to evidence this.
For instance, 83% of marketers agree that videos help generate leads, while 90% of consumers accept that a video helps during buying decisions.
A video thumbnail on emails increases click-through rates by 300%. On landing pages, videos raise conversion rates by 80%.
But it is the use of automation that takes the Cadbury campaign to the next level. Without the automation angle, the ad would simply not have the reach or impact it currently does.
Why? Because it empowers personalization!
With that as the backdrop, we unpack how brands can maximize their marketing tactics through video automation.
What is Video Marketing and Automation?
Video marketing involves using videos to promote a product or service, educate and inform customers, or tap a new audience pool.
The primary objective is to increase engagement on any of the brand's digital touchpoints. It can be achieved through informational, educational, or entertaining videos.
What makes video marketing effective is that it stands out in the sea of static images and print ads. Videos live and breathe.
A viewer must actively press play, pause, or the sound button. This interaction pushes the viewer to commit, and that engages them, which is why 93% of brands say that sharing a video on social media got them a new customer.
More importantly, video marketing is an easy and affordable marketing strategy, mainly if you use automation. This brings us neatly to the question of what video automation is.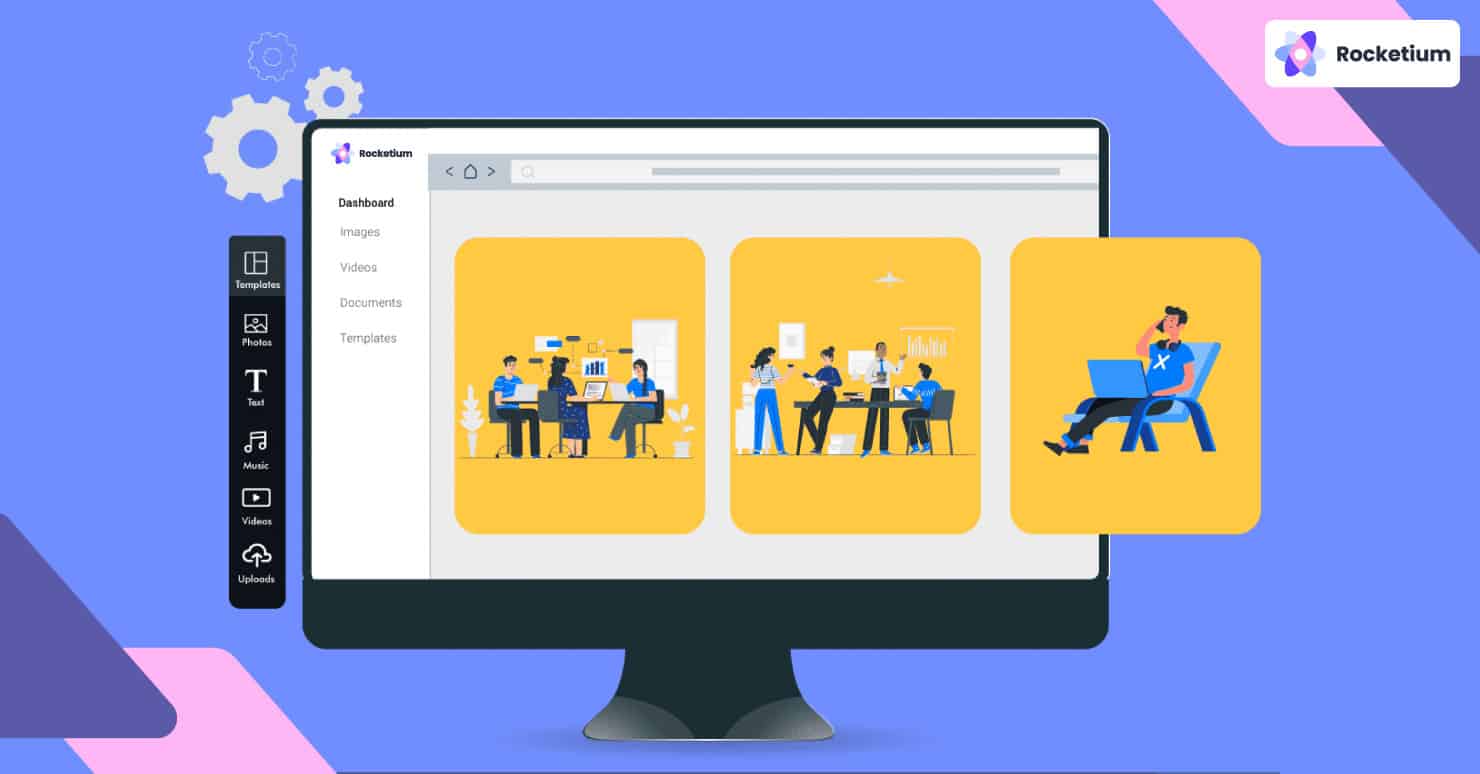 Video automation uses a platform to automatically create short videos to promote a product, service, or brand using your customer database. It also includes editing to generate many versions of a single video quickly.
But, first, let's take a deeper look at how video automation elevates video marketing.
How Does Video Automation Maximize the Potential of Video Marketing?
Compared to all other types of branded content, 50% of consumers want to see videos, says a HubSpot report, making it a versatile tool for brands.
What makes videos more compelling is that growth marketers can leverage them at all stages of the buyer's journey, from helping the sales team qualify cold leads to increasing engagement.
They can even utilize videos for customer service to share knowledge, success stories, or simply answer support questions.
Additionally, video marketing lends a more customized and comprehensive customer experience. That being said, even with videos, brands need to be cognizant of overexposure.
Showing the same video, again and again, is not worthwhile. It merely results in customer frustration, ad blindness, and lesser brand equity. This is where video automation comes in.
So how does automation maximize the impacts of video marketing? Here's the answer:
1. Easily Generate Many Variants
With video automation, you can create multiple variants of the same video in all sorts of ways to keep your customers interested.
To make variants, you simply have to fill in the text and image or video rows given in an editable spreadsheet.
Once completed, you can import the spreadsheet and then generate the videos.
Since the automation tool already has a brand-compliant template, you don't have to spend hours ensuring that each version meets the brand standards.
Instead, with brand governance automated, you achieve consistency, and consequently, better brand recall.
2. Quickly Build Hyper-Personalized Videos
Personalized videos allow a brand to connect with customers individually, building an intimate relationship.
That is why, compared to generic, traditional marketing, it achieves more clicks, more views, and more conversions throughout the marketing funnel.
Video automation hands you the ability to generate tailored videos for each of your cohorts or even individual customers on a platter.
And you can do so at scale by feeding personalized information from a spreadsheet.
Moreover, if you're working with influencers, automation will help give them the right content as well. Follow this tutorial in case you need support in finding influencers for your brand.
Manually creating hyper-personalized videos is a long process that requires long work hours, often forcing brands to forgo targeting customers at the right time.
With automation, generating a tailored video takes but a click, guaranteeing that you hit the customer at the most opportune moment.
As a result, the time marketing teams save on repetitive and redundant work can be redirected to innovating and strategizing better.

3. Faster A/B Tests
Experiment to find out which strategies are performing better and then focus on them to optimize the ROI of your campaign.
When experiments lead to winning strategies, make campaign-level edits across 1000s of creatives in different sizes without any manual effort.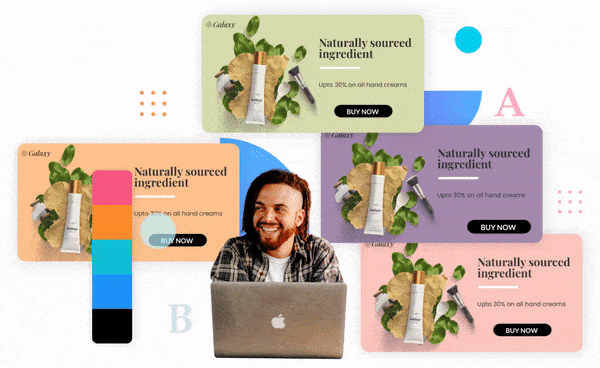 4. Adapt Videos for Channels and Markets
Twitter, LinkedIn, Facebook, Instagram, email, direct messaging apps. The ways brands can get in touch with their customers digitally are expanding.
But, while there are benefits of this digital universe, there are drawbacks too.
Marketing teams have to constantly spend time producing a set of videos that suit each network.
It creates a lot of busywork, like modifying videos, their copy, the alignment, the placement of the brand logo, or the ad type.
With video automation, the workflow is seamless and faster. Through the click of a button, re-align and resize the video with AI for multiple channels.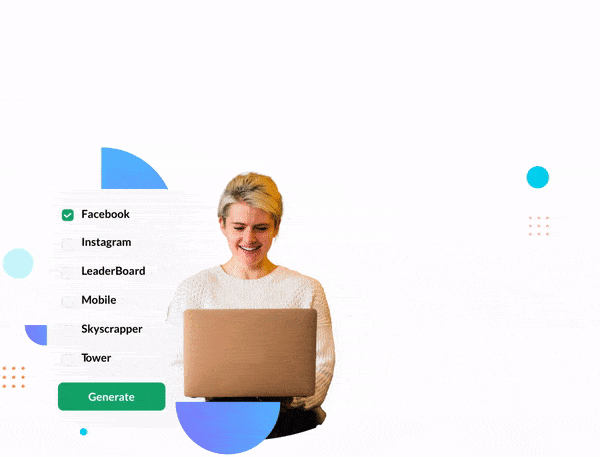 5. Include Voice-Overs and Vernaculars
Video ads are impactful. Video ads with voice-overs are even more so. But adding speech requires the additional hassle of recording audio and managing audio files.
Automation eliminates this friction.
All you have to do is upload a spreadsheet with the necessary data, and the automation tool automatically converts it to speech, adding an evocative voice-over to your creative.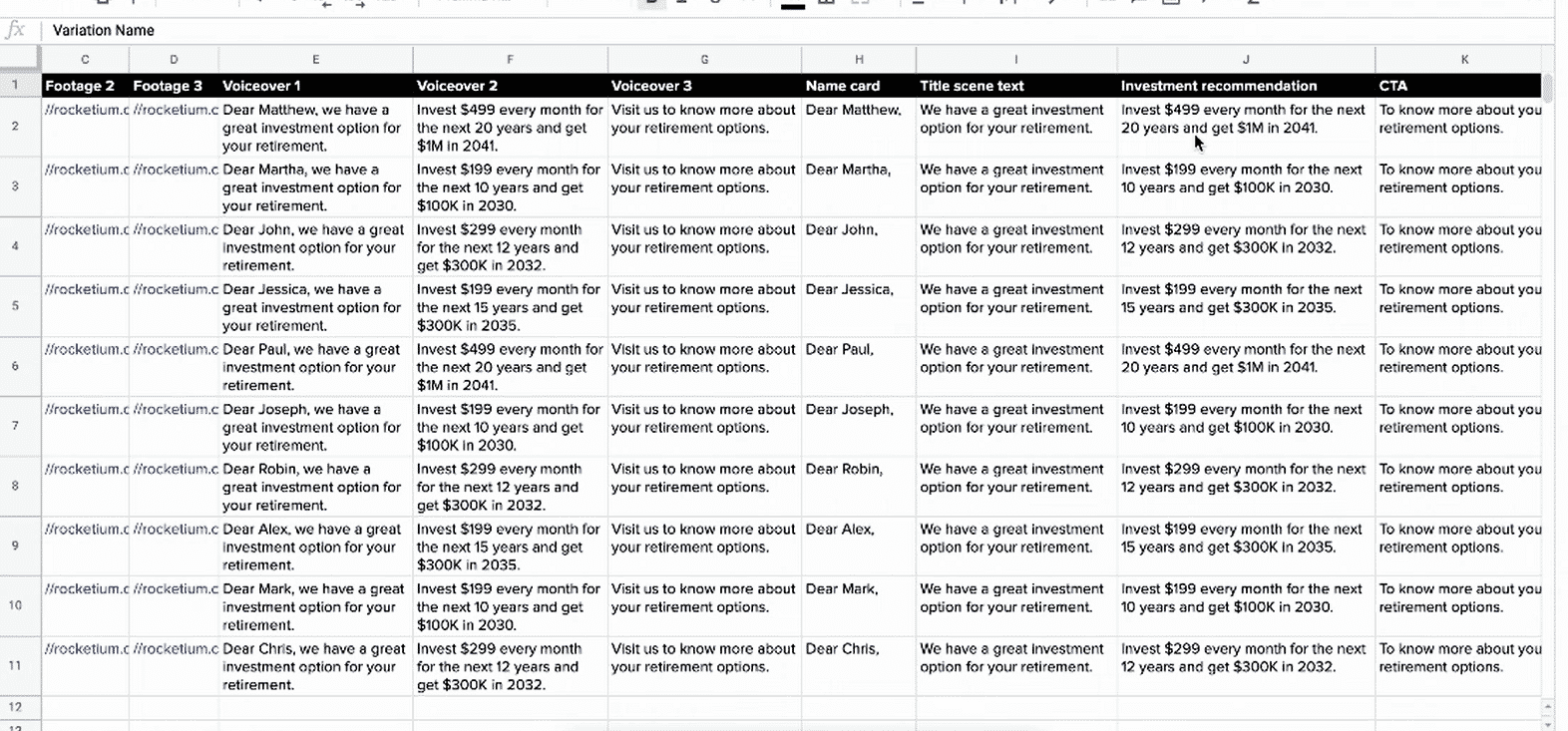 Painting another layer of customization is the flexibility to choose the style (male or female) and language you want in the voice-over.
That means the same video can have a voice-over in English, Hindi, Tamil, Marathi, or any other vernacular your target audience speaks and reads.
6. Automate Brand Governance
Brand governance is the key to brand recall.
Your branded assets must be consistent across touchpoints which will ultimately lead to better brand recognition and recall.
Hence brand governance (management) is essential to ensure all the critical branded components (logos, typefaces, fonts, design, and stylings) are being used consistently and people perceive it in an intended way.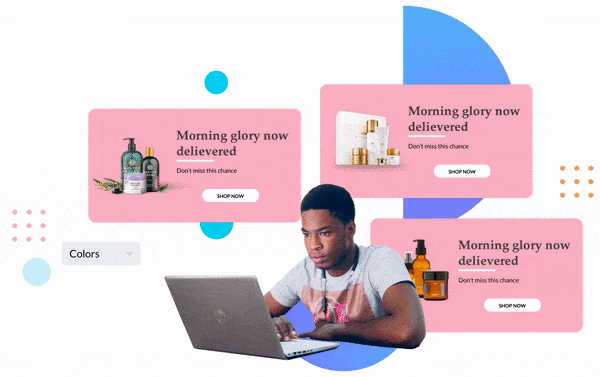 Automating video also streamlines this critical process of brand governance. Once you set up a brand library with required rules, you can enforce brand elements across any campaign, leading to better brand recall.
7. Boosts Strategy and Innovation
When your growth marketing team is not busy following up on the third-party video maker or a freelancer for videos, they get time to brainstorm innovative business ideas and strategies.
Unfortunately, longer turnaround times from video agencies and freelancers can impose pressure on your marketing team to get the work done.
It means, the more they're engaged in such tasks, the less their real productivity.
Automating video creation simply lifts off these and related burdens from the shoulders.
Now, the strenuous task of making awesome marketing videos is taken care of, while your team can focus on strategizing growth and innovating.
How to Automate Video Creation?
The process of using technology to generate thousands of personalized videos is pretty simple.
For instance, Rocketium's ad marker enables you to do exactly that.
You pick custom fields, populate them in your video ad and then directly share the dynamic creatives to any digital channel, email, or social network.
Here's a detailed guide on how to use Rocketium's ad marker to automate video creation:
Step 1: Create the Template
Typically, a video automation platform has preset templates to make the process effortless. At Rocketium, we have a bank of over 300 pre-built, brand-compliant templates. You can either choose one of them or upload an existing design from Photoshop/After Effects.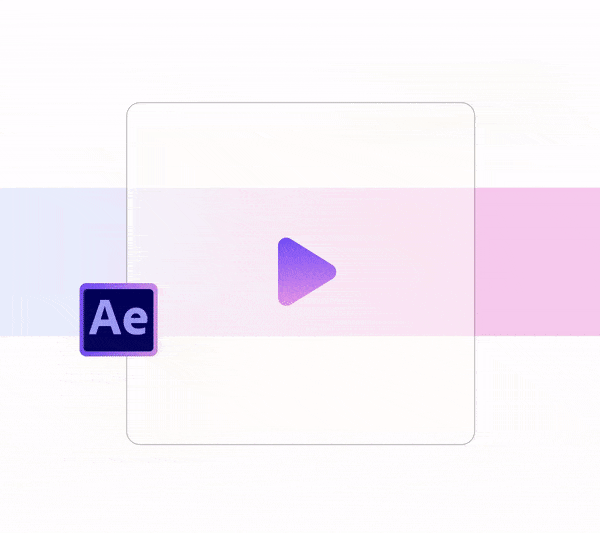 Step 2: Choose Your Fields
The second step is to select what part of your customer data you want to include in your video. It could be location, first name, company details, or any information about your product.
Step 3: Tweak the Video
Next, you tweak the video to fit the requirements. For example, you can incorporate a screen or webcam recording to explain product offerings, concepts, and features to your customers.
Then you can adapt it for different channels with AI-based auto-sizing.
Select the desired size, and the video ad maker will automatically convert it to the required aspect ratio.
Step 4: Modify Content and Create Variants
Automate the production of hyper-personalized banners at scale through a feed-based interface.
At this stage of automated video creation, you have two options.
Either create variants of the same video or translate videos in native languages with the bulk voice-over capability.
The first ensures your creative refresh rate is high.
The second allows you to target audiences in their native language.
Here, you have two more choices. You can either create many videos in different vernaculars or translate one video into 100+ local languages.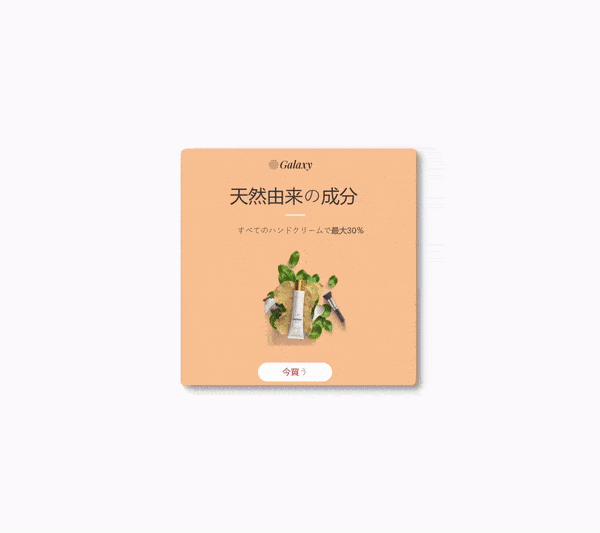 How do you create localized, multilingual content? By leveraging our multi-language support feature.
Furthermore, you can use AI to polish captions by enabling localization and instantly refreshing the copy, ensuring that your video campaign gets better engagement.
Step 5: Give Voice to your Videos
Voiceover is a crucial element of engaging videos, and you can use the text-to-speech feature of video automation tools to create voiceovers in bulk and ere minutes, without spending any manual effort at all.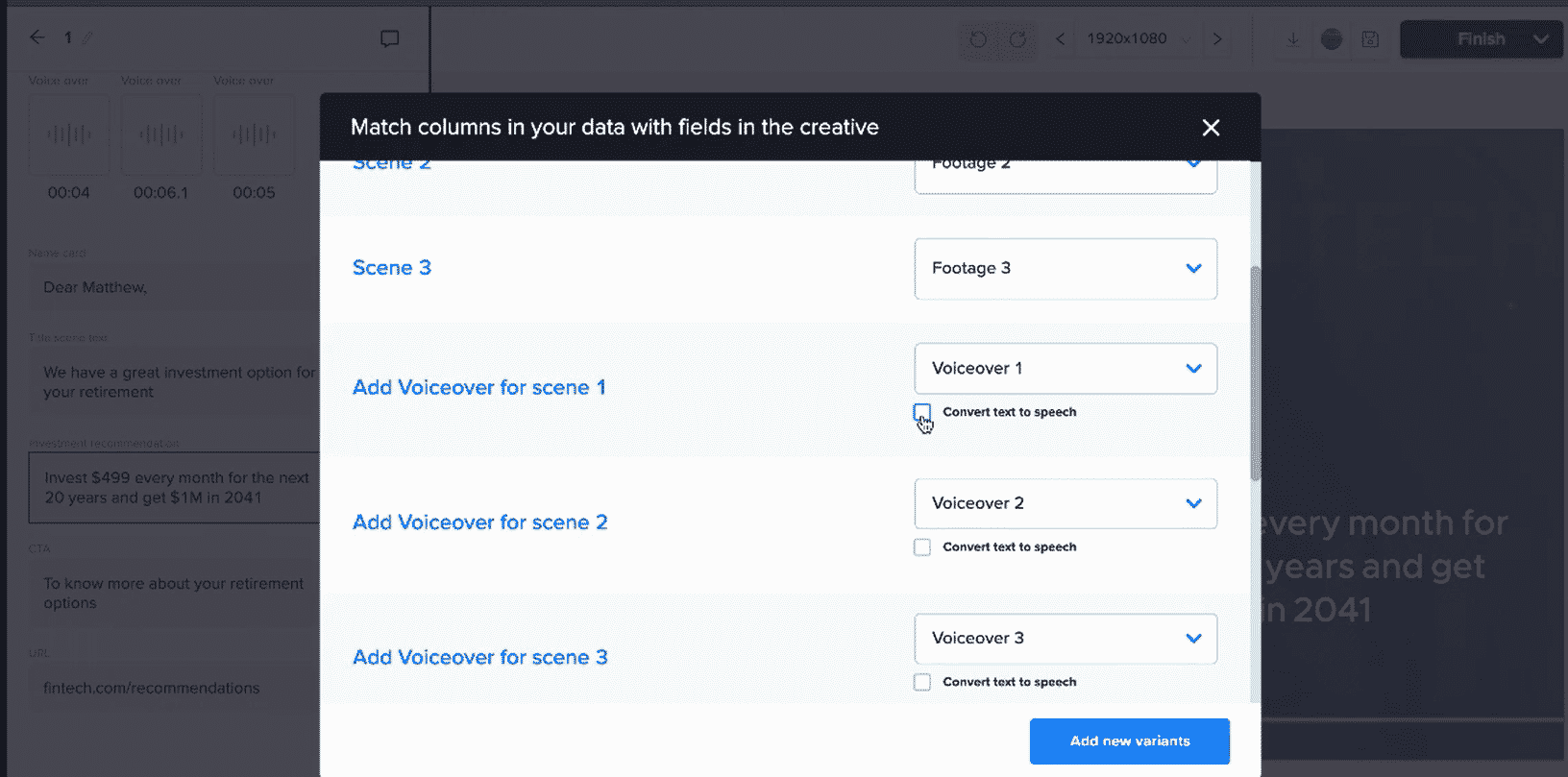 Step 6: Export in Bulk and Publish Directly
Reviewing your videos is crucial to ensure their success. But it is easy and hassle-free when done inside an automated video creator like Rocketium.
After the final nod on the videos, publish the videos in bulk on various channels from the video automation software.
For instance, share the ad on Facebook or LinkedIn or incorporate it into your email tool.
Of course, you also can download all the videos and utilize them as, when, and where necessary.
Step 7: Analyze Real-time Performance
No marketing campaign, be it video or simple static images, is complete without analytics.
So, the last step of video automation is to keep tabs on the performance, then experiment and edit the content for better results.
Case Study: Urban Company Leverages Video Automation to Reduce Lead Times By 8x
Urban Company, the largest home services marketplace in India, helps customers book services such as cleaning, repair, beauty services, plumbing, fitness training, etc.
The platform constantly executes digital campaigns that span multiple channels and business objectives.
Consequently, they use hundreds of videos and banners for everything from in-app promotions to social media marketing in a single day.
Before automation, the company had to depend on design teams for the creatives heavily.
For videos, the turnaround time was as high as 14 days. As a result, they often hit design bottlenecks when executing hyper-targeted campaigns that demanded more creatives.
After using Rocketium, they could run 5x more campaigns that necessitated personalization, and they saw an 8x reduction in lead time for new campaigns.
This was possible because Rocketium decoupled the creative and production process for Urban Company: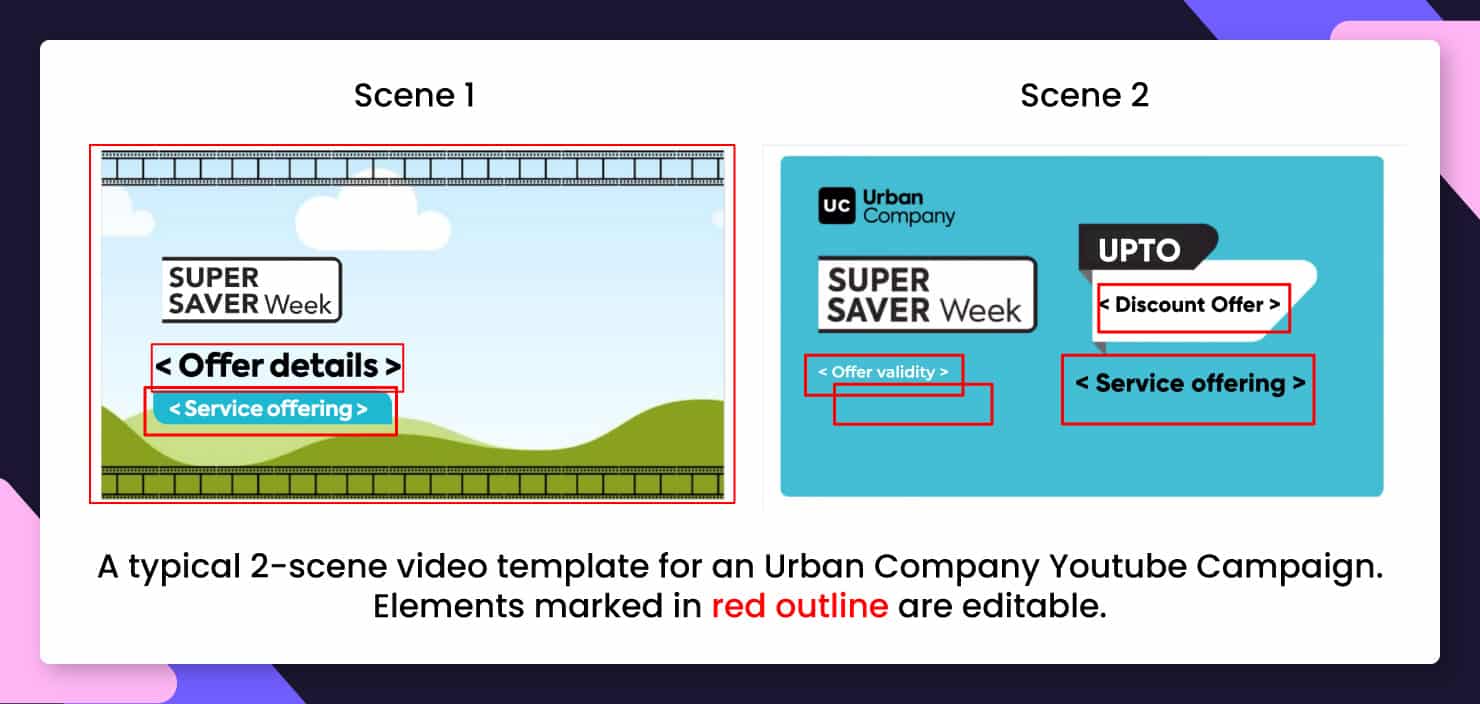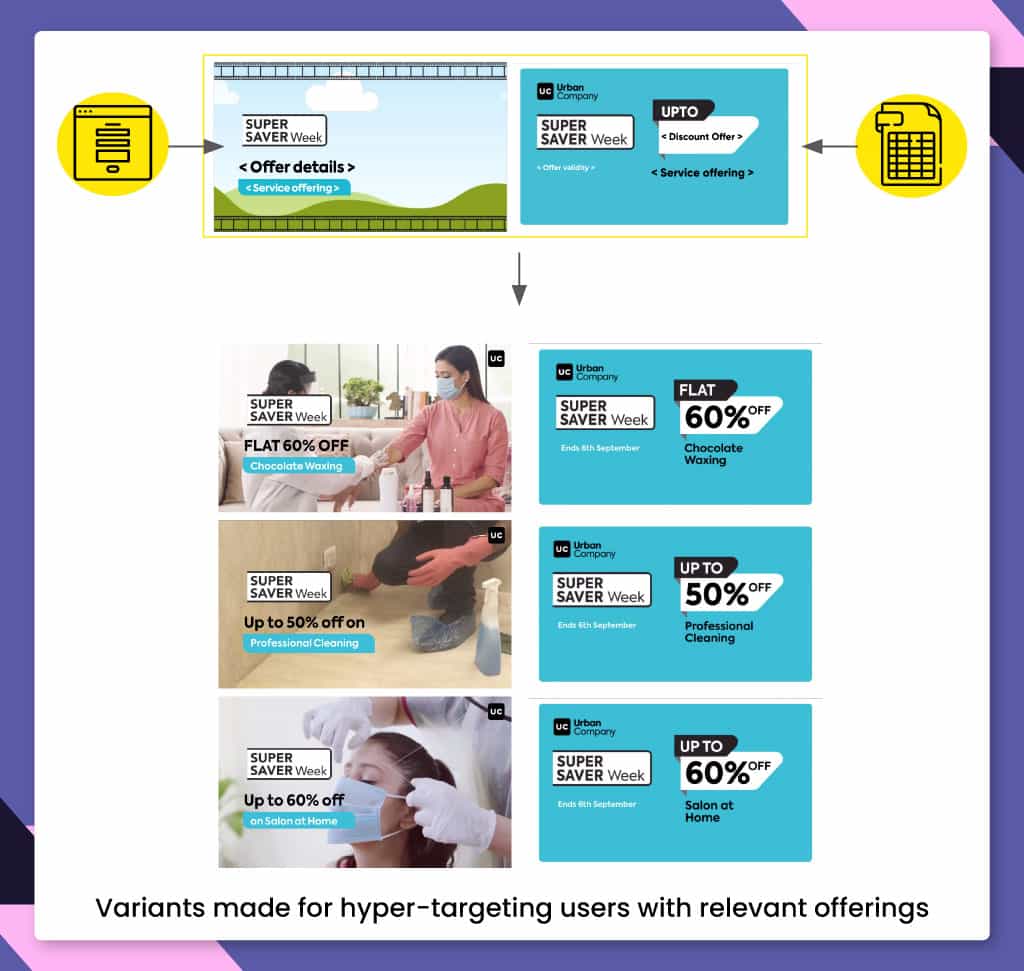 Final Words
Sustaining growth and reaching benchmarks is an uphill battle for high-growth brands that requires a constant visual presence.
A presence that not only stands out to their target audience but also commands lasting attention. However, achieving it is not simple.
It requires a #designledgrowth approach, but that puts a lot of pressure on design and marketing teams to create a cycle of rich and relevant content within deadlines.
Video automation takes away most of that pressure.
Brands can plan, set objectives, and then quickly create videos for chosen channels with automated templates and formats.
Going live with relevant ads for the targeted audience is easier. Besides, you can proactively work on performance slumps by refreshing creatives rapidly.
And finally, analyze performance and compare the impact of different variants and make campaign level changes without any manual effort.
Videos, without an iota of a doubt, are the best route to forming human connections.
Given the surge in video content consumption post-COVID, they have become the surest path to connecting brands to consumers.
About Rocketium
Rocketium is an AI-powered creative management platform that helps make your campaigns faster and more relevant.
We automate your innovative management with templates, feed data, AI-powered resizing, and writing.
And our solution integrates with your tools and is ready to go in no time.
With Rocketium, you can capitalize on this avenue with the littlest effort on your part, just like Amazon, Ajio, Meesho, Urban Company, among others, did!
We're already a creative automation partner for 120+ companies spread across 95+ countries. This could be your turn. Contact us today!
Subscribe to our newsletter
Recieve such insightful content on Design & Marketing every month!
Thank you for subscribing.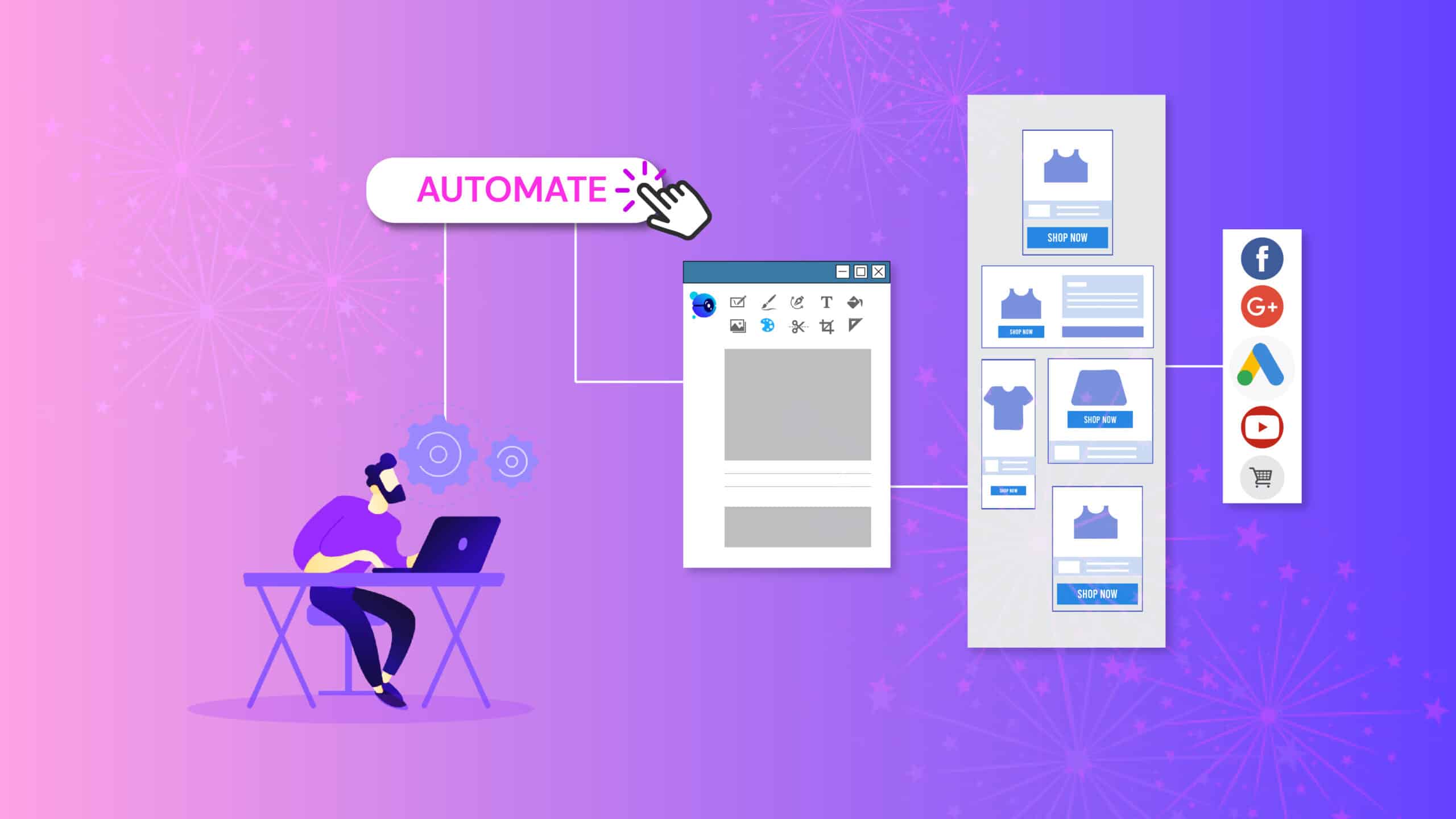 Scale Creation with Video Automation
Automate the video production process with templatized creation, feed-based scale, and multi-point integration.
Book a Demo