"Netflix and chill!"
That's a common phrase being tossed around these days. Netflix has become a part of our slang. On average, about 140 million hours of content is streamed on Netflix every day. But, how did Netflix get here?
Reed Hastings, CEO of Netflix, once said in an interview that he got the idea for Netflix after he once had to pay $40 as a late fee while returning a DVD. But then, Marc Randolph, the co-founder of Netflix claims that they wanted to build an "Amazon.com of something" which led to the birth of Netflix. When they started, Netflix provided a DVD rental service.
Back in the days, Blockbuster was the king of DVD rentals. In 2000, Netflix had approached Blockbuster to discuss a merger. However, the CEO of Blockbuster smirked and turned down the offer.
The tug-o-war between Netflix and Blockbuster kept progressing over the years. Finally, Netflix decided to venture into the online streaming service space. They signed a deal with Starz and it was then that Blockbuster was doomed. Netflix valuation kept rising and skyrocketed by 4,060% from $24 million in 2000 to $203 billion today. Today, Netflix has more than 151 million subscribers in over 190 countries worldwide. Wow!
So, unwrapping the components of Netflix can be the ultimate guide for every marketer who aims to set a bar with modern marketing. Let's dig in.
What makes Netflix stand out?
Netflix places itself as a platform that has completely revolutionized the movie experience. 4 key factors make Netflix uncomparable with other online streaming services such as Amazon Prime Video and Hulu: Content creation, Content delivery, Content promotion, Customer engagement.
You'd be surprised to know that the base for Netflix's success is its brand content strategy. What strategy do they use and what makes it so strong? Let's look at them.
1. A great understanding of their users
Netflix has a well-defined target audience. They mostly target their content for the 18-50 age group. Moreover, an advanced algorithm helps them understand their users and provide personalized service. This personalization keeps the users hooked to the platform.
2. High-quality and original content
One of the main reasons why Netflix has recurring customers is its top-notch content and its originals series. In a list put together by Thrillist of the top TV shows, Netflix's content contributed to more than 25% on the list.
3. Minimalistic design
Netflix not only nails content but also nails how it's delivered to the customers. With its clean, readable, and modern layout, Netflix helps users browse through in a jiffy. It also highlights content and showcases mini trailers which ultimately sells their content.
Consumer perception of Netflix brand globally
In 2019, Netflix was ranked as the No.1 fastest-growing brand in the United States. The incredibly growing customer interaction with Netflix contributed to an increase in brand equity. Hence, customers perceived Netflix as a Television channel personalized for themselves.
Brand Finance used a "royalty relief" methodology which is based on the concept of future revenue attributed to a brand that is determined by the current day royalty price. In the past year, the brand value of Netflix has more than doubled. With a 105% growth, Netflix's brand value raised to $21.2 billion.
Gaining such enormous brand equity is a whole different ballgame. So, to provide some insight on Netflix's exponential growth, let's consider the brand which ranked second in the list, Twitter. Twitter saw an increase in brand equity by 66%, which is just about half as that of Netflix.
So, how did Netflix manage such large equity?
The underlying factor for such a massive increase in brand equity is its differentiating high-quality content. This is coupled with its unique algorithm that provides users a completely personalized experience. Another main reason for Netflix's success is its distinct brand voice. The PR team of Netflix maintains a good rapport with its customers. As a result, they curate witty polls to engage with their customers across all social media channels.
Above all, they respond to posts with witty and humourous comments and ensure that they retain their brand voice. Here is a misinformed post put up by a user.
Here is Netflix's quirky response to the above post.
The class apart visual brand identity of Netflix
With its bright red logo, Netflix catches the eye of the user wherever displayed. Their brand identity is simple yet powerful. According to the Global Brand Simplicity Index, Netflix was ranked as the simplest brand. Netflix believes that simplicity is the core of positive user experience. Hence, with continuous attempts, they have simplified the user journey across the platform.
By maintaining their simplistic brand identity, their stock performance increased and outperformed several indices including the S&P. In addition, Netflix recorded a stellar subscription growth by positioning itself as a transparent brand without any disinformation campaigns or privacy breaches.
Besides, Netflix follows a state-of-the-art stack approach. The stack is an endless catalog of movies and shows. It is simple, flexible, and endless. Altogether, it allows users to browse through the platform seamlessly.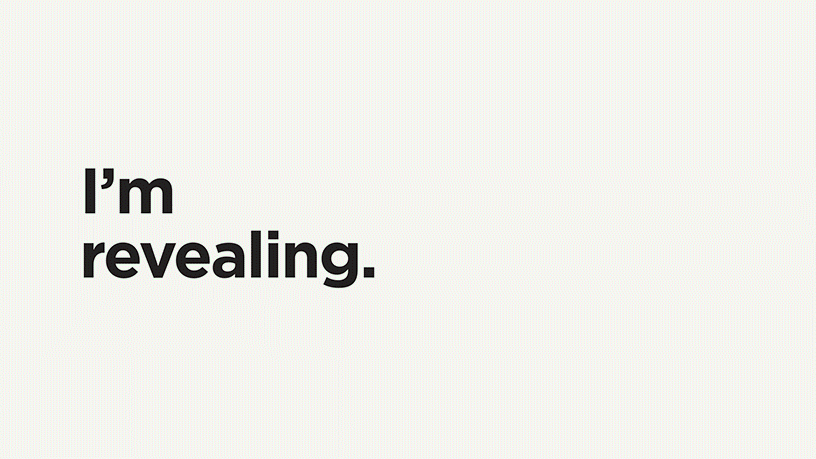 Netflix was recently rebranded by a New York-based agency called Gretel. The latest version speaks volumes about how Netflix is variable yet systematic. The platform now has a responsive design, wherein the design changes as per the interaction of the user. This design translates across all parts of branding.
Another interesting aspect of the new brand identity is that the logo has been cropped by retaining their brand integrity. This thereby enables designers to include Netflix's branding even with severe space constraints. So, even with glimpses of the logo, the users can enjoy the complete brand flavor.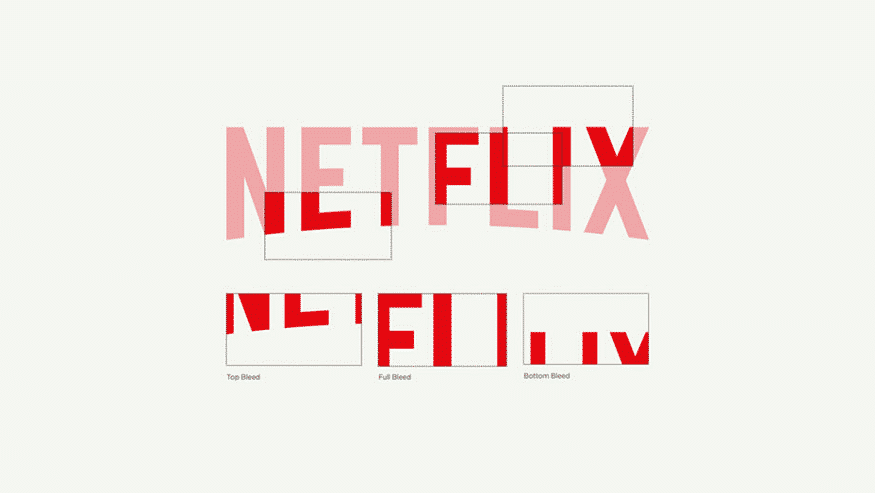 Netflix brand that defines a consistent style and voice of the brand
Netflix has a culture of creative freedom which helps in faster iterations. Through its iconic and minimalistic symbol and logo immediately sparks brand recognition. The brand guideline contains the main elements of the brand's visual identity. However, Netflix follows a minimalistic approach. So, let's look at the 4 main elements in Netflix's brand guideline.
1. Logo
Firstly, the Netflix logo has an arc on the bottom. The logo is composed of a black background with "NETFLIX" in red.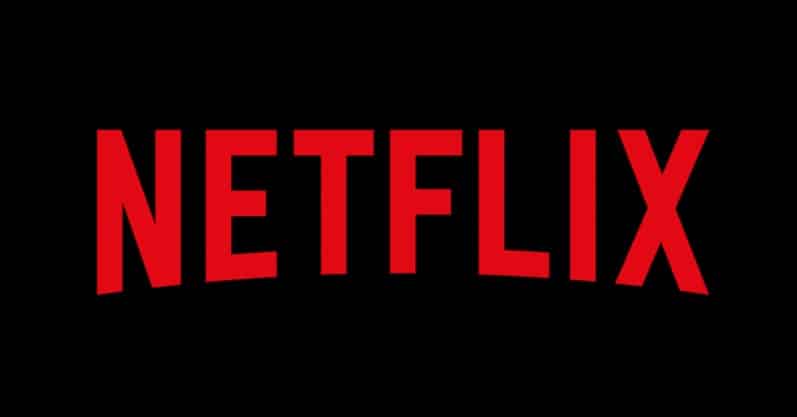 Then, the clearing space of the logo is equivalent to the "T" in Netflix.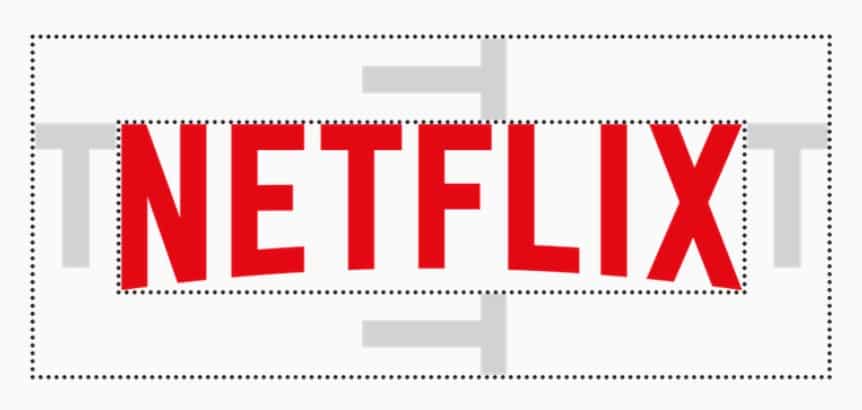 2. Symbol
The symbol of Netflix is the famous "N" which represents the connection between the ever-lasting stream of stories to subscribers.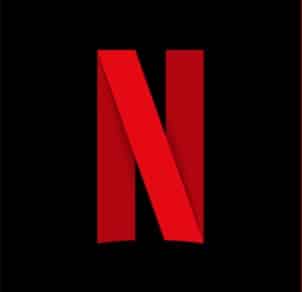 Finally, the clearing space of the symbol is half the width of the "N" in Netflix.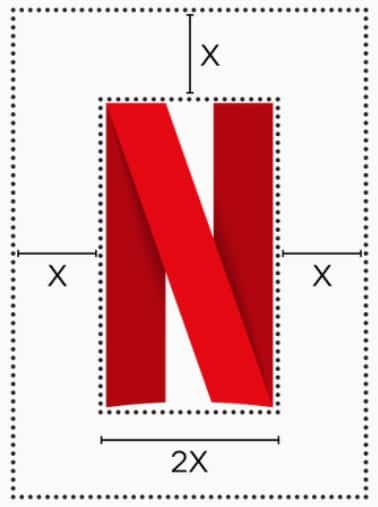 3. Colors
The Netflix logo uses only one shade of red for the text. The text is placed on a black background.

Whereas, the symbol incorporates two shades of red.

4. Logo and symbol on color
Under certain circumstances, both the logo and the symbol are used on colored backgrounds. However, the contrast ratio should be maintained at 1:3.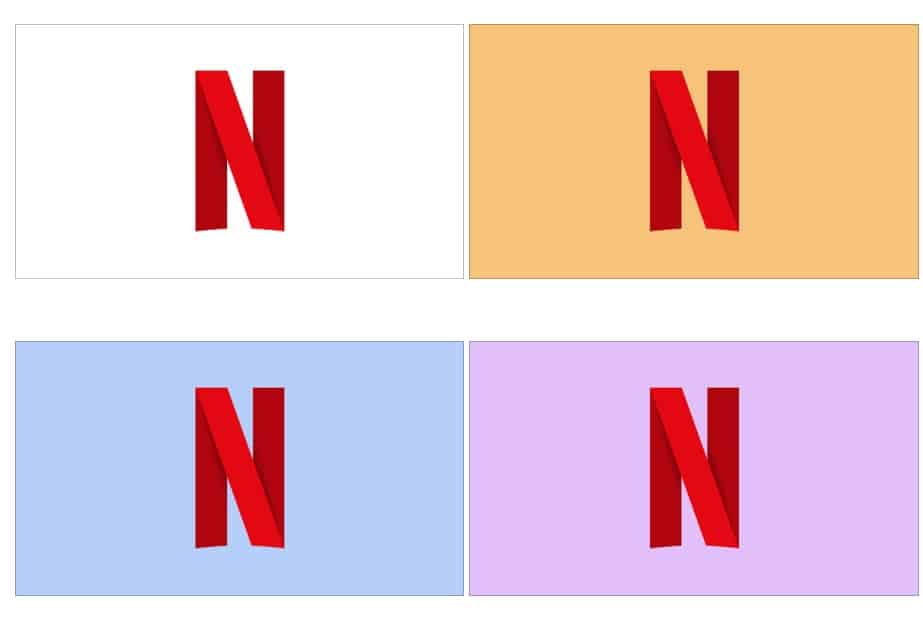 All of Netflix's brand assets are available on its brand site.
The competitive distinctiveness and relevancy to target customers to maximize brand value
The Netflix site we see today wasn't always the same. They began their journey as a DVD rental service and have evolved into an online streaming service over the years. Let's walk you through the years and show you how Netflix has evolved with a strong brand positioning.
Brand positioning: DVD rental
1999
In 1999, Netflix was fully operational as a DVD rental service. Back then, they hadn't incorporated the red brand color yet.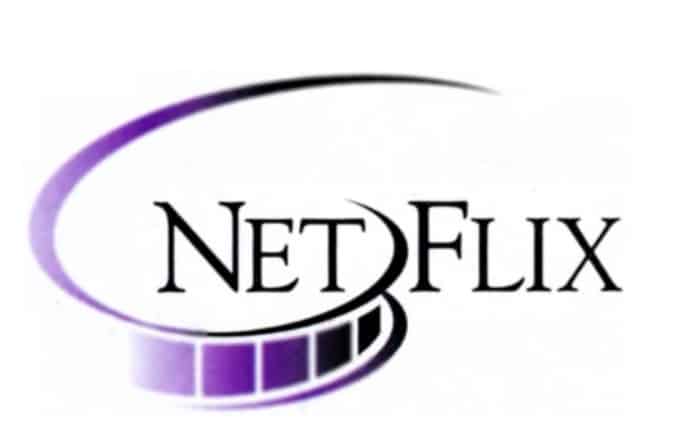 2004
By 2004, Netflix had incorporated its signature shade of red into their website. Their main selling point was that they charged no late fees ever.
2008
In 2008, the streaming service was introduced. However, they didn't have any new releases. Now, their website reflected the company's positioning as a streaming service.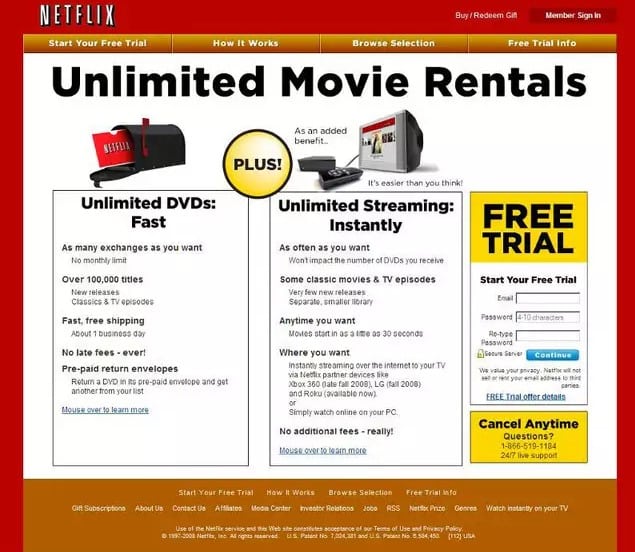 2009
By 2009, Netflix streaming was available on multiple devices such as the TV, Xbox 360, etc.
Brand positioning: Streaming service
2010
With consistent user testing, Netflix finally leaped to position itself as a streaming service. Then, their branding changed and they allocated more real-estate on their homepage to showcase the streaming service.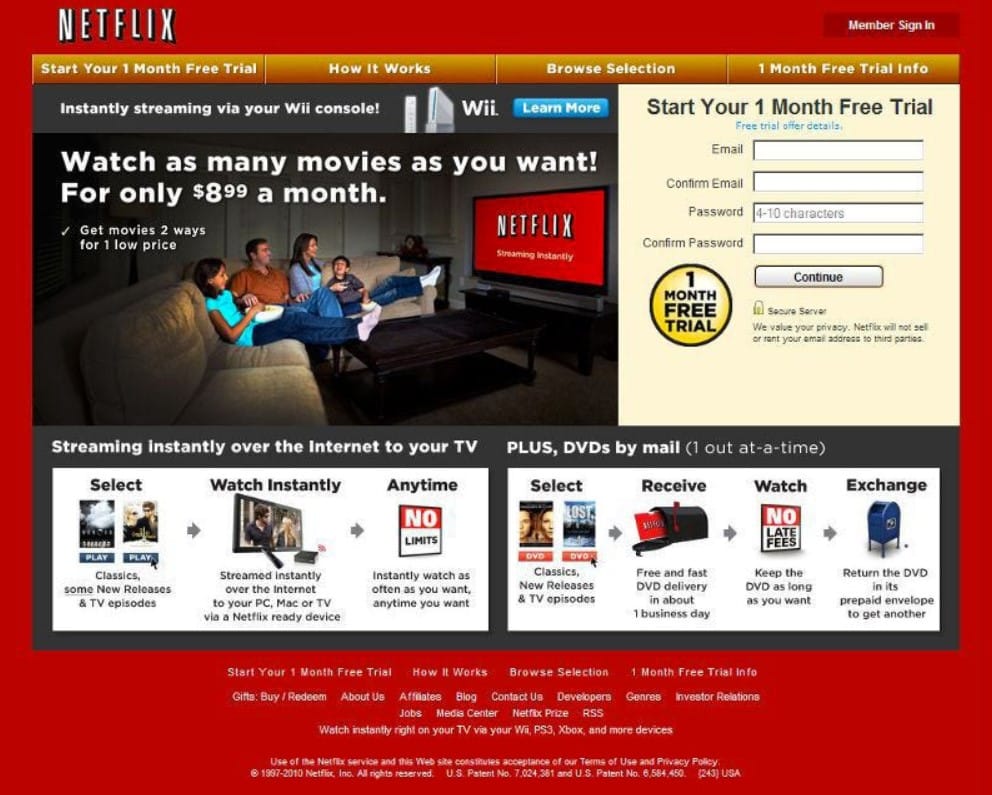 2011
In 2011, Netflix integrated itself with social media to increase brand awareness. In addition, they streamed on gaming platforms.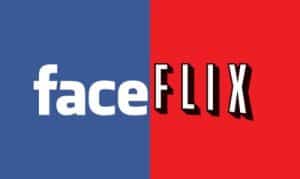 2014
The logo changes to what we currently see. The website was also designed to be more minimalistic.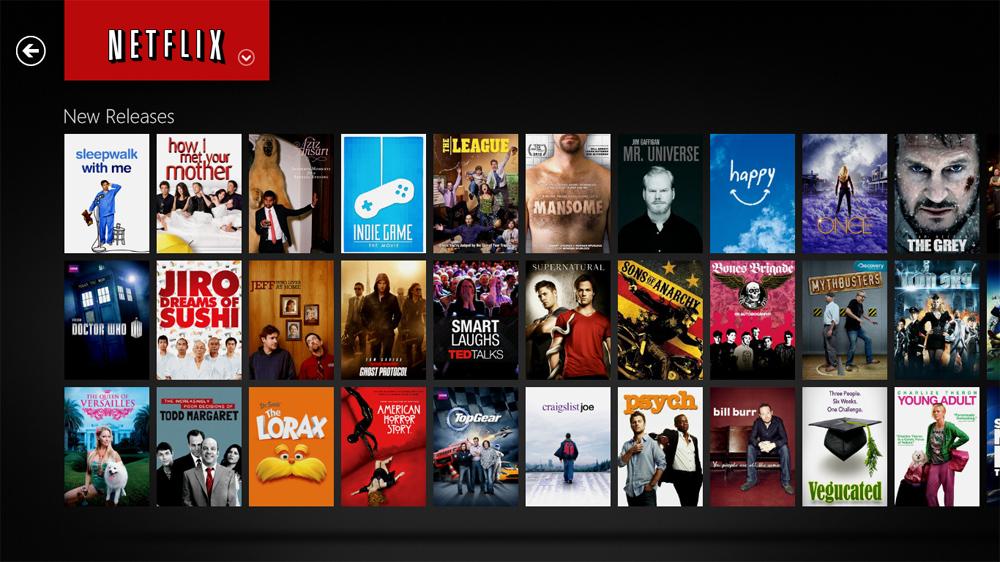 2018
Here is what we see today. After several years of user testing and adoption, Netflix has now fixated on this user-friendly brand positioning of a streaming service.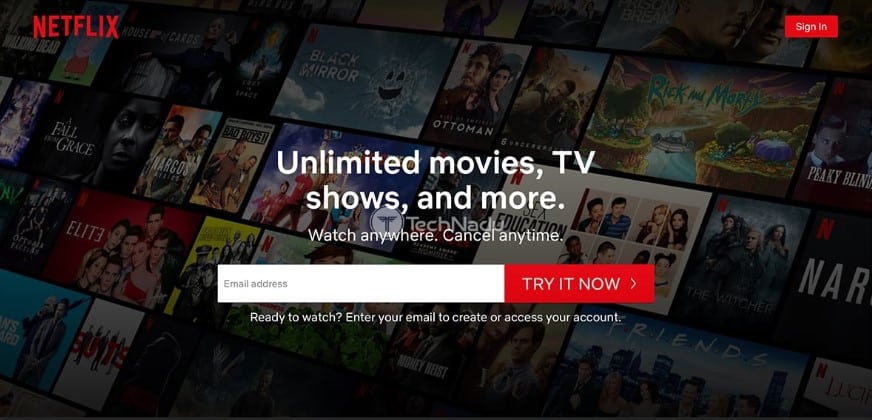 How does Netflix maintain brand loyalty?
It is relatively easy to get customers to try your product once but it is extremely difficult to retain them. As of today, Netflix has over 130 million loyal subscribers by retaining 80% of its customers. How did they achieve this? Here are the 3 secrets of Netflix's customer retention scheme.
1. First-mover advantage
Being the pioneer of the online streaming industry, Netflix has an exceptional advantage to retain customers as they are more accustomed to it. Hence, Netflix experienced the boost that other streaming companies missed out on.
2. Netflix Originals
Apart from being the first company in the industry, Netflix produces its original series such as "Orange Is the New Black", "Stranger Things" and much more. Netflix Originals increased the number of recurring customers.
3. Emails and in-product messaging
With in-product messaging, Netflix proves that they are supremely customer-oriented which brings customers back to the platform to continue their subscription.
4. Customer-driven approach
Netflix pays attention to its data acquired from customer behavior. Netflix religiously believes that observing what people watch is more beneficial than asking them what they would like to watch. Moreover, Reed Hastings, the CEO of Netflix believes that listening to data is crucial for a successful product.
Takeaways for every brand based on Netflix brand analysis
After detailed research and understanding of Netflix and its brand propositions, we have narrowed down 3 ingredients which attribute to Netflix's success.
#1 Maintain brand consistency
We know that Netflix is taking over the television and movie space. Hence, over the years, Netflix has thrived by being adaptable and providing its users with original content. Although Netflix has over 5000 employees today, its voice on all social media platforms always sounds consistent. Netflix always sounds like one person on Twitter, Instagram, Reddit, and Facebook. Similarly, Netflix always maintains a witty sense of humor with its announcements. Here's a poster showing their humor:
Lesson #1:
When you build awareness of your brand among customers, it is important to give them a clear picture of who you are. Hence, it's important to stay consistent with your brand in terms of the color palette, voice, and tonality. Therefore, maintaining a consistent image and schedule will have a great positive influence on your brand.
#2 Be adaptable
One of the major reasons why companies dissolve is their unwillingness to adapt over time. If Netflix were set in their ways to remain a DVD rental company, they wouldn't have succeeded even over the next century. A brand should adapt not only with technological advances but also with its design processes.
Change doesn't always have to be drastic or flashy. However, it needs to be flexible and consistent. The recent partnership between Netflix and Gretel is a perfect example of flexible change. As a result, it gave Netflix's design an edge over the others.
The Stack approach revolutionized the user experience and perception of the brand. This approach helps free up plenty of space on the website and also gives the user the big picture at one glance.
Lesson #2:
Organizations that fear change cannot thrive. A great example would be Blockbuster. Only if they had adapted to the dot-com boom and internet streaming of movies and shows, they would have conquered the steaming service space.
#3 Original content always wins
When Netflix had started, it was primarily known for its curated TV series and movies. It gave the users flexibility and more freedom of choice in addition to their regular TV plans. . Ever since 2018, Netflix has been airing originally curated series and movies. As of today, they have over 700 original TV series and 80 movies.
Being a curator and a creator has proved to a great mix for their success. As a result, Netflix bagged them about 151 million subscribers and 112 Emmy nominations.
Lesson #3:
The best way your brand can excel is by producing original content. Your mode of content could be articles, videos, blogs, or even newsletters. Hence, always make sure that your content is original and authentic. As a result, you would be able to provide a personalized experience to your users and give them more reasons to stick around.
Subscribe to our newsletter
Recieve such insightful content on Design & Marketing every month!
Thank you for subscribing.