Release Notes: October 2021
It's Halloween time, but no tricks from us, it's only treats!
New features on Rocketium this month are going to increase your productivity, and get your holiday campaigns live EVEN FASTER!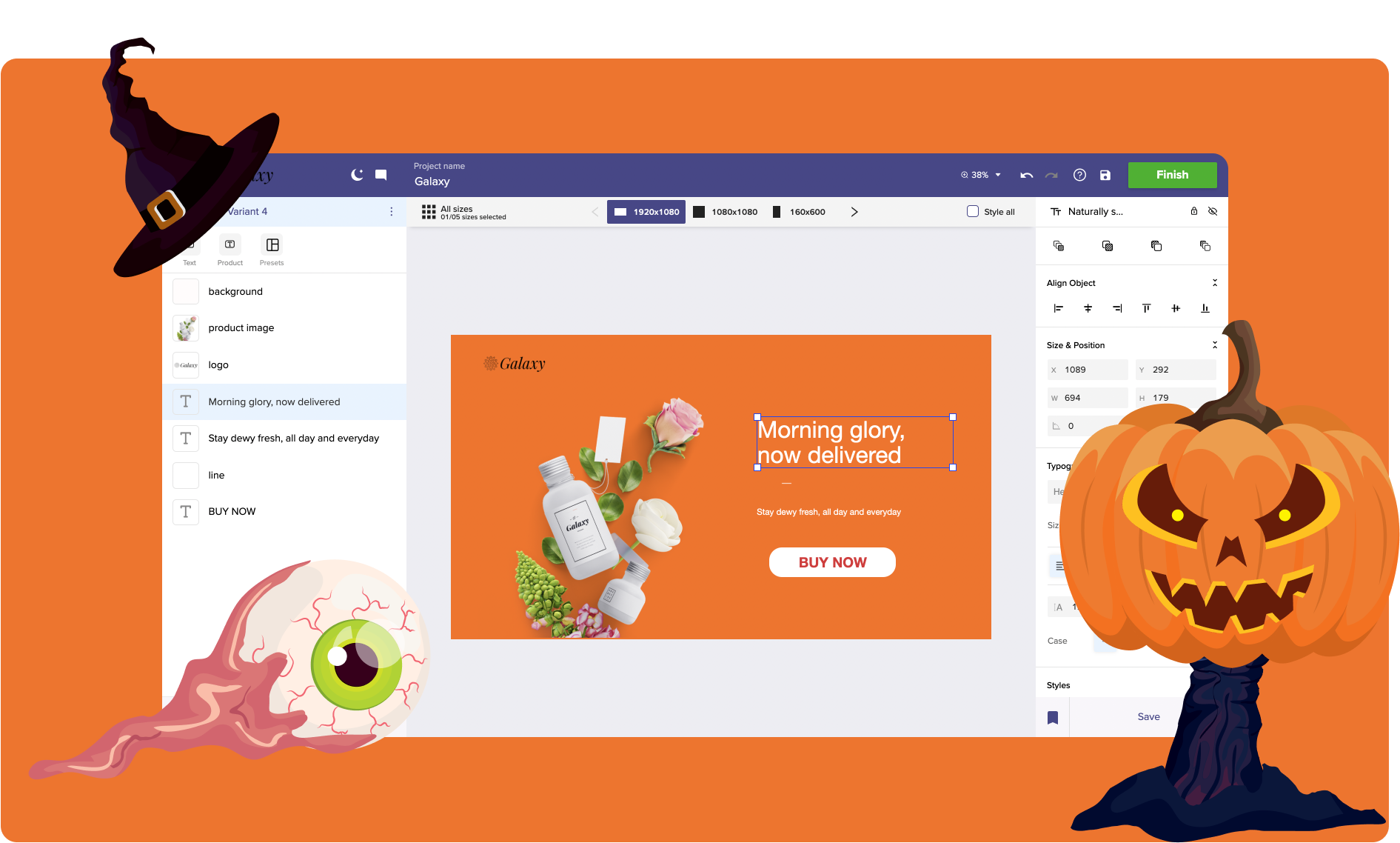 1. Is your creative 👍🏼 or 👎🏼 ? Find out with the built-in creative intelligence engine powered by Rocketium
How would your design perform compared to the creatives made by the top brands and your competitors? Now Rocketium comes with answers – suggestions, and recommendations on what to improve to increase your creative's performance, based on industry data and your campaign objectives.
Click on the 'Score' button in the editor to see all the smart recommendations curated by Tars – the intelligence machine, after analyzing 200K+ best-performing campaigns.
Contact your account manager to get access.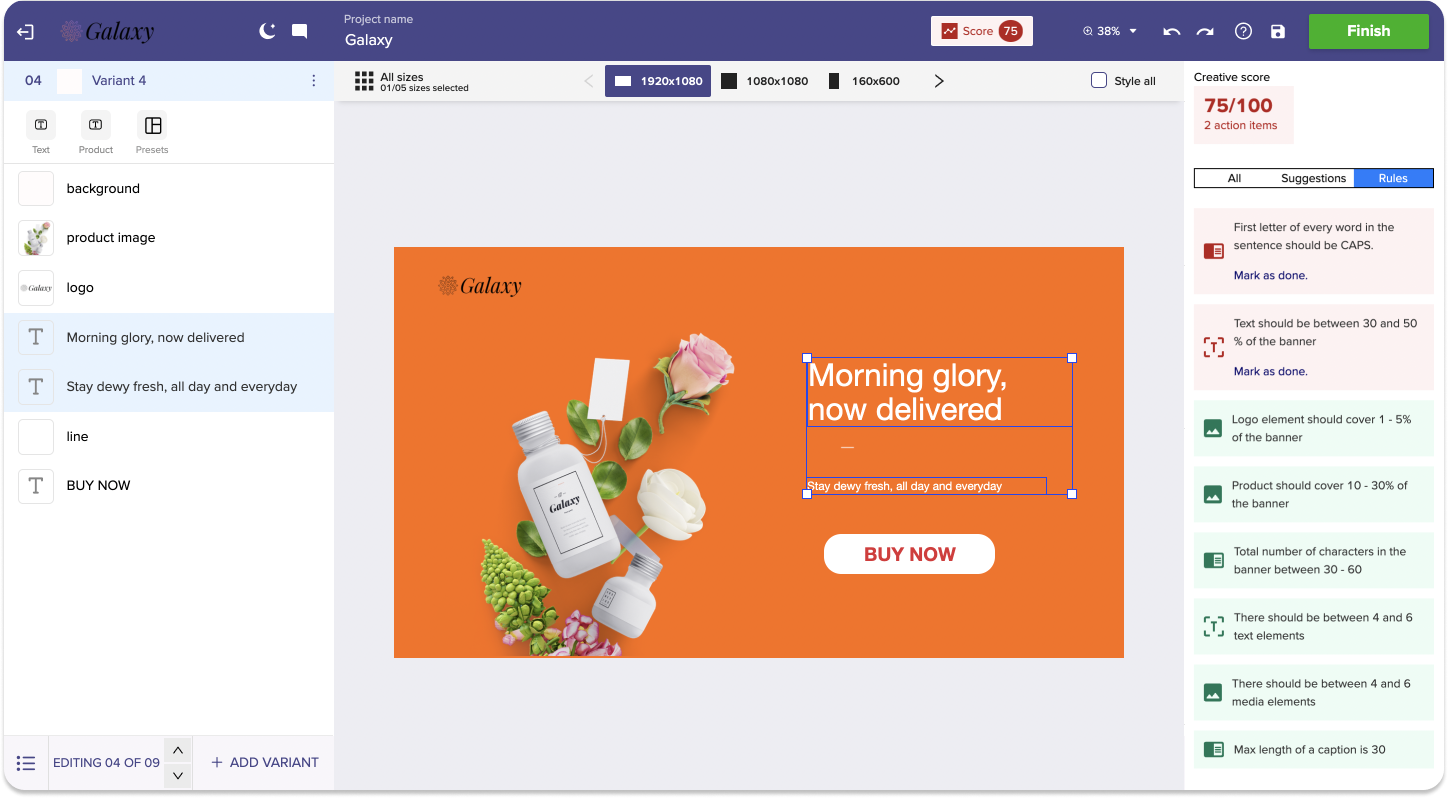 2. Let's get pixel-perfect precision with rulers and guidelines
Goodbye, guessing game! Hello, rulers! Now position items precisely across the width or length of the canvas using the all-new rulers and guides.
Want to enable Rulers in your editor? Press 'shift+R,' or right-click on the canvas and select 'Rulers'. Then click anywhere on the rulers to add a new guideline on the canvas. You can also drag the guideline to place it at a particular pixel or use 'Delete' to remove it. It's super intuitive so you'll know it all right away!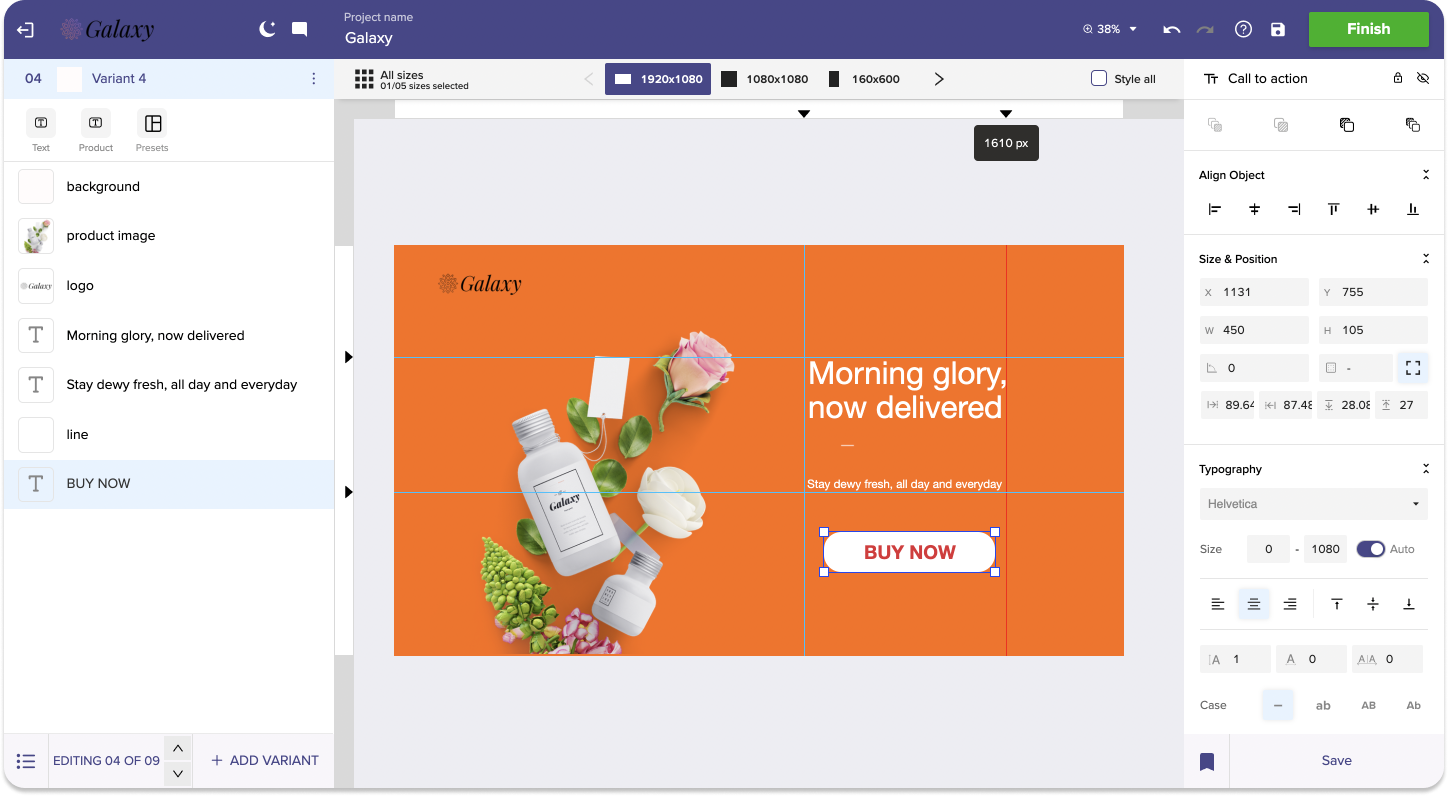 3. Resize and crop image elements faster, smoother, and right on your canvas!
Remove the noise – let's stick with the star in every image. Resize or move the image around with the nifty alignment guides. To start cropping an image, either double-click on the image or click on the crop button in the styling panel. When you're done chopping and cropping, simply click outside the image, or press enter to exit crop mode.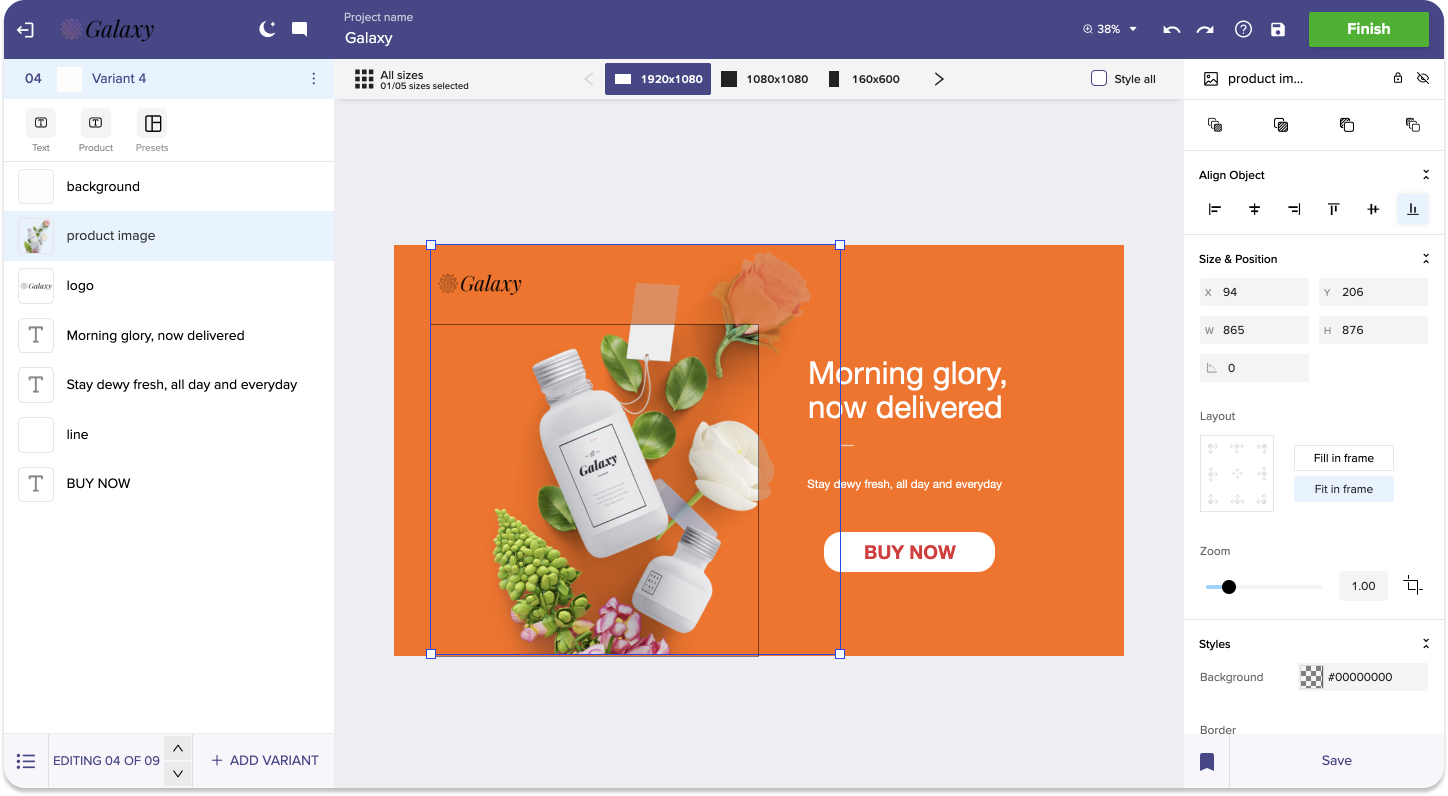 4. Drag and drop your spreadsheets anywhere on the editor
The spreadsheet couldn't get simpler, right? Pfff, it just did. Now drag a spreadsheet from anywhere on your system and drop it anywhere on the editor. That's it, no more steps. It's that simple.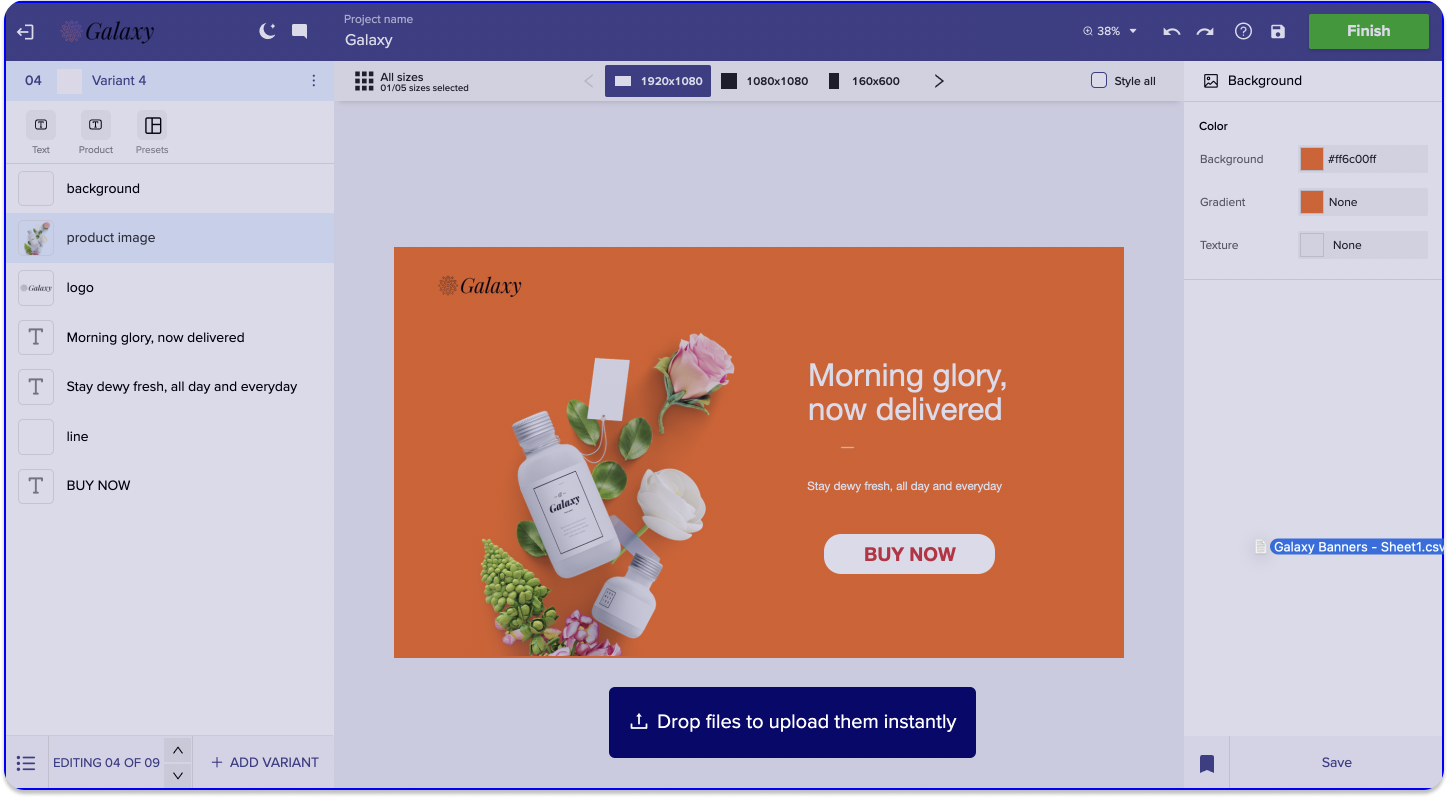 5. Auto-align elements as per your canvas
Let's stop the terror of the arrow keys — alignment shouldn't be guesswork. Select multiple elements and click 'align to the canvas' in your styling panel. Now you can choose to align elements towards the left, right, top, or middle of the canvas. What's your pick?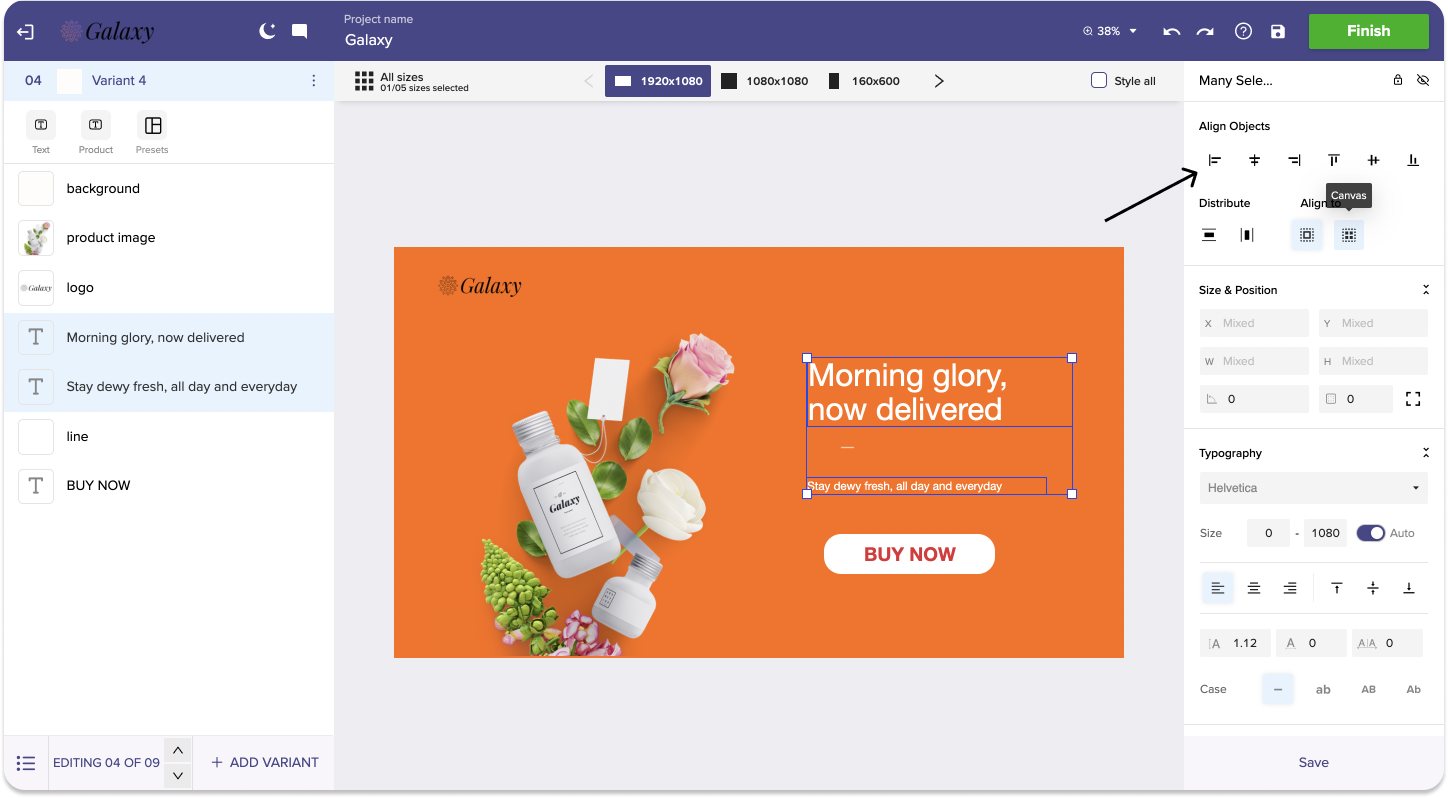 6. New and improved keyboard shortcuts to make you even faster
With this update, we have added the following shortcuts –
Quickly select variants for bulk editing by pressing shift
Be a multitasker; press cmd/ctrl while opening a project to open it in a new tab
Enable or disable rulers and guidelines using shift+R for those pixel-perfect designs
Don't memorize — press "cmd+k" on the editor to see all the existing and newly added shortcuts!