Release Notes: November 2021
November is the month of thanksgiving, and we at Rocketium, as a family, would like to thank all of you for sharing your feedback and appreciation over the months with us. They have collectively raised our spirits as well as shaped our product the way it is today. 🙌🏻
This month we have hand-picked the features that will help you easily scale your creatives and let you work faster than ever before. Scroll below to find a list of amazing features awaiting you.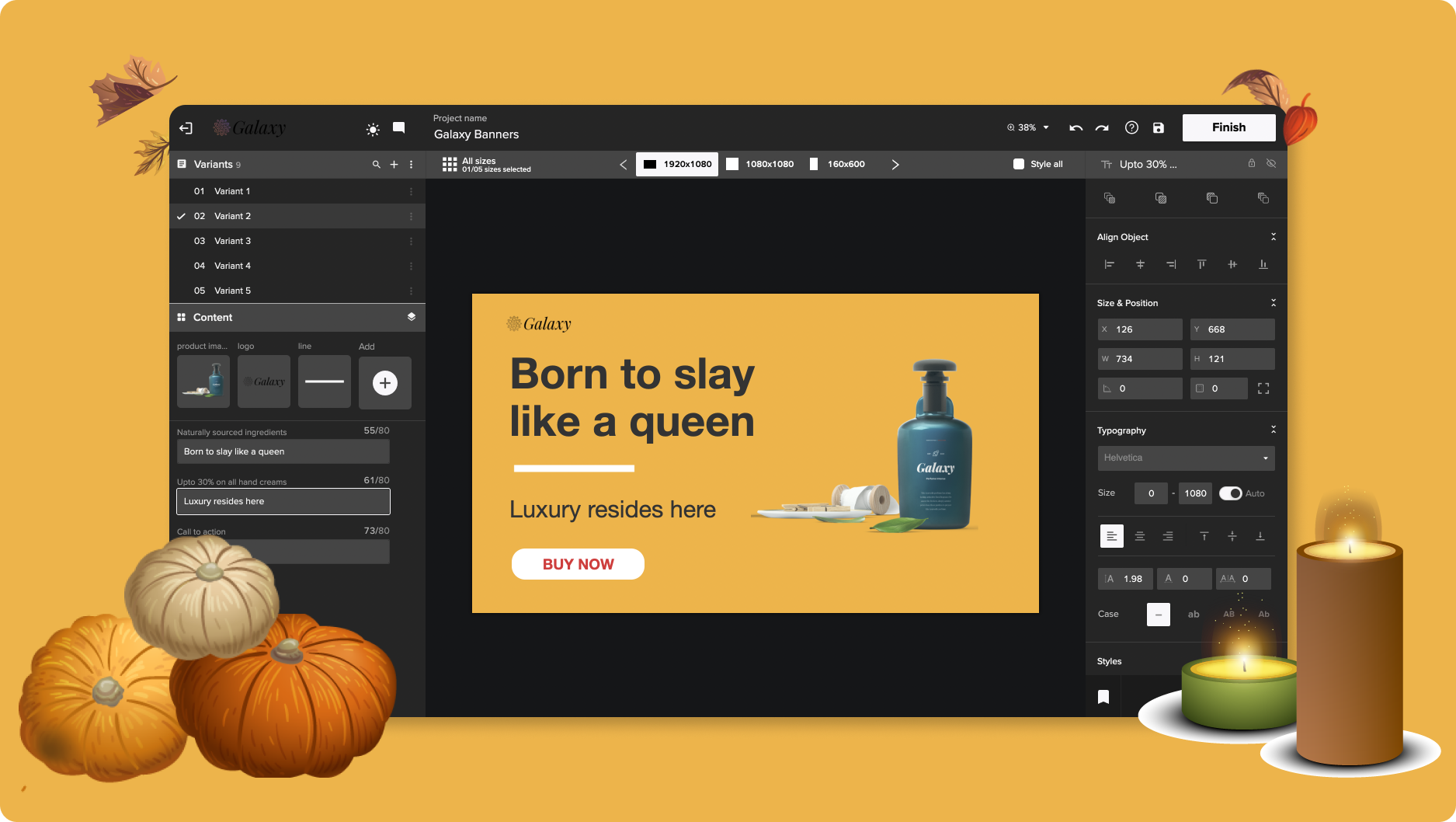 1. Say hello to the all-new, faster, and efficient content panel
As quick as a flash – with the new variant view, you can easily add, delete or select multiple variants to edit them together. But that's not it, now you can also switch between layer view and the grid view according to your preference with just one click. All the enhancements done in the new content panel have made working with multiple variants and sizes easier than ever before.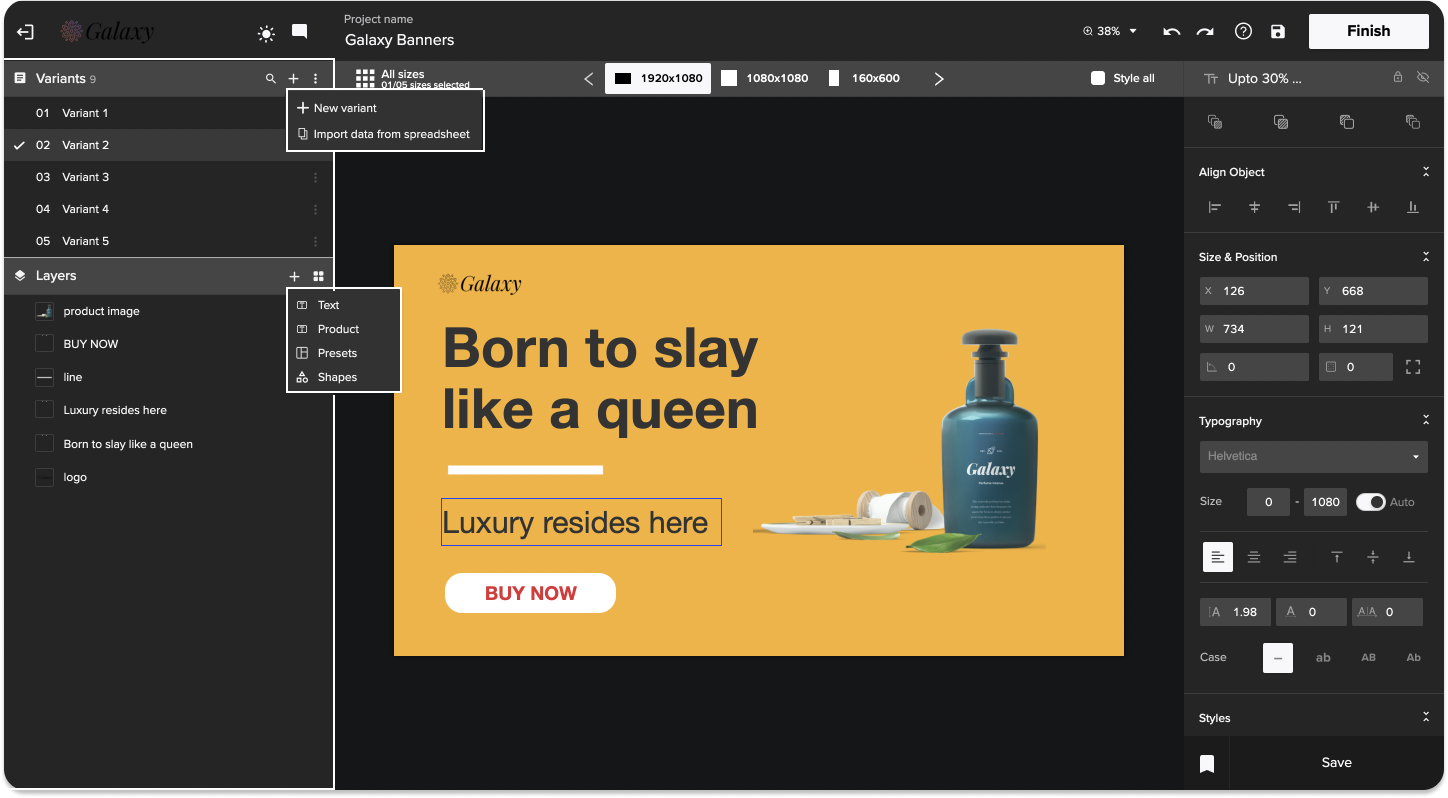 2. Click, pick, and drop the color from anywhere in your creative
Want to repeat a color in your creative but tired of remembering and writing the hex codes again and again? With the eyedropper tool in the color picker, now you can easily pick a color from one part of the creative and reuse it further.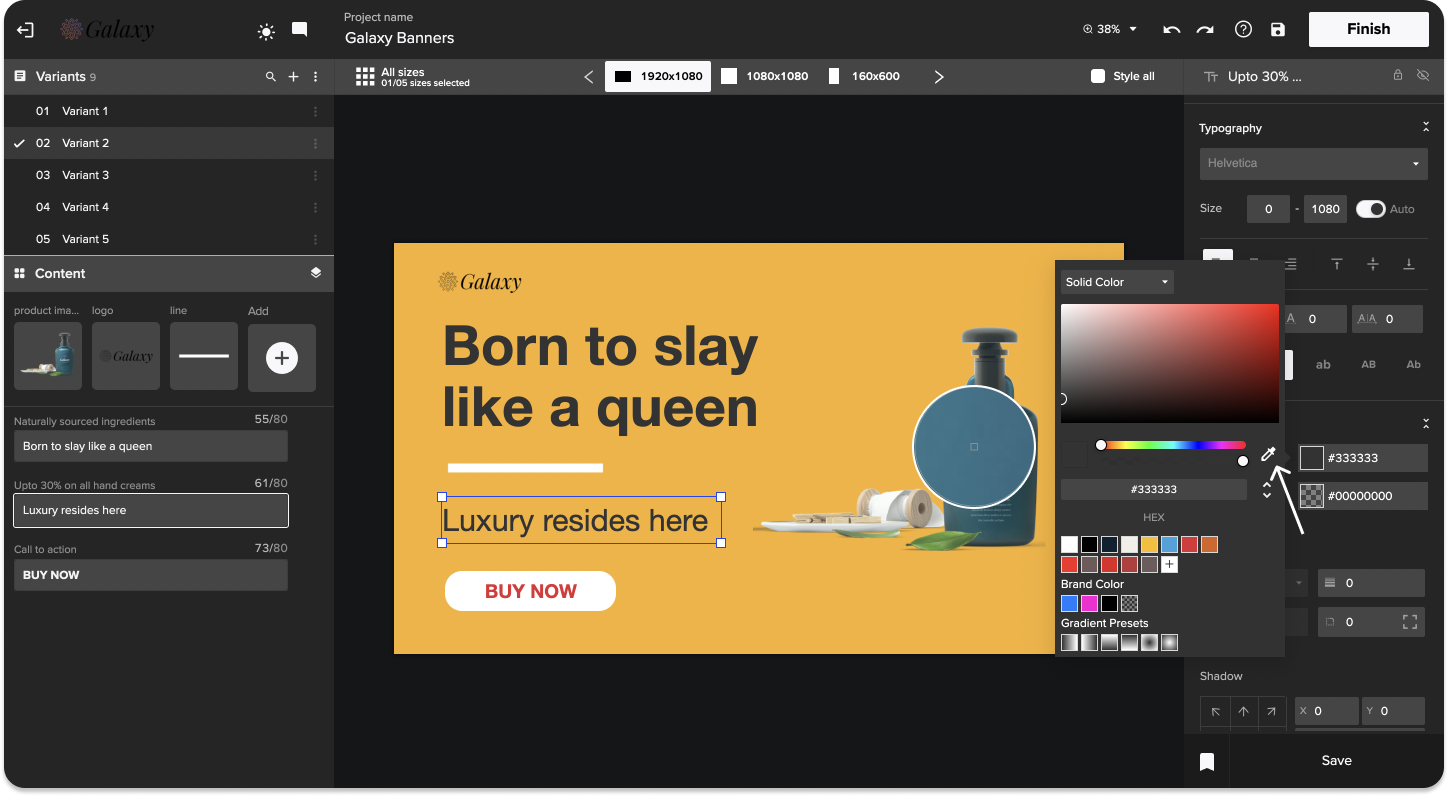 3. Blend colors like a pro with gradients
No more importing Photoshop files for gradients! Radial or linear, whatever gradient type you choose, you are guaranteed to get perfectly blended colors for your creative.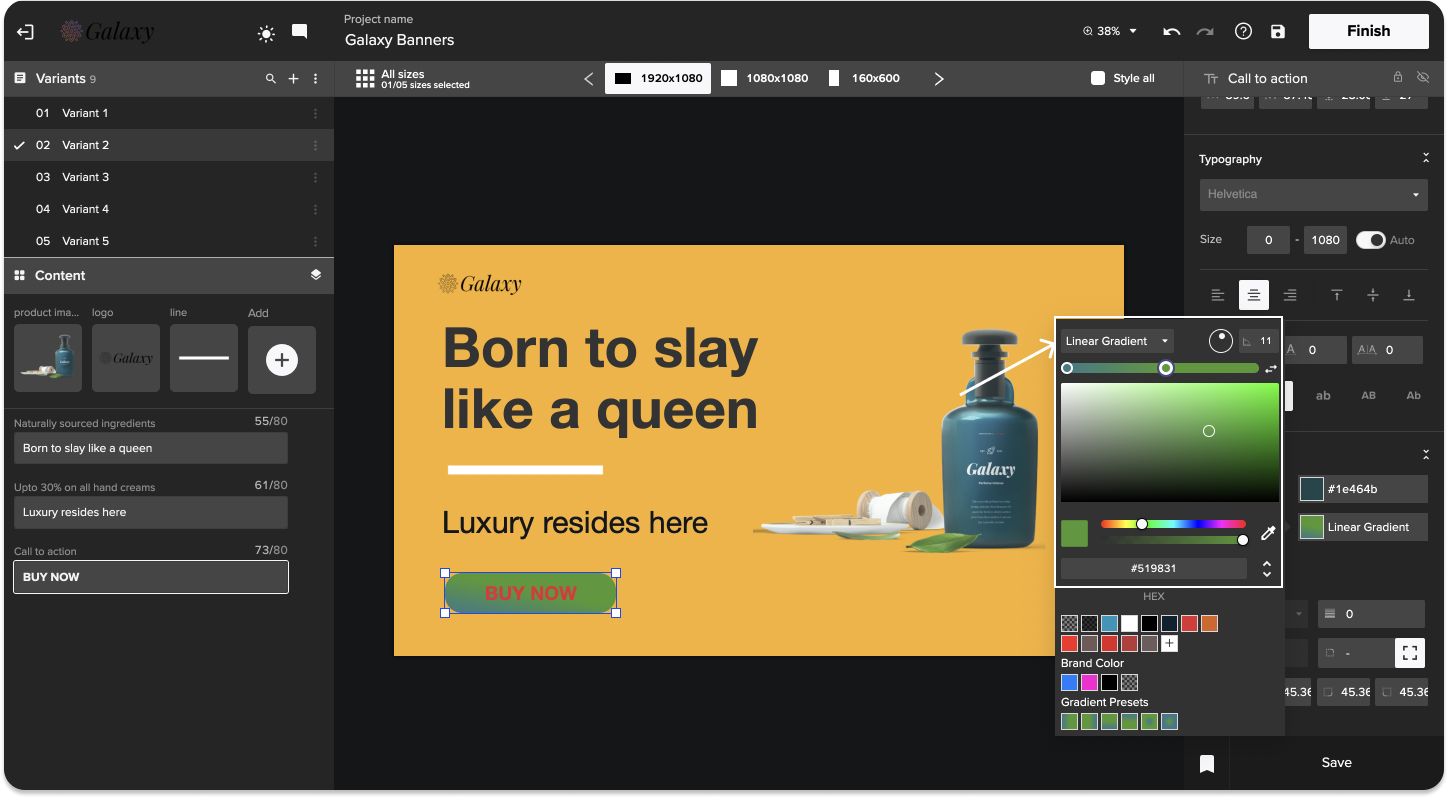 4. Group multiple elements together to move and style them together
Want to reuse a group of elements or move them together across the canvas? Select and combine multiple elements together as a single top-level layer using grouping. You can also save a group as a preset and reuse it anywhere in your project.
To group, select two or more elements and then press cmd+G shortcut keys to group them together. You can also right-click and select "group" to group multiple elements.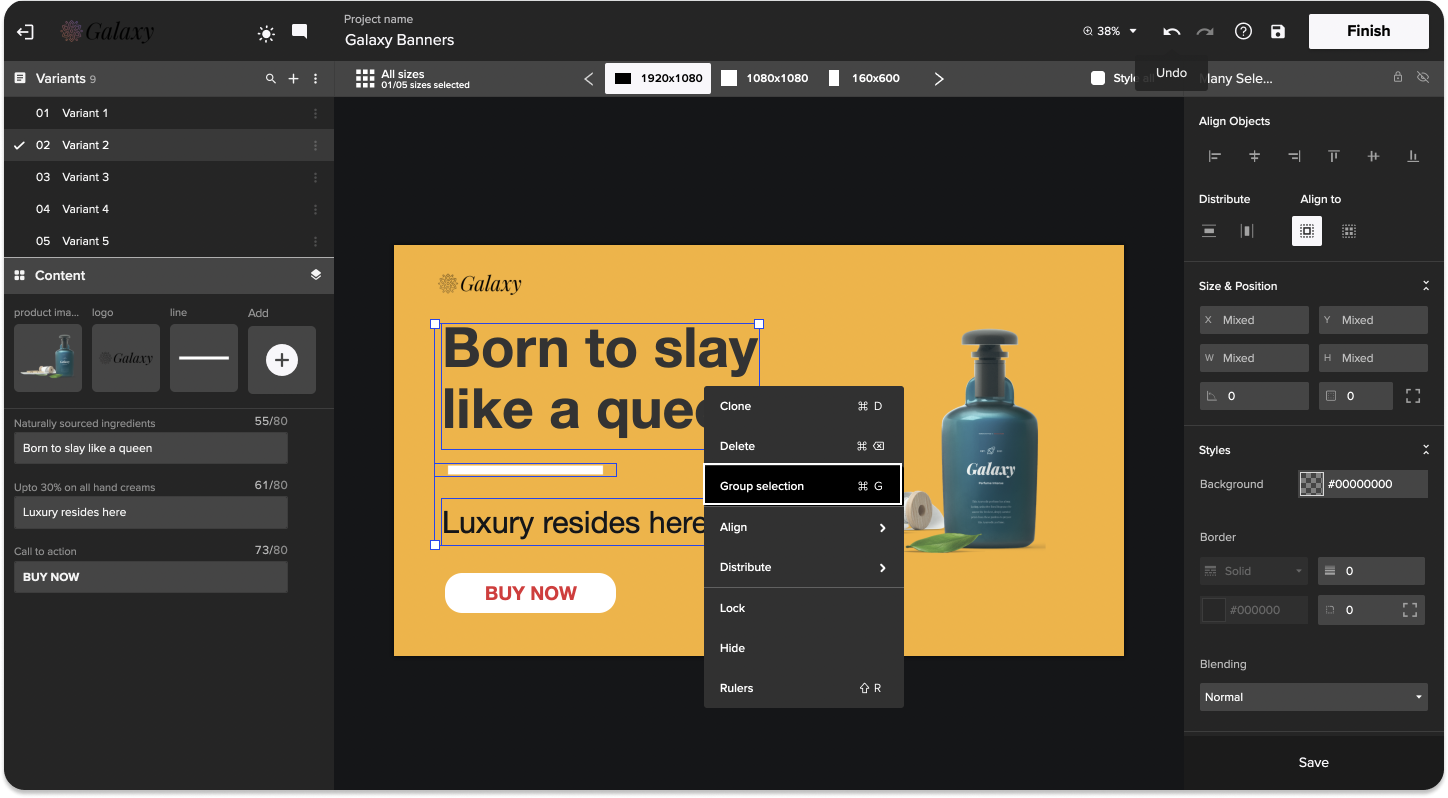 5. Want to save time? Now position elements across sizes together
Avoid the hassle of moving an element across all the sizes individually. Now you can position elements across all the sizes by just setting their position across one size. Our smart algorithm will take care of positioning it across other sizes automatically. To turn it on, select more than one size and toggle the "change position across sizes" button on top of the styling panel.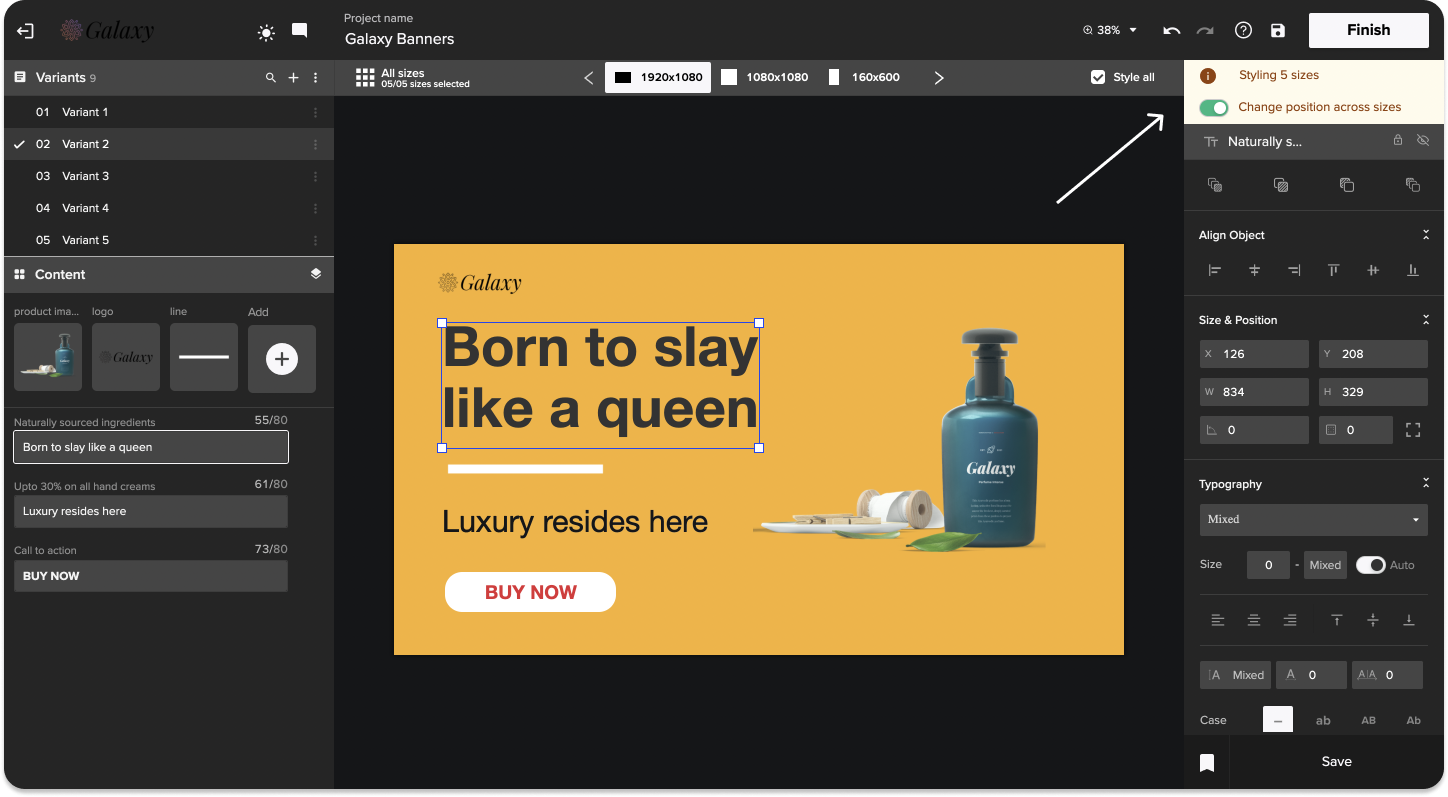 6. Rocketium supports it all - now you can copy and paste SVG from anywhere and edit it
Tired of converting and importing your SVG assets? Now you can copy and paste SVGs from anywhere and edit them in Rocketium. All the colors in the asset can be changed easily through the styling panel to match your design.