Social video marketing is intimidating. Especially when you're trying to keep afloat in the sea of changing social media algorithms. And yet you can't deny video is a content marketing superpower.
An average person spends over one and a half hour per day to watch online videos.
That's a huge chunk of their time you can cash in on, given you know the difference between Facebook, YouTube, Instagram video marketing, among others.
So we're here to shed light.
But before we proceed, let's go over a few essential pointers:
Videos are not a one and done deal. Every social channel has different specifications and algorithms for video uploads.
Video marketing doesn't need fancy equipment, videographers or elaborate scripts.
Attention is the real currency.
Customization is not optional, it's mandatory.




No, your company's not the hero of the video.
Now, this article won't help you unless you have clear means to achieve measurable marketing and business goals.
Whether that's leads, demo requests, subscribers, followers, or brand advocates.
Here's the thing: Different social media channels work for different companies. For example, Finn Sims, a Video producer at Akkroo, says, "We target large, enterprise companies, so our main channels are LinkedIn and Twitter."
Plus, your access to budget, talent and time will determine if you can promote consistent, tailored video content optimized for SEO. Which encourages viewers to engage with your videos over your competitor.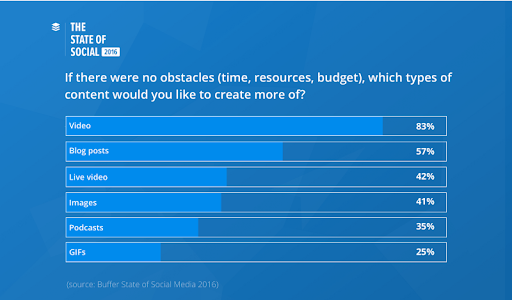 Regardless, start producing videos anyway. Since marketers who used videos grew their revenue 49% faster compared to the ones who didn't.
In fact, 78% of people referred to brands' social media posts to make their buying decisions. What's more, a 1-minute video is worth 1.8 million words, according to the calculations of Dr. James McQuivey. There's no doubt video content is the golden bird, but will it sing for you depends on your approach and execution. Because video gives you the power to humanize your brand by evoking emotional experiences in your audience.
And who knows? Maybe build authentic conversations that scale your brand image. E-commerce brands can actually boost their sales with the right social media strategy!
Set up

social video metrics

and monitor them regularly.

Review your current social video analytics to identify themes, formats, and channels that resonate with your audience.

Have a

script timer

to monitor your script length.

Write your audio (script) in the left column and add corresponding visual aids in the right one.
Use Rocketium's video API to make multiple videos for social media at scale. Easy and hassle-free integration in minutes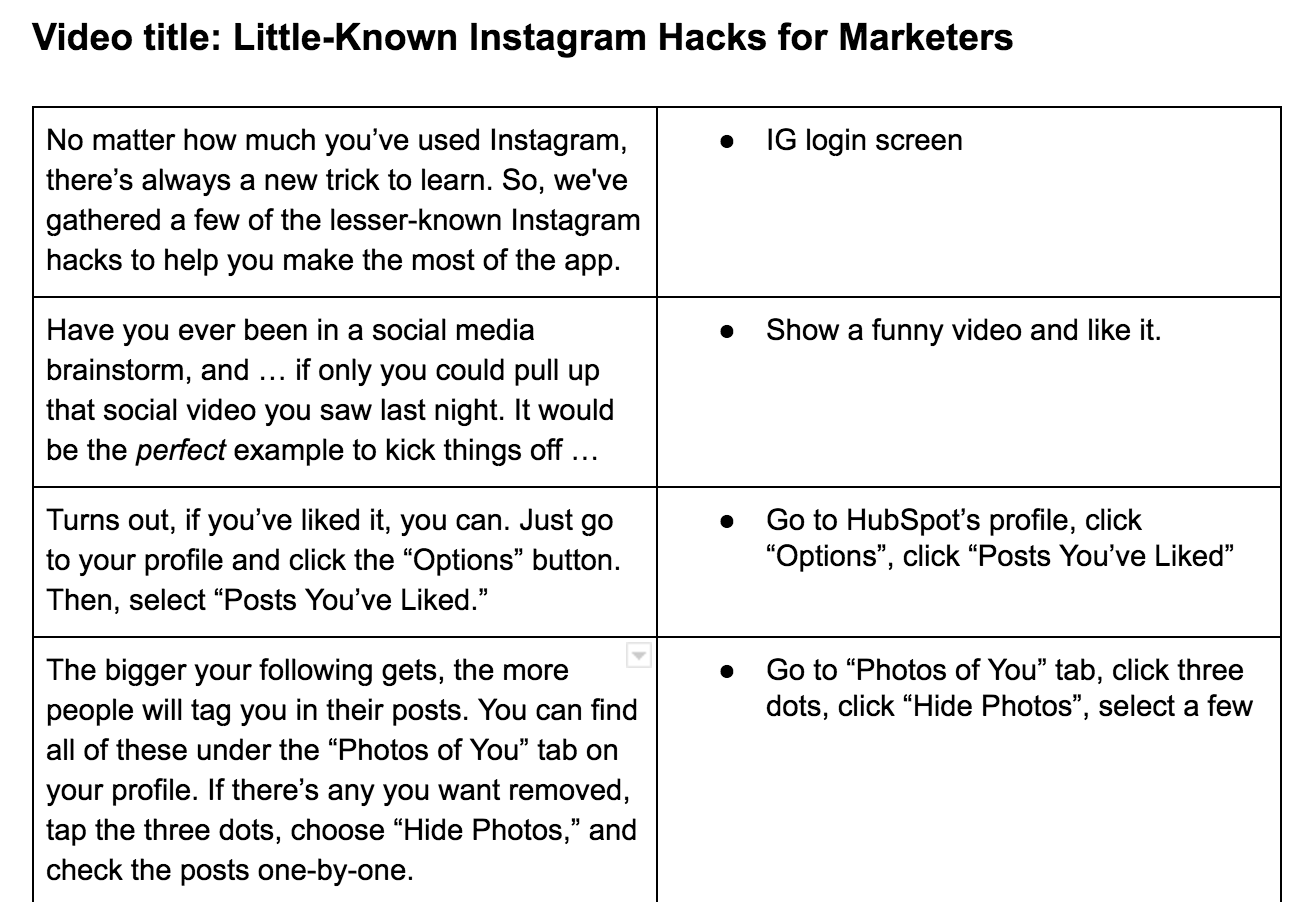 Have an intro and outro in place

Read the script out loud

.

Focus on the action you want users to take after they see your video.

Tie every video, its headline, and content back to your marketing goals.

Ensure your iPhone has enough storage and is on

Do Not Disturb

mode to avoid notification pop-ups.

Lastly and probably the most important hack––

repurposing content

.
Don't dismiss your archived and live content, of any shape and form. Especially, the original videos. There's a fine line between meh and yay messaging.
Brittany Berger, a Content Marketing Consultant, explains, "If you have a 5-minute video on tips and tricks for a better Netflix binge you want me to watch, don't post a 1-minute random clip showing part of one tip on Instagram… take your hook from the video's intro, along with the first 15 seconds/intro to two of your most interesting tips."
This way you can make even the clipped parts of your video "actually interesting on their own."
It takes only 3 seconds for a viewer to watch your video or move on. And if people watch your video for 30 seconds then your content is engaging enough for them.
People share brand videos to either entertain their social network or elevate their authority.
Making shareability among your target public the key to success.
To make it easy for people to discover, see and share your content, follow these traits of successful online videos:
Transcript or closed caption
Eye-catching (even on mute)
Metadata with relevant descriptions, titles, tags and/or hashtags
Aligned with the tone and function of the platform
Make impactful social media videos in 2x less time than other conventional methods.
Try Rocketium Now
Facebook
People come to Facebook for digestible, fun content with 76% of Americans logging in every day, amounting to 1.6 billion visits/day.
What's more interesting is native Facebook videos get 168% higher interaction and 477% higher shares compared to YouTube videos uploaded on the platform.
Content: Light-hearted, short, entertaining videos
Ideal duration: 1-2 minutes
Autoplay: On
Sound: Mute on default
Dimension: Square (1:1)
View count: 3 seconds
Preferred device: Mobile
Remember, Facebook shows videos in a newsfeed based on the user's video-viewing history. So even with the slighted chance, strive to grab users' attention in the first six seconds.
Pro tip: Film and export your video in the same format and resolution.
Rocketium has simplified making videos for Facebook. Have you tried it yet?
Create Facebook Videos Now
YouTube
YouTube is the second largest search engine with 3 billion searches per month, right after Google. This video repository is home to informative and entertaining long-form video content and draws billions of views per day.
Don't expect immediate results without proper resources and quality content.
Content: Webinars, weekly series, product demos, testimonials, event recaps
Ideal duration: 2-4 minutes
Autoplay: Between videos
View count: 30 seconds
Preferred device: Mobile
Focus on getting discovered instead of 'going viral'. Organize your videos into tailored video playlists. Use YouTube's keyword tool for video content ideas and target keywords.
You can then slowly build a content library that skyrockets your brand awareness.
Pro tip: 60% of YouTube subscribers consider buying advice from their favorite creators. So, collaborate with influencers regularly.
Instagram
Instagram users love short videos filled with stunning visuals and motions. And they use hashtags to discover such delightful video content.
Content: User-generated content, bloopers, behind-the-scenes, teasers
Ideal duration: 30 seconds
Autoplay: On
Sound: Mute (tap to unmute)
Dimension: Square
View count: 3 seconds
Preferred device: Mobile
The time users spent on watching Instagram videos increased by 80% year over year.
Pro tip: Analyze the competitor's hashtags. Experiment with Instagram's hashtag finder tool to claim a spot on your key audience' screen and improve interaction by 12% more.
Make stunning videos for Instagram in minutes.
Create Videos for Instagram Now
Twitter
The Twitter videos enable engagement, not your sales-y messaging.
With the faster-than-other-social-channels scroll, users come to Twitter to find news and start genuine conversations.
Besides, 82% of Twitter users now consume social videos on the platform. And retweet videos six times more than images.
THIS IS NOT A DRILL. It's a Frosty, and it's only 50 cents. pic.twitter.com/ww1Gjc4fTz

— Wendy's (@Wendys) June 30, 2017
Content: Teaser, news, user-based content, promotion, education, GIFs, live event
Ideal duration: 45 seconds
Autoplay: On
Sound: On
View count: 2 seconds
Preferred device: Mobile
Pro tip: Record video replies to your followers' questions or comments (takes a few seconds). Bonus tip: Pin your video to the top of your Twitter feed.
Make viral Twitter videos in simple steps with Rocketium.
Create Twitter Videos Now
Snapchat
Snapchat embodies raw, timely experiments and actions. Its users are more interested in what you're shooting vs. how you're shooting it because they seek immediate emotions and reactions.
So, although you may not understand this platform 100% (like moi), consider this: Snapchat users see 10 billion videos in a day, and almost 60% of 13- to 34-year-old U.S. smartphone users are on it.
Follow along on 👻 Snapchat today (ibm) as we take you on a tour of one our microelectronics labs! 🔬 pic.twitter.com/13ru0mYamD

— IBM (@IBM) June 9, 2016
Content: Behind-the-scenes, events, influence takeover, day-in-the-life-of
Ideal duration: 10 seconds
Autoplay: No
Sound: On
Frame: Vertical
View count: Immediate
Preferred device: Mobile
Use text, drawings, custom, and geofilters on your videos.
While Snapchat is the marketing priority of some influencers and well-known brands, it's still a work-in-progress for SMBs. A great way to make the most of it? Promote your Snapchat username regularly on other social channels.
Pro tip: Build a story by linking your Snaps and make the first Snap count since 22% of viewers drop off after seeing it.
Looking for a tool to make videos on Snapchat? Your search ends here.
Create Videos for Snapchat Now
LinkedIn
The Facebook of professionals, LinkedIn is a strong force for scaling brand identity––of your company's and yours.
And given that 9 out of 10 B2B marketers use LinkedIn as a primary platform to distribute and promote content, the faster you start, the better.
Post insightful, valuable video content for users who come looking for professional engagement.
Content: Testimonials, case studies, how-to content, industry conference/event, Q&As
Ideal duration: < 2 minutes
Autoplay: No
Sound: Mute
Preferred device: Mobile
Pro tip: Write a short blog post to accompany your video content to boost your engagement rate.
If you want to design your video content calendar based on your marketing funnel, here's a brief overview of what to create and promote.
Inspire millions with your story by adding the punch of powerful videos.
Create videos for LinkedIn now
Video content for marketing funnel
Despite the composition of your marketing funnel, you can use videos to effectively help your customers achieve their goals and your business bottom line.
To design a funnel that inspires customer action and feedback, analyze your buyer personas and their online behavior, including:
Where they spend their time
Which video content they engage with

How they interact with you and your competition
Moving on to the funnel stages…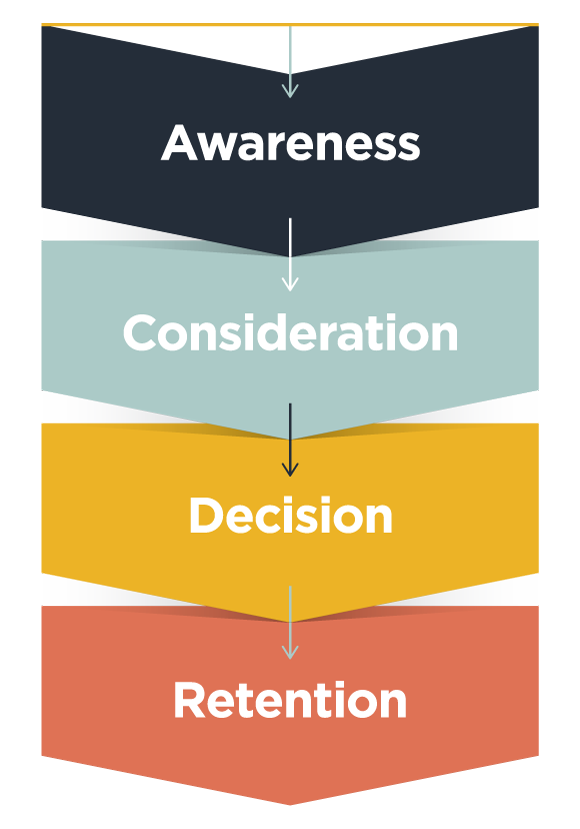 Awareness: In this first stage, produce fun, short, engaging, and helpful videos like behind-the-scenes, live event, company culture highlights, etc.
Consideration: Guide your target audience in this phase with informational video content such as product demos, case study, testimonials.
Decision: This last stage should make the buying process smooth and easy, so go with explainer, how-to, Q&A videos.
Wrapping up
You don't need to use every social media or post video content daily. People are already buried under millions of spammy, impersonal messages online.
So, take informed steps to help your audience discover, share and connect, even if it means posting real-time, unpolished or user-generated content.
Remember: Behavior speaks louder than views.
Make fast, impactful, and spectacular videos in simple steps with Rocketium.
Try Rocketium Now