It's been a few weeks since Halloween and the holiday season is well and truly upon us! For brands that are yet to launch their holiday marketing campaigns, it's now or never.
If the trends over the last couple of years are anything to go by, search traffic for holiday offers should be picking up rapidly beyond the first week of November.
Given that the holiday season can account for up to 30% of overall sales for the entire year, small businesses, in particular, must be 'holiday ready'.
The truth is you do not have to be a unicorn to come up with attractive offers or target the right channels.
If you look closely, you'll see that the biggest brands have broadly the same goals as you – customer acquisition and engagement.
However, the exact KPIs may vary from niche to niche.
So what is it that attracts shoppers to billion-dollar brands like a moth to a flame? (Hint: It's not how much they spend on marketing.)
As they say, success leaves clues. To help you uncover how brands like Amazon and Klarna strategize for their hugely successful holiday marketing campaigns, we bring you exclusive insights from a Growth Lab panel discussion streamed recently on Run the World, a video meeting app.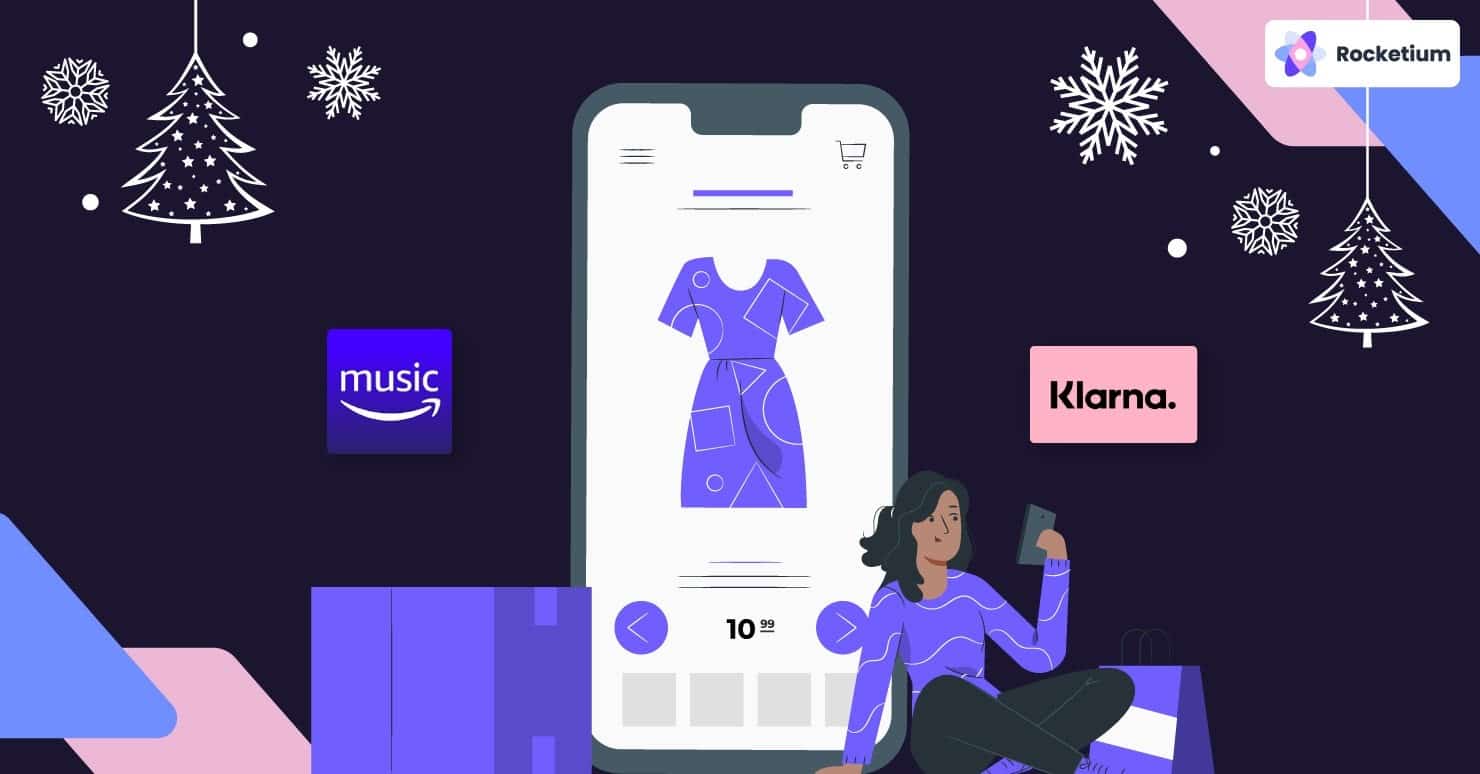 The event featured top growth marketing leaders, including Beth Murphy, Global Head of Growth Marketing at Amazon Music, and Jon Chang, Head of Global Shopping Growth Marketing at Klarna.
Rocketium's Satej Sirur rounded out the guest panel while Derric Hayne, Chief eCommerce Technologist at eCommerceTech.io, moderated the discussion.
Amazon Music ad campaigns are known for setting new standards when it comes to holiday music and therefore needs no introduction.
On the other hand, Klarna is a leading FinTech provider specializing in eCommerce checkout solutions with brands like Sephora, Etsy, Forever 21 among its clients.
You'll notice that even though both companies enjoy a high degree of brand recall, they focus a lot on optimizing their internal systems and processes to meet changing campaign requirements.
In this article, we synthesize the insights shared by the panelists around planning and executing successful holiday marketing campaigns.
How Amazon Music and Klarna Strategize for Holiday Marketing Campaigns
Structuring Holiday Marketing Campaigns
Most brands start high-level planning for their holiday marketing campaigns by Q3 itself.
This includes clarifying the overall business goals, deciding campaign KPIs, and the segmentation and targeting strategies to achieve them.
However, the exact campaign structure varies widely from industry to industry.
For example, Beth's team runs multiple, long-duration Amazon Music ad campaigns throughout the holiday season.
As CPMs increase dramatically during this time, they focus primarily on acquiring new users across different music genres and driving them deeper into the funnel.

According to Jon, Klarna is frontloading its campaigns for the September to October timeframe this year.
The goal for the Klarna campaign team is to try and capitalize on the increased demand for new smartphones seen right after Christmas.
The brand is hoping to leverage price drop notifications to target smart shoppers looking to buy goods likely to sell out faster.
Instead of broadcasting the notifications in bulk, Klarna is trying to have users save the items they are interested in buying to a wish list and then opt-in for the notifications.
In doing this, the company aims to "hit higher scale without increasing human resources" or force-feeding recommendations to customers and saying, "buy this product when you may not want to buy".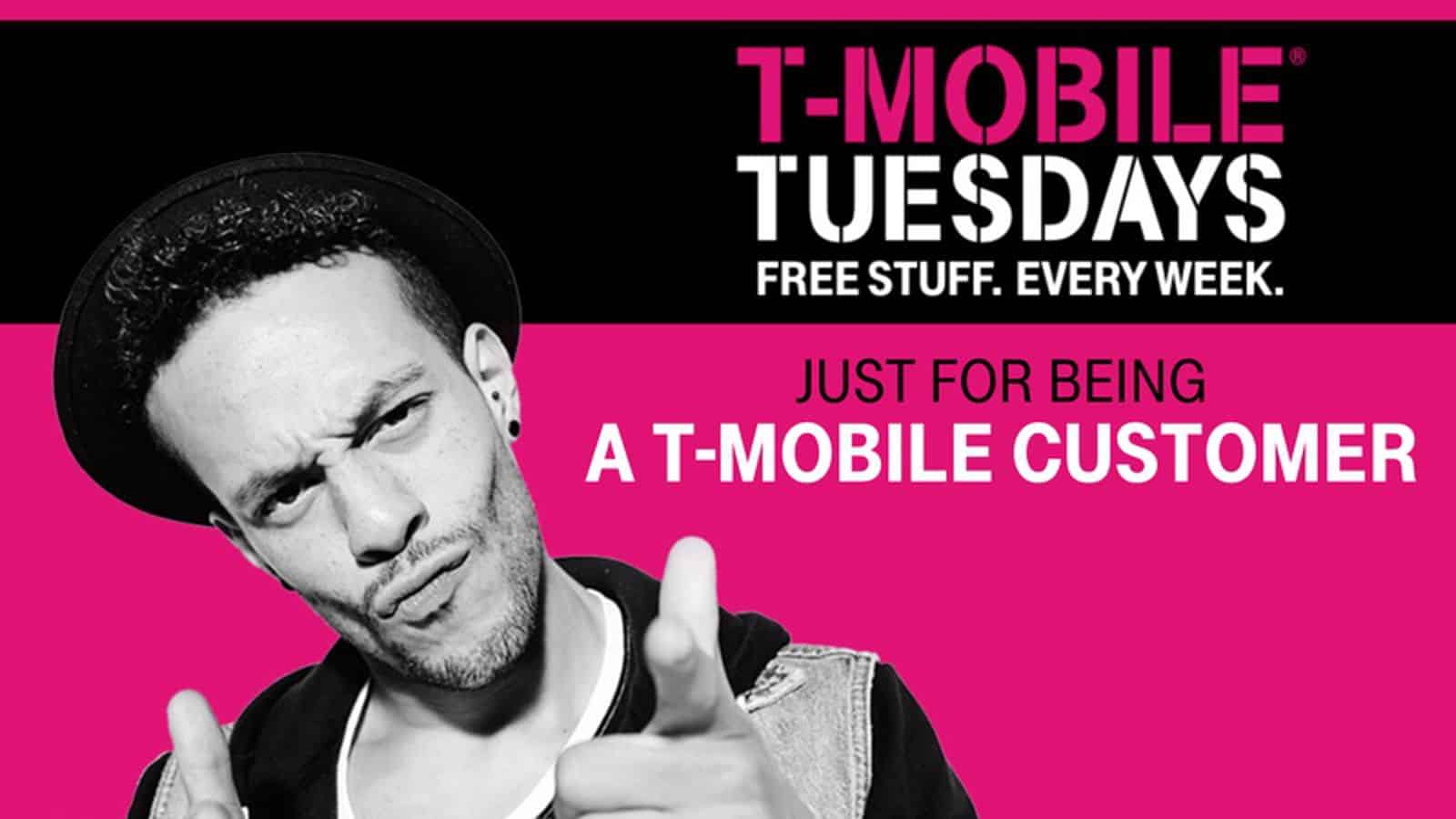 The company has also come up with a CRM retargeting strategy focussed on around 1.5 million inactive users this year.
Via a dedicated Klarna ad campaign, Jon hopes to drive re-engagement and repeat sales.
John was also quite optimistic about their strategic partnerships with D2C brands like TMobile, which runs a popular program called TMobile Tuesdays, where over 81 million app users log in every Tuesday to find out new deals.
This has helped native Klarna campaigns reach hundreds of thousands of new users in a short time.
What KPI's Define Holiday Campaign Success
When it comes to holiday marketing campaigns, deciding the right KPIs is half the battle won.
They can help you attribute specific ad variations to conversions and do more of what works in the future.
For example, the right KPIs can also help you better understand the reasons for cart abandonment.
However, for this to happen, tracking relevant KPIs should begin at the top of the funnel itself. 
These are called proxy KPIs. At Amazon, Customer Acquisition Cost or CAC has always been the bottom line goal, Beth says. However, the proxy metrics change from campaign to campaign.
For example, they use CTR as a proxy metric to predict conversion rates. In addition, the Amazon Music ad campaign team sets CAC goals quarterly.
On the other hand, Klarna focused more on total shopping volume/total quantity of transactions processed through the app. This was because Klarna earned a relatively low percentage of every transaction, Jon says.
Though CAC was still a priority, Klarna campaigns were more "offer-driven".
So even though the team ended up discounting a lot of individual purchases, the increase in shopping volume offsets any decrease in average order value due to discounts.
"You really need to pay attention to the relationship between the different metrics," Jon asserts.
It also helps brands rationalize their discounts and protect their margins.
How to tailor ads for different segments and cohorts
Amazon Music
Segmentation plays a critical role in how successful holiday marketing campaigns can be, more so than at other times during the year.
Beth echoes the same sentiment as she describes Amazon Music's approach to segmentation: Amazon Music ads are targeted to high propensity buyers based on propensity models.
However, it worked for only a small percentage of the overall audience. Based on its vast experience, the company preferred to segment its audience by channel, Beth says.
Mapping creative assets starts at least a month or two earlier at Amazon.
This, she said, was critical for testing different concepts across channels. She also advised marketers to avoid following the herd in terms of positioning and creative design.
For example, lifestyle imagery performed poorly compared to text-based offers.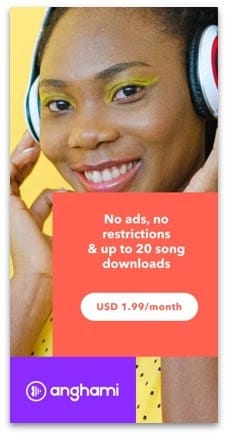 Similarly, simple, short CTAs were likely to work better than those that also mentioned the product's price.
Though static creative is considered largely outdated today, Beth said it can sometimes do better than video or animation.
The key was to monitor the creative fatigue curve continuously. Then, for high-frequency channels like Facebook, Beth recommended regular creative refresh for increased engagement.
This was equally important for in-app campaigns, she said.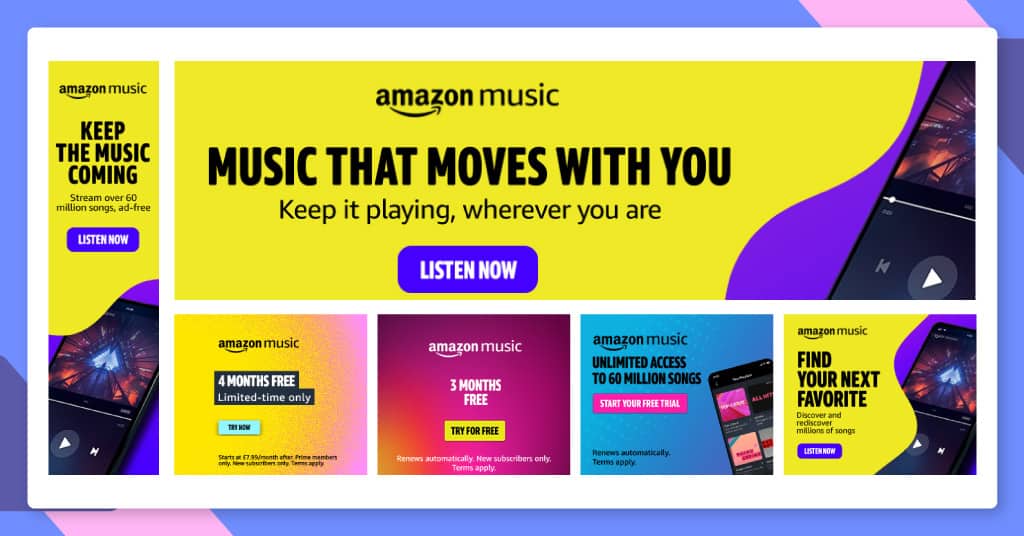 Creative refresh was essential to run high frequency yet evergreen campaigns, keeping users engaged for longer. However, everything needed to be tailored to specific channels, Beth emphasized.
The conversation then turned to how far in advance Amazon Music created refresh assets.
Beth explained that Q4 was a hectic time for her team as they needed to run AB tests, cater to multiple creative requests, decide whether to outsource creative design or use in-house talent and so on.
Since the volumes were high, she would rather concentrate on creating creative assets and then carrying out AB testing later.
Now, since Amazon Music has a global audience, the focus was on creating global assets in terms of languages, platforms, etc. "But we try to front-load everything," she said.
Beth had a word of advice for smaller brands- it is not all about brand affinity.
"Even though we have x% unaided awareness, our performance is better when people understand our brand," she observed.
Though Amazon Music had plenty of best practices around logo size, ATL/BTL strategies, and accurate models to calculate ROI, Beth suggests that small business owners "make the offer the hero".
The reason: "great offers draw people even if you don't have brand awareness." Look at any Amazon Music ad and you're likely to see this philosophy in action.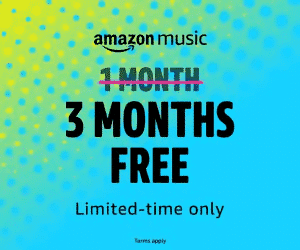 Klarna
Jon had a different perspective on segmentation. Klarna ads used a broad targeting strategy as the "majority of our budget was spent on primary networks like Google and Facebook, which are good at pushing creatives to the right people.
When it came to the conversion cycle, his team tried to "over-engineer our on-boarding and conversion to first purchase. This is because you can now buy now, pay later anywhere."
The primary focus of a typical Klarna ad campaign was on targeting smaller businesses, he said. Events like Small Business Saturday that fall on or around November 27 suited Klarna's acquisition strategy. Post-pandemic, it was vital for brands to harness the emotional reason why people purchase, he said.
Themes like shop local and finding new types of products were likely to resonate with audiences during the holiday season.
At the same time, he urged brands to focus on value. "People are going to be offered a billion products, Klarna's value proposition should be – here are 10 more things you can buy right now," he explained, quoting the company's CMO.
The key is to find different messaging angles into holiday marketing.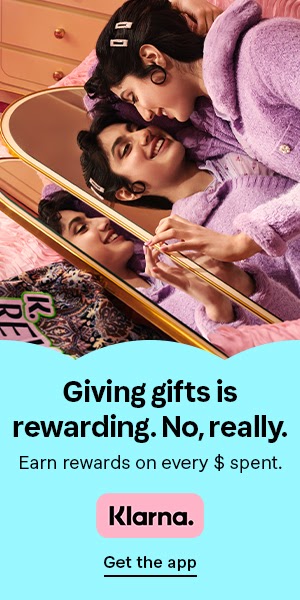 Does it make sense to build creatives around seasonal products? According to Jon, it depends on the type of channel.
While developing Klarna's ad strategy, the focus is on building multiple assets for driving activations, including Black Friday checklists, gamification, '12 Days of Deals' themed content.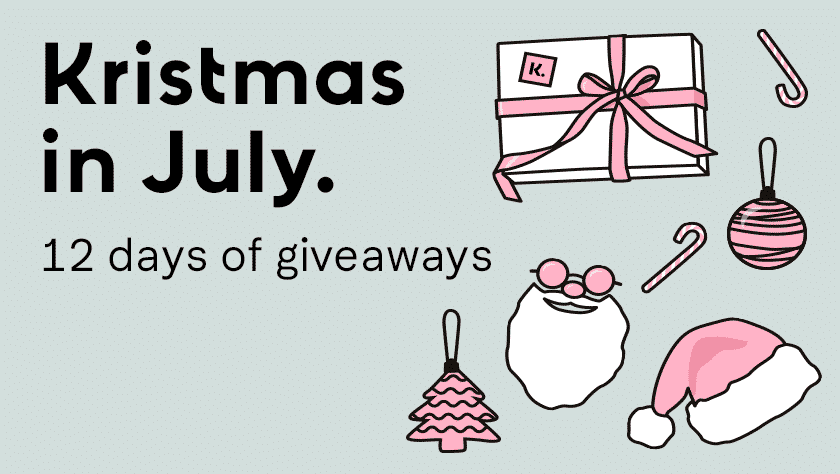 They also use curated and popular wish lists extensively to drive in-app conversions.
Thanks to technology, the Klarna ad campaign team is able to dynamically update the most trending items, in different languages across six regions.
The key problem, Jon says, is how to scale without repeating the same steps over and over again.
Changing offers, price points, and imagery dynamically is precisely what brands need to make the most of their segmentation strategies.
Giving the example of the price war between Flipkart (India's leading eCommerce company owned by Walmart) and Amazon, Satej said that they need to make last-minute changes to offers to compete with each other and attract price-conscious buyers while protecting their margins.
5 Key Areas to Optimize for a Successful Holiday Marketing Campaign
In the post-pandemic scenario, brands need to adopt an agile approach to campaign planning and execution.
This will help them iterate their messaging and convert customers faster and more effectively than the competition. 
Here are five key areas that growth-oriented brands must be laser-focused on to drive successful holiday marketing campaigns:
1. Segmentation
The first step to campaign success is strategic segmentation. Satej shared plenty of examples of segmentation strategies based on factors like location and demographics, purchase history/user affinity, and browsing history.
These were already being leveraged successfully by brands across verticals like music streaming, EdTech, eCommerce, etc.
To increase conversion probability, segmentation should be backed by relevant offers across channels which, in turn, demands personalized creatives at scale. 
Creative management platforms like Rocketium cut marketers' dependence on design teams for adapting banners for different segments at short notice.
Thanks to the feed-based creative production feature, you can generate fresh creatives within seconds through a spreadsheet.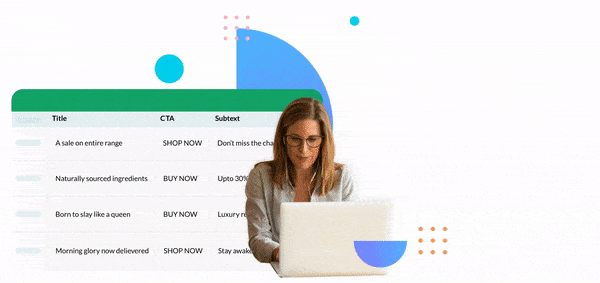 2. Choosing channels and placements
During the conversation, Satej highlighted the importance of creating a consistent brand experience across channels.
This can be a vital factor for building brand affinity and trust among consumers.
In the age of contextual advertising, rapidly optimizing banners for specific size and aspect ratio requirements is essential to beat banner blindness.
The latest creative automation tools allow you to automatically adapt creatives to different sizes with the click of a button..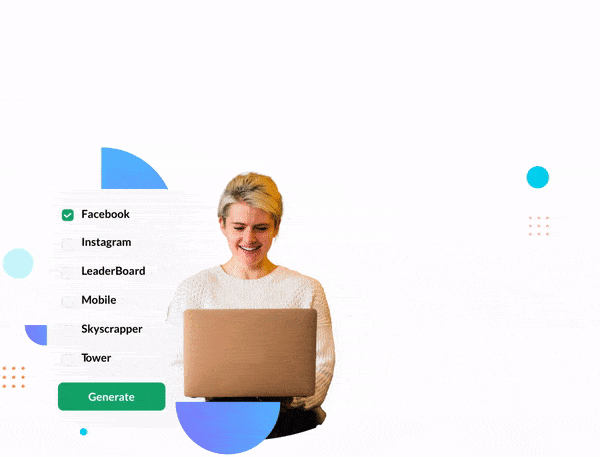 3. Experimentation
As Beth noted, there were no "sacred cows" when it came to optimizing campaign performance. Instead, she emphasized the importance of documenting test results for future campaigns.
With creative automation, one can apply the learning from a campaign cycle immediately without having to start from scratch.
From updating CTA buttons, backgrounds, fonts, and imagery, you can simply edit existing creative and apply them to multiple assets in one stroke- thanks to the power of creative automation.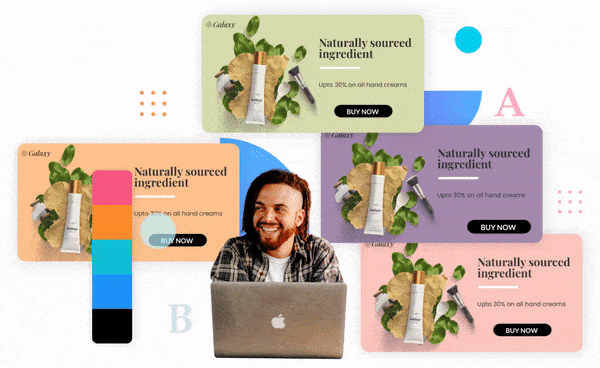 4. Creative Refresh
Whether running display ads or in-app campaigns, overcoming banner blindness is a top priority during holiday marketing campaigns.
The only way to hold the customer's attention is to use color, text, and imagery in innovative ways.
Localizing ads can be time-consuming, even for the largest teams. Creative automation offers an easy way out in terms of driving campaign efficiency and relevance. How? By leveraging AI copywriting and bulk editing.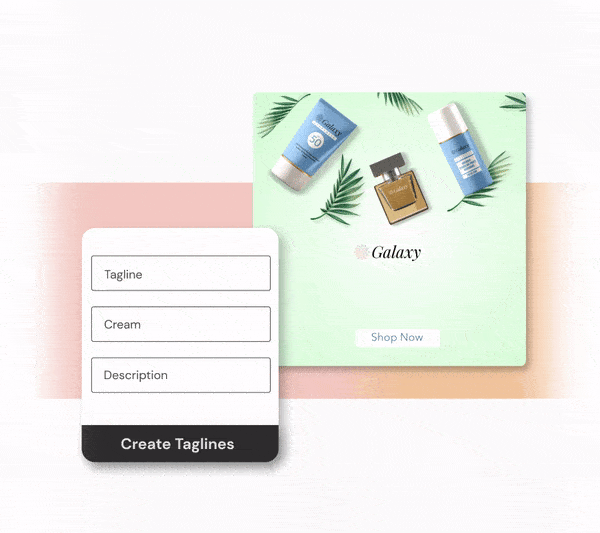 Design and marketing teams that can adapt and optimize creative for style and content in quick time have an almost unfair advantage over the others.
5. Collaboration
Creative workflows used at most brands are simply not fast enough to deliver the right information at the right time to the people that need them. Case in point: poor briefs and late approvals.
The answer is a dedicated platform that allows stakeholders to share concepts, provide feedback and manage approved assets in a single location.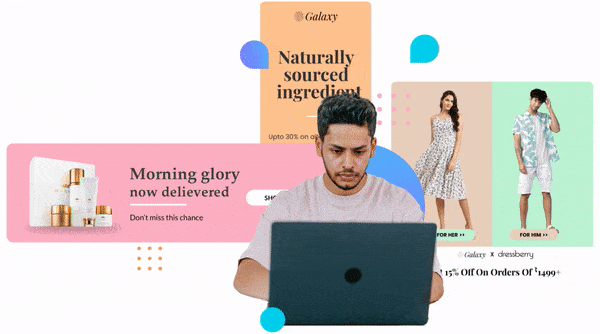 With creative automation tools like Rocketium, you might just find that you didn't really need more people; you just needed a better way for them to communicate effectively!
Final Words
When it comes to holiday marketing campaigns, more isn't always better – it is the quality of your ads that counts.
It's important to present the offer in the simplest way based on product and category. To do this, brands need to make the best use of customer data and plug it into their creative strategy. 
Finally, reviewing and integrating the key outcomes can give you useful ideas for future holiday marketing campaigns.

Want to know more about Creative Automation and how it can help launch more effective campaigns?