The Wall Street Journal recently called email, the hot new channel for reaching real people! It may be 2020, but Ecommerce marketers still rely on emailers as a powerful tool to engage customers, drive actual sales and keep them coming back for more. Despite the popularity of newer, glitzier formats like GIFs, Instagram stories, Tiktok videos and more, ecommerce email marketing continues to be a reliable way to build brand affinity, educate buyers, and boost ecommerce conversions. Let us take a look at why you should focus more on Email marketing. We will also share some great examples of inspiring brands that are doing it right.
So go ahead and bookmark this blog to keep these tips handy at all times.
Why is email marketing important for e-commerce?
According to a Nielsen study, 66% of online consumers prefer to buy new products from brands they are familiar with. Once you acquire customers you can earn their trust and get them to become repeat customers with timely and relevant emails. Retaining customers through email is a low touch low-cost marketing effort that can help you net outsized gains. Frequently showing up in people's inbox makes it more likely that they will think of your brand when the time comes to make a purchase. You can become a part of their consideration set by pushing personalized offers, and coupons through emails. These tactics can entice customers to click and buy directly from their inbox. Moreover, by giving away valuable content, for free, using email to direct customers to a lead magnet on your website.
Today, 68.9% of recipients saying they view marketing emails on the smartphone 2-3 days per week. There are many ways you can use emails to push product sales. With the growing popularity of mobile-driven sales, which are expected to account for 54% of all ecommerce sales, by 2021, email is fast emerging as one of the most effective marketing channels available to marketers, with one of the highest order conversion rates compared to other channels.
Recent Shopify data reveals that email as a channel had the highest average order conversion rate during Black Friday and Cyber Monday. You, too, can reap the rewards of email by making a few changes to your existing mailers.
E-commerce email marketing tips to boost sales with examples
1. Start off right: Effective welcome emails
Here's a good example of a welcome email by Bath & Body Works which makes the customer feel special by creating the idea of belonging to an exclusive club, before highlighting new arrivals and pushing offers. Also, notice how the brand is making it easy for customers to shop directly from their inbox by making Start Shopping their CTA.
1. Create value beyond pushing sales
People are tired of being sold to all the time. As a brand, you can stand apart and command audience attention, simply by creating value every opportunity you get. GoDaddy does this nicely here with an email intended to help new business owners get their online business up and running. They also include a discount code for first-time buyers.
3. Play up the urgency of your communication
Nothing works as well as FOMO does. You can alert customers to deals that are about to expire, tell customers about products that may go out of stock soon, and offer special time-bound discounts, all to inspire customers to buy now or complete a transaction they have abandoned midway. Here is a good example of this technique by Lou & Grey that is eye-catching and very clear about its core message – that time is running out!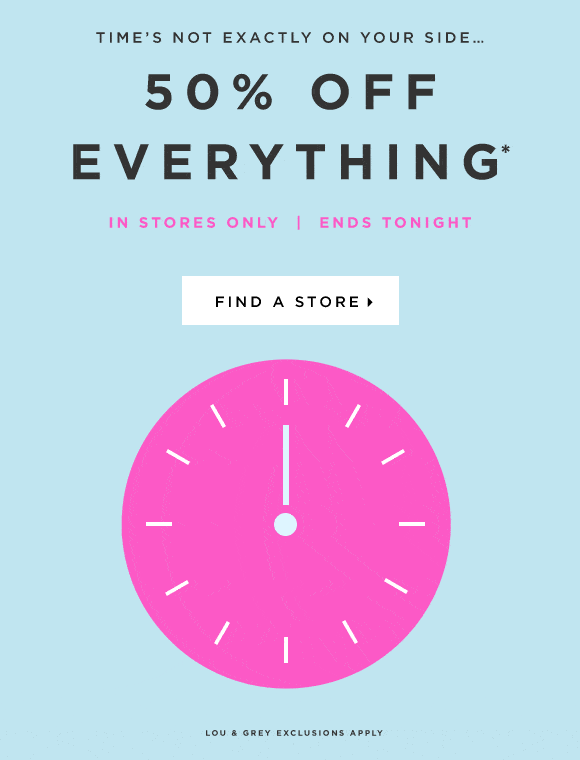 4. Make people feel special
Email is a great tool to push offers related to seasonal events, like Christmas, Valentine's Day or Mother's Day. You can also hyper-personalize your communication with custom deals on birthdays and anniversaries, for higher open rates, more clicks, and conversions. Footwear brand, Office, asks for the subscriber's birthday in the last email of their welcome email series with a hard to resist CTA, "I want a Birthday Gift."
5. Make your marketing emails interactive
Animated GIFs in email increase CTR by 26%. Try experimenting with interactive, but light and easy to load GIF formats in your email. Check out this great example by Dell, which got them:

A 6% increase in its open rate
A 42% jump in its click rate, and
A 103% increase in its conversion rate
This came about because of the way they employed a GIF to great effect, Showing customers how the Dell's Ultrabook featured a convertible screen, which let users convert their laptop into a screen in seconds.
6. Make your ecommerce emails FUN
People take less than 3 seconds to decide if they'll click on your marketing emails. If they open your email, you only have 11 seconds to keep their attention. Gamification is a great strategy to ensure that consumers follow through. Check out this example by Microsoft which invites readers to participate in an interactive quiz by asking them a few questions about San Francisco. Depending upon their answer they stand to win Microsoft Reward points they can redeem for prizes, coupons, offers, and more.
7. Personalize ecommerce marketing emails
Personalized emails have a 29% higher open rates than emails without personalization. Check out this memorable example by EasyJet, who set out to turn customer data into emotional stories designed to bring in the brand's 20th anniversary.
EasyJet pulled off the incredible feat of making every customer feel special by addressing them by name and referencing the history they shared with the brand. They did this by using dynamic copy, photos and links to build a story, reminding customers of their first-ever EasyJet flight, sharing interesting facts about their travel behavior and offering tailored recommendations for future trips. Read more about this award-winning campaign here.
8. Keep your emails on-brand
Ecommerce marketing can be made far more effective if online retailers ensure that their brand messaging is on point and consistent across channels. Email is a great way to bring your brand to life in actionable ways. For instance, outdoor clothing and gear manufacturer REI does this brilliantly with its #OptOutside campaign. They urged people to go out in nature over the Black Friday holiday weekend, becoming one of the few retailers in the country consciously not taking advantage of the opportunity to push sales, during the busiest of all seasons. They also managed to stand out from the competition, cultivating customer loyalty and building their brand.
9. Optimize ecommerce emails for mobile
People on a smartphone are more likely to abandon a shopping cart. 3 out of every 4 mobile shoppers abandon carts because many emails and websites aren't optimized for a good mobile experience. You can ensure that doesn't happen by writing shorter copy. Additionally, invest in design resources to create a clean but vibrant design that is mobile responsive. Check out the minimalistic appeal of this newsletter by InVision optimized for the small screen.
10. Make ecommerce email marketing emails actionable
Lastly, think about how your email can nudge people to take specific actions. After making sure your email content is relevant, segmented, personalized and timely, you must make sure the CTA is designed to increase your open and CTRs. See how Grammarly does this with an easy to understand, single CTA by inviting people to try out a new product feature.
We hope you find these examples useful to boost ecommerce email marketing game. Get in touch with Rocketium for a custom-built creative automation solution to boost your email marketing strategy with personalized creatives including images and videos generated and delivered via your martech at scale. Check back in for more content.