Today, agencies focus on becoming strategic partners in growth for their clients. But the challenges with managing operational efficiency around creative production, timely feedback, and ensuring faster campaigns go live remain the same. It's like being stuck in an endless time loop.
Let's break it down further to understand what goes behind the scenes with agencies' workflow. First, account managers, strategists, or creative directors work with clients to get the creative brief.
Next, this creative brief is turned into an idea on the digital canvas and then scaled into different sizes and variants. During this creation to the delivery process, there are iterations based on multiple rounds of feedback.
This feedback process involves an internal review and client approval across different communication channels. Things often get lost in translation, "oh, hey, revision is still not done." or "I didn't ask for that."
This chaotic process is frustrating, and you end up losing so much time. As a result, your design team remains stuck with making changes over spending time on that next creative idea. And your campaigns are delayed, impacting the business results.
A collaborative tool like a Creative Management Platform (CMP) can help your agency increase productivity by 30% by streamlining the creative production and feedback process.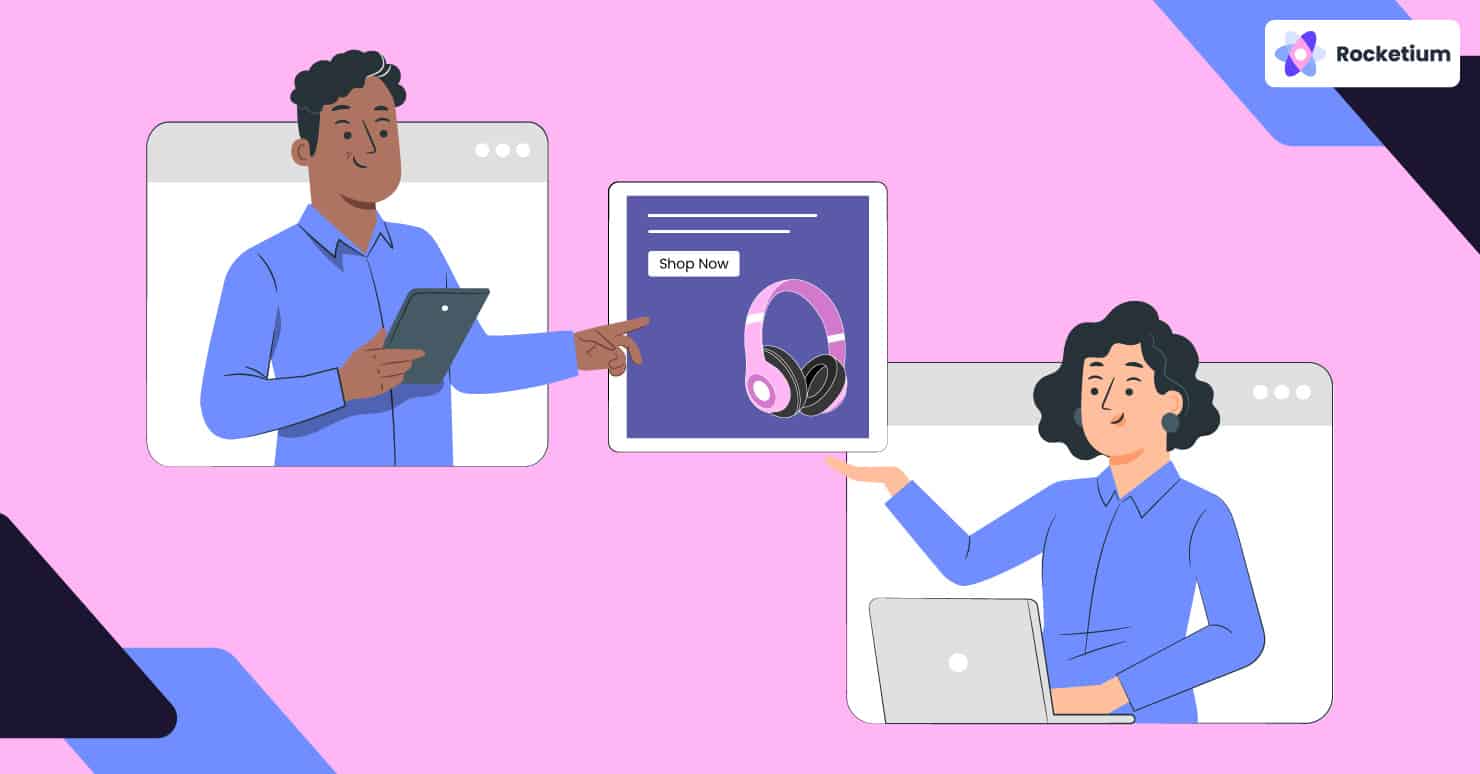 Let us walk you through the various benefits it can offer throughout the complete lifecycle of creative production.
Current creative workflow: processes, challenges, and how a CMP streamlines it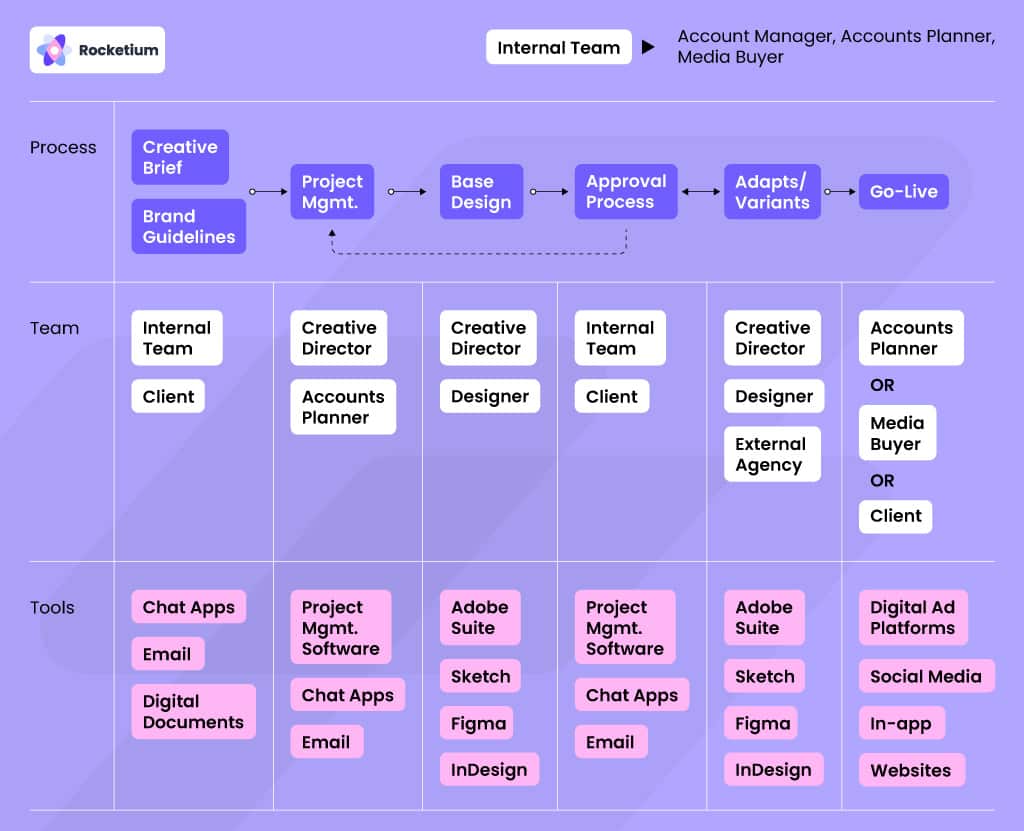 The biggest roadblock regarding cross-agency collaboration is the silo effect, which results from ineffective communication and using a wide range of tools. A CMP helps keep everyone on the same page, even when teams juggle a dozen balls.
For example, once an Art Director approves an artboard, it can be added to the CMP and turned into a brand template that anyone, not just junior designers, can use to create versions for different audiences and channels.
Let's look at how a CMP can help agencies achieve cross-functional collaboration.
1. Creative briefs, brand guidelines, and managing assets
The first step in this process is the accounts manager and strategists going through the client's business requirements together and working together to convert this into an actionable brief for the creative team.
The client shares its brand guidelines and assets with the agency. The agency then stores and organizes it to be easily accessible to the team.
Challenges with brief/asset distribution
Often these briefs are stored as documents in different drive locations and manually need to be referenced while designing.
Many agencies would share creatives over emails that their clients download and store in specific locations on their devices. And as for the agency, every member involved with different client projects would have different files for each client, which might not sound very problematic when working with single-digit clients.
How about when managing dozens of clients at a time? Would this manual approach of sharing hundreds of assets and keeping track of each of them be straightforward? Definitely not!
Cloud-based storage like Google Drive can only streamline the process up to a level and doesn't remove the friction for designers. They still need to hunt for the right file, download it from the drive, and then upload it to the design software.
Be brand-compliant at scale and streamline creative workflow with CMP
With a CMP, you can position a brand the way your clients intend to by setting their brand guidelines as rules in customizable workspaces. The rules function auto-ensures all the creatives created in that workspace follow the brand guidelines. This way, you can never go wrong with hygiene factors such as logo placements, text placements, and the overall layout and be 100% on-brand.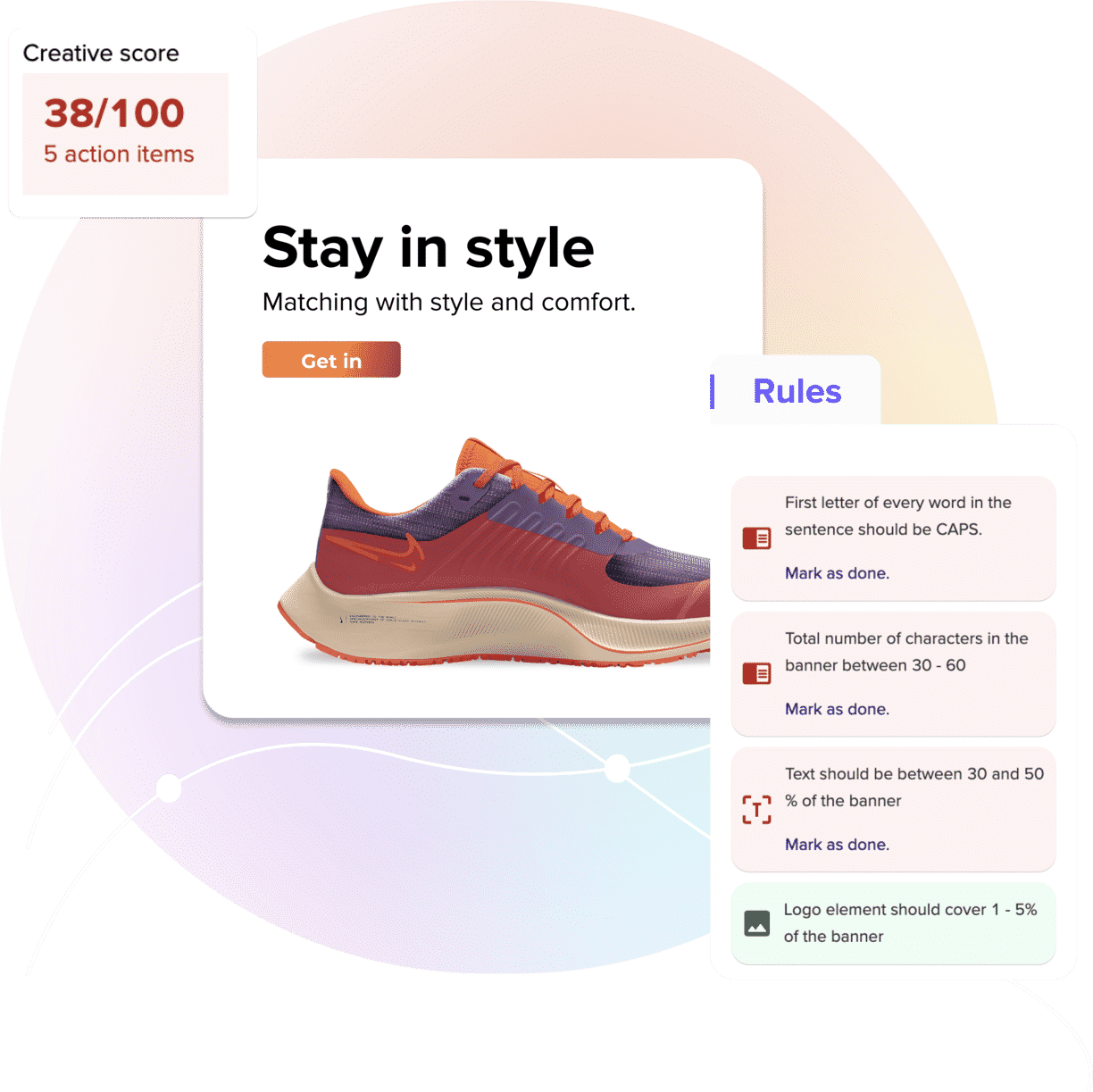 Moreover, the smart DAM (Digital Asset Management) feature in CMP will save you from the hassle of downloading hundreds of assets stored on your device. Instead, you can put all the assets in a systemic folder structure that can be tagged with specific terminology, making it easy for the team to search and look for an asset.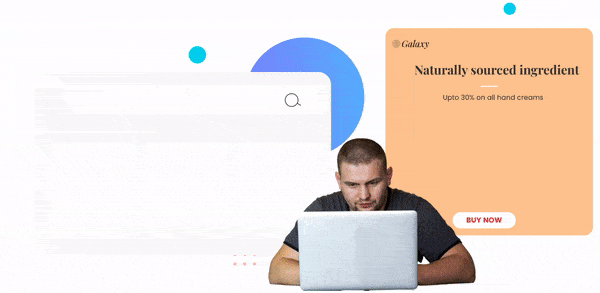 2. Project Management
Delivering creatives to a client involves a lot of back and forth of emails, tracking, progress updates, and feedback & review process. First internal teams handle these processes among designers, copywriters, and creative heads. Then, the creatives are sent for the client's approval, and once the project is live, continuous tweaking and tracking are involved.
Key challenges with team collaboration
Agency Collaboration becomes complex when different teams use different tools to work on a project. For example, your account planning team might use a project management tool, but your design team might use a design tool to store, update, and keep track of their projects.
Result? The discrepancy between the team regarding timelines/deadlines, project priorities, etc. In this case, frequent meetings and calls are often needed to align the different teams.
CMP: the all-in-one platform agencies need!
How about a platform where project management, design, and much more can happen in one place?
A CMP lets you create dedicated workspaces for each client, specifying the level of access for each team member. For example, only the copywriters' team will have access to edit the copy of the creative, and only the design team will be able to change the design. Doing this would protect your agency from mistakenly compromising or altering approved campaign designs and have role-based access control.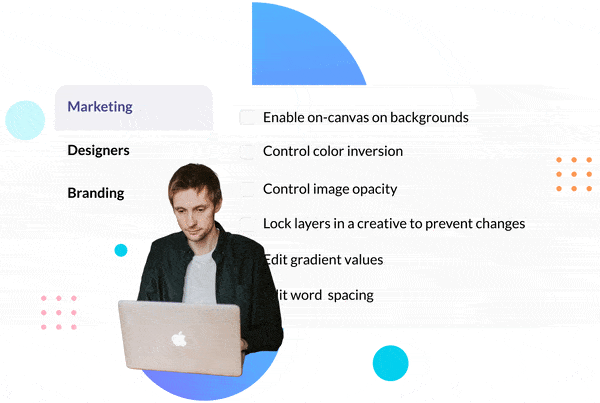 You can organize your team workflow in a Kanban view to get a bird's eye view of everything in a project, removing any communication silos.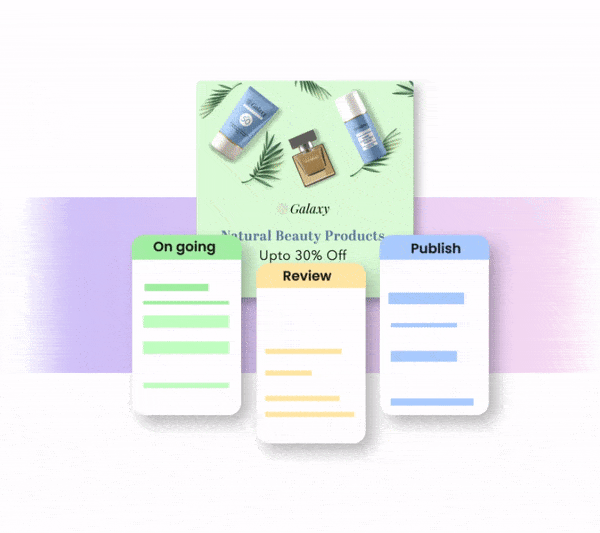 You could also share access with clients and promise complete transparency on work progress and deadlines, something your clients value these days very much!
3. Create base designs
Creating super-personalized video content and banner ads can be overwhelming, especially when you're making them in bulk for different products, categories, and customer journey stages. Having base designs helps you scale while adhering to a brand's guidelines.
Streamline creative production with CMP
A comprehensive tool that helps you share creatives with clients, collaborate with teams, and provides design tools is one you're looking for! You get all the essential features to produce base designs from scratch, including complete image editing, positioning control, deep SVG editing, image cropping, and more. It lets you simply copy-paste and drag SVG files to edit and import PSD files with all the styling layers intact on the platform without requiring any coding.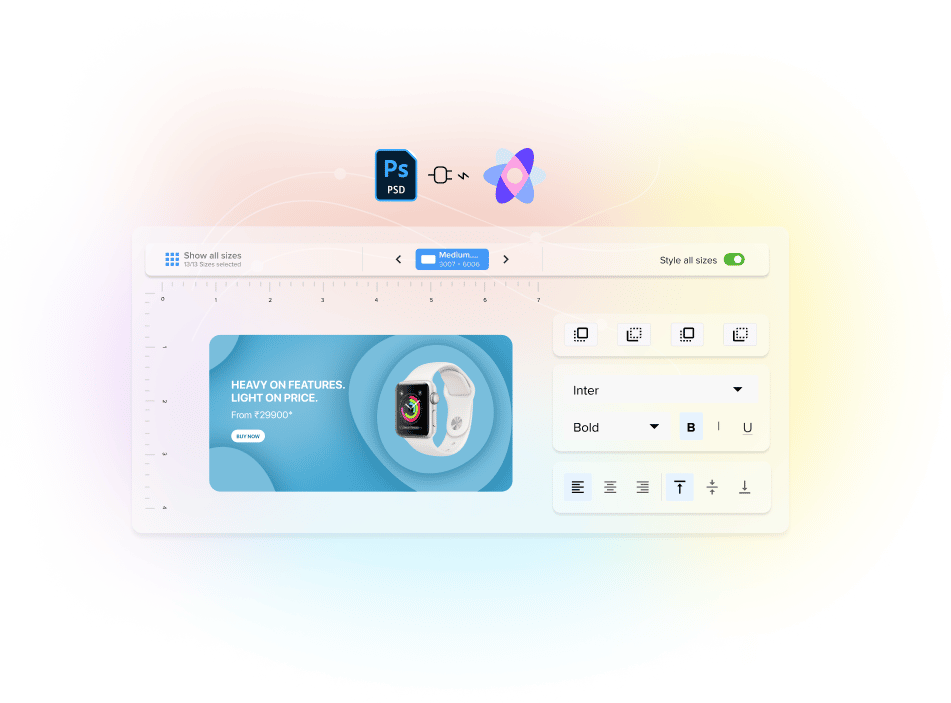 From end-to-end, fine-grained images, text, and rich media editing to removing backgrounds, importing from links, or adding and styling elements, you can do them all in one platform.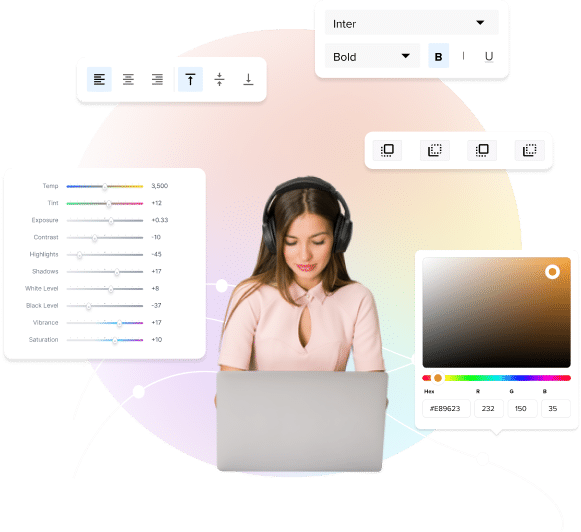 And these base designs can help your creative teams build multiple creative sets in bulk, following every brand guideline. This means you can focus on creating innovative key visuals and save hours by fast-tracking the production timelines.
4. Review and Approval
Traditionally, clients would send in change requests via emails during reviews and approval. The internal team would download the files on their device and execute the changes manually. After adjusting the creatives in their design tools, exporting them, and re-shipping them to the client team, the refreshed creatives finally make it to their digital home.
The problem with this approach
This process is not only cumbersome but also causes delays and performance havoc. Even minor changes like increasing the font size would take hours to get through, and when multiple teams are involved, it leads to long email chains that never seem to end!
Even with multiple rounds of edits, there's a scope for oversight or misinterpretation, which can make your agency look bad!
Also, it becomes difficult for the client to pinpoint what exactly needs to be changed when feedback is conveyed through email.
Review and collaborate meaningfully with CMP
A CMP permits the client to share their ideas, feedback, and suggestions right then and there on the creative. Irrespective of the team size, they can be involved in the process and given access to relevant workspaces and projects to avoid wasting hours on emails, DMs, and phone calls.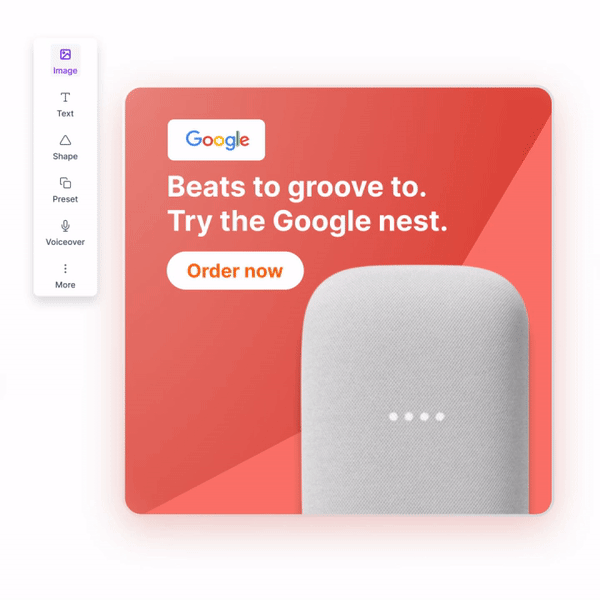 This allows teams to implement the feedback and have the campaign ready for execution in no time.
These creative automation tools also use pre-set template rules to ensure that in-production creatives match the specifications of the pre-approved assets to the T and have themes, fonts, colors, and resolutions on point.
In addition, you can eliminate redundant restyling with presets, allowing you to enforce brand elements from the brand library quickly.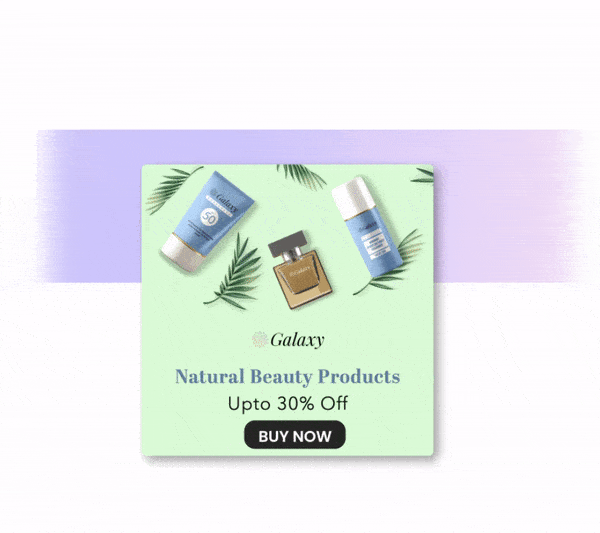 5. Create Adapts/Variants
Agencies design creative adapts to run campaigns on different channels. They also need to create variants of the base design to experiment and improve performance.
If any changes need to be made on the fly, they must be able to troubleshoot and provide solutions quickly to sustain themselves in this competitive digital space. This involves working on creatives and acting on feedback at scale proactively.
Challenges when it comes to bulk creation
With traditional design tools like Adobe, creating adapts and variants is a manual and time-consuming process that is non-scalable. This can be challenging when the requirement is to produce hundreds of creatives. You'd have to edit them one by one manually. As a result, it hampers the team's productivity and blocks them from taking up more projects.
CMP's Creative Automation to the rescue!
This is where a CMP comes in handy! The latest ones allow you to create hundreds of customized variations from a base template by extracting creative data from a spreadsheet, and that too within minutes!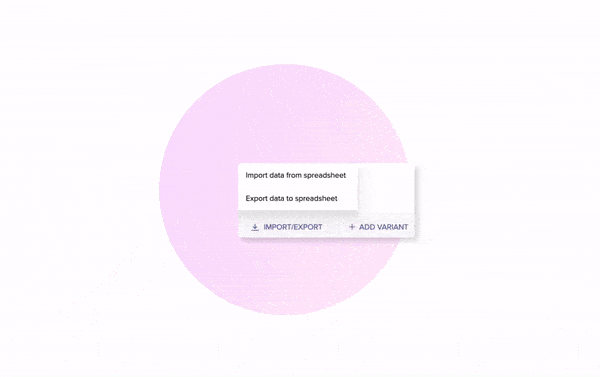 All this is possible while maintaining exclusivity across multiple channels and platforms. You can resize and reformat creatives in bulk with just a few clicks.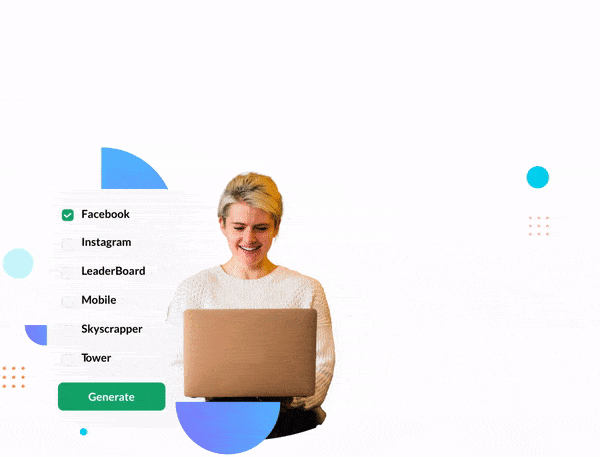 With the bulk-editing capability, making last-minute updates or running ad experiments becomes convenient. The best part is you don't have to rely on the designer to make tiny changes or experiments for a campaign.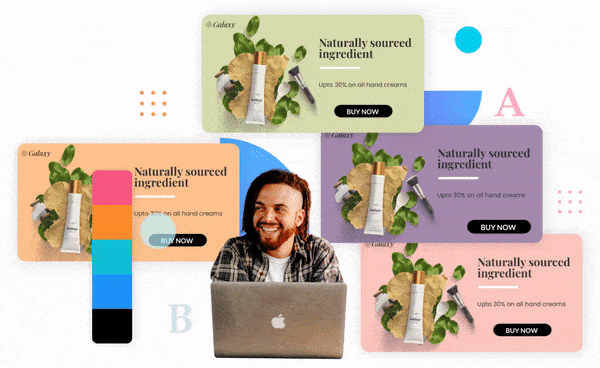 6. Go-live
Manually exporting and sharing creatives to different channels is time-consuming.
The Challenges involved
Manually uploading ad creatives and running tests might not seem like a problem when you're doing it only for a few clients. But when 20 tabs are open on your browser, and you cannot locate the exported file among hundreds of other files, even a simple step may seem overwhelming.
Go live FASTER by directly sharing from CMP
You'll find some latest ad builders with built-in integrations that allow you to connect platforms like Facebook (Ad Manager) and publish ads directly within seconds.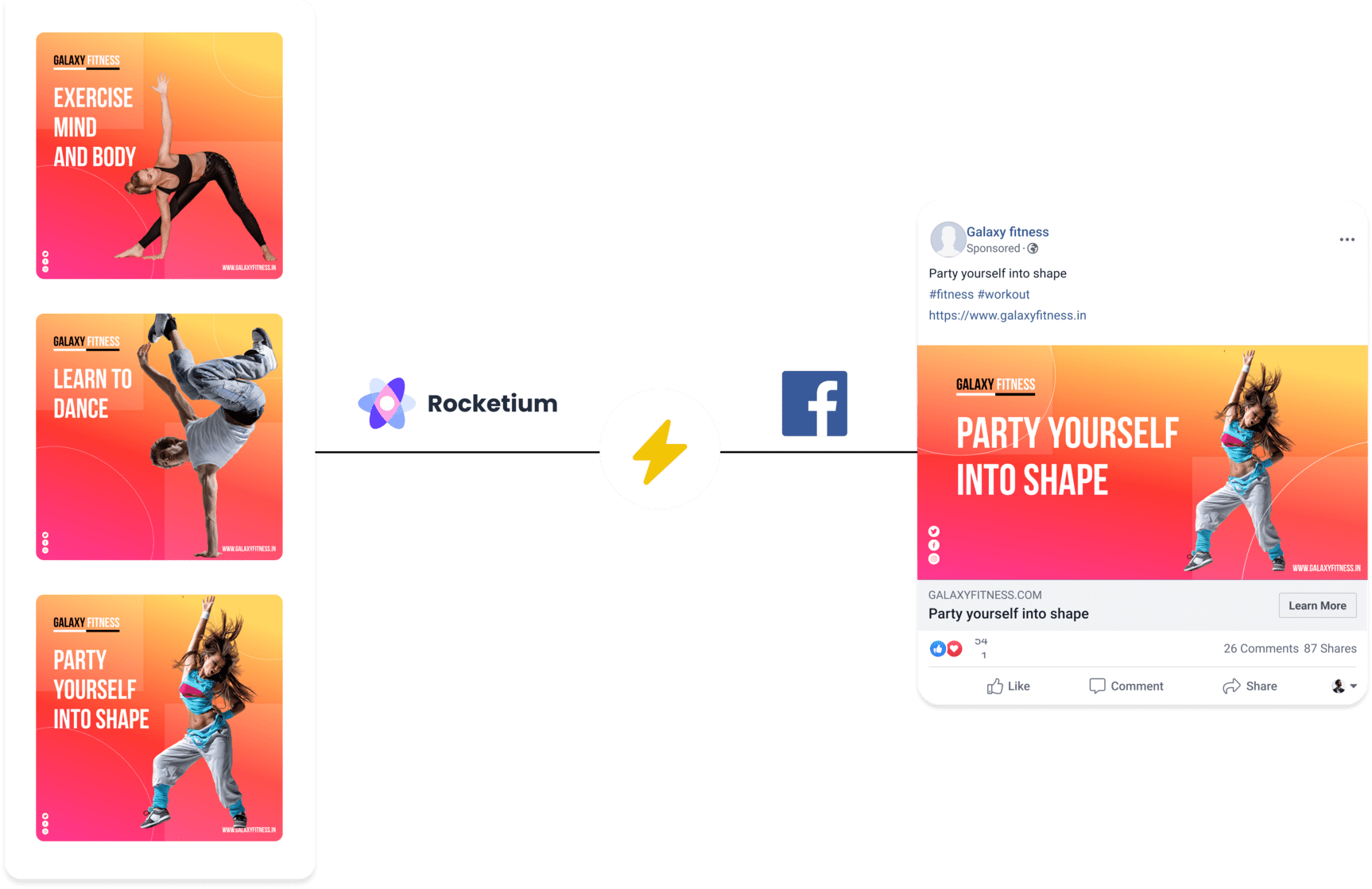 Apart from that, you can integrate the CMP with a mobile app to design personalized app experiences, run A/B tests seamlessly, and even integrate your existing marketing automation tools for more flexibility.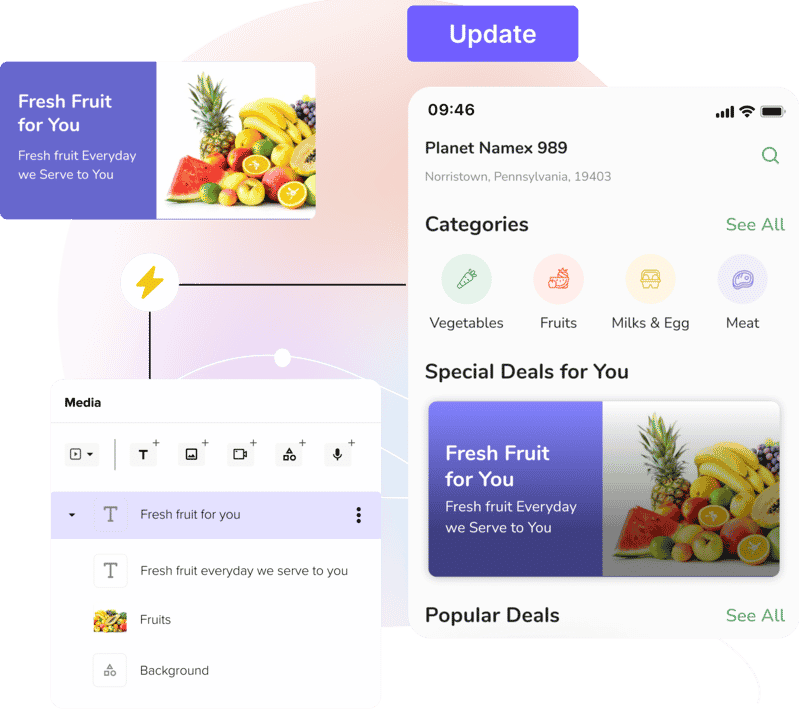 This way, you can run and analyze push campaigns in significantly less time and get more done!
In a nutshell
If your client base is increasing and you've multiple projects in your hands, it's time to reconsider your creative workflow to achieve exceptional client-agency collaboration.
With Rocketium, you can achieve all this and more!
The creative management platform helps you produce more content for your clients and streamline the process, saving you time. It fits your budget and allows you to manage multiple workspaces for multiple clients, all on one platform.
But that's not all the CMP is capable of.
Ready to explore everything Rocketium has to offer?
Subscribe to our newsletter
Recieve such insightful content on Design & Marketing every month!
Thank you for subscribing.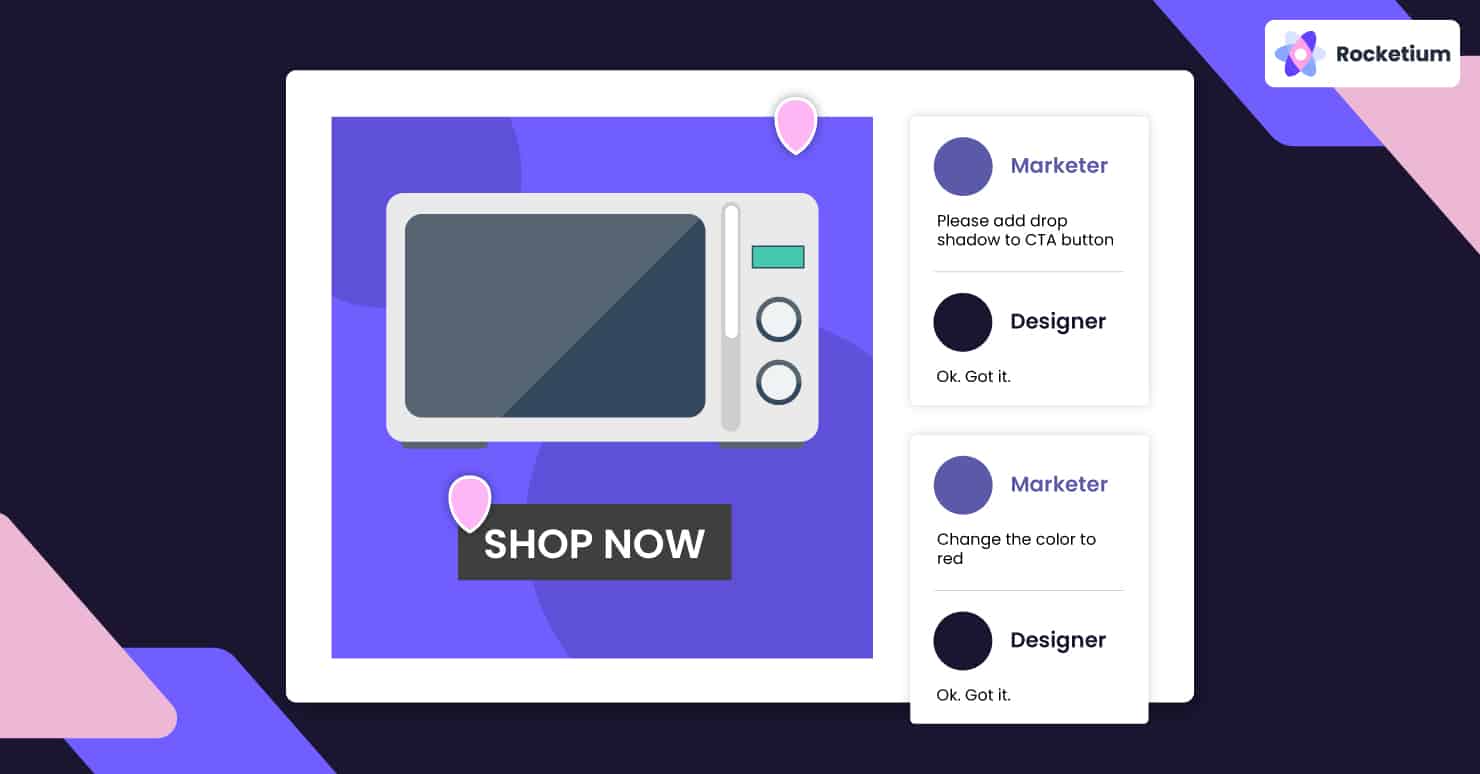 Effortless Collaboration
Ideate, iterate, and create campaign assets collaboratively, from a single, user-friendly creative automation system.
Book a Demo