In the tailwinds of COVID-19, the global fashion eCommerce industry was expected to decline. But the ripples of the pandemic had an inverse effect. Lockdowns and fear of infection accelerated online shopping. Consequently, the sector is predicted to reach $672.71 billion by 2023.
In the US, since the outbreak, nearly 75% of consumers have been shopping online at least once every two months. In India, the online fashion industry surged by 51% in FY21.
Yet, despite the record growth, fashion eCommerce brands are still struggling to convert and retain customers. The quicksilver changes in consumer behavior and adapting the supply chain to the heavy and unprecedented demand are constant uphill challenges. Goliaths like Amazon, with the ability to aggressively introduce products at lower price points, don't make it any easier.
With that as a backdrop, let's unwrap fashion eCommerce marketing strategies real brands have relied on to acquire, convert, and engage customers.
Proven Fashion eCommerce Marketing Strategies
1. MyGlamm: Personalized campaigns to convince cart abandoners
The conversion rate for clothing and accessories is a mere 2.44%. Abandoned carts are one of the biggest hurdles fashion online retailers face currently. One way to engage customers and urge them further into the purchase funnel is by using data-driven, event-triggered buyer journeys.
MyGlamm, a cosmetics eCommerce brand, successfully implemented the tactic to prompt users to purchase products added to a cart. First, the online retailer collated actionable data by assigning each user a unique ID. With accurate and detailed data in place, it segmented customers based on their user personas.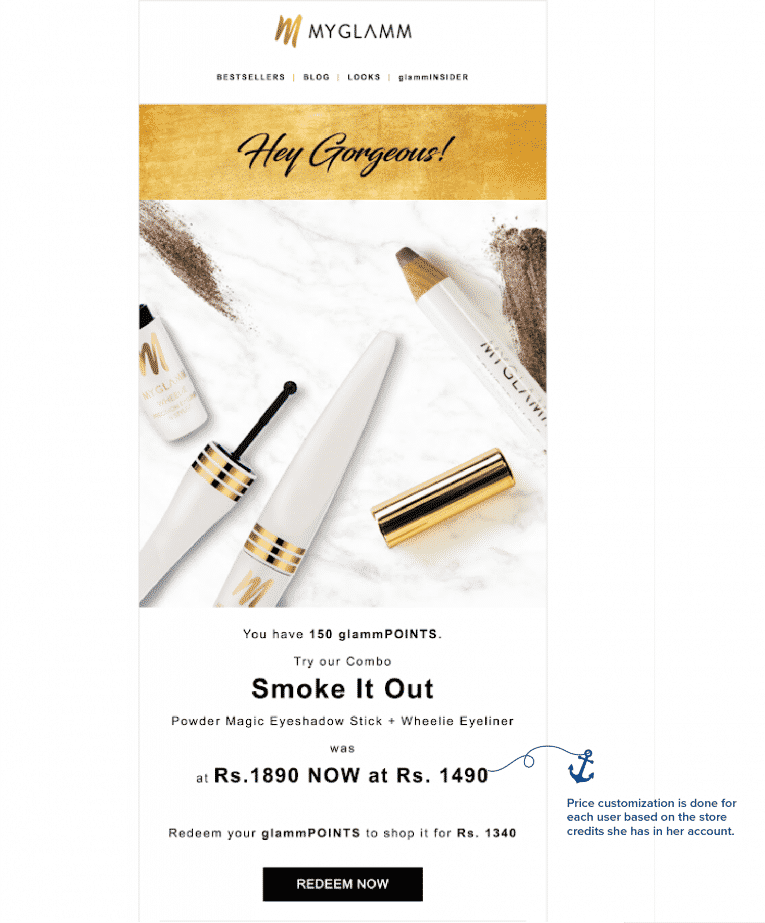 Finally, they orchestrated a meaningful journey that sent personalized communication to users who did not buy products added to their cart within half an hour. Besides an exit-intent web push hook that reminded the user, they also utilized cart recovery emails.
It was the latter that turned out to be the most effective for the eCommerce company. MyGlamm marked an eye-watering 137.5% increase in unique conversions from users who received a personalized email about products in their cart.
2. Myntra: Content-focused marketing strategy to increase customer LTV
Myntra's digital marketing strategy is direct and uncomplicated. The online fashion marketplace launched Myntra Studio and positioned themselves as fashion experts. The platform available on the app offers personalized advice to customers through masterclasses. Each one is hosted by experts and aimed at supporting users to find the right fashion choice.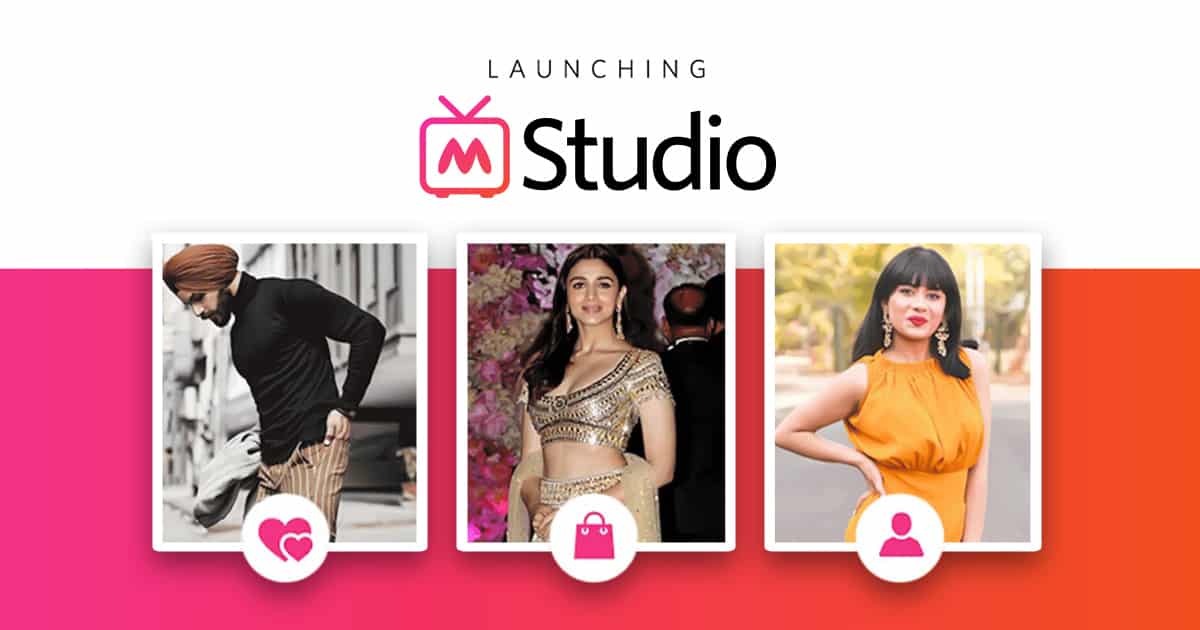 Besides the celebrity and influencer-led pieces, the studio had exclusive, entertaining, and shoppable content. The result? First-time shoppers who also engaged with Myntra Studio had higher engagement as well as retention rates compared to those who didn't.
Effectively, the fashion eCommerce marketing strategy helped Myntra increase the lifetime value of its customers.
3. Zalando: Revamping shopping experiences in a phased manner
In a bid to capture more customers, fashion eCommerce companies frequently introduce new shopping experiences. The change in experience can be the launch of a new product category or completely revamping the brand image. Irrespective of the cause, it must be deployed in phases.
The reason being, customers are not equipped to accept all-embracing transformations. To normalize change and guarantee engagement and retention, you need to warm them up in small, incremental stages.
Zalando, a fashion eCommerce brand based in Germany, understood this when they decided to become an environment-friendly brand. To ensure customer retention as well as new acquisitions, they made the transition in phases.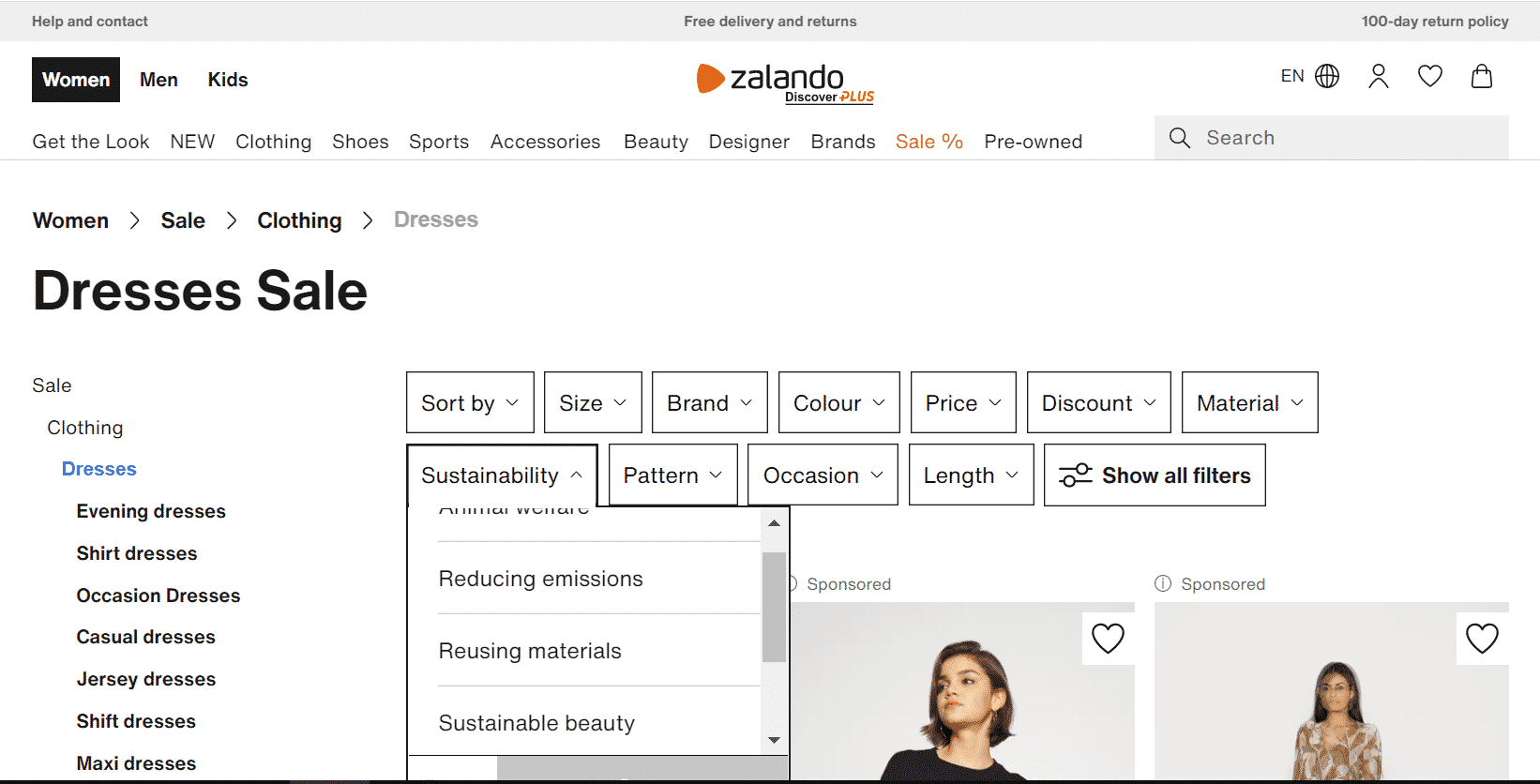 First, they reimagined the packaging. Then they launched a fashion flagship called Zign and a resale flagship called Zalando Zircle. They finally introduced value-based buying on their site, where a shopper could browse products based on the value they deem important, such as water conversion, emission reduction, organic, recyclable materials, etc.
To guarantee they engaged buyers at every step while introducing such high levels of change, they offered information at all stages. For example, using "what's new" badges on the app for easier navigation or adding "update blocks" across the website.
Taking a step further, Zalando set up engagement workflows across all channels, from email to push, to retain customers through personalized messages. The result of this phase-wise fashion eCommerce marketing? 65% increase in downloads, 35% surge in DAUs, and a 17% jump in MAUs.
4. ASOS: Using influencers for authentic, earnest communication
The over-saturation of social networks has all but guaranteed that generic fashion eCommerce marketing campaigns fall flat. But not advertising digitally isn't an option, given that generating social media presence and awareness exponentially increases the probability of users searching for the brand elsewhere.
ASOS (As Seen On Screen), an online fashion destination that targets millennials, is an excellent example of how to leverage social media marketing for the best effect. Instead of the usual campaigns, they wanted a more authentic and relatable way to communicate with customers. So, they reached out to influencers and built ASOS Insiders.
"Insiders" used their social media to promote apparel, accessories, and other products available at ASOS. These profiles, along with the curated looks, would then be featured on the Insider page on the official website. A customer could buy any product right from the Pinterest account of the Insider.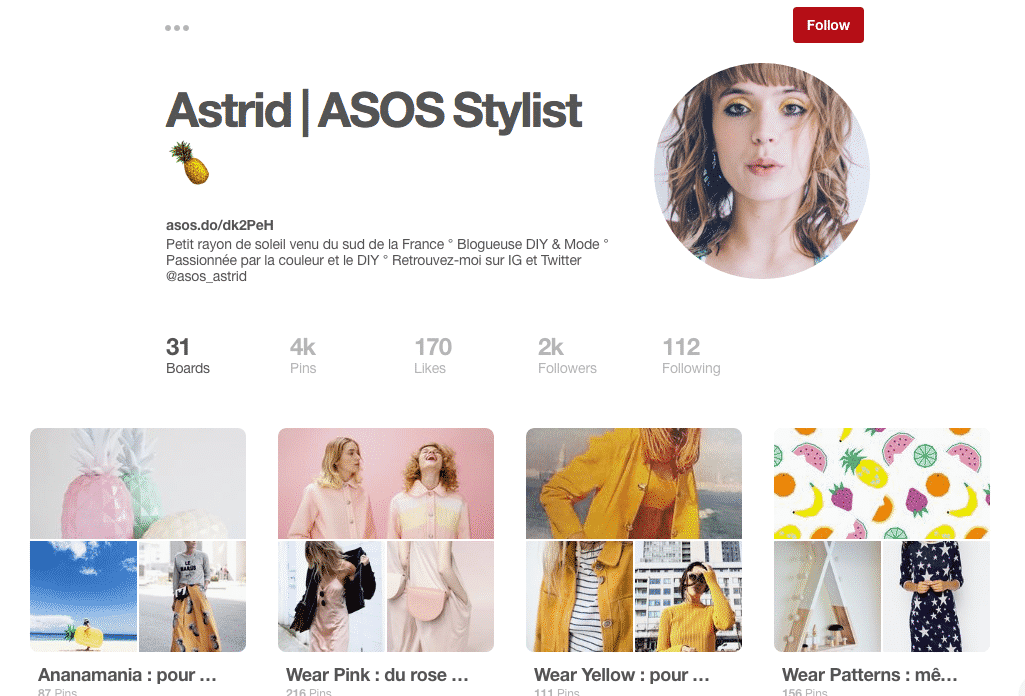 On Instagram, Insiders offered codes that could be used to find the product on the ASOS website, creating more foot traffic for the brand.
The influencer marketing strategy was ingenious because of three primary reasons:
The target audience found influencers far more relatable than generic ads,
The Insiders offered style and fashion advice for every type of customer, and
The total following of the Insiders was well into the hundreds of thousands, contributing to an incomparable brand reach.
Overall, the social media strategy paid off in spades, building unprecedented brand awareness and customer acquisition.
5. High refresh rate for creatives to increase engagement rate
A tried and tested strategy to lure customers to brick-and-mortar fashion retail stores is eye-catching product displays. They lend value, quality, and exclusivity to the product showcased. For fashion eCommerce sites, this strategy is limited to visual content, and in the age of Instagram, strong visuals have become key.
So, just like window displays, centerpieces, and clothes on mannequins are switched every so often, the images and graphics on the eCommerce storefront, be it on the web or app, should be refreshed frequently.
This is necessary to keep users involved and counter any performance slump with new and fresh visuals. Apart from static pictures, utilize product videos too on landing pages because 73% of people are more likely to buy a product after they watch an online video of it.
Using digital asset management makes the process considerably easier for eCommerce retailers. Acting as a digital home to all images, videos, and all other media files, you can hand-select quality visuals that establish the authentic feel and look of products and heighten perceived value.
6. Ivy Park: Creating hype through product haul videos
Involving potential customers in the buying journey is a thorny challenge. Building a presence on social media works, but it doesn't ensure that your brand will always land on the screens of new customers.
Ivy Park, the apparel collaboration between Beyonce and Adidas, is the quintessential illustration of how to hype a brand to increase visibility. First, it uses the entire Ivy Park site as an advertising space rather than an online shop (actual purchase is through the Adidas website). The approach is a stroke of genius in using creatives for customer engagement.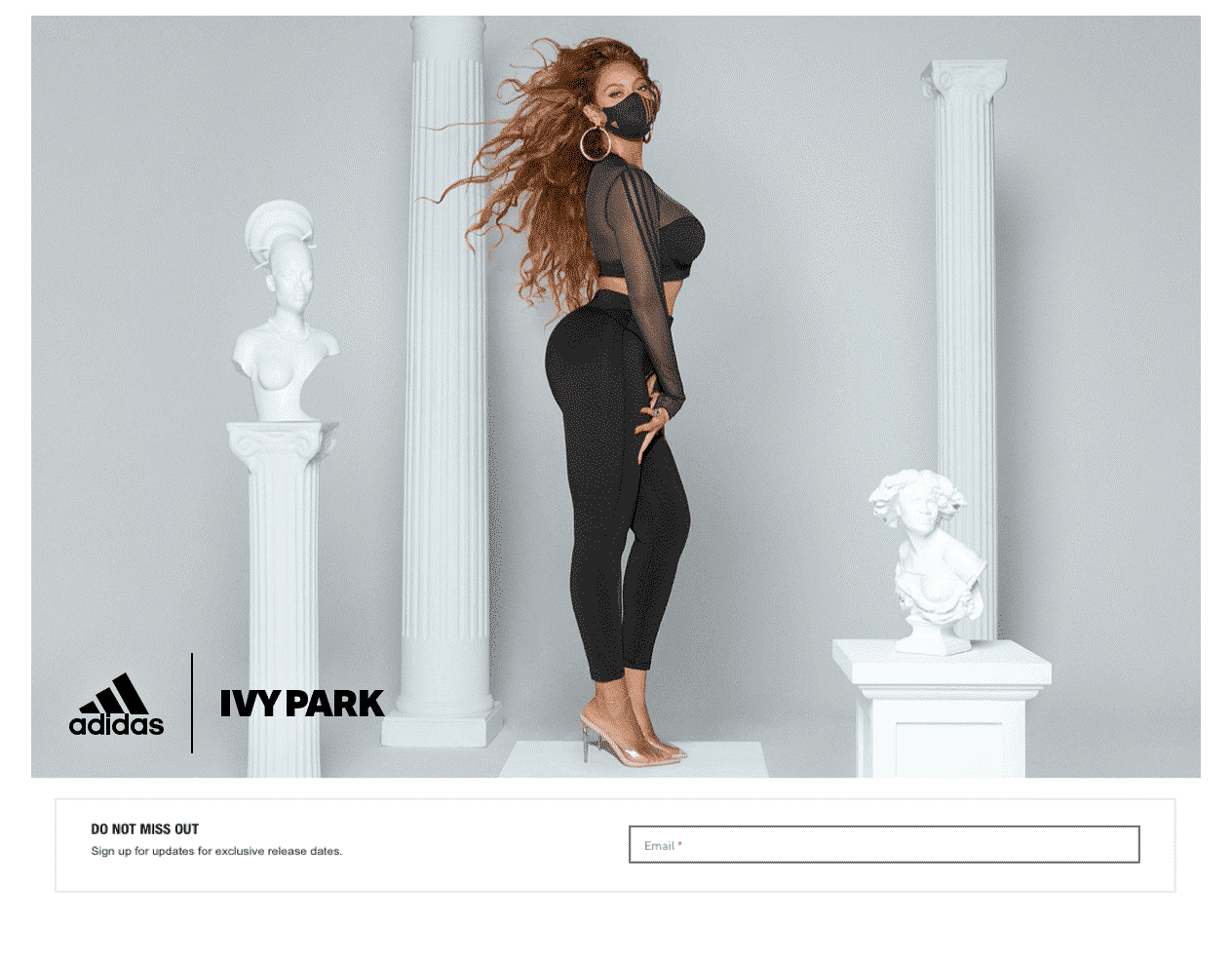 Two, it leverages influencers to create publicity within the Hive (followers of Beyonce). How? By sending new launches to select influencers, who then show off the product haul videos to their communities. These videos don't merely appeal to customers. They are also a repository of valuable content that the brand can use later for paid and organic social reach.
The learning from Ivy Park's fashion eCommerce marketing is to build an intimate relationship with its community, create a highly targeted campaign, and you'll save significantly on ad spend.
7. Sephora: Omnichannel marketing to optimize the buyer's journey
A prevailing mistake that brands unwittingly make in fashion eCommerce marketing is isolating customer touchpoints. All their marketing efforts are focused on silos. So, it may happen that while the customer experience on one leg of the buyer's journey is excellent, on another, it is poor.
For example, you may entice a consumer to sign up through a website, but their encounter with the email leaves much to be desired. The result? There is no customer acquisition. It happens because consumers evaluate retailers on the complete experience, not just one touchpoint.
Sephora, the French personal care and beauty retailer, grasped this crucial concept. They created an omnichannel plan of action that capitalized on a location-based strategy. When a user visited a store, Sephora employed beacon technology to serve in-app notifications like daily promotions, their online shopping cart, and wish list.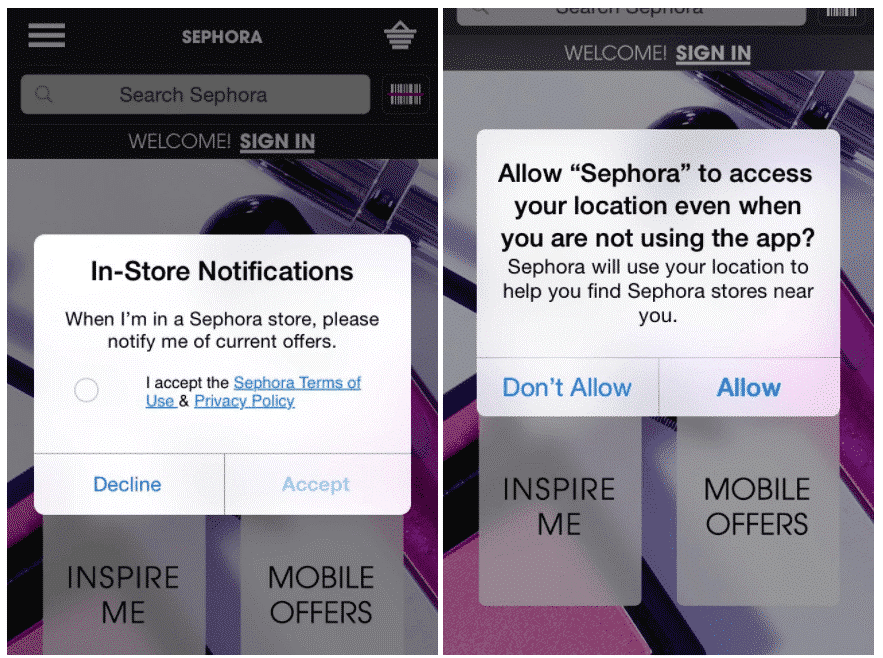 After the visit, the same customer received tailored emails and push notifications, fashioning a holistic shopping experience. The takeaway here is to integrate all touchpoints, and the marketing strategy for each of them is to offer a unified experience throughout the buyer's journey.
8. Sociolla: Retaining customers with low brand loyalty
In Indonesia, consumers have low levels of brand loyalty, so much so that 1/3rd of them buy another brand during the subsequent shopping trip, regardless of previous experience. Sociolla, a beauty, and personal care eCommerce player, recognized this.
To bypass the hurdle, they took a multi-pronged approach. It partnered with both local and global brands to add more products to its inventory. It engaged customers through different channels, from Sociolla Box, a subscription campaign that offered monthly packages with 4 to 5 beauty products to chosen customers, to Sociolla Soirée, activities involving influencers, pop-ups, and customer getaways.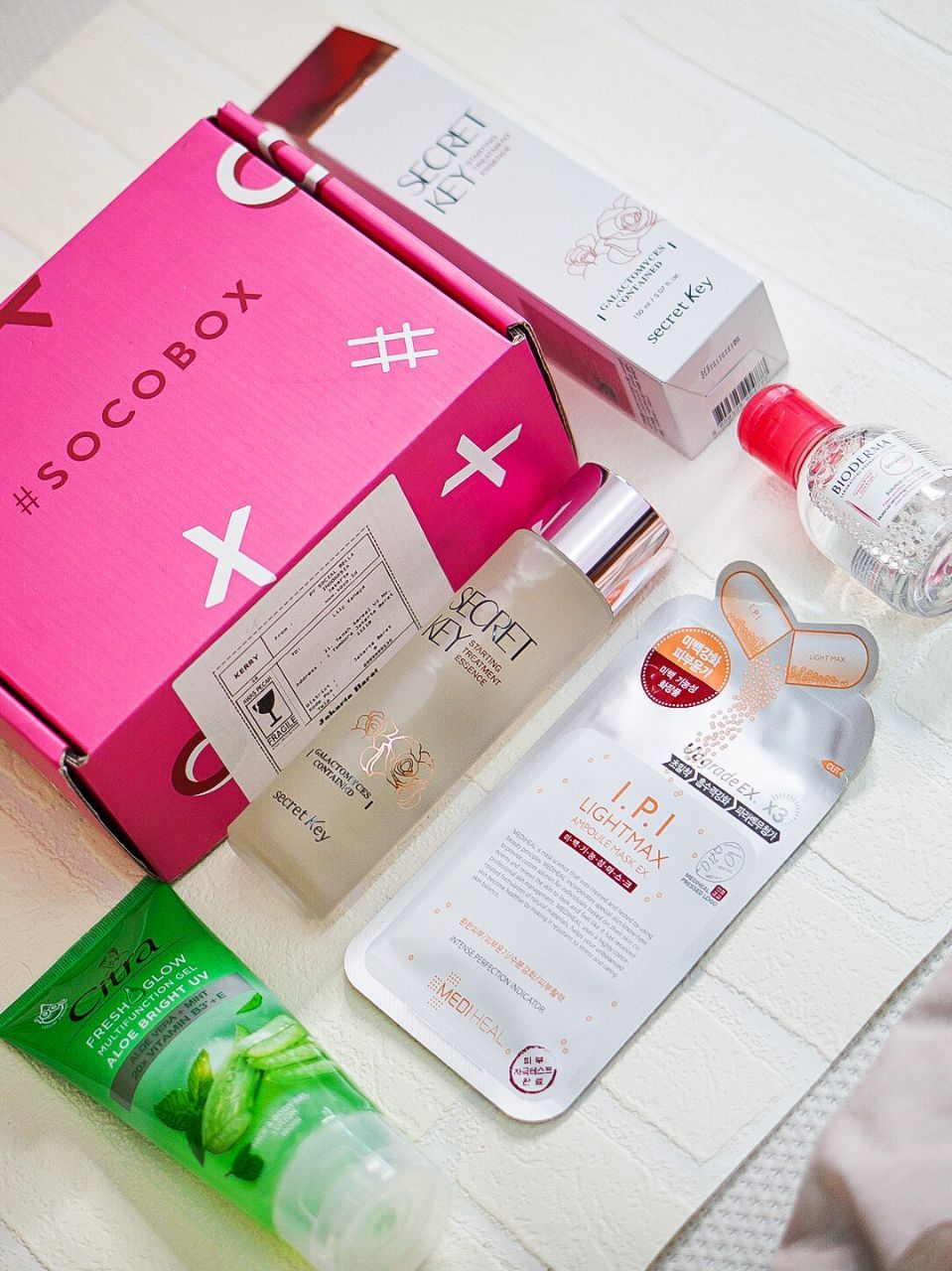 Online, their key medium remained Instagram, and they utilized it to launch products, conduct beauty sessions, and Live streams. They then targeted customers who participated in Instagram Live Sessions through personalized email marketing and push notifications, encouraging them to visit either the app or the website.
It was during the pandemic that Sociolla pivoted its marketing campaigns toward retention. The brand anticipated a drop in beauty and cosmetic product sales. So, it began a #GlowFromHome campaign that targeted everyday products like those used for face and shower routines.
The switch from heavily advertising lipsticks to skincare paid off in droves. The campaign worked successfully to engage and retain Indonesians despite the consequences of the pandemic.
Final Thoughts
In fashion eCommerce marketing, there are manifold tactics that brands can employ to translate online traffic into new opportunities. Even something as simple as strategically folding ads into the user's shopping experience can generate revenue. Promoting products or offers on the website through relevant display ads often inspires more sales.
Small adjustments, like reaching the audience in a language close to their heart or visual merchandising using dynamic banners that adapt to the cohort interests, can translate into noteworthy growth. While multichannel and omnichannel strategies that immerse customers across all touchpoints lead to more significant revenue as they accentuate brand recognition.
Subscribe to our newsletter
Recieve such insightful content on Design & Marketing every month!
Thank you for subscribing.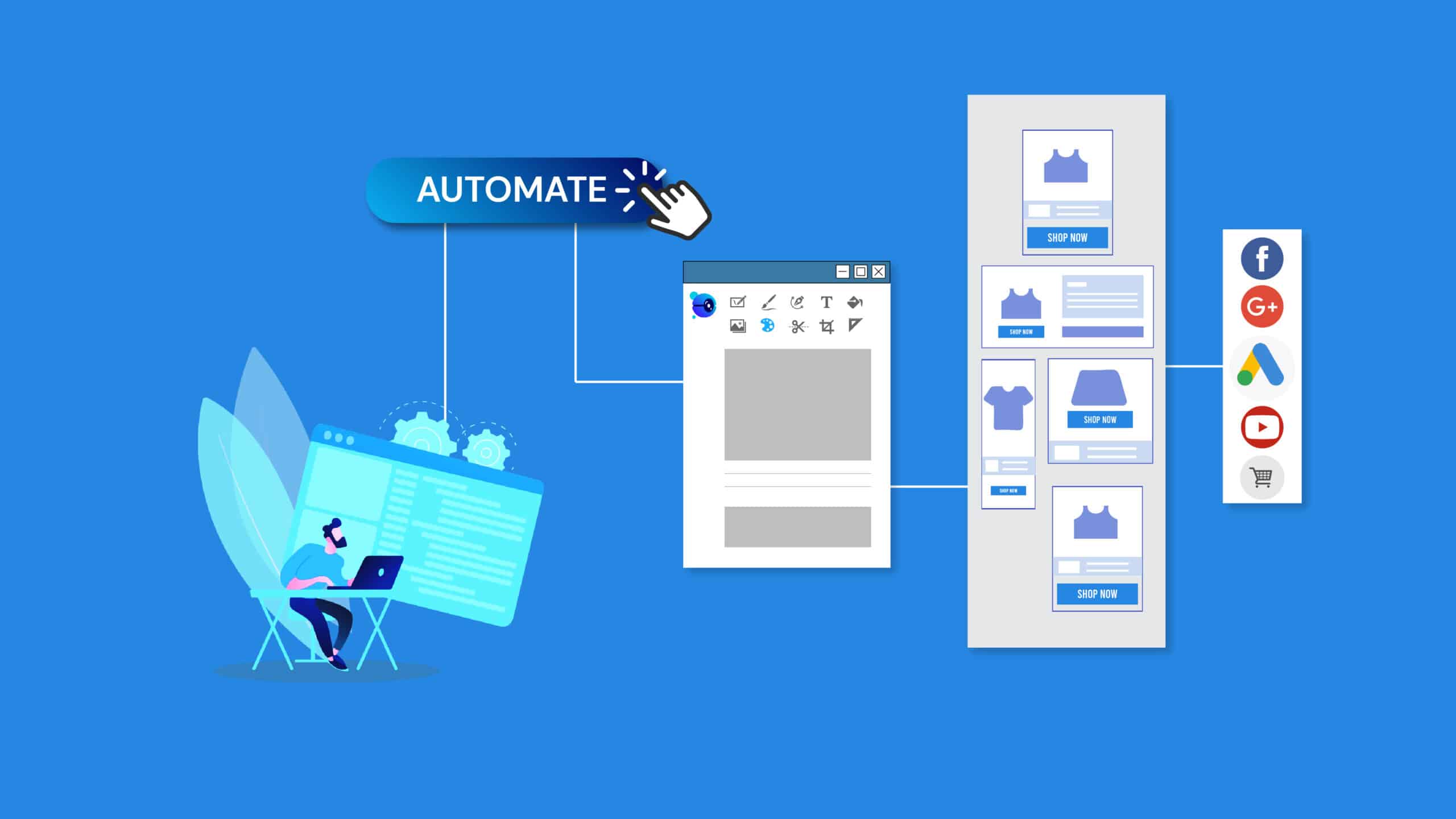 Scale Creation with Creative Automation
Automate the creative production process with templatized creation, feed-based scale, and multi-point integration.
Learn more