Who wouldn't want their business to reap massive numbers in a short term? Marketing a product or service successfully demands executing campaigns within well-defined timelines.
The most competitive marketers out there do not spend an eternity researching for hacks to hike up sales. The market embraces those who can dig up quick solutions in no time.
If you deem to do the same, growth marketing podcasts can teach you to effectively manage and utilize your time, and multitask smartly.
You can hear from knowledgeable and seasoned professionals in the growth marketing arena and take advice from the strategies they followed to save time on research and ideation.
That is, you can easily curate your time and energy to focus on implementing hyper-growth strategies by following tried and tested methods!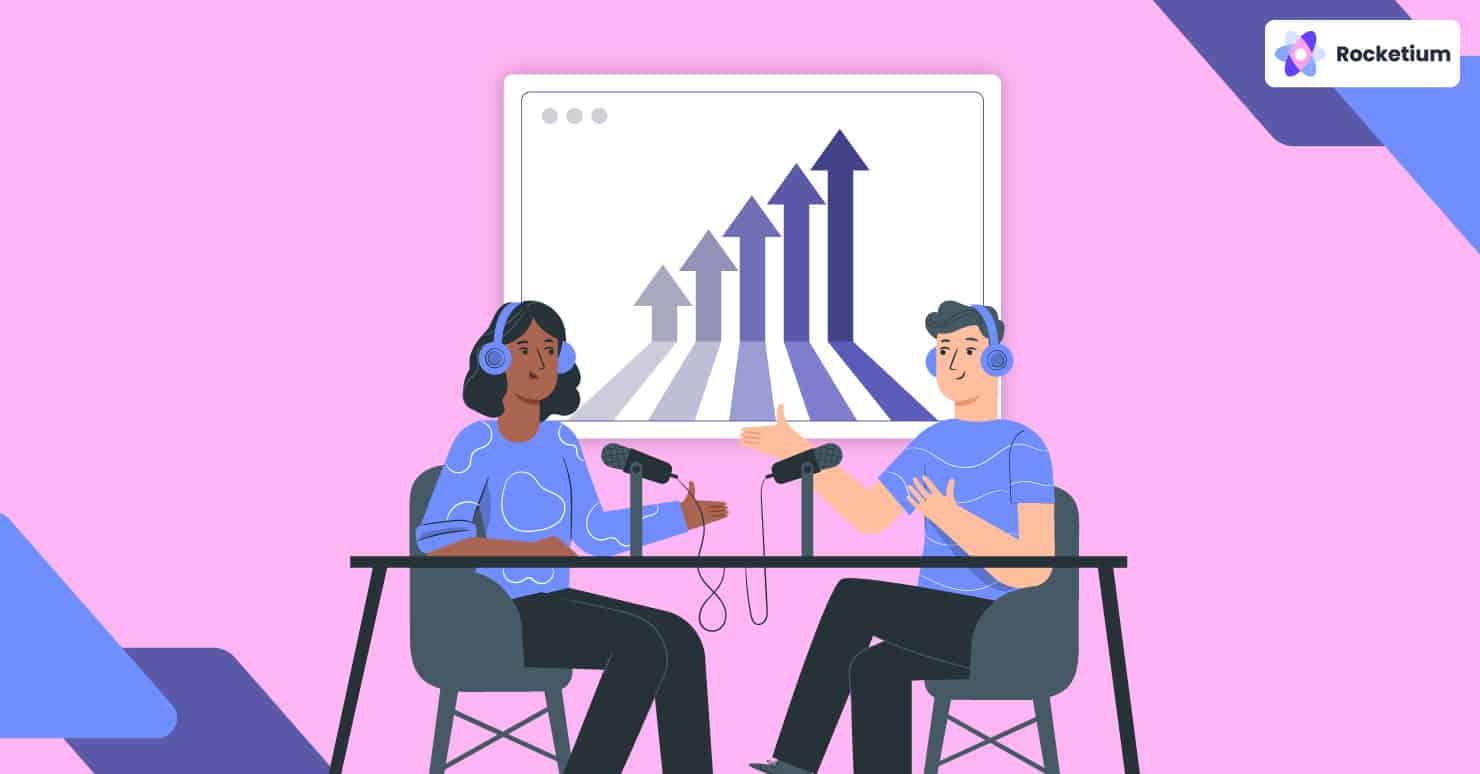 Podcasts are a viable solution to the hectic routines of marketers since you can listen to them during commute or other chores.
There are several growth marketing podcasts out there that can work wonders for your business. The speakers are usually marketing experts who share their experiences and experiments in the industry, from whom you can take inspiration.
Read on as we list down the best growth hacking podcasts for you to listen to. But before you proceed:
What Is Growth Marketing?
Growth marketing is an approach followed by marketers to attract, engage, and retain customers by focusing on their preferences.
It often involves experimentation with the information available on the customers/leads to deliver the most customized and unique experiences.
By adopting this method, you will be able to rapidly grow in your industry by serving your customers tailored goods/services.
This is especially effective when your aim is to develop a steady mob of customers and audiences for your brand on a budget. Simply put, growth marketing prioritizes the audience over the product.
Growth hacking, on the other hand, is the smart sibling of growth marketing. It involves the clever utilization of data that you collect from your potential leads and existing customers to benefit one core metric.
For instance, it develops a trick that doubles your Facebook or Instagram following. This trick focuses completely on a specific strategy to acquire one core metric in a limited amount of time and budget.
Ideally, we advise early-stage startups to embrace this strategy to amass growth in limited time, without worrying too much about constrained budgets.
7 Growth Marketing Podcasts to Skyrocket Your Business
With the accelerating relevance of growth hacking, the number of podcasts discussing the same has also skyrocketed.
However, rather than flooding your brain with Google recommendations lend an ear to the following podcasts to learn the tricks of your trade:
1. Spilling The Magic Beans | A Growth Marketing Podcast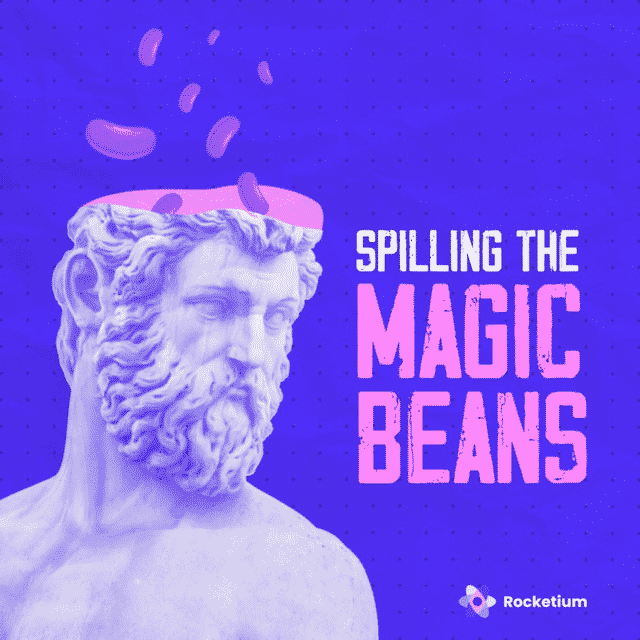 Hosted by Rocketium, the Creative Management Platform for high-growth companies, this growth marketing podcast named Spilling the Magic Beans is your ticket to well-crafted marketing campaigns. You can listen to various experts talk about different growth hacking secrets each week.
The #DesignLedGrowth initiative is an important initiative popularized by this podcast. For successful brands to sustain their growth, improve goals, and set new benchmarks, they would need to ardently invest in developing an omnipresent visual impact.
Rocketium cracks down on the complexities involved in serving personalized and updated visual content to customers in simple terms. The podcast lists down the ways to tackle the pressures of maintaining quality and regularity in delivering visual content.
The #DesignLedGrowth route explores automating campaigns across all channels, ensuring timely delivery and better turnaround time, and helps you experiment effectively while dealing with big campaigns.
Listen to how Abhishek Kumar, Head of Brand and Content, Openhouse, brings the best out of design for powerful growth marketing:
Here's what Abishek had to say about A/B testing:
"Marketing is just a binary game. It's either a zero or a one, there's nothing else. It's either going to work or it's not. So run it, learn from it, if it works, you scale it. Just look at a set of ideas you believe in, start running it, then you let the numbers be your guide, and you'll understand from various metrics like CPM whether your audience is resonating with it.
Once you find out the message that your audience resonates with, create a campaign around it. This could mean you need 2 videos and 4 banners that just talk about this message, and you start running it. Again, 0 or 1, it either works or doesn't work, costs go up, you do a creative refresh, and you immediately switch out the creative that's getting expensive to run. It's just a matter of repeating this process and creating your playbook."
2. The Growth Experts Podcast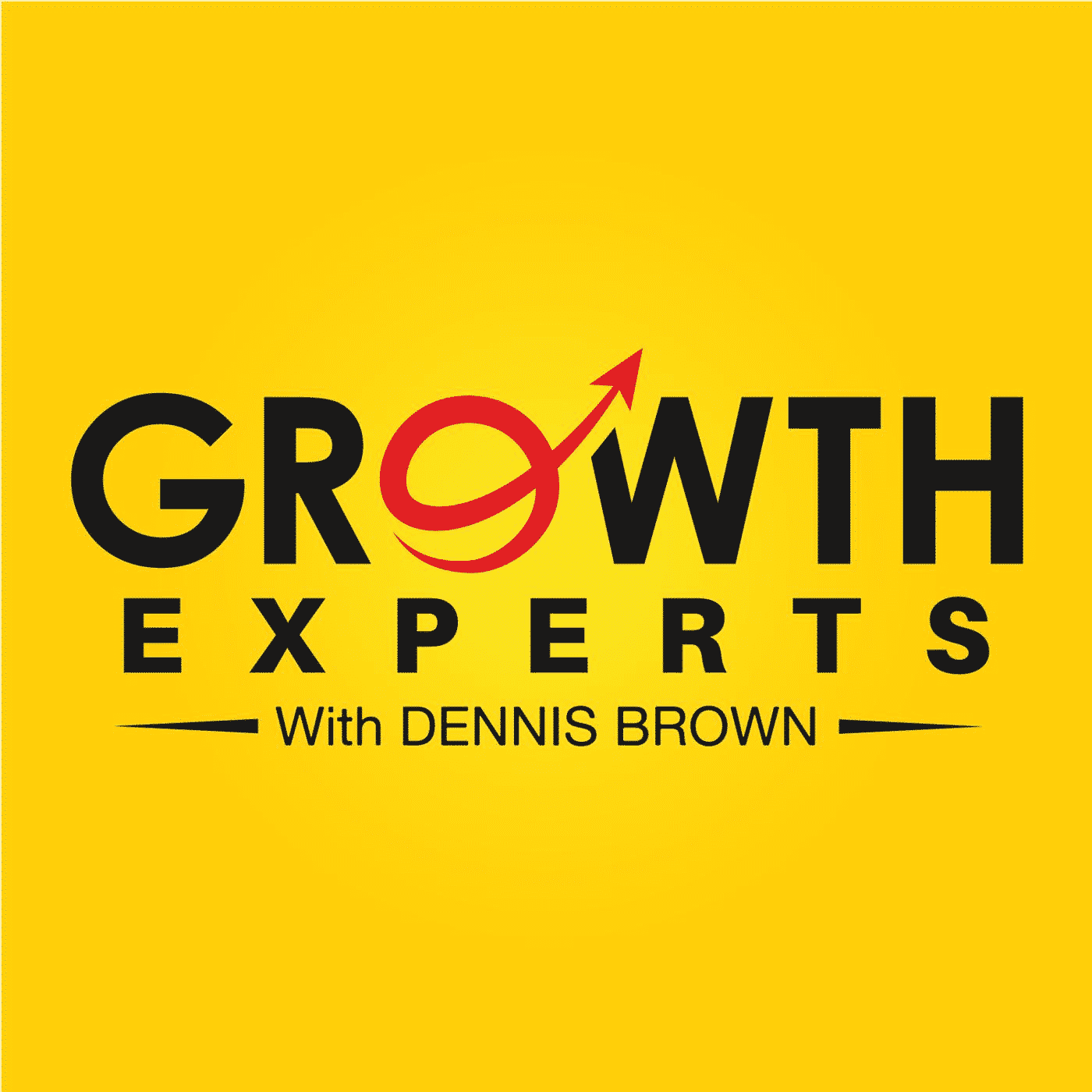 There are no surprises here. The first on our list is a growth hacking podcast hosted by the experienced Dennis Brown.
This podcast is ideal for beginners. Since Brown shares not only growth hacking secrets but also extensively discusses the pitfalls of starting a new business, the Growth Experts podcast becomes our first suggestion.
For instance, a recent episode of the podcast discussed the three main mistakes that entrepreneurs make, leading to a decline in sales. This session reveals to the listeners the need to have strong faith in the sales team for better results.
Rene Zamora, the author of Part-Time Sales Management: For Small Business Sales Teams, talks at length about the risks involved in micromanaging salespeople, which could lead to driving the best performers away.
Another of Brown's elaborative episodes is one on how to grow faster by doing less. As a growth marketing podcast, the Growth Experts Podcast seals the deal for budding marketers.
Testimonial:
"Superb topics on growth strategies.
You're sure to pick up a thing or two from Dennis and his variety of inspiring guests. Each episode is always filled with hard-hitting advice on growth hacking that you surely don't want to miss!"
– Howardtnyc, 07/15/2021
3. Marketing School with Neil Patel & Eric Siu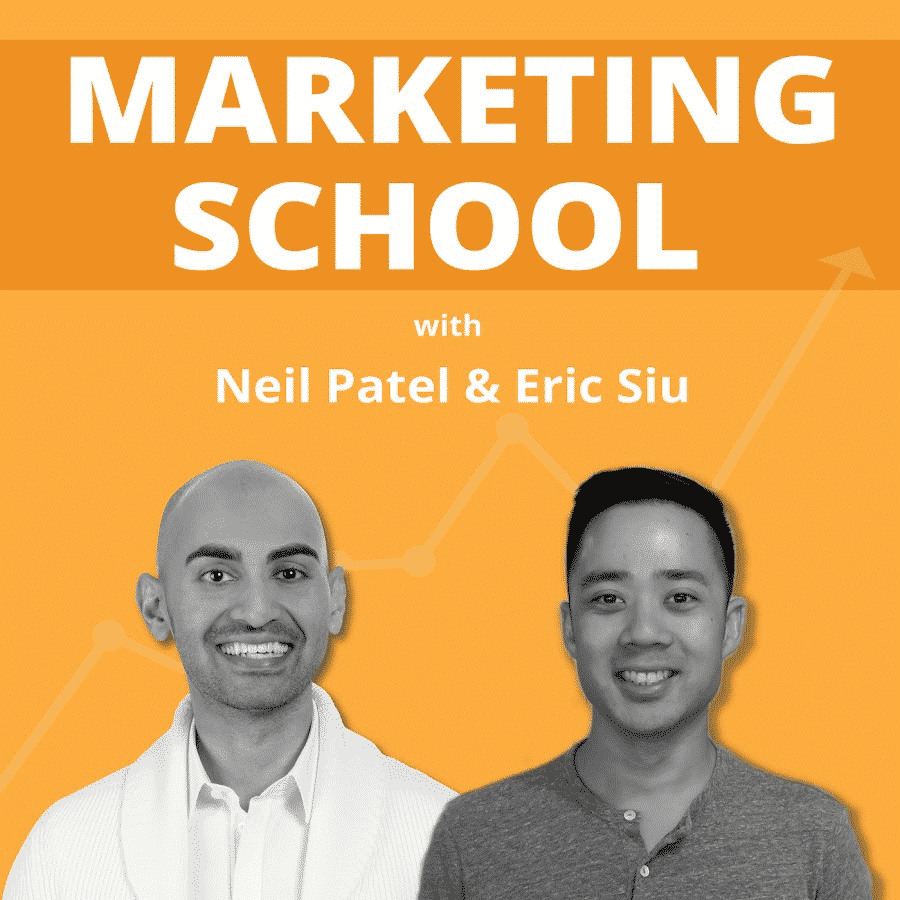 You did not think we'd talk marketing and not mention Neil Patel, did you?
Marketing School with Neil Patel & Eric Siu delivers daily growth hacks in short, 10-minute capsules. Ranging from the best marketing tools of the season to the worst mistakes committed by juvenile marketers, this podcast teaches you everything.
The episode titled 'How to Test Ads Without Spending Too Much Money' is an audience favorite among others.
Here's an interesting quote from the episode that hooked me to their podcast:
"If you have really good creative, you can double or triple your click-through rate, which decreases your costs. A lot of people talk about spending $10 a day or $50 a day, and that's a good way to get going, but I'm actually a proponent of trying to spend more on collecting more data, as long as we are constantly refreshing creatives quickly."
Eric Siu
Eric Siu puts the focus on improving how you reach out to your audience by improving your creatives and refreshing them constantly to avoid banner blindness and improve ROI.
Spend ten minutes on Patel and Sui talking about 'Is Growth Hacking Still Relevant' and many of your queries will be answered!
Don't believe us? Listen to their listeners!
Whenever I need motivation to start my day I always look to the Marketing School Podcast by @ericosiu & @neilpatel

— Ryan Jackson (@RyanJacksonR) December 26, 2017
4. The Growth Hacking Podcast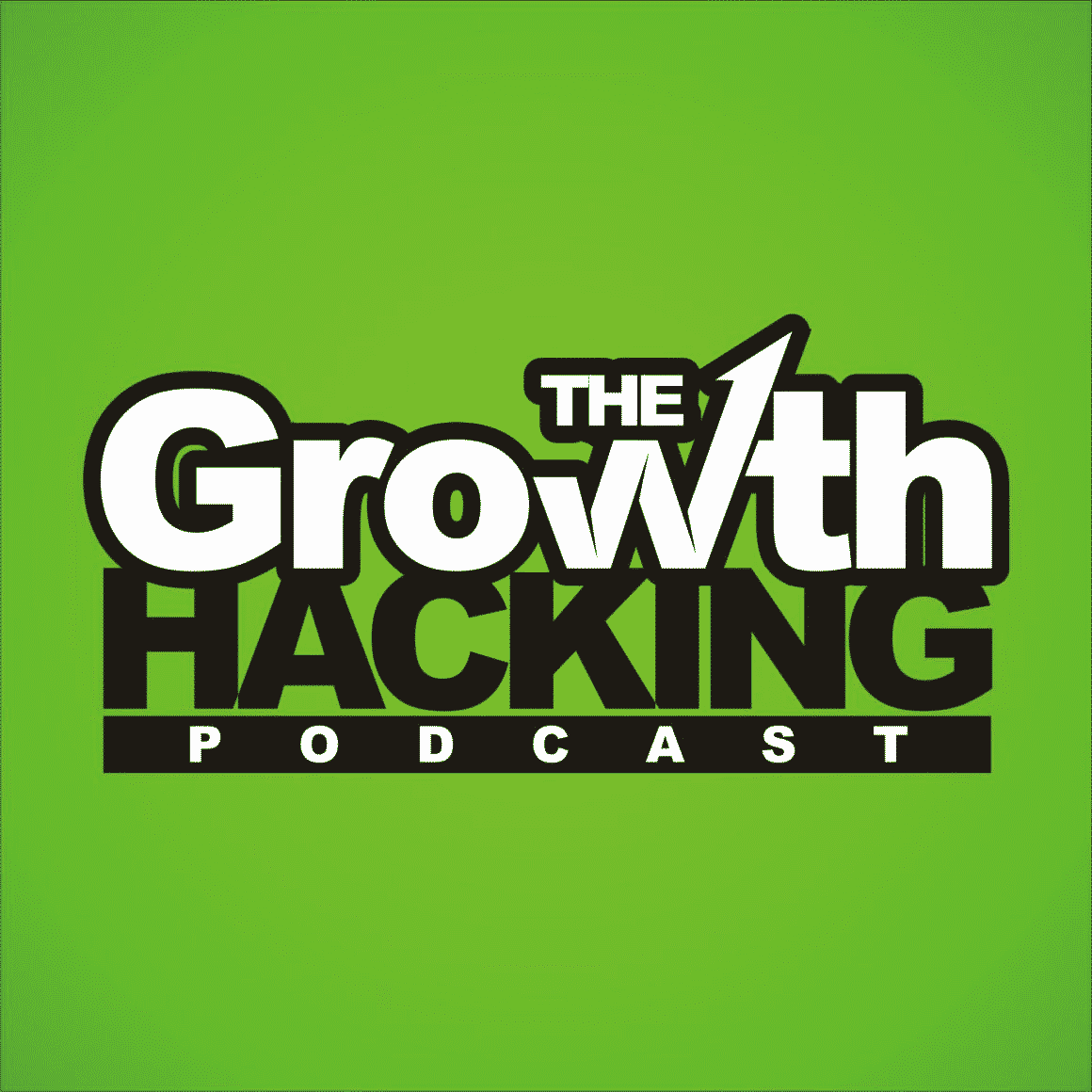 You can listen to experts and investors decode the route to growth hacking strategies twice a week in The Growth Hacking Podcast.
This growing series has been especially curated for startups to scale their business and understand smart investment strategies. Hosted by Laura Moreno, this growth marketing podcast is an interview series that details experiences and case studies from different industries.
You can easily take advice from the various panelists of this podcast and channelize your strategies in accordance with theirs for better results.
Here's the attractive part – at the end of each episode, the growth hacking podcast concludes with a Lightning Round wherein each guest shares their growth hacking secrets with the listeners, facilitating better awareness!
We recommend that you start by listening to Dan Faggella, the founder and CEO of TechEmergence, define 'How to Create a Multimillion Business in 3 Years' from The Growth Hacking Podcast with Laura Moreno.
"Your sales records, time on page, conversion rates and all – if you slam those numbers into a folder, there's no way it'll make sense…there's a lot of editing, hard work, and even mistakes till you come up with a format. But there's a point in your business where you need to know those fundamental numbers to make that step. That's the Catch-22 of entrepreneurship."
Dan Faggella
5. The SaaS Podcast | SaaS, Startups, Growth Hacking & Entrepreneurship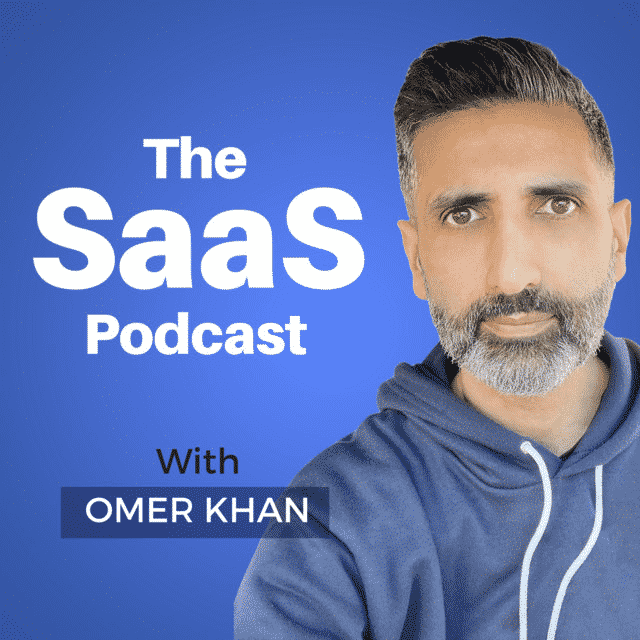 The SaaS Podcast is a huge series of commentaries, opinions, discussions, and interviews on the ways to launch a successful SaaS business brand. Initiated by the SaaS Club, this series is hosted by Omer Khan.
Khan indulges in fruitful discourses on picking the right idea for a SaaS business venture, the tricks to stay relevant amidst competitors, and analysing the methods adopted by successful SaaS marketers in this growth hacking podcast.
The recurrent interviews with upcoming startup owners and businesspersons is the unique feature of this podcast. Their insights on developing a great business and marketing strategy can help new businesses transform their future at the germination stage itself.
In an episode with Geoff Atkinson, Khan opens the podcast up for conversations on 'How a Founder Successfully Pivoted his SaaS Business'.
The episode narrates Atkinson's success story from having no profit for about four years to developing his business into churning in $1.5 million annual recurring revenue.
Testimonial:
In business pivoting is hard, to leave everything that you've known behind and take new path into the unknown takes guts but many times leads to the best possible outcomes. Thank you for telling your story @geoffatkinson 🙌🙌🙌

— FiveRings Marketing (@fiveringsmktg) November 29, 2021
6. Marketing Scoop Podcast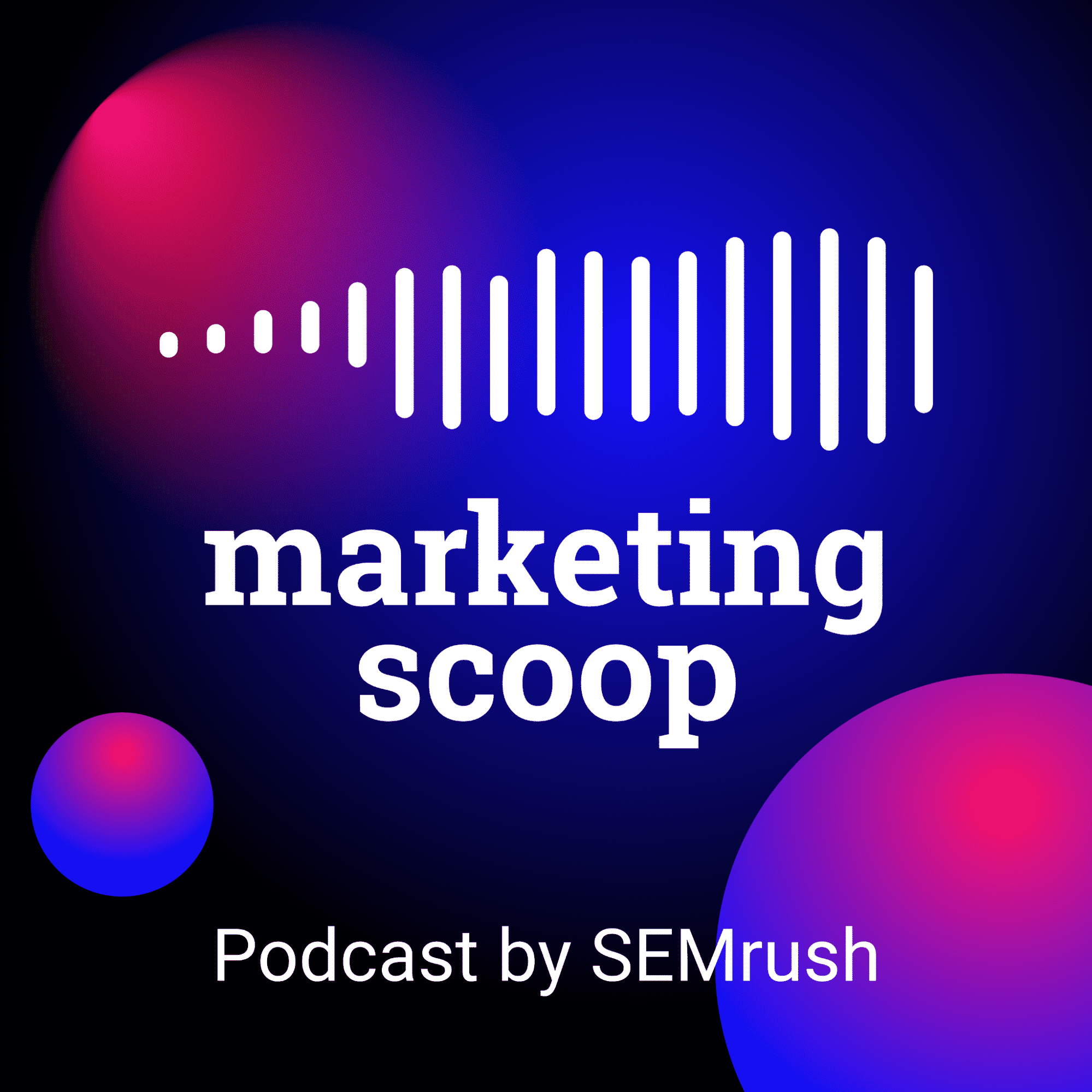 These episodes are your weekly pills for marketing anxiety. The Marketing Scoop Podcast is one of the best growth hacking podcasts that brings you stories about smart marketing.
It does not differentiate between local and global brands and has room for everyone to share their stories.
Hosted by Laura Morelli, this growth marketing podcast is an interview series that allows people to spill their secrets of integrated marketing campaigns and critique new trends in the industry.
Listen to Morelli track down the ways to new marketing strategies in the episode titled 'A Go-to-market SEO Strategy for Turbulent Times'. Powered by SEMrush, the podcast series is a boon for both budding and experienced marketers to step up their game.
In one of the most popular episodes of the Marketing Scoop Podcast, Morelli hosts Neha Bansal, the Product Manager at Google who analyses how to use 'Google on Increasing Engagement Over 56% by Becoming a Google Analytics Power User'. This one is a whole crash course on Google!
Similarly, the session with Gary Illyes on the 'Lessons from Google's Structured Data Guru on Doubling Rakuten's Traffic' brought in rave reviews.
I found the interview really helpful – I now have a better understanding of how structured data is utilized 🙂

— Andy Kuiper (@andykuiper) July 27, 2020
7. Growth Marketing Stories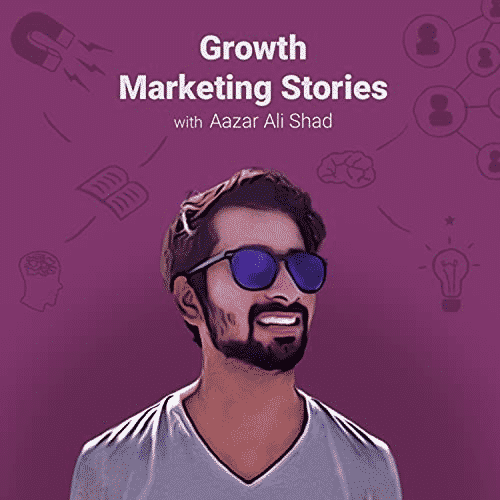 Hosted by Aazar Shad, the Growth Marketing Stories Podcast focuses on growth flywheels instead of presenting growth hacking secrets as overnight miracles that supply better ROI.
Dedicated to growth marketers, this series talks about various inspirational stories from across the world in the field of marketing. They are targeted at inspiring the listeners to take a similar path to climb the ladder to better conversion rates.
The latest episode of this growth hacking podcast brought in Steffen Hedebrandt of DreamData to talk about the '2 B2B Attribution Mistakes That You Should Never Do'.
Talking at length about smart investments in SEO strategies and transforming a business into a successful B2B SaaS company, Shad throws light over various unexplored realms of growth marketing in this episode.
Listen & Grow!
If you have decided to step into the marketing game, it may be time for you to embrace the power of podcasts! Growth marketing podcasts are a great way to learn about the different marketing methods adopted by marketers from across the globe.
They open you up to a new horizon of marketing tricks, hacks, and techniques. Each podcast may be a new realization wherein you will learn to adapt a marketing strategy and customize it to your industry, needs, and customer demographics.
Subscribing to a podcast would only take a few minutes but can guarantee your business an era of success in the time to come. So, why wait? Pick your favorite from the list we've curated for you.
Subscribe to our newsletter
Recieve such insightful content on Design & Marketing every month!
Thank you for subscribing.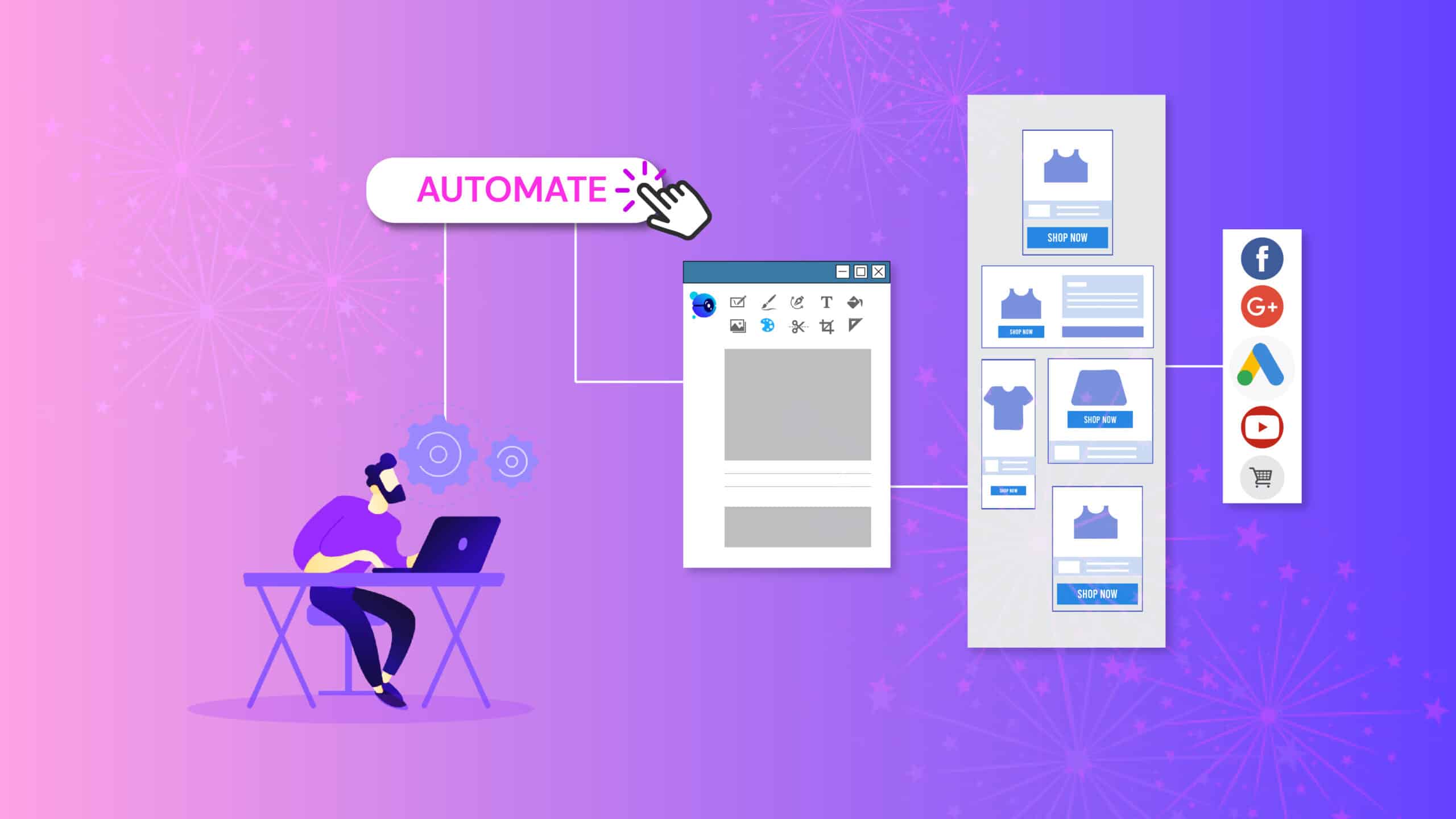 Creative Automation for Design-Led Growth
Automate the creative production process with templatized creation, feed-based scale, and multi-point integration
Book a Demo