One of the strongest trends in social media marketing and marketing in general in 2018 was the use of video. There are good reasons for this: some figures suggest that up to 90% of consumers make buying decisions based on videos. Recent statistics also show that marketers who use video grow revenue 49% faster than those who don't.
This trend has seen the prolific use of video on social media by brands and businesses big and small this year. This year we have also some incredibly creative and innovative examples as marketers step up their game when it comes to video marketing.
In this article, we will take a look at some of the trends of video on social media we saw in 2018, and some of the outstanding examples of great video marketing we saw this past year.
SEE MORE: DIY Explainer Videos for Your Product
Live Video
Live video emerged a couple of years ago, but went from strength to strength in 2018, making it a deserved inclusion on this list of top social media video trends of the year. Instagram's inclusion of a live video streaming feature added to the opportunities which already existed through other platforms, most notably Facebook.
Brands have found that live video is an incredible marketing tool, offering a unique opportunity for a personal interaction with their followers. Live video allows businesses to present a more personal side of themselves. Letting their audience in can have huge pay-offs – people want to know who is behind a brand, and love when they make themselves appear vulnerable! Being live on video is one of the most authentic forms of communication we have, the only way to top it would be to meet in person face to face.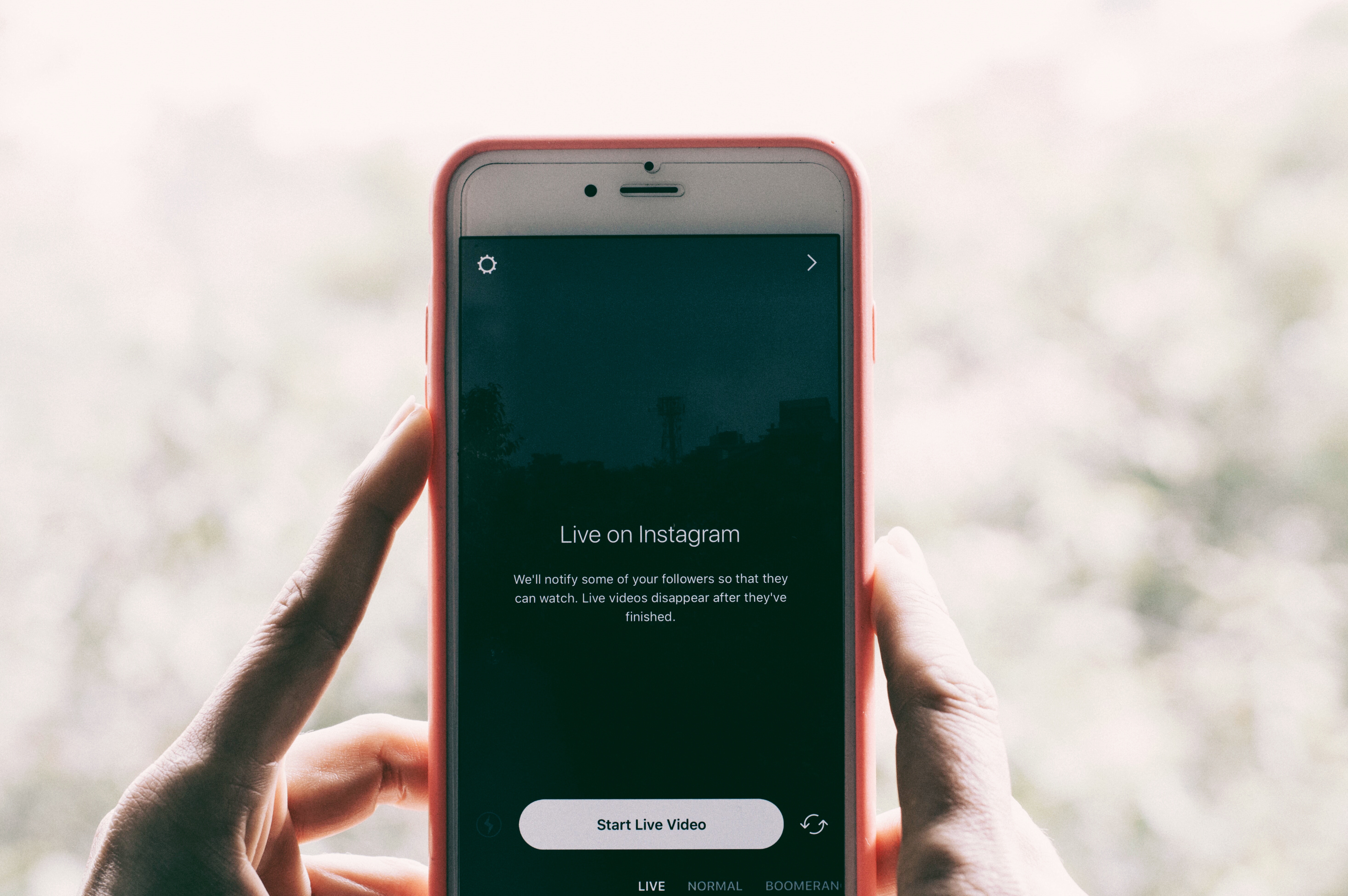 Live video also has the advantage of being virtually zero-cost to produce: there are literally no production or editing costs. It has also been proven to be effective at engaging consumers: users on average watch live videos three times longer compared to ordinary video on social media.
Vertical Video
Vertical video was a big part of the social media landscape in 2018. This is not surprising given that the majority of US users access social media on their mobile phones, and reportedly prefer to hold their phones upright when watching video. All aspersions about consumers too lazy to turn their phones 90 degrees aside, this trend has seen more and more brands move toward producing videos in vertical formats.
This trend has even been acknowledged by social media platforms, with Facebook updating their default video orientation to vertical in 2018. Facebook also introduced its "larger rendering" of vertical videos this year, after its research found that people were more likely to watch larger rendered, vertical videos for longer, and with the sound on.
SEE MORE: How to Supercharge Your Marketing Funnel with Videos
Social Media Video Example: GoPro
This camera company is legendary with adventure travelers, extreme sports enthusiasts, and adrenaline junkies. The brand makes good use of Instagram videos which play to this audience base, using GoPro footage showing amazing feats in fantastic landscapes. This approach is also effective because the first person camera perspective makes it a highly personal experience for the viewer, as well as adding to the suspense. This makes it almost guaranteed that users will watch the video all the way through – which is, after all, the holy grail of video marketing.

2018 has seen video really come to the fore of social media marketing strategy. Businesses are quickly realizing the power of video to engage, entertain, and most importantly convert users, whether through humor, live video, ephemeral videos or bite-sized chunks of video content. This year we have seen brands increase their use of video across multiple social media channels, as well as strongly moving toward vertical video. Thanks to online tools, it has never been easier for even small businesses and micro enterprises to create their own videos, and get in on the trends of social media video marketing.
Multi-Channel Approaches to Video
Another trend we have seen in 2018 is the pull towards using multiple channels or platforms for video marketing. YouTube has long been the platform of choice for marketers and business to promote their business through video. A majority of marketers continue to use YouTube. However, they are now combining this with posting videos on other channels also.
SEE MORE: Free Video Templates for Listicle Videos
The vast majority of marketers are posting videos direct to Facebook and Instagram (through the Instagram Stories feature), as well as on YouTube. Native videos on Facebook, videos posted directly to the channel rather than uploaded elsewhere and shared via a link, have become increasingly popular because they will automatically start to play as users scroll through their newsfeed, and therefore capture their attention.
Social Media Video Example: LinkedIn
One of the great examples of effective social media video comes from a social media platform itself, LinkedIn. LinkedIn's "We're In It Together" campaign is also a great example of marketing tapping into community building. Community building is one of the most effective techniques for building a strong customer base with high-value, repeat customers.
In its campaign, LinkedIn connected with their audience, encourage interaction, and fostered a sense of community by asking a question: "What are you in it for?". The campaign used social media posts, blog posts and videos, all with the #InItTogether hashtag to spread its message, generating great buzz and media exposure. The engagement and community building aspect of the campaign was well executed, with LinkedIn asking their members to generate their own posts and videos, in great use of UGC (user-generated content).
Use of Humour
This may not have been a new trend for the year, but 2018 certainly saw a continued emphasis on funny videos in social media marketing. A 2018 consumer survey showed that 71% of social media users watch videos to have a good laugh, making it the number one reason users choose to watch a video. This is also supported when you see that humor site 9gag was by far the top video creator on Instagram in the first quarter of 2018, meaning that its videos received the most comments an likes.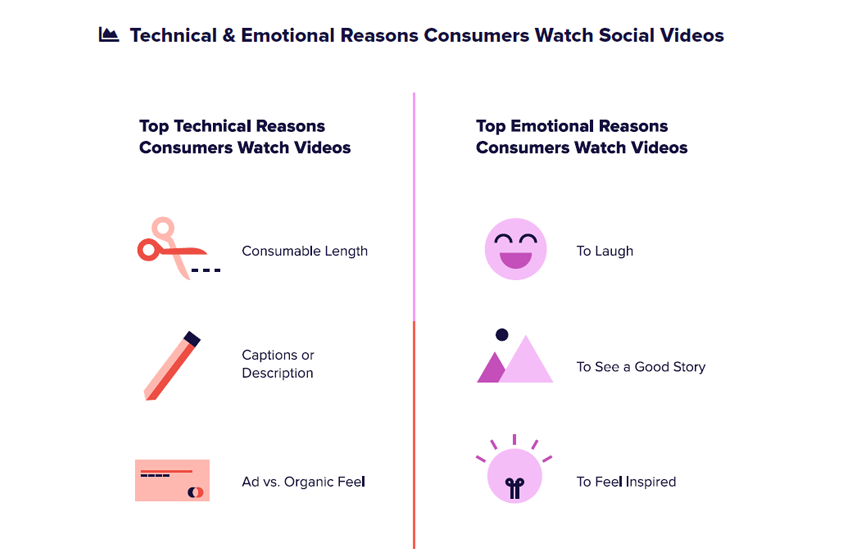 In marketing terms, this has translated into brands using humor as a device in their video marketing to engage and entertain users. Funny videos are a great way to capture consumer attention and from there communicate a message. Brands can also build their image and strengthen relationships with their customer base by simply producing or posting funny videos, even if they do not have a strong sales pitch or call to action.
Social Media Video Example: Casper
Casper is one of a growing number of direct-to-consumer mattress companies. The business effectively set itself apart from its extensive competition in 2018 through an innovative, social media-based video ad campaign. Their "Internet Pillow Fight" video was posted on social media and its own site and was a creative and incredibly fun way to engage users, encouraging them to join in on the online emoji pillow fight.
In-House Video Production
Thankfully for smaller businesses with marketing budgets which are a fraction of the spending power of big brands, it is now cheaper and easier than ever to create your own video content. Previously creating video meant having access to a full creative team of videographers, editors, sound editors and graphic artists. This meant that in-house video was pretty much exclusively limited to big brands and companies.
With tools like Rocketium, anyone can now make videos with literally no design experience, opening this medium up to business owners and marketers who previously could only dream of including original videos in their social media marketing strategy. Additionally, the growing gig economy means it has never been easier to hire a freelance copywriter, designer or other skills you may be missing, at a bargain cost.
This has meant that more and more businesses are not simply sharing videos, but producing their own, allowing greater opportunities to engage with their audience and drive sales.
Bite-Sized Storytelling
As users' attention spans shrink more and more, their appetite for videos is now limited to very short bites. In most cases, viewers will click away (or continue scrolling) after watching a video for just a few seconds. This is thanks not only to our increasingly fast-paced lives but also the change in people's social media habits. Rather than spending hours browsing social media, users are more likely to jump on and off social media as they go about their day, through their mobile devices.
Brands have responded by tailoring their storytelling to a series of bite-sized videos and micro-moments. The best examples of this in 2018 have managed to capture attention, engage with their audience and communicate a message within a very short period of time. In some cases, effective storytelling has been achieved by building the story through a series of very short videos.
Social Media Video Example: Intuit
Intuit is a Calfornia-based tech company specializing in SaaS (Software as a Service). They turned to video when confronted with the challenge of explaining their complex services and offerings to a more general audience. In particular, they needed to communicate that their products worked best when used together. The result was an animated video ad which the company rolled out through social media.
The video was not only effective in explaining complex concepts using animated storytelling, but it also is highly engaging and entertaining, as evidenced through the video's 20 million views just on YouTube. This is absolutely key when it comes to capturing your audience's attention for long enough to explain complicated ideas and get your message across.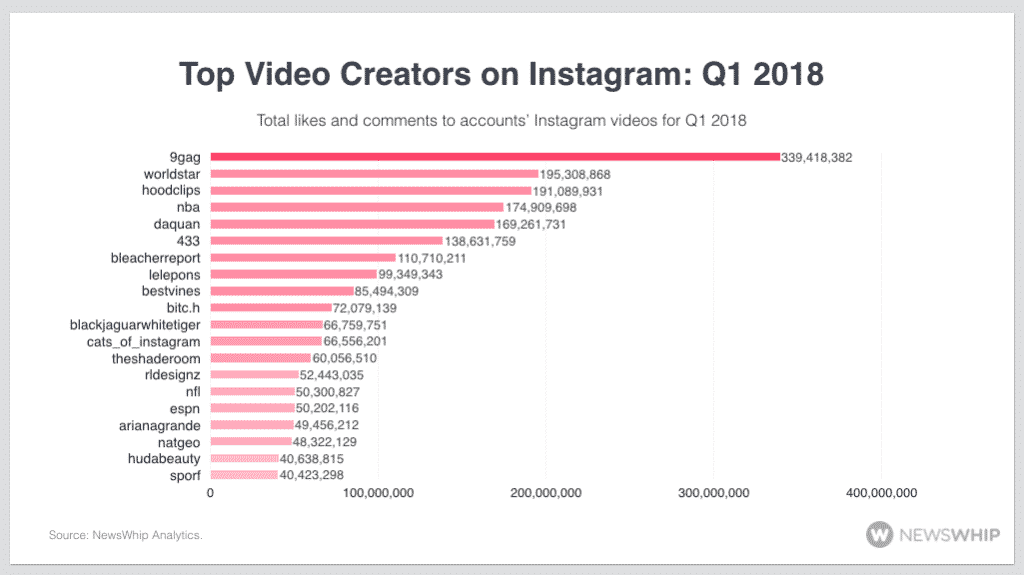 Ephemeral Video Content
2018 has also seen a trend towards "ephemeral" video content on social media: that is, videos which are available for a short period time before disappearing. This type of content has long been available through Snapchat, and is really one of the key elements of that platform. The introduction to ephemeral content on Instagram in the form of Instagram stories saw this format take off, with the 250 million daily users using Instagram Stories quickly eclipsing the 173 million total daily active Snapchat users.
SEE MORE: Easy Video Making Tool for Social Media Marketer
The remarkable thing about Instagram Stories is not just the number of people posting stories, but also the level of engagement it delivers for businesses. Brands are seeing incredible engagement from users, with Instagram Stories delivering high levels of likes, comments, and even direct messages. As a relatively new medium, this has great potential for growth as a way of reaching consumers and growing a customer base. This is strengthened by Instagram's functionality, which allows users to chat within photos and videos, as well as sending direct messages.
Social Media Video Example: Oreo
Oreo is a big brand which understands the accessibility of social media videos. Oreo has gotten a reputation this year for its simple and creative Instagram videos. Oreo's Instagram videos are effective thanks to their simplicity which stands out on a noisy newsfeed.
The other strength of the brand's videos is that they work equally well with or without sound. Although the videos are fitted with great sound to further engage users who are watching with the sound on, they do not require sound to be understood. This is important to consider for social media video marketing in general, because platforms like Instagram will not play video sound if the user's device is on mute, and Facebook, for example, mutes all videos by default. Therefore, the videos with most reach are those that do not require sound, or that will engage users instantly and encourage them to turn the sound on.
Studies suggest that 2019 is going to be the year of video marketing. Make the most of this revolution with Rocketium. Marketers can create videos without any experience in video production.