Once upon a time, generating traffic towards your site was largely dependant on writing great web copies. Nowadays, while content is still evidently relevant, the general audience's preference when it comes to learning and consuming content has shifted to videos.
You can stop someone at the side of the road, make them choose between reading a full block of text or watch a short video, and all things considered, the person will surely choose watching videos over reading. This is largely because of digital overload that has, in part, caused people's ever-shortening attention span.
The bottom line, however, is that you have to face the facts. You either adapt and start utilizing the preferred medium, or be left behind in the dust by your competitors.
Successful traffic-driving lead-generating YouTube titles will use a combination of some or all of these steps. Remember to:
Consider how YouTube ranks videos on search engines,

Make use of search suggestions,

Count characters in the video titles,

Use the word "video" in video titles,

Be descriptive, and

Clickbait
YouTube video marketing statistics
As the second largest search engine in the world, YouTube has cemented its name in world history as one of the most relevant websites around. And these stats — gathered from trusted sources — prove it.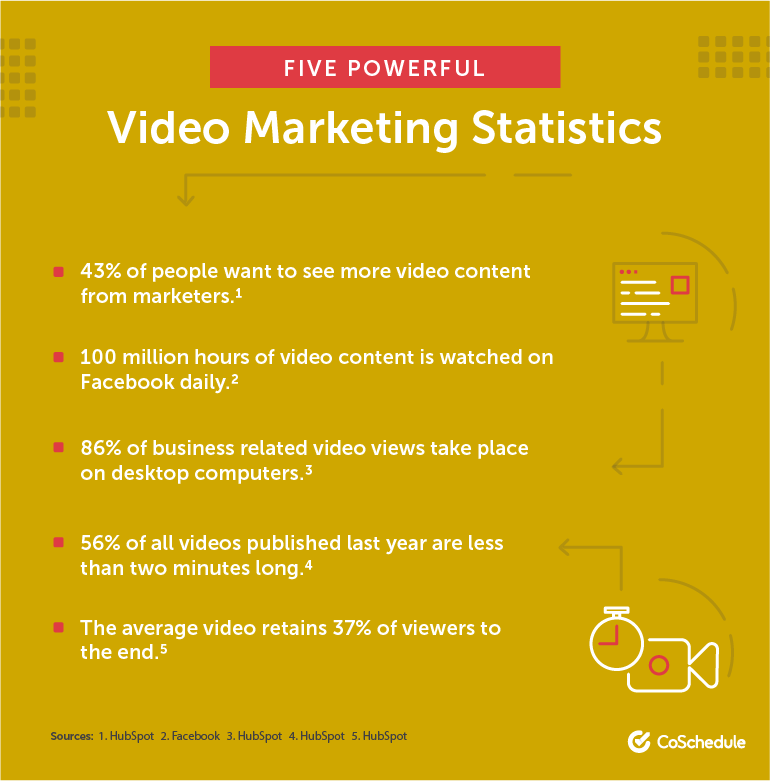 One minute of video is worth 1.8 million words. (Forrester Research)

78% of people watch online videos every week, and 55% view online videos every day. (HubSpot)

By 2020, online videos will make up more than 80% of all consumer internet traffic (85% in the US). (Cisco)

Users view more than 500 million hours of video each day on YouTube. (Business Insider)

59% of executives say they would rather watch a video than reading a text. (Wordstream)

55% of people pay close attention when consuming videos — more than all other types of content. (HubSpot)

In the past 30 days, more online video content has been uploaded to the web than the past 30 years of TV content. (Blue Corona)

Viewers retain 95% of a message when they watch it in a video, compared to 10% when reading it in text. (Wirebuzz)
The savvy marketer sees this as a potential to generate more leads and drive traffic to their landing pages. So it's no surprise why companies have long ago begun the practice of optimizing their YouTube videos.
And when it comes to videos, where do you think content optimization for it starts? Why in their very titles of course! The catchier (sometimes clickbait-y) your YouTube video titles are, the chances of topping on search engines become more likely. Just take hints from YouTube's biggest influencers.
Oh, and BTW, if you're looking for some marketing strategie for your business, check out this really helpful list created by our friends over at Wayward Kind.
You often hear the importance of a catchy title being drilled into marketer's minds over and over again. It's on every how-to post. But how, exactly, do you create a YouTube title that drives your target audience?
How do I create a catchy title for YouTube?
Let's be real. When we say video marketing on YouTube, it's all about getting the views. And the first thing our eyes see when we type in our needs on the search bar on YouTube is the title — and then the thumbnail.
Like it or not, your YouTube titles make or break your video marketing. The title of a video helps shape your audience's decisions. It makes them subconsciously ask questions like:
Is this video going to be worth my time?

Will this video answer my questions?

Is this what I'm really looking for?
To ensure what your audiences really need to see, you have to do more than optimizing your YouTube videos as a whole — although we can all agree it's a gigantic factor. Sometimes, you need to pay attention to how your search-engine optimize your video titles as well.
1. Learn how YouTube SEO works
First and foremost; in order to create a successful YouTube title, there is a need for you to understand how YouTube ranks the videos that will show up on top of search engines' search results.
When we say YouTube success, many people automatically define it according to the number of views it gathered. But, truth be told, video views aren't as significant in the bigger picture as people would like to believe.
Views are an outdated method of measuring YouTube video engagement. Your one video can have thousands of views, but if no one is actually watching it — from start to finish, the video's ranking will plummet in search results.
At the end of the day, YouTube is business, and ad revenue is what keeps it alive. Ads are the bread and butter, so this famous search engine can survive. To generate income, YouTube needs to get ads in front of viewers. Through total watch time, comments (genuine; not spammed ones), shares and embeds, as well as likes or dislikes.
Sometimes, you need to serve YouTube's interests. That means holding viewers' elusive attention for as long as possible.
So how else does YouTube rank your videos?
In addition, keep in mind that your viewers aren't particularly fond of irrelevant content. Make sure your title delivers. Audiences want a productive experience, and publishing mediocre and poorly researched content is your one-way ticket to failure.
2. Add search suggestions to your YouTube video title
Everybody knows about Google's autocomplete function, but while these certainly push you into the right direction, it doesn't mean every autocomplete suggestion is title-worthy. A well-optimized YouTube title should incorporate several of the key search terms, and describe the content of the video perfectly.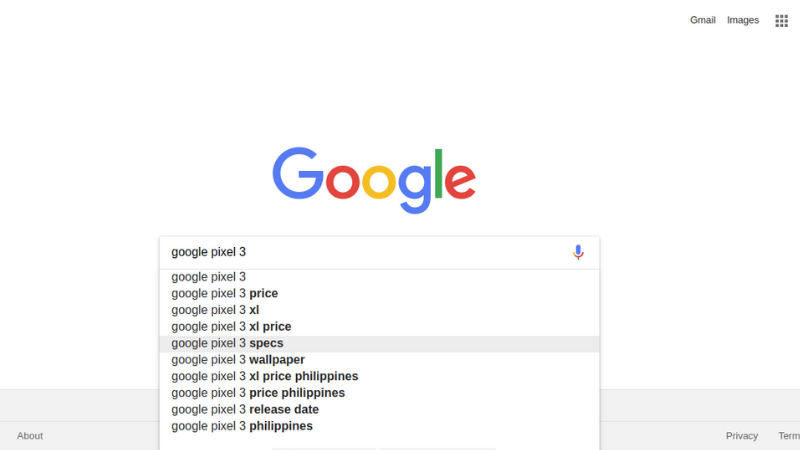 For example, in the image above notice the keywords. The ones that stick-out include Google Pixel 3, price, as well as the specs. This gives you the opportunity to name your video – "Google Pixel 3 Uncovers Price and Specs".
3. Pick your video title carefully
Google shortens page titles somewhere around 66 characters. Create a title that's too long, and you'll find an ellipse tagging at the very end of your title. And moreover, since YouTube automatically adds "YouTube –" to the beginning of every view page's title tag, you'll see that you're already 10 characters down before you even commence.
Why does this matter, you might ask?
There is an evident disadvantage in this scenario. Your target viewers won't be able to see the full title. As a result, they won't be as compelled to click as when the full title is completely visible. It's very evident that your target audience, nowadays, is quick to move on if their first needs aren't met.
4. Use the word "video" in your YouTube titles
A link-building expert at The Search Agency gave Search Engine Land writer Drew Hubbard this tip years ago. Searches for videos on Google always include the word "video."
The concept is so simple, and so trivially obvious that it confounds you. How did you not come up with that sooner? And it makes perfect sense, doesn't it? When you look for videos on Google about a specific topic, you also type in the word "video" in your engine searches.
Including the word in the title of the YouTube video vastly increases your view page's relevancy when a certain user's query contains the word "video." Remember, however, that this tactic works better when you target searches on non-video search engines; like Google, Bing, and others. People who lurk around YouTube won't use the word "video" in their searches because it is already strongly implied.
5. Be descriptive
When I say, "be descriptive," it doesn't immediately translate to having a full 200-character long description as the video title. Now that would just be plainly ridiculous. When you look at it now, this kind of logic is a no-brainer. But sadly, it's a common mistake most people make.
Creative and mysterious titles are great, but you might want to hold off on those genius ideas for a bit. Remember that most of your viewers will have absolutely no idea what your video is going to be about. The only clue they have, for a lot of the time, is the YouTube video title and a customized thumbnail image.
Use the title to very quickly summarize what the video is about. For example; instead of just entitling as marketing, try Digital Marketing Video for Beginners. You not only describe the video perfectly, but you're also telling your audience: "Hey, this video is for beginners into the field of digital marketing."
6. Consider YouTube clickbaits
And last, but not the least, take a page from big YouTubers' books and do some clickbaiting. It's true that there are people who won't appreciate you luring them into your "trap," but then again, you have to do what needs to be done.
Clickbaiting can end in two ways: either your clickbaiting was successful and you generate engagement from your audience, or the entire scheme comes crashing down and your video gathers nothing but ridicule for wasting your viewers' precious time.
Evidently, one way to use clickbait successfully is to couple your outrageous YouTube title with incredibly well-written content and superb video production techniques. When it comes down to it, clickbait isn't what truly matters, it's the content that does.
The only purpose of a clickbait title is to attract and snag your elusive audience's attention.
The Takeaway
Just like every process or campaign circulating around the internet, crafting ingenious YouTube titles take brainstorming and lots of patience. It's a balancing act. Everything has to be just right — like Goldilocks' porridge. With video as the imminent future of content marketing, now is a good time as any to start honing your video marketing skills.