By now, the supremacy of mobile apps for ecommerce is well established. Native apps drive 3X more sales than their mobile web counterparts and in-app transactions continue to grow 22% year-over-year. Additionally, time spent in-app is on the rise with US mobile users spending a whopping 2 hours 55 minutes on mobile apps, every day. But, it is still a challenge to ensure users actually use your app once they download it. In this article, we will share 10 ecommerce optimization tips to increase in-app conversions. Keep reading for better ecommerce optimization to get higher conversions and boost in-app sales.
1. Ecommerce Optimization Using Smart Banners
Smart banners are one of the biggest sources of app installs for Ecommerce players, often accounting for up to one-third of all install traffic. Drive high-intent users to your native app with smart banners that are visible at the top or bottom of the screen. When users click a banner, the smart link automatically opens up the app if it is already installed or leads them to the app store page prompting them to install the app. In a recent case study, Indonesian company Bukalapak, reported a 5X increase in daily app downloads and 2X increase in conversions within the app, by implementing smart banners. Smart banners are an important strategy to consider while performing ecommerce optimization. Below image shows an example of smart banners used by Walmart to promote their mobile app.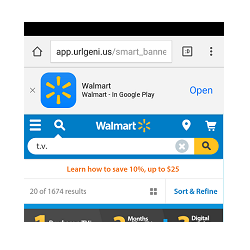 2. Ecommerce Optimization Using Deep Linking
Deep Linking creatives is another way to ensure superior user experience and increase conversions. With deep linking, users are taken directly to a specific product page within the app, instead of the homepage. For instance, this Under Armour creative directs potential customers to a specific product page. Doing so ensures that the users don't have to spend any time searching for the pair of shoes that initially caught their eye.
Our insight is validated by India's leading online lingerie retailer Zivame. Anuj Gupta, Chief Revenue Officer, at Zivame, told Rocketium that, "While Zivame generates 70% of its overall revenue from their mobile app, their homepage drives less than ~50% of this revenue. We see more transactions and better conversions happening when users are taken to specific product pages on the app." Don't forget to adopt the deep linking strategy to see a dramatic increase in efficacy for your paid campaigns. Furthermore, deep linking can drive engagement even for organic communication, across platforms.
3. Refresh Your In-App Creatives Often
Customers today are fashion-forward and trend-conscious like never before. To keep customers coming back to your app, make sure that you have something new to offer every time. You can highlight season-specific deals and offer attractive time-bound discounts via creatives that are refreshed often.
Deepa Swaroop, Category Head, Online Properties Future Group, India's leading fashion and grocery retailer, gave Rocketium an insight into how this works in an interview, saying, "In-app creatives are refreshed every three to five days in our line of business. Category Heads and the Brand Team sit together to create a weekly promotional calendar. Every month there is a new agenda. e.g. end of Jan would signal the start of our Spring Sale with new promos being created to push fresh stocks, whereas a separate campaign would be created for items for products on clearance. These special deals and discounts are tailored keeping in mind new arrivals, current inventory, category and brand-specific sales targets, our P&L strategy and a host of other factors."
4. Use Design Automation Tools To Build Stunning Banners In Minutes
Busy category managers are facing stiff targets at large Ecommerce companies and multi-category marketplaces. In such a scenario, a quicker turnaround time, with more creatives being generated in-house is priority. Deepa Swaroop goes onto say, "We would prefer a faster turnaround with new creatives being made every other day, however, design resource constraints and the time taken to revise creatives — keeps us from accelerating the frequency of messaging."

Even if you don't have a large design team to churn out banners to highlight the deal of the day you can leverage the power of automation using the software. Rocketium's Banner Builder tool allows you to be agile ecommerce marketers, category managers, and product managers. Create professional-looking banners in a matter of minutes, instead of reworking creatives for days. Banner Making Tool will help you chase ambitious conversion targets and ease your design team's workload.
"An automated display banner builder can be a big time saver and a great tool for people who are chasing better numbers on the P&L" — Deepa Swaroop, Category Head, Online Properties Future Group.
5. Ecommerce Optimization Using Personalized Offers
In-app advertising allows you to create dynamic and personalized offers to suit user demographics and a host of user data. There are many examples you can look at. For instance, Yelp invites you to fill out a quick 60-second survey to be able to offer highly personalized recommendations the next time you dine in.
Yelp's new personalization engine uses information, such as your current location and time of the day to suggest experiences. These recommendations are tailored to suit your needs. Read more about their personalization story, here.
Most of us take along a friend when we go shopping in real life and ask for their opinion to make a decision before we buy things. Ecommerce apps can encourage online shoppers to mimic this behavior. They allow users to share products with their friends and family and ask for feedback. This insight works across categories. In 2016, dating app Tinder began letting users share a profile with their friend so they could get feedback before they decided to swipe right. Soon after, Bumble followed suit.
In the context of fashion, personalized fashion discovery platform, Comb, makes it super easy for users to share products with their friends using a variety of channels. These channels include SMS, WhatsApp, and Facebook Messenger. Upon clicking, your friends are shown a customized onboarding screen for easy login and prompted to install the app. They are then taken straight to the product shared with them so they can offer feedback.
7. Leverage the Power Of App Referrals
You can employ this content sharing strategy to also drive customer referrals. Offer in-app credits, cashback and discounts on products to users who recommend your app to friends and family. Generating referrals from existing customers is a great strategy to drive app installs and higher conversions. Because people are 4X more likely to make a purchase when recommended by a friend. Customers acquired through this channel also have a higher retention rate. For instance, DoorDash a US food delivery service offers a $7 reward for every friend who completes a delivery worth at least $20.
Remember that 83% of customers are willing to refer after a positive shopping experience, so make it super easy for them to do so with visible buttons and clear CTAs. Customers are 16X more likely to share when a CTA appears on their post-purchase page, so think carefully about how and when you prompt them to take action during their overall in-app journey.
8. Ecommerce Optimization Via Social Proof
New visitors may not become customers the first time they browse through your listings or download your app. You need to earn their trust first, and adding Social Proof can help.
Social proof is a psychological theory proposed by Dr. Robert Cialdini to describe our natural tendency to value the opinions or actions of others to inform our own.
Social Proof validates a customer's choice and helps them more inclined to invest their time, money and resources. It is a powerful tool and it works, which is why the biggest brands in the world, like Amazon, WordPress and MailChimp use it to sell to their customers.
9. Create FOMO and Nudge Your Customers To Complete Purchases
There are a variety of ways in which you can use the psychology behind Social Proof to your advantage. Apps like Nudgify gently nudge potential buyers towards purchase by showing a different message for every page type to correspond to your user's journey, and the app FOMO displays recent orders and product reviews to push sales.
Popularity Nudge – Harness social proof (28 people recently viewed this product)
Order Soon Nudge – Create urgency (For delivery tomorrow? Order in 1h 32mins)
Low Stock Nudge – Nudge hesitating browsers ('Order now! Only 2 left in stock')
Custom Nudges – Get creative (E.g, price guarantees to special offers)
Get more tips on using customer testimonials, and user-generated content to generate Social Proof and push conversions here.
10. Speed Up The Checkout Process
On average, the rate of cart abandonment is 68% for ecommerce retailers. Streamline your checkout process so it is more convenient for users to transact and close the purchase. You can allow guest checkout, enable users to store their credentials to automate future authentication or let customers repeat a previous order.
For instance, Dominos prompts users to take action with their 'Quick Order' feature to make it easier to order pizza, whereas Chipotle makes it easy for users to find and alter their previous order, for faster checkout.
We hope that you found these 10 tips useful to increase customer engagement and drive up conversions in-app. Stay tuned for more actionable advice on driving ecommerce sales. Do share this article with your peers and give us feedback by commenting on this article.