What's better than acquiring 100 new customers a month?
That seems like a simple question, but the answer isn't "acquiring two hundred customers." It's retaining the existing ones.
Often, businesses dedicate more resources to acquiring new customers than finding innovative strategies to better engage with their existing customers.
It is important to note that the cost to acquire more customers will always be more than the cost to retain them.
But the fact is, customer retention comes with its own set of challenges. Across all categories, the average churn rate for app users is around 80% within ninety days.
While retention can be challenging, efforts put into building a well-planned customer retention strategy will ensure the sustainable growth of your business and help create more loyal customers.
We teamed up with Growthfolks, India's largest community of growth enthusiasts, to host a three-part series called "Growthshops: Unlock Growth Experiments." This blog will highlight tried and tested examples of customer retention strategies from the second session by a growth marketer with vast experience setting up and scaling startups – Yatin Garg, Director of Growth, CashKaro (Ex – Shuttl, Jabong).

3 Factors that Contribute to a Successful Customer Retention Strategy
Customer retention is an output. To build a customer retention strategy, you must understand and improve the three inputs that contribute to successful retention:
Activation
Engagement
Resurrection
Activation
" Activation means connecting the user to the core value proposition of your product – making them experience the Aha! Moment and experiencing that for several times till a particular period."
Most of you would've played Super Mario Bros as a kid, and when the Fire Flower popped up, you weren't excited because it had big green leaves, or you could get it simply by walking over it. The excitement came from knowing that once you got it, you would become Fire Mario – giving you the ability to throw bouncing fireballs.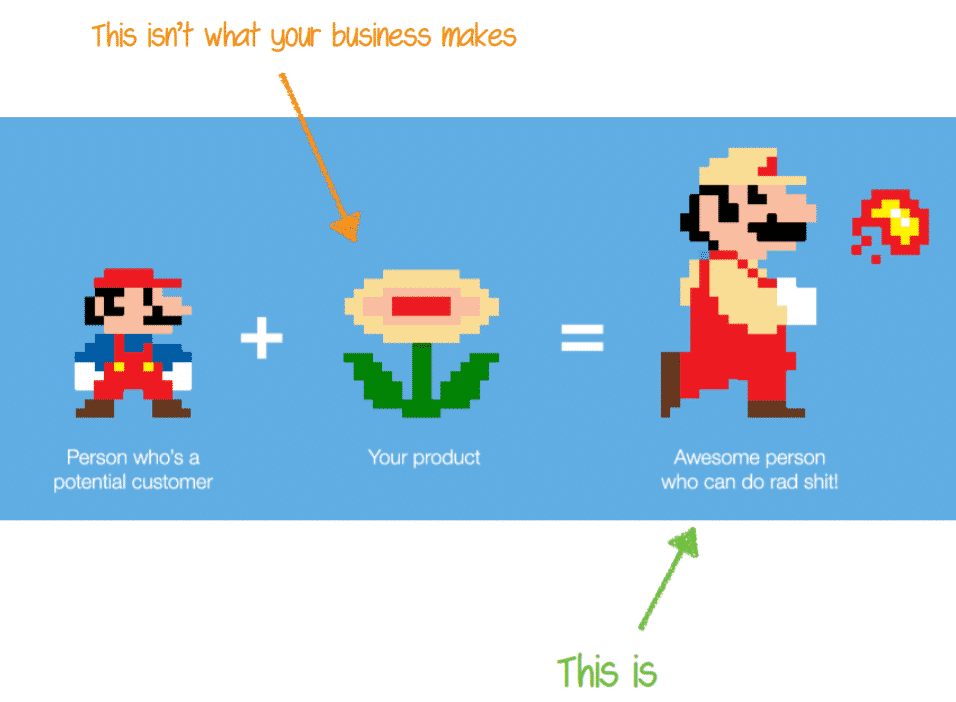 Your product (the flower) and its features (green leaves, easy to pick up) are not sources of excitement for your customers.
The dopamine effects come from them knowing how awesome it would be once they experience the product.
You want your entire onboarding process to communicate that "awesome-ness" and at each stage help elevate customers towards the fire-hurling giant they want to be.
You do that by conveying the value proposition to your customers very well. "How can I do that?" and "How can I ensure that the customers have understood the value proposition?" are questions a growth marketer should answer when they look at activation.

Point to Note for Activation
"Understand what the core action that a user should take is, and answer how they are doing it over a period of time."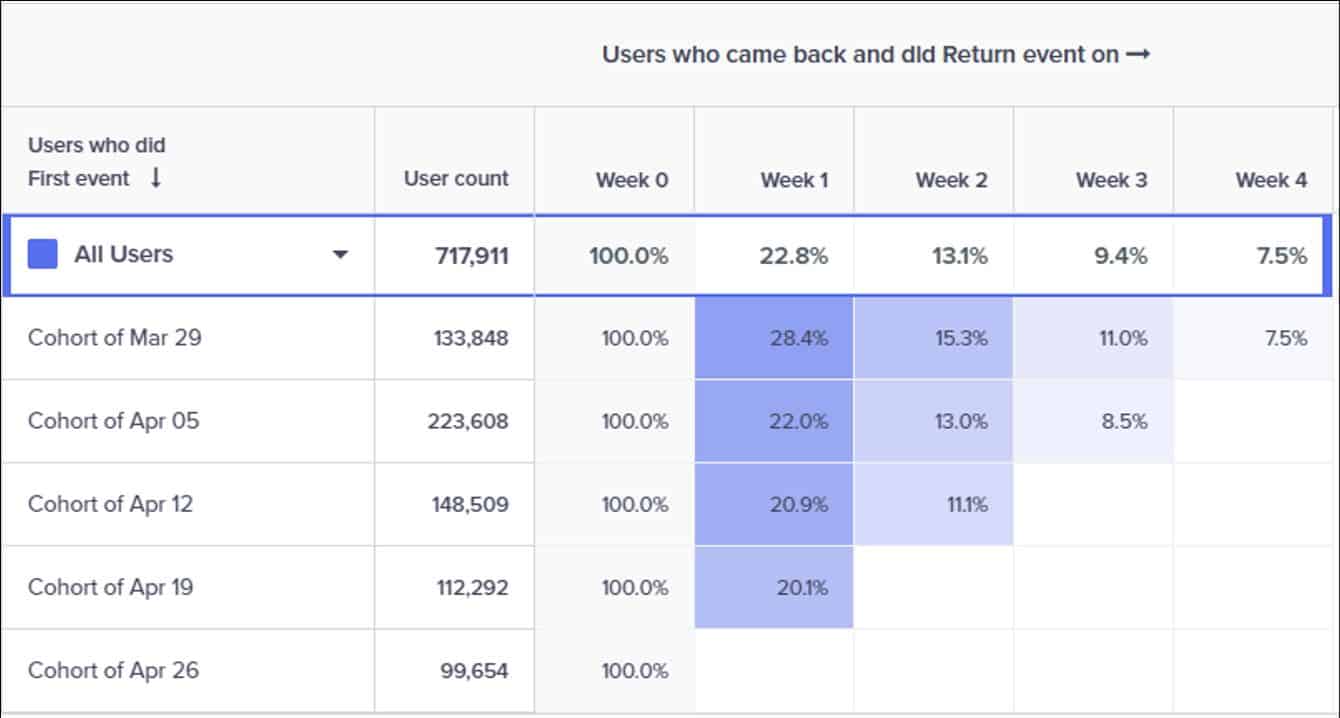 The above image is a representation of cohorts of users who did a core action.
Let's say for an eCommerce platform, the core action is a transaction made by the user. Find out when he/she makes the next transaction.

Note: The core action will vary depending on the nature of your business. For instance, the core action for a hotel business would be booking a room for a night.

Whatever the core action is, understand how the user is doing it over a period.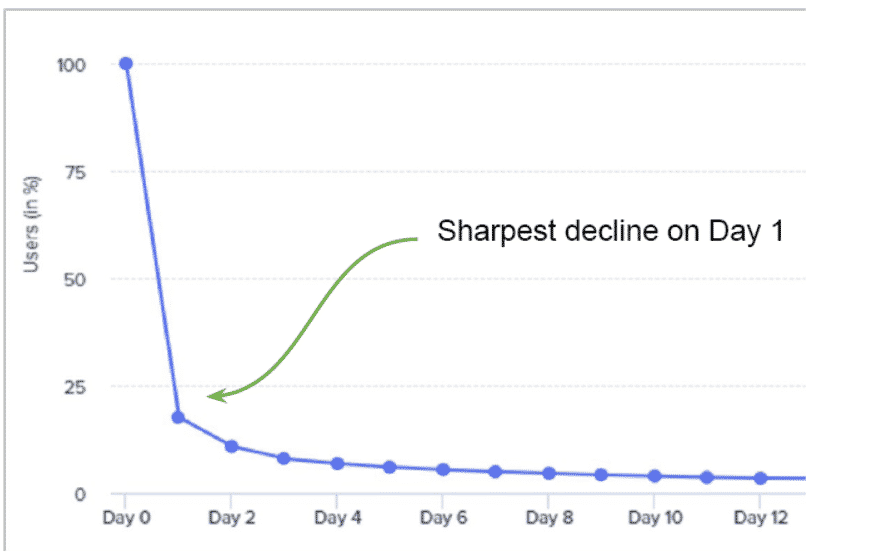 In most cases, the sharpest decline in performing that core action happens in the initial one or two days.
This decline is an indication that something is wrong with onboarding.
If you can do a significant delta at this point, then you would see a cascading effect that would stabilize or even lift the curve.
In short, your customer retention strategy should focus on improving the initial experiences of the user to lift the curve.

4 Ways to Improve Activation
1. Understand the user's intent through interviews, surveys, etc.
Interact with your customers and understand the problem they wanted to solve. To do that, you need to know who to interact with and what message to include.
There are four types of customers that we recommend you interact with to get the information you need to improve your customer retention strategy:
Signed up, then vanished
These are the set of users that signed up, did not engage at all, and just vanished. So the plan with them is to understand what they were looking for and the expectations with which they came to your business.
Signed up, engaged a bit but haven't reached the goal yet
For example, these people added a product to the cart but haven't made the final transaction. The plan with them is to understand if they have any questions and answer any of their queries and the central objective they want to achieve.
Signed up and reached the goal recently
Try to understand what motivated them to make the purchase. Another thing to know from these users is what almost prevented them from buying. These users have overcome the anxiety and friction and took the final step. The moment they have done the action is the right time to get in touch with them to understand whether there was anything in the flow that almost prevented the purchase. Doing so unlocks a lot of insights that you can add to your customer retention strategy.
Signed up, engaged but uninstalled
Understand what went wrong, where did you not meet their expectations, and what else could have been done.
"This activity provides a lot of insights, and I have been doing this for a long time. Seldom have I come across a time when I've spoken to a customer and not uncovered a new insight. This activity, though not always scaleable, certainly helps especially for people working on the retention side – I think such customer interaction is imperative."
2. Design an experience for the users and walk them through their goal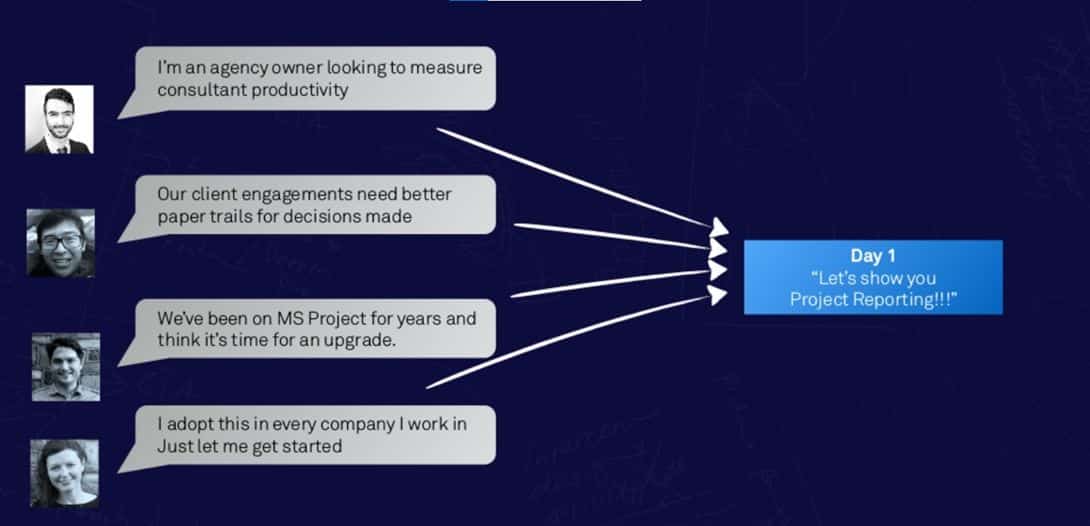 This is what it looks like before you've understood the goals of each user. The idea is to push your business goal to them.
This would be an umbrella message that is not specific to each user and gives a general idea of what you do.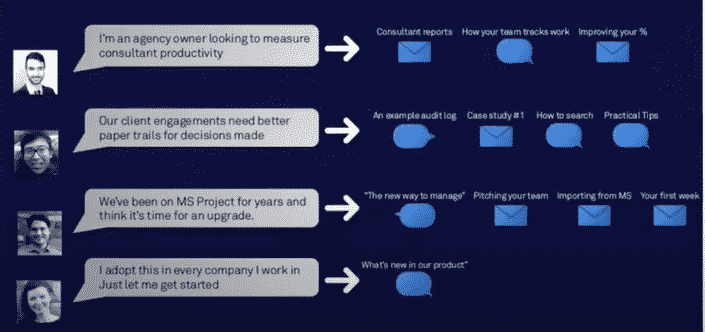 But once you know what each user is looking for, this is what the onboarding could like.
By personalizing the onboarding process, you will help the users recognize that it is designed to achieve their goals. And the rewards for it show up in the form of their retention.
3. Find your "7 friends in 10 days" metric
For those who are not familiar with Facebook's "7 friends in 10 days" metric, it basically goes like this.:
Facebook found that people who reached seven friends in 10 days were more likely to remain engaged with their product than those who didn't. So they spent a lot of time and effort trying to get more people to meet this condition.
We have provided an overview of creating your "7 friends in 10 days" metric below, but we recommend you click here to understand it in detail to create a success metric for your customer retention strategy.

Decide on a success metric.
Aggregate user-level data for a bunch of events that you think would improve the probability of success.
Set up a table to compute the correlation between columns.
4. Remove Obstacles
There are four core principles you need to consider:
Educate Users
For a new user, platform education is key. Onboarding should clearly communicate the value proposition and walk them through how to use the platform.
For existing customers, educate them about the product or new products or features through product walkthroughs, videos, tooltips, etc.
Entice Users
Serve messages in chunks at different steps of onboarding. Tease users with how wonderful life becomes once they finish onboarding. For example:

"When we have to get a survey filled, we mention things like – Hey! Only one minute left or Hey! Last question, and you're about to unlock a reward. That motivation at the right time helps keep the user in the flow."
Reduce Friction

"Wherever you can reduce friction, you would see the results translate to conversion and retention immediately."

You can reduce friction by pre-filling certain forms, limiting the number of choices to help the user make the right choice, breaking tasks into easy steps, etc.
Make Onboarding Productive

"At the end of the day, retention would mean you are changing someone's habit and installing a new habit in place. For that to happen, the idea here is – Can I start giving certain dopamine hits at the time of onboarding itself. It means giving the user a certain reward to make them excited for the usage, and that experience upfront sticks along."
"In the case of Shuttl, we used to give a free ride for users to try on, and if someone was not able to take the bus, we would give another one. Until and unless they have gone through our experience, it is difficult to install that habit in the user's mind."
Examples of CashKaro's Onboarding
Example 1: To Motivate Users and Clarify Value Proposition

Traditionally, CashKaro achieves this objective through simple push notifications, e-mails, etc.
This was a different experiment they tried through push notifications and Typeform that included a GIF-laden interactive onboarding flow. Let's dive into it step-by-step.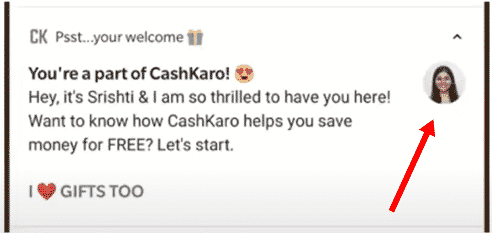 First, a push notification was sent to the user.
It is important to note that they've used an actual person's face in the notification instead of a faceless icon like the logo of the company to better connect with the user.
They noticed that doing so helps them get better CTRs.
Upon clicking the notification, it led the users to a Typeform.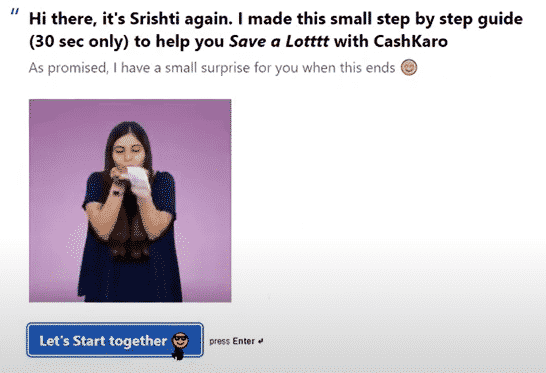 Note: The same person appearing on the notification appears as a GIF in the Typeform.

"This is a very quick onboarding exercise we do with our new customers. It's playful, and the idea is to entertain the user while explaining the value proposition."
On clicking "Let's Start together," it takes the user to a three-step onboarding process.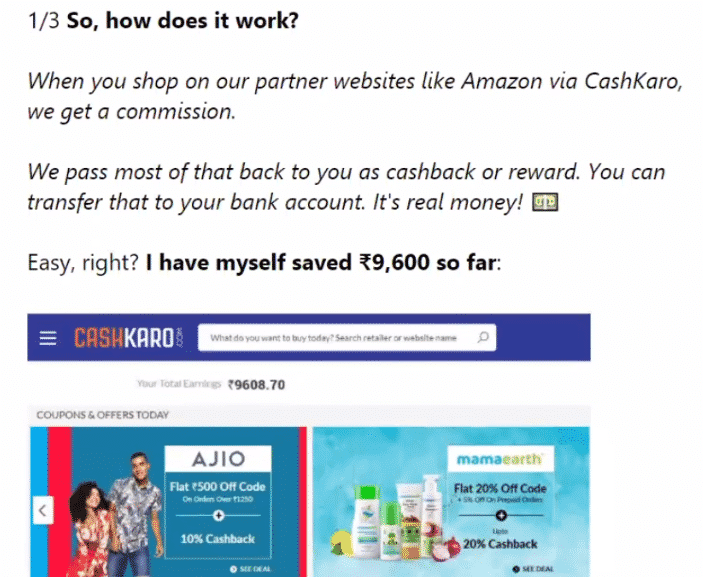 Here, they convey what they do and provide motivation by saying that – I have myself saved XYZ amount.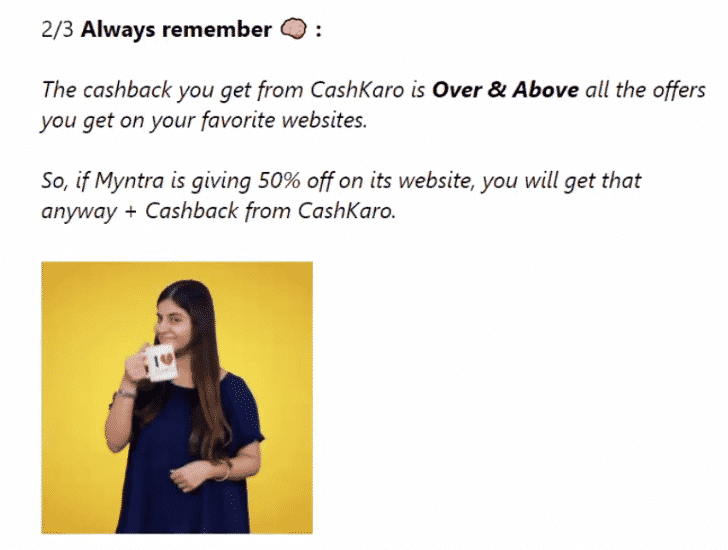 Next, they convey the core value proposition clearly. The content here comes from listening to their customer queries.
"This content is coming from listening to our customer queries, especially the new user interviews, where we find that some people get confused about the value proposition. So picking that up from those interviews and trying to address that up-front in onboarding."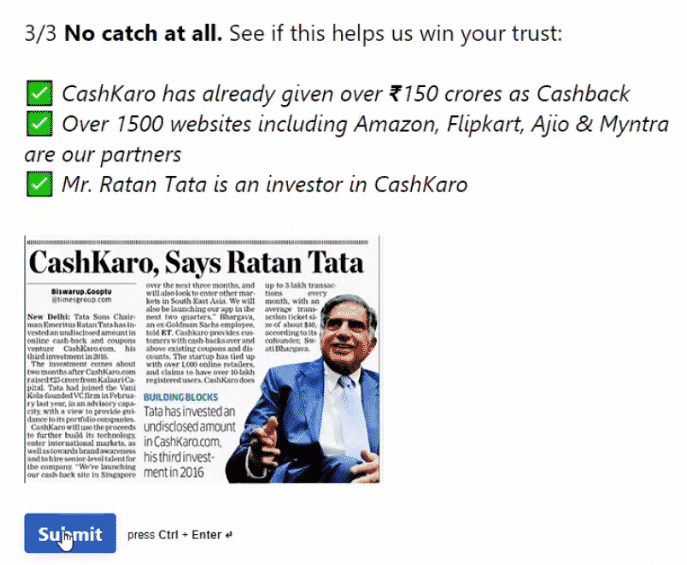 The next step involves solving any anxiety or concern the user might have by communicating facts that evoke trust.
"The idea is to proactively identify and address whatever causes anxiety to the user or the questions a user has in mind."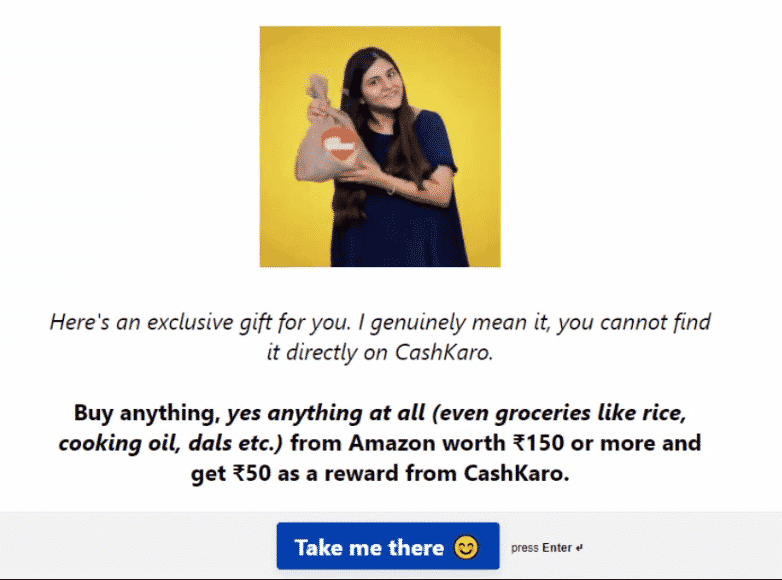 Finally, they provide an exclusive gift – which is a small reward for going through this onboarding process.

Results

This experiment was tested for a very small segment, but the numbers are statistically significant with a 100% confidence interval.
They noticed an uplift of 32% in Activations with this experiment.

Example 2: To Educate Users and Make Onboarding Productive

This is another experiment CashKaro did with their reward structure. The idea here is to educate the users who reach the homepage for the first time by handholding them towards the reward through an in-app notification.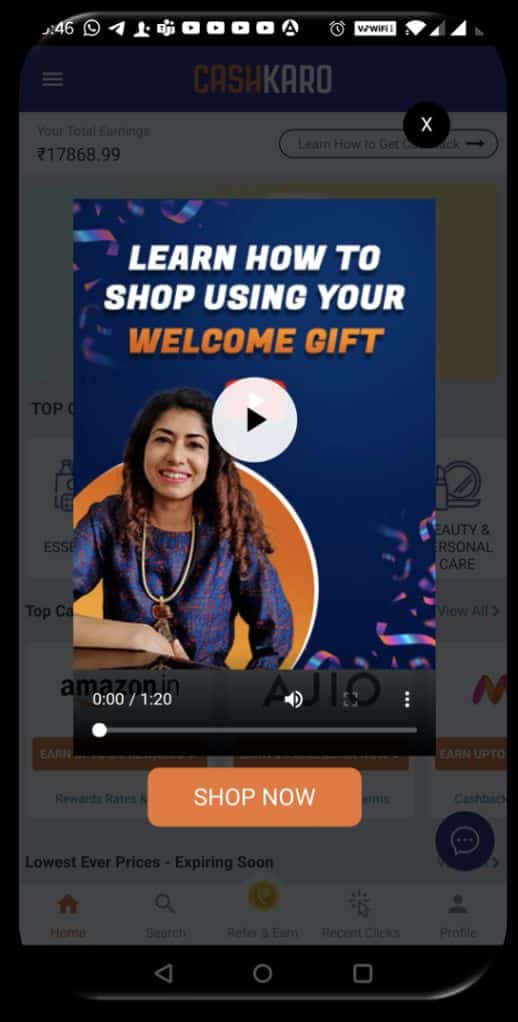 Here, the co-founder of CashKaro takes the user step-by-step through the onboarding process and finally to the reward.

Result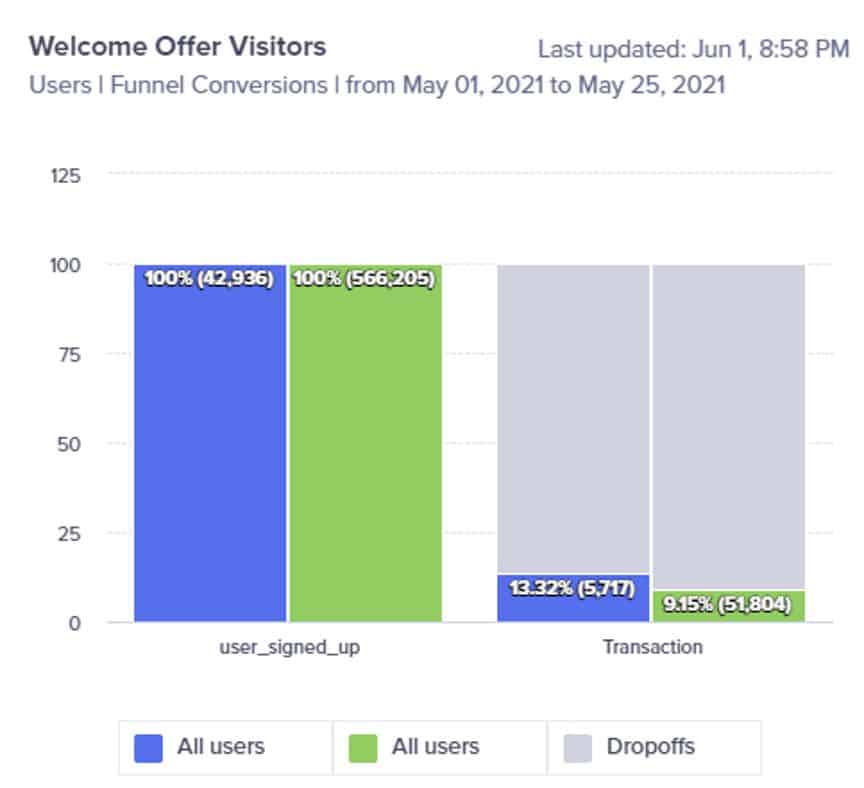 The blue bar represents the set of users that went through this experience and converted at 13%.

The green bar represents users who did not get to go through this experience and converted at 9%.
CashKaro saw an uplift of 46%in activation with this experiment.
Engagement
"Engagement means connecting the user to the value proposition over and over until a habit is formed."
3 Ways to Improve Engagement
1. Refine In-App Content
These are two two store pages that talk about Amazon's offer in the CashKaro app.
The two store pages have content in different formats and were created to serve different purposes.
However, after analyzing their data, CashKaro found that people who visited the right store page had a better exit rate.

Subsequently, they decided the banners on their homepage would lead to the right-side store page instead of the left.
The result was an uplift of 12.5% in conversion. It is important to note that they did not do any product development here but only changed the positioning of their in-app content.
2. Building retention hooks
"The subscription fee (Amazon Prime) was never about seventy-nine dollars. It was really about changing people's mentality so they wouldn't shop anywhere else."


Vijay Ravindran
Ex-Director, Amazon Ordering Systems
Amazon Prime is one of the most successful examples of building retention worldwide.
The idea was that this program would break even in a year, but this did the trick in just three months.
In fact, they have a 93% retention rate after the users have signed up for one year and 98% after the users have been Amazon Prime members for two years.

Building a retention hook is all about finding a way to habituate the user with great experiences or offers so that you can get them used to it.
While developing a customer retention strategy, find ways to create retention hooks for your business.
Building retention hooks also come down to which channel you use to communicate with them.
Yatin explains the challenges amongst the most popular channels – push notifications and emails.
"Amongst the most popular communication channels are push notifications and emails. But they could both be sub-optimal. The challenge with push notifications is delivery. People get an onslaught of notifications every day, so they end up ignoring them most of the time. With emails, the open rate for them isn't great for all sorts of organizations."
So to try a different approach, Yatin and the team at CashKaro chose WhatsApp as the channel and experimented with a WhatsApp bot that was coded in-house.
Example 3: To Overcome Channel Fatigue and Improve Response with WhatsApp Bot

Users who lapsed after initial activity were targeted. The idea was to get the user back by explaining the value proposition again in a fun and conversational manner.

The flow was initiated via a push notification, in-app notification, or e-mails.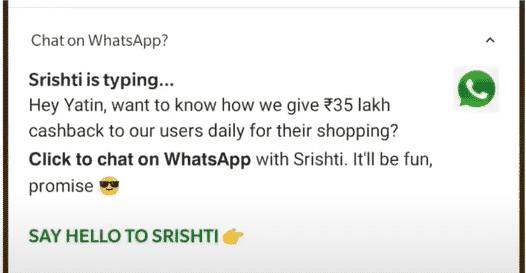 Here, they've stuck with the same principle in the previous example of using the WhatsApp logo instead of the company logo, which improved the CTRs a bit.

Upon clicking the notification, it led to this: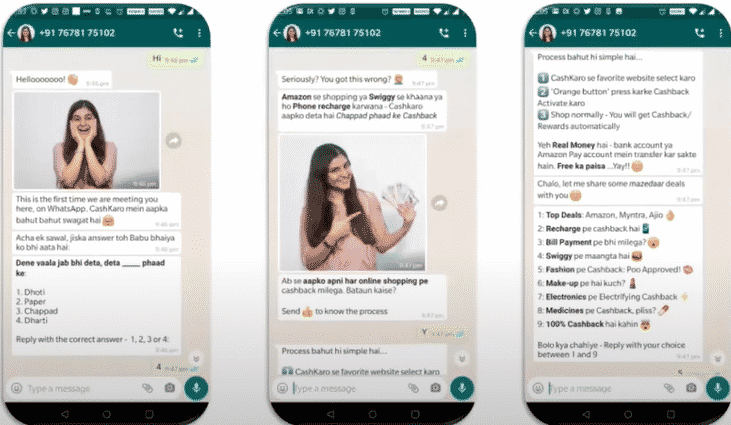 WhatsApp opens, the user sends a message, and the automated flow starts. Here the language and communication style was meant for a certain type of user, and the goal was to make it fun and engaging.

Results


In the case of push notifications, there was an improvement of about 90% in reach.
Conversion, which was about 1.5% in other traditional channels, jumped to 15% through this experiment.
This activity had timeline restrictions since WhatsApp had a few guidelines that they were going against.
This was sort of a growth marketing hack that they tried, and after seeing the results, they're planning to execute it officially.

3. Improve product quality
"Doing small optimizations to communication will only take you so far, the real needle-movers come with fixing and improving the product."
Simply put, if the quality of the product or service is better, it will flatten the retention curve faster.
This is of course a long-term solution and is something every business should keep working on.
Ressurection
"Ressurection is – just in case the habit breaks, how do you re-install that habit in the user."
You can see why many companies choose in favor of attracting new customers instead of retaining the existing ones – it's challenging to put together an effective customer retention strategy. You'll have to re-activate, engage, and resurrect many dormant customers, which can be painstakingly difficult.
But, If you can do the previous things right, you would be able to retain the right customers.
In case a churn is happening, the idea is to again look at it through the lens of habit formation.
If you get habit formation right, you will not have to worry about resurrection.
Another way to approach resurrection is, of course, by funding offers, special promotions, etc.

Final Words

At the end of the day, you've spent a lot on acquiring new customers, but the fact is 60% to 80% of the customers you acquire get churned.

Developing a well-planned customer retention strategy can help retain some of those customers – as a result, reducing cash-burn on acquisition and leading to sustainable growth.

In fact, a study published by Harvard Business School found that increasing customer retention rates by 5% can increase profits by 25% to 95%!

We hope the insights from this blog will help you build a successful customer retention strategy. If you found this blog helpful, we recommend you also check out the blog on acquisition.

Stay tuned to Rocketium, as we'll be covering the steps of conversion optimization next!



Feature image created by vectorjuice – www.freepik.com
Subscribe to our newsletter
Recieve such insightful content on Design & Marketing every month!
Thank you for subscribing.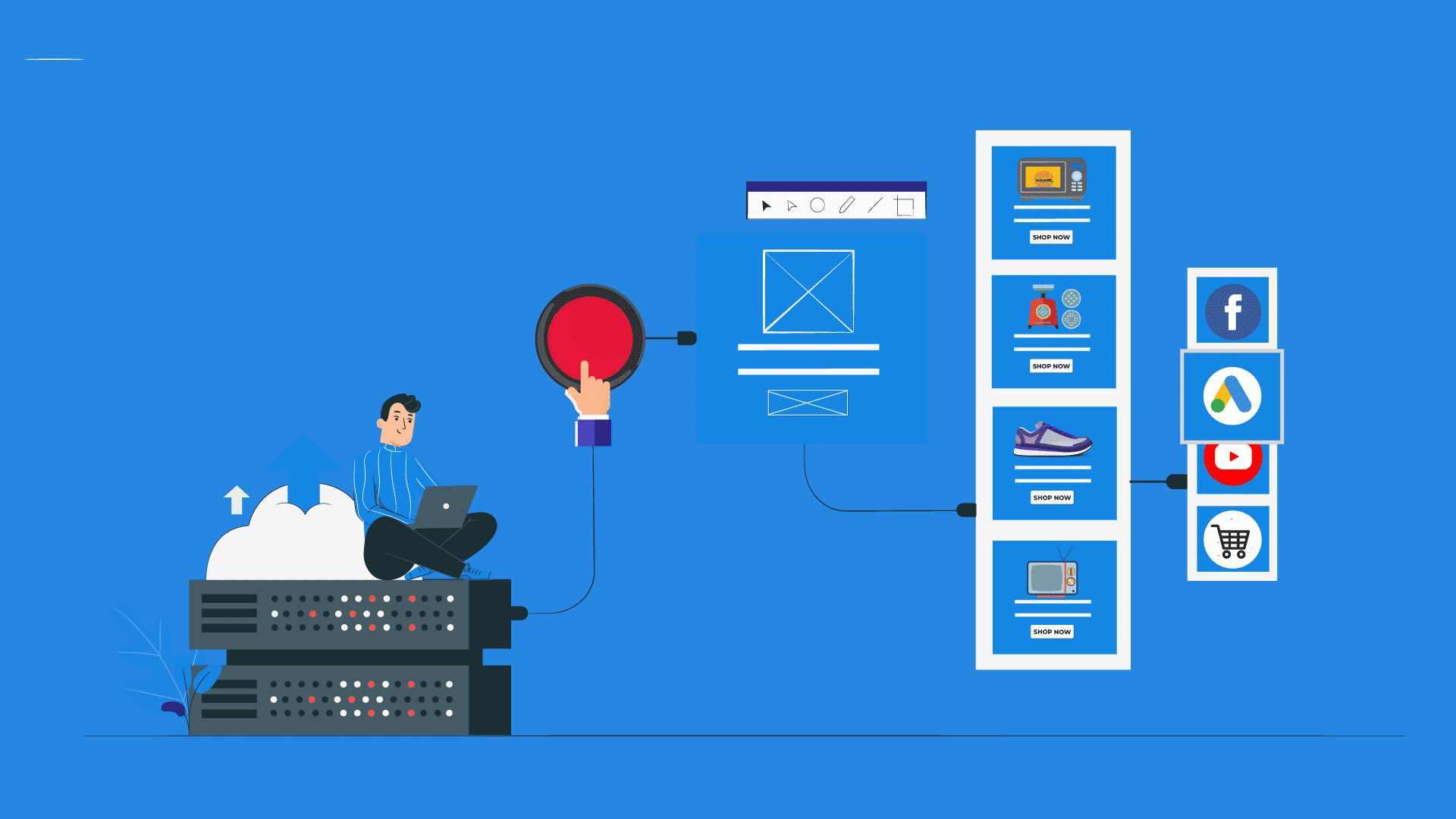 Scale creation with Creative Automation
Automate the creative production process with templatized creation, feed-based scale, and multi-point integration.
Learn more