Visual content is dominating the Internet, with 80% of the entire consumer-related traffic coming from videos alone. You probably know that people process images and videos much faster than audio or textual posts, so it's natural to see more marketers putting a stronger emphasis on visual formats. The stats focusing on viewers' age are particularly intriguing: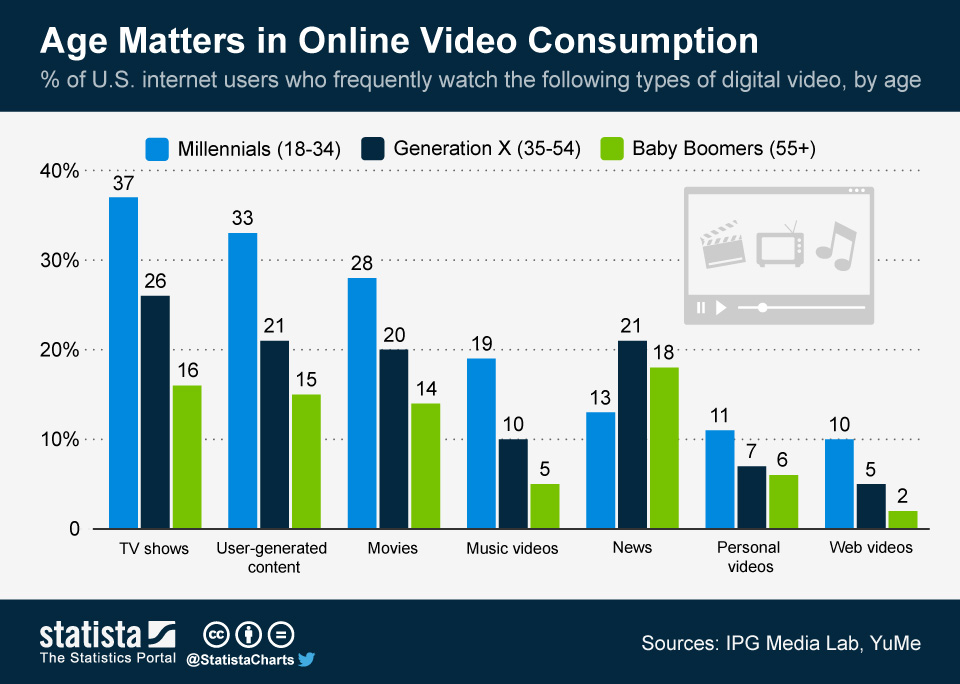 However, the story is not so lopsided. While videos really play a major role in modern marketing, it turns out they make the biggest impact on consumers only when combined with a solid dose of written content. In other words, you could say that video and text complement each other.
This means you should create a marketing strategy that focuses on both elements simultaneously, maximizing the influence of the promotional messages. Our post will explain to you seven hacks on how to wisely combine video and written content.
Know Your Style
Textual content adds to the precision of your videos, giving them an additional layer of information. This is inevitable, but our suggestion is to find the right writing style that perfectly reflects the vision and values of your brand.
According to copywriting experts at the dissertation guide agency, the same goes for the target audience: "You have to learn everything about it: the average age, location, income level, academic background, personal values, and all other details you can discover. It will help you to adapt to their language, particularly if you are targeting younger people who use a lot of jargon and slang words."
Besides that, you should exercise active voice and upbeat tone, encouraging viewers to take action upon watching a video. Keep the textual messages short and simple. The goal is to answer the basic 4 W+H questions:
Who does what?

Where and when?

Why does it happen?

How does it happen?
If your audience can figure all this out simply by watching your videos and reading the corresponding captions, rest assured you did a good job writing a copy. Therefore, you have to make it simple and straightforward, and respect the style and requirements of the target consumers.
Show Them What You Are Selling
We already mentioned that text and video complement each other. Sometimes videos support textual content, while sometimes it's the other way around. When it comes to product descriptions and tutorials, videos can make a huge difference in the eyes of your customers.
In this case, textual content is supposed to describe technical details such as dimensions, software specifications, and similar facts that require precision and accuracy. On the other hand, videos make the product review much better simply by showing how it really looks like.
Watching video tutorials, viewers can get the first impression of the product and see how it feels to use it. The best marketers know this very well, so they always create video reviews to present their products or services.
For instance, Apple published a YouTube video to present the latest iPhone models. They added only a brief description below to tease the audience with features such as Face ID or the most powerful smartphone chip, while if everything else is left for the video itself.
Think About the Silent Mode
While less-experienced marketers think about video only, their more proficient colleagues know that a few lines of text within can make all the difference. Silent mode is yet another reason to think that way.
A vast majority of users, especially on social media, watch video content with the sound turned off. In such circumstances, your videos have to be both very simple and text-based to ensure maximum efficiency. The point is not to rely on dialogues, but rather to use written content to explain the purpose of your video.
The secret of a successful video is to use text in small doses. Write short lines to quickly explain certain parts of the video, and use larger typography to ensure visibility. Keep in mind that people consume content on different types of devices, from desktop computers to mobile phones, so it's necessary to write concisely to fit in the screen dimensions.
Once you are done with content creation, you should conduct a small experiment: preview your video in the silent mode to see how it looks with no sound included. If you think it makes sense that way, you are good to go.
Customer Testimonials
The power of word of mouth marketing is immense. With so many products and services available online, it is hard to get the foot in the door without some backup from the former clients. But the days when you could simply add a few lines to the website along with the fake photo are long gone.
Today, you need a much more convincing tool to prove professional authority, and it comes in the form of customer video testimonials. Such content is more attractive because it shows real people behind the project, their feelings, and experiences while working with your company.
But you are probably wondering now what does it have to do with written content. The answer is simple – textual content makes user reviews more effective.
Take this customer testimonial video as an example. It is almost entirely video-driven, but it needs small textual captions to make the story faster. That way, clients don't have to speak their names and titles as you get to see it all in the lower left corner of the video. It's a delicate but highly effective solution, which proves the influence of textual content on video testimonials.
Make multiple video reviews at once!
Use Rocketium's video API to make video reviews at scale. Easy and hassle-free integration in minutes.
Email Marketing
Email marketing gives you one more reason to mix textual and video content. Email campaigns have traditionally been text-focused, but videos can make them better in several different ways:
Increase CTR: Numerous studies prove that emails containing videos have a higher click-through rate than text-only messages.

Stand out: Videos in emails help you to lift head and shoulders above niche competitors.

Indulge the audience: With the growing demand for video content, you can embrace this tactic to indulge the needs of the target audience.

Show products: Once again, you can use video messages to show products rather than describe them.
Textual content should follow the video to describe smaller details and invite people to take the desired action. However, be aware that it takes a fair share of technical knowledge to embed video in email, so you should learn how to do it before sending or hire professionals to do it for you.
Of course, testing before sending is mandatory. The chart below shows you the average email video performance: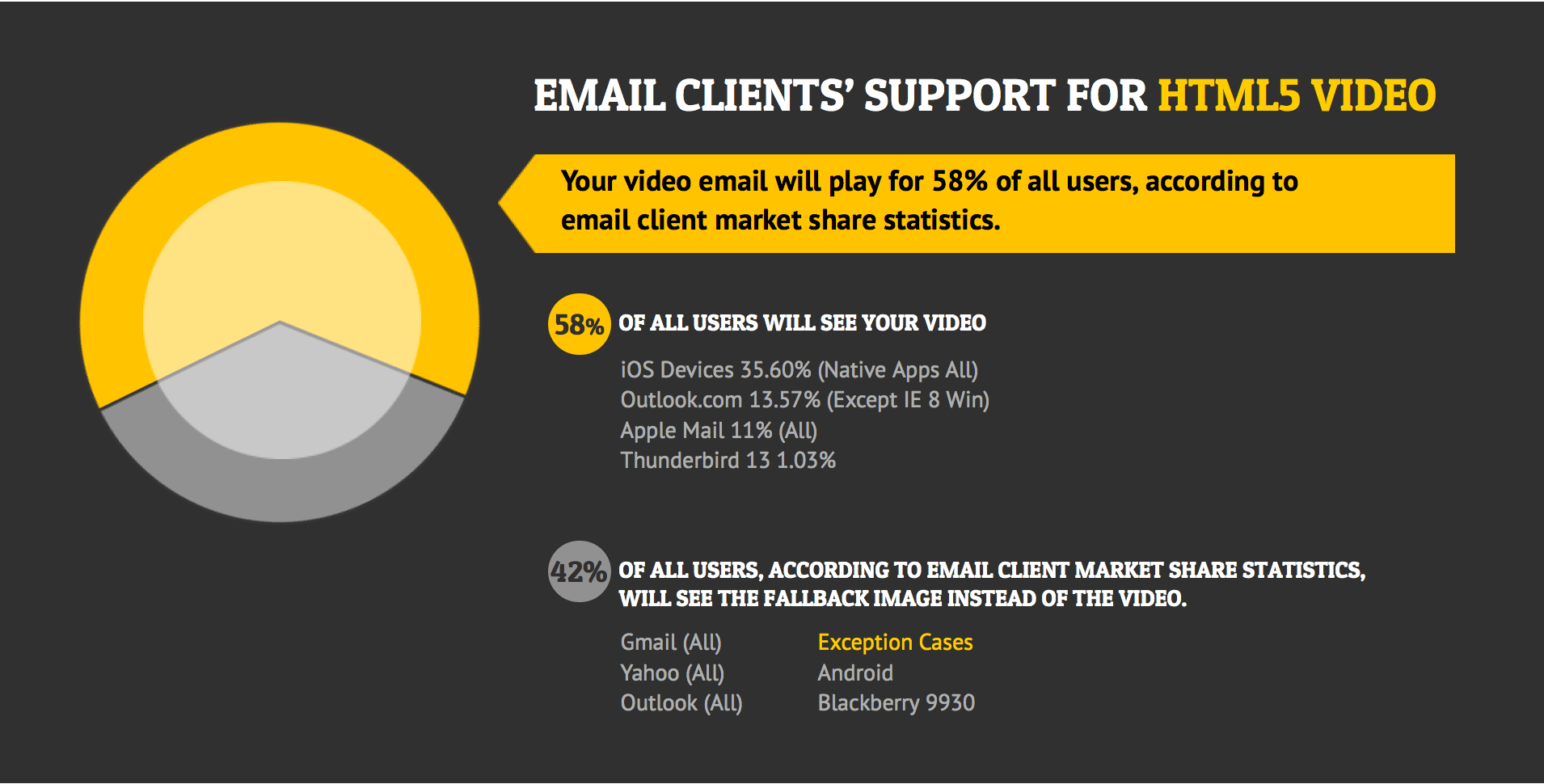 Tell a Story
People say that a picture is worth a thousand words, but then we could probably say that a video is worth a thousand pictures. That gives you a huge storytelling potential, so why just stick to the words when marketing your brand?
You should always try to craft multimedia content and provide users with a perfect omnichannel experience. It's also a great tactic to evoke emotions, showing that your company nurtures the same values as the audience.
Another positive aspect of mixed-content storytelling is that success depends only on your imagination and creativity. There are no limits here: you can do whatever you want as long as it doesn't interfere with your branding guidelines.
The founders of Airbnb realized this opportunity and launched the "We Accept" campaign. It's a perfect example of how you can shoot a simple video and support it with just a little bit of textual content to tell the compelling story.
Doing so, Airbnb subtly proved its corporate responsibility, letting the world know that they provided housing for evacuees of disasters during 54 global disasters. But they packed it in a much wider story about human belonging, thus making an even bigger influence on viewers. Good job, Airbnb!
Ask a Question
The last tip on our list has the purpose to encourage user engagement. Asking a question during your video, you can inspire people to interact with the content by making comments or taking the desired action upon watching.
For instance, you can open a video with textual questions such as:
Do you hate your job?

Time for a new car?
Questions like these immediately grab the attention of users, so they are ready to watch the entire video waiting for the problem resolution. It's a simple hack to prolong their interest, which gives you just enough time to present the product and explain how it helps customers to solve problems or satisfy everyday needs.
Questions don't always have to come in the textual form but remember what we told you about the silent mode watching. Therefore, you should write it down and keep the audience on the edge of their seats all the way until the end.
Conclusion
Videos represent by far the most popular type of content all across the globe, but you shouldn't take it for granted and focus on video production exclusively. It turns out that the combination of visual and textual content makes the biggest impact on viewers, so you should seize the opportunity to improve the potential of your marketing messages.
This article explained to you seven hacks on how to wisely combine video and written content. Did you ever try any of these tactics? Do you know other tricks that make videos more attractive or informative? Let us know in the comments - we will be glad to discuss this exciting topic with you.