8x
reduction in the campaign lead times
5x
more personalisation campaigns
85%
reduction in creative production cost
Industry
Home services
Employees
25,000+ service professionals
Reach
22 cities in 4 countries

Challenge
The biggest challenge was to generate creatives at scale in the minimum possible time.

Solution
Decoupled the creative and production processes using Rocketium.

Benefit
The design teams can now focus on on brand templates, while the marketing team can make creatives in minutes with Rocketium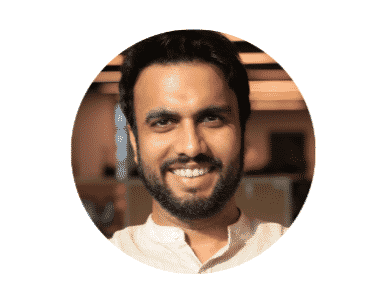 Rocketium streamlines our time-consuming design process across app assets and digital marketing. It has solved the problem of customizing creative volume while empowering the team to be self-sufficient.
Rahul Deorah, VP Marketing, Urban Company
Urban Company - An overview
Urban Company is India's largest Home services marketplace. The platform helps customers book reliable home services ranging from beauty services, fitness training, appliance repair, plumbing, and so on. Since its inception in 2014, Urban Company has built a huge network of trained service professionals and served customers across major metropolitan cities of India, U.A.E, Australia, and Singapore.


The hurdles on their way
The marketing team at Urban Company regularly runs multi-channel digital campaigns for different business objectives. They require hundreds of banners and videos daily for use in-app promotions, social media marketing, and performance marketing campaigns.
The scale of creatives spiked during seasonal and holiday campaigns. The Urban Company marketing team routinely faced these three challenges.
| | |
| --- | --- |
| | High turnaround time of up to 14 days in launching marketing campaigns due to the volume of visual creatives required. |
| | Design bottlenecks faced in running hyper-targeted campaigns that require a massive number of visual creatives. |
| | Heavy dependence on design teams during the entire cycle of design, review, and production of variants and adapts. |
Transforming the process of producing creatives
Urban Company transformed the way their marketing teams creates and manages creatives by decoupling the creative and production processes using Rocketium.



Here is a quick glimpse of how it works:-
• Design and brand teams make an on-brand banner and video templates for different use-cases
• Distributed marketing teams use a simple form-based interface and spreadsheet data to make creatives in minutes
Team collaborations optimizing the workflow
STEP 1:
Design team creates on-brand templates
Urban Company's design team sets up brand-compliant templates for their marketing teams to make banners and videos.
This is done using Rocketium Template Studio, a web-based design software with advanced creative capabilities.
Designers define:-
• Style elements like layouts, colors, fonts, graphics, animations
• Content elements like captions, images, footage, logo
• Brand governance by specifying what can be edited and how

A typical 2-scene video template for an Urban Company YouTube campaign.
Elements marked in the red outline are editable
Rocketium Template Studio allows designers to import their existing layouts and designs from Adobe Photoshop and After Effects.
STEP 2:
Marketing teams make creatives in minutes
– Urban Company's marketing team uses Rocketium's collaborative web-based software to browse Urban Company templates.
– Choose the one they want for their campaign, and create hundreds of creatives just by changing the editable fields.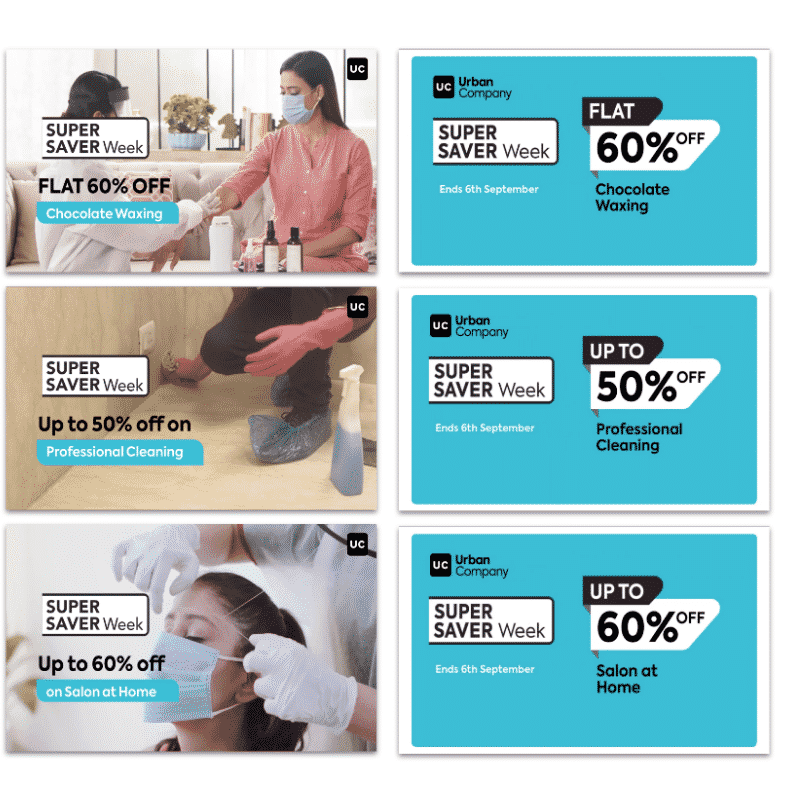 Variants made for hyper-targeting users with relevant offerings
Rocketium's powerful features that helped Urban company in reducing lead time
Rocketium has several powerful features to automate and scale the creative production process.
Auto-resizing
Creatives are in multiple aspect ratios to allow the Urban Company team to target multiple platforms.
Brand governance
Rocketium gives marketers the freedom to be creative while ensuring brand compliance with constraints in templates.
Digital asset management
Urban Company stores footage, product images, and other assets in Rocketium's centralized and searchable library.
Workflow integrations
Rendered banners and videos are automatically pushed into Box, the storage solution used by Urban Company's marketing team.
Role-based collaboration
Rocketium enables roles with varying feature access so multiple team members can collaborate with minimal back-and-forth.
Rocketium's configurable plugin-based approach and powerful integrations allow enterprises to customize Rocketium to fit their creative workflow.
Scale your creative production with team collaborations