Speaker Info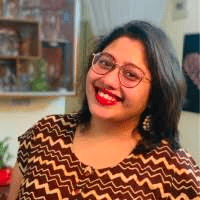 Rapti Gupta
Director of Brand Marketing, Instamojo
How Instamojo created their hugely successful testimonials campaign: 'Mojo Stars' 🌟
Marketers may use testimonials to promote their products and services since they are such an effective strategy. Marketing testimonials are written by someone who looks and speaks just like your target demographic. Additionally, testimonial campaigns also work as a form of word-of-mouth advertising.
These campaigns require meticulous planning to reach the target customers, understand their requirements, and finalize a package connecting to your audiences.
We sat down with Rapti Gupta, Director of Brand Marketing at Instamojo, one of India's simplest online selling platforms, to determine the best strategy for developing a successful testimonial campaign using the example of "Mojo Stars," Instamojo's successful marketing testimonial campaign.
The Objective of the Mojo Stars Marketing Testimonials Campaign
Instamojo started as a successful payments platform that assists small, independent enterprises, MSMEs, and startups in operating successful eCommerce operations by providing them with online storefronts and payment solutions. The company went into the market in 2020 before the pandemic by acquiring a company named "Get Me a Shop." The main aim of Instamojo was to position itself as an eCommerce platform through its brand campaigns and not just be categorized as a payment platform.
The company's long-term vision is to promote entrepreneurs from all over India. They wanted to simplify their payment system so that it could be used by anyone and everyone, even if they got intimidated by technology.
Rapti explains, "The platform itself is so easy to use that anyone intimidated by technology would not have to go through that, essentially even payments. The product was so easy that someone could quickly collect online payments. They would have to share a link on social media like on WhatsApp or Facebook or wherever, even on your YouTube chats for that matter."
Instamojo's most popular testimonial campaign is titled "Mojo Stars" because they wanted to show people that Instamojo can be used by individuals from all walks of life, even if they don't have much experience with technology.
Origin of Mojo Stars Campaign
Mojo Stars is a storytelling campaign that Instamojo uses to show how sellers in India, no matter where they are located, can grow their businesses online despite the challenges they face. The objective is to attract more sellers and find the stories to motivate them to start their businesses.
Rapti considers these sellers as the face of their brand, and to enunciate, she shares some inspiring anecdotes. For example, she talks about a 55-year-old woman hailing from the small town of Dehradun and how her childhood hobby of cross-stitching changed her identity overnight. It is the story of nearly every Indian household where the women are in charge as homemakers and mothers. However, they often overlook their potential to become successful entrepreneurs. In essence, that is the campaign's guiding tenet.
Instamojo is attempting to convey that a variety of people are establishing or expanding their businesses online every day. Rapti shares about a person who started a business called 'Music Therapy'. He creates compositions to heal people with music. She further shares,
"It's like a prescription of music. He's seen insulin levels spike or drop for diabetic patients. The stress levels are regulated in different anxiety patients. So this person has created that kind of an impact through his unique way of healing people. Now, he's trying to create more music therapists in the country through his workshops. So we are trying to tell the world that these are the stars of Instamojo."
Choosing the Right Sellers
"We believe that everybody can be an entrepreneur."
Rapti believes the category is broad, but Instamojo has prepared a method of shortlisting the right stories for the campaign that can hit the right chord and inspire millions to become entrepreneurs. So, with the help of their data team, Instamojo found out that their users are someone with an Instagram business profile and a follower base of 100 to 10,000. Then, they used it to find out sellers who have subscribed to their premium package and shared their stories with audiences looking for entrepreneurship ideas in that particular category.
According to Rapti, these testimonial campaigns are different from regular brand campaigns, as Instamojo is spending its media money to drive discoverability for these brands.
"This is the problem statement for the merchant as well or our seller as well. So we plug that into our brand campaign as well. So while we allow them to bring their stories to the forefront, we also put in money and promote this as a campaign and show it to people who may be interested in such a business. So that's the way we're going around optimizing the campaign.", adds Rapti.
Choosing the Target Audiences
Instamojo considers itself a data-driven company where decisions are made in sync with the data and performance teams. Their performance marketing team acquires more users for the online stores, and the support team builds attractive online stores for these sellers. This is what Rapti considers the USP of the company and the reason behind its success.
The company's plan with the Mojo stars campaign is to bring in businesses from different categories and provide various use cases. But it was no easy sailing for the team as they faced different challenges, including shortlisting the right stories, persuading these sellers to share their stories, and making them understand that they don't have to give anything in return for these campaigns.
Instamojo strongly believes that the sellers' success leads to the success of their online store and campaign.
Choosing the Right Stories
Instamojo chooses the right stories by looking at its sellers' online stores and social media profiles to understand its activities. These data are then used to determine whether these sellers are talking about their vision.
After the shortlisting process, Instamojo contacts them to finalize a schedule for the interview. Everything is sent for their approval, as they believe they are the rightful owners of their stories and their portrayal.
Profitability of Testimonial Campaigns
Instamojo has successfully joined 3.5 lakhs new users, which is only through the Mojo Stars Campaign.
So how have they been able to achieve such a target?
Rapti says, "Through right targeting and fine-tuning of the campaign. If Chachi Cross Stitch is selling art, we took that category and replicated it in our audience targeting. We also started showing the story to the people. If it's an ice cream related story, we show it to people interested in restaurants, eating out, and dining out."
With this fulfilling campaign, Instamojo increased its GMV, and it can increase the sellers' trust in them.
Take Away
Rapti and her team's Mojo stars testimonial campaign has been a big success. So how have they achieved it?
They went through a three-step process: first, they determined their campaigns' primary objective, then devised a realistic launch schedule. Then, when it comes to finding the right consumers to tell their tales, they perform extensive research and preparation, so if you can follow these tips, your testimonial campaign can also be successful.
To get more professional insights about high-growth marketing campaigns, tune into our podcast, Spilling the Magic Beans.