A push notification to mobile marketing is what music is to dance — really?
These blurbs have allowed marketers to enable customer retention within the mobile populace. Sadly, this is more true on paper than in reality. Push notifications are a gift to marketers; and an annoyance to mobile users.
Marketers shove 40-50 characters in a limited space that is viewed on a small screen. To speed up this process, the same push notification messages are fired away to different customers in a jiffy. It's uninspired push notifications like these that trigger 71% of all app uninstalls.
What most mobile marketers forget is that users deal with as many as 46 push notification from other brands on any given day. It would make any sane person resentful of push notifications. However, push notifications aren't the problem — it's how marketers use them.
To cut through similar notifications from dozens of applications every day and retain customers, your message needs to be succinct, personal, and compelling. This is where rich push notifications come in.

Rich Push Notification
Reach and re-engage with a rich push to drive engagement and revenue. But first, let's understand what rich push is.
What is Rich Push?
Rich notifications is a push notification with a rich media attachment that includes images, short videos, GIFs, and more.

We can all agree cramming a buffet of text into an appetizer-sized push notification is painful. Rich push notifications mitigate some of those frustrations by combining text with visuals.

The rise of the rich push resembles the popularity of photography in the early 20th century which marketed the idea that a picture is worth a thousand words. It was an effective marketing tactic a hundred years ago as it is today, especially in the era of mobile marketing.

Rich formats (25%), Emojis (20%), tailored send times (40%), advanced targeting (threefold), and personalization (fourfold) can all improve reaction rates. Marketers should use rich media in their push messages to create memorable connections with users.
Benefits of Rich Media
Marketers can send push notifications to iOS and Android devices with rich media attachments and include deep links for nudging customers to take action. The added interactivity nurtures meaningful interactions that in turn, increases retention rates.
Here are three benefits of rich media that help mobile marketers with customer retention:

Engage with visuals
Plain text has a knack for fading into the background, even when the copy is on point. That's why retailers use visuals to make the merchandise more compelling and the shopping experience more appealing. The same applies to your push notification strategy.
It's the game of show and tell. A few words, a well-selected image or short video, and a relevant CTA button, can help marketers succinctly deliver important messages, without needing users to open the mobile app.
Cut through the noise
Americans spend an average of 3 hours and 43 minutes viewing their smartphones. That said, marketers are constantly battling divided attention where users cannot hold one piece of information in their heads for any length of time. Even a millisecond of attention would be considered a good win!
In contrast, to push notifications where you have limited characters to get your message across, visuals can pique user interest which allows for better brand recall.
Deliver a personalized push
Personalized push notification increases open rates by up to 800%. Text with rich visuals will always win the personalization game.
For instance, when a customer buys a pair of sneakers, send a rich push notification for socks. This is a good example of using user behavior data for personalization, coupled with rich media, improving the efficacy of your marketing message.

Use Rich Push The Smart Way
Like most good things in life, rich push notifications work when they are used the right way. Take a cue from these brands on how to implement an effective rich push strategy.
Sharp Man
Sharp Man, which stays true to its name, uses text and image which includes the brand logo and product to create sharp messaging.
Consumer Tech Brands

Consumer internet giants often set new trends in rich push notifications that pack in offer and urgency within the creative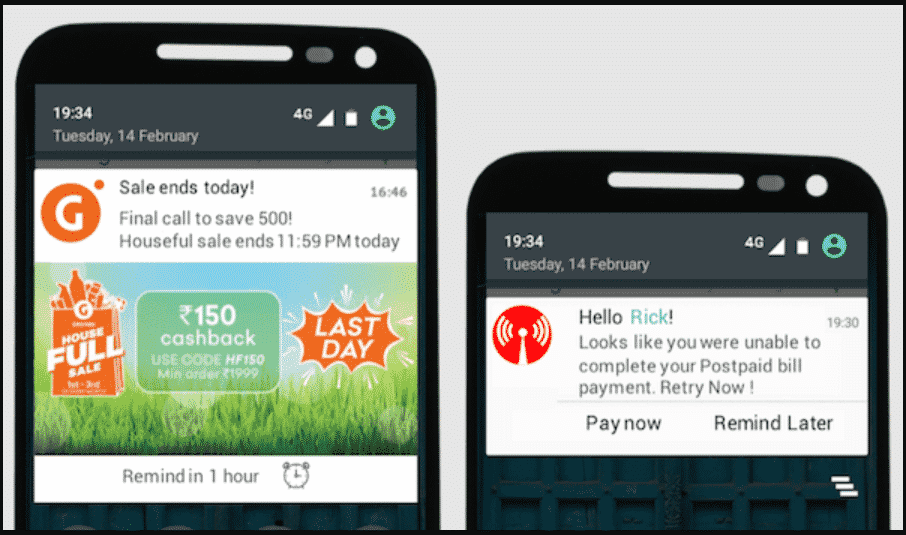 Audio Shop
Audio shops is a professional audio editor app that uses text and video to share user-generated content.
Multi-Communication Channel
To foster an optimal engagement experience for their customers, marketers must adopt a multi-communication channel because even though push notifications are effective, other channels still matter.
In-app messaging
In-app messaging allows brands to up-sell to a captive audience. A study shows in-app messaging gives apps a 27% higher open rate and provides a 53% higher retention than apps that don't send in-app messages.
Targeted in-app messages are effective in engaging "whales" — users who spend good money on your products or service. Send relevant bitesize information (including text and visuals) at different touchpoints in the user's journey within the app.
Although a large part of the in-app strategy is to upsell, marketers are getting creative. Many brands are utilizing the space within the app screen to its fullest. Just look at SnapGuide, an application that specializes in user-generated step-by-step how-to guides, uses in-app messages to get sign-ups for push notifications. The message outlines the kind of notifications the user will receive and how they add value.

WhatsApp Business Broadcast
A staggering 53% of mobile users say they're more likely to shop with a business they can message directly. This is a golden opportunity to get your message across millions of Whatsapp users who are eager to chat. Use the WhatsApp Business Broadcast feature to quickly send messages – with images, videos and GIFs – to several customers in one go – resulting in rich customer interactions.
SMS marketing
Marketers tend to avoid SMS marketing as part of their customer retention strategy cause it seems ancient. Well, old is gold and is certainly true for baby boomers where 60% regularly send text messages. If your brand caters to baby boomers, adopting an SMS messaging strategy is key to meeting the needs of your customer base.
Email
Email is a massively useful tactic to get app exiters back into the app. Every time someone abandons your app, hit them with a short and sweet email notification that educates them about your app. Maybe throw in a nice offer from time to time giving abandoners an incentive to go back using your app.
What Mobile Marketers Need to Keep In Mind For Retaining Customers
The mobile experience has gone beyond novelty becoming an ingrained part of regular life. Mobile marketers have an opportunity to engage users like never before. Your messaging has to be creative irrespective of whether you use rich push or in-app messages, or any other medium. Creative messaging will encourage users to continuously interact with your brand. A creative message is effective when the copy and the design complement each other.

Here are a few pointers to keep in mind to help you achieve the sweet spot with your mobile marketing efforts:

Simplicity. A creative message needs to be crisp and to the point; convey a lot with just a few words and images.
Intrigue. The creative stands out, making users keep coming back for more.
Decisive. The creative should evoke an emotion towards your brand that results in a definite action.
Alignment. Every aspect of your creative message whether text, image, video, or GIFs should be aligned with your branding.
Flexibility. Much like everything in marketing, be flexible in your mobile marketing. Use different styles of copy and design elements until you get it right for each customer.
Some marketers might be cringing while reading this bit. In reality, it's almost impossible for marketers to quickly churn out creative messages that perfectly align with the brand, without stretching their overheads.

Well, not if you apply creative automation!
Creative automation empowers mobile marketers to come up with creative messages at scale without compromising on brand alignment or increasing overheads. It empowers marketers to run effective mobile marketing campaigns that help retain customers while saving costs which translates to — better ROI.