Your business's ability to acquire new customers and engage with them for long is the key factor that will determine all potential growth. You can spend many hours perfecting a product or service, but if you haven't built a robust user acquisition strategy, all the efforts put into creating the product or service will be futile.
We teamed up with Growthfolks, India's largest community of growth enthusiasts, to host a three-part series called "Growthshops: Unlock Growth Experiments". This blog will highlight key takeaways from the first session on Acquisition by a growth veteran with 15+ years of experience in digital growth and marketing space – Rubi J Gupta, AVP Marketing and Growth, Spinny (Ex-Medlife, Myntra).
Defining User Acquisition
User acquisition refers to gaining a new user for your app, website, or any other platform—the definition of acquisition changes as per the nature of your business. In most cases, user acquisition refers to an app install or an account created with your business. The first paid transaction made by the user is known as customer acquisition.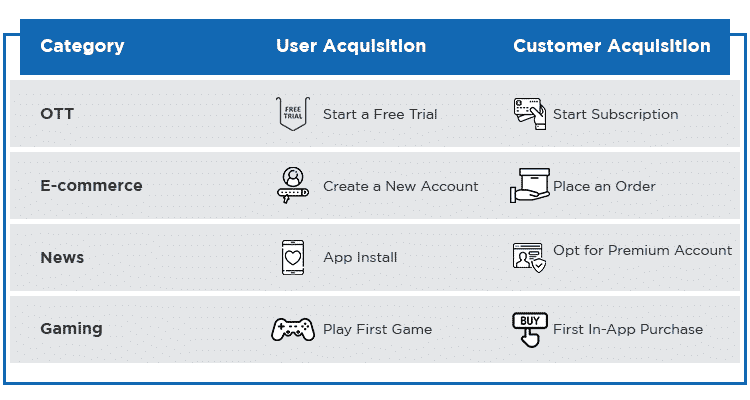 Pro Tip: "In order to measure goals accurately, whatever metrics you use to define acquisition has to be the same for a definite period of time. You can then track and redefine it according to your goals properly."
What is Customer Acquisition Cost (CAC)?
Customer Acquisition Cost is the total cost incurred for acquiring a new customer. It compares the total marketing and sales cost to the number of customers acquired for a defined period. Marketing and sales spend mostly encompasses advertising costs, the salary of marketers, the cost of salespeople, etc.

There are multiple ways to define CAC. The above definition is the general best practice. But some organizations define CAC as the cost for only onboarding the customers onto their platforms, and a different metric is used to calculate the cost for engagement and retention.
Pro Tip: Define a metric just for the user acquisition cost to better understand your overall acquisition cost.
4 Ways to Choosing the Right Channels for User Acquisition
Broadly, these are the channels for acquisition:
Paid Search and Display ads
Social Media
Email
Website / Blog
Choosing the channels for user acquisition depends on multiple factors:
1. Based on Budget
Choose the channel and number of channels according to your budget. Generally, you should budget 3% to 5% of your gross revenue for marketing. If the gross revenue of your business is less than 5 million per year, you should budget 7% to 8%.
Social media marketing can cost anywhere from $4000 to $7000 per month, including running paid ads. A basic monthly cost of running campaigns on one platform could range from $1000 to $2500.
The average cost per click across different types of businesses and keywords in the US is $1 to $2 for Google ads on the search network and less than $1 on the display network.
2. Based on Business Goals and Targets
If the goal is to increase brand awareness, engage with audiences on social media channels. Promote visual elements on Instagram and Pinterest. Publish videos on Youtube and Vimeo.
For example, IHOP uses Instagram to engage with a generally young audience by posting mouth-watering food photos/videos, memes, and customer-submitted images.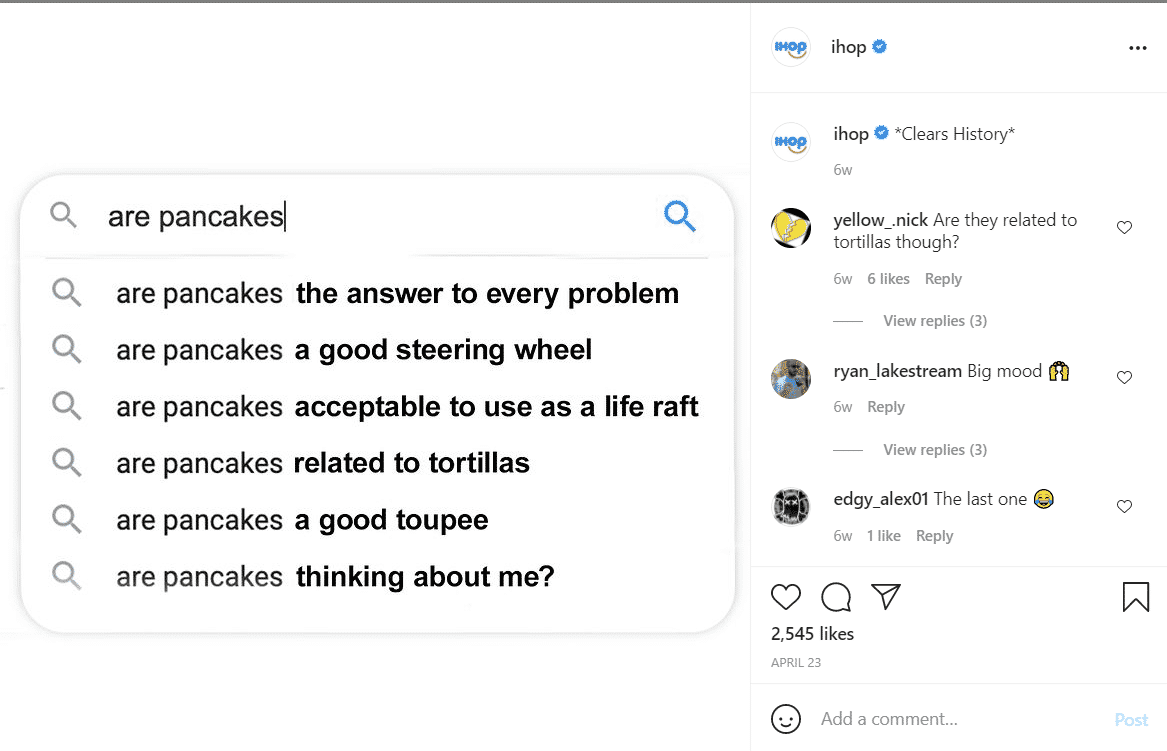 Alternatively, collaborate with influencers that are likely to strike a chord with your audience. Influencers typically have the power to boost your reach and drive conversions. However, use an influencer analytics tool to find out if it's worth partnering with an influencer as many of them tend to have fake followers.
Ecommerce sites can promote products or services on the following channels for sales generation: Amazon Resellers, Facebook Storefront, Google Shopping Feeds, etc.
To generate leads and connect with potential customers, utilize Search Engine Optimization, Pay-Per-Click Advertising, Content Marketing, and Email Marketing.
3. Based on User Psychology
Depending on the nature of your business, you would have defined a buyer persona or multiple buyer personas for different products.
Depending on the buyer persona, choose the channel that best connects with the user.
For example, in the business of online education, if a person is looking to get some training done through an online course, they would want to read about the professors or mentors before signing up.
In this case, utilizing the company's blogs to have detailed write-ups about the staff significantly contributes to acquisition.
Rubi also gave an example of how Myntra uses user psychology to choose a channel:
" Apart from Google, Facebook, and Instagram, we included deal sites into our marketing mix. This works well because most of Myntra's users are deal seekers, and having deal sites in our marketing mix plays a vital role in acquisition."
4. Understanding Existing Data
"Understand what the user is doing on each channel. Read the funnel for each channel separately and understand how they interact with your platform when they come from each channel."
Create a separate analysis for each of your existing channels to see what works and what does not, and take actions accordingly.
Pro Tip: "Utilize new channels during high traffic days to learn from campaigns quickly."
3 Steps for Effective User Acquisition Targeting
"Targeting is about segmenting the users in a way that helps you show them the right set of creatives or right set of content or communication."
1. Start with a Hypothesis
In the early stage, start with a primary hypothesis based on your business. It involves noting down what you think is the best targeting option to get the right set of users for your business.
In the case of Spinny, an online platform for selling/purchasing used cars, the data shows that fewer women sell/purchase cars so they target men on average.
"At Spinny, we understand that not many women are involved in selling a car, so that means our segment is altogether male-dominated. This forms the targeting for us initially."
The next level of targeting will happen once you start researching deeper into your initial targeting option and start experimenting with different options.
2. Targeting with Creatives
Once you have segmented your users and analyzed your audience, you know who to target. The next step involves deciding what to convey for each cohort through creatives.
"In Myntra, in the shoe category, we have seen Nike works well when it comes to acquisition, as it acts as a puller because it is an aspirational brand for most users. They will come to buy Nike but may end up buying any other brand."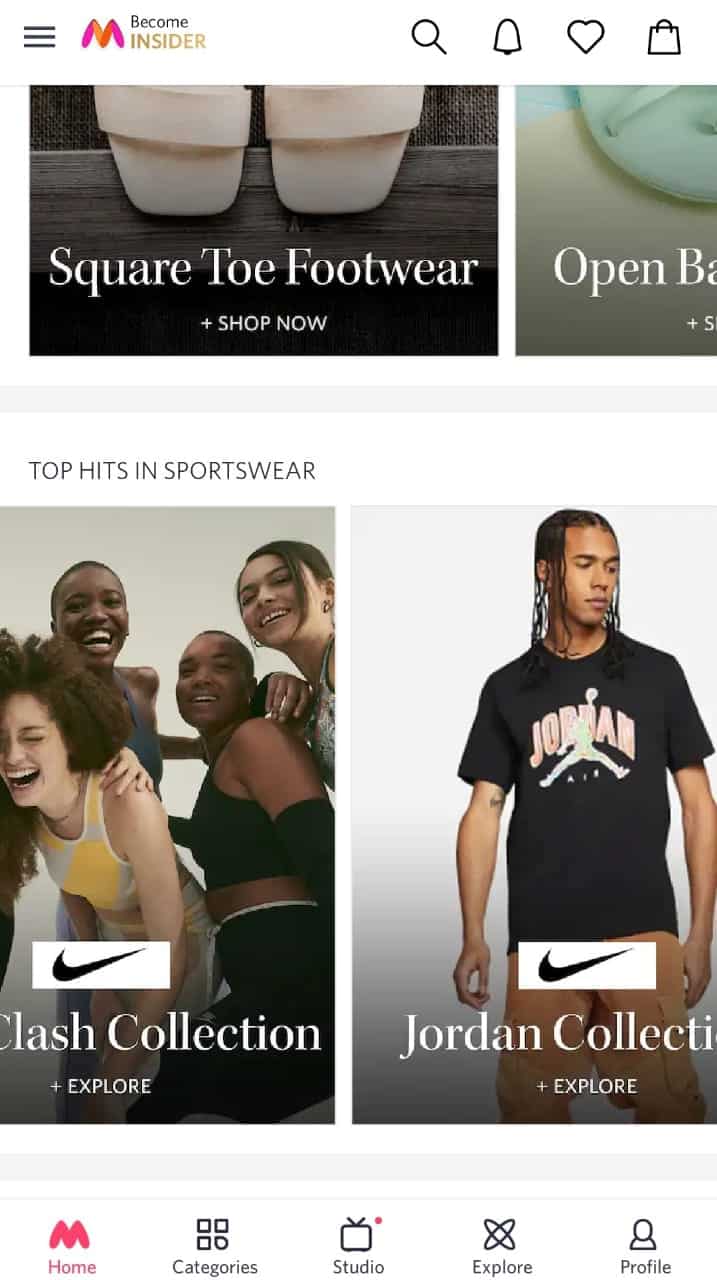 From the above example, Myntra figured that showing Nike products on their creatives pulls users to the store page. They may buy from any other brand, but showing Nike products on the creatives is the best way for Myntra to get the users to the shoe category page.
Here, the "what to convey" or include in the creative is answered with Nike products because it is an aspirational brand for most users. Similarly, understand your audience cohorts and unlock their interest with creatives that will resonate with them.
3. Continuous A/B Testing
"A/B testing for targeting and creatives should always be an ongoing task."
To decide on the best targeting option and what to include in the creatives, employ continuous A/B testing.
There are multiple targeting options and multiple elements you can have in your creatives.
Experimenting with each of them will help you understand what resonates best with your audience.
5 Points to Note to do the Right A/B Testing
Don't over-optimize
Test elements that have a high impact on user engagement.
For example, don't spend too much time choosing the "best color" because there is no "best color." It's all about visual hierarchy and matching your brand guidelines.
Track the right KPIs

"Variation 1 focused on discount (ex – 20% discount) , and variation 2 focused on value (ex – flat $50 discount). The testing tool showed variation 1 as the winner because it had a higher conversion rate. But when we saw the uplift and bottom line, it was higher for variation 2. So if we had taken the decision based on conversion rate only, we would have headed in the wrong direction. Variation 2 was the actual winner when we saw the overall funnel."
Don't make decisions based only on the data from the testing tool. Understand your business and track the right KPIs for your overall funnel.
Don't disregard test results
You may feel that a certain targeting option will work best for your business, but the testing tool may suggest otherwise. Keep in mind not to disregard the test results and remove all biases.
Don't change multiple variables
While A/B testing, change only one variable at a time to understand how each change affects the result.
Track the results closely
Run the test for a considerable period and track test results daily.
Separate Funnel for User Acquisition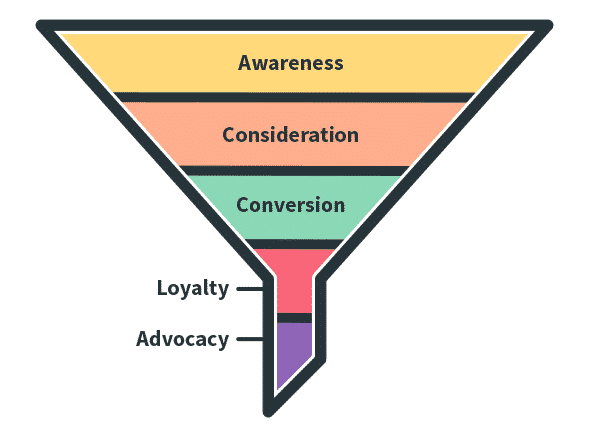 Most marketers (even freelance marketers) would be familiar with the traditional funnel.
Note: A marketing funnel represents the complete customer journey from awareness (the first time they learn about your business) to advocacy (loyal customers act as your brand advocates).
Businesses use the marketing funnel to strategize their marketing efforts for each stage of the customer journey.
The marketing funnel serves as a great foundation to lay down your initial marketing strategy.
But most businesses stop here or try to optimize the existing funnel.
We recommend creating a separate funnel for acquisition (i.e., for the new users) and a different funnel for retention (i.e., for old users).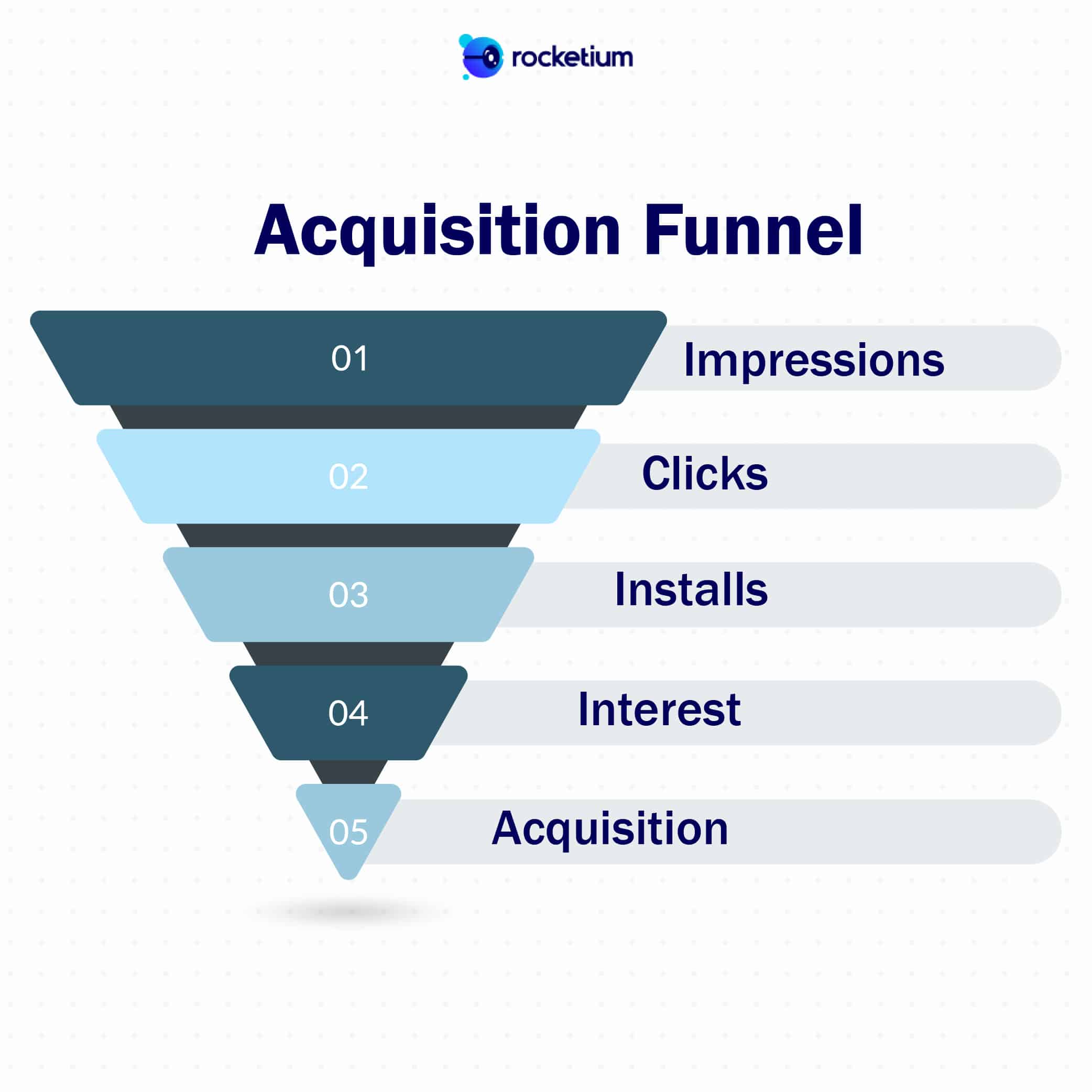 4 Components of the Acquisition Funnel
From the above image, you can see that the acquisition funnel consists of the following:
Impressions
Impressions create the uppermost and largest part of the funnel. You are just announcing the product/service to a large number of people.
Impressions could be in the form of an advertisement, a digital post, a web page, etc. It can also be defined as the number of times your content has been displayed on a users' screen.
Click
There are two types of clicks: Link click and clicks (all). Link clicks take the user to a specific destination or experience set by the marketer. Clicks (all) refer to when a user clicks on any other part of your content except the link.
Clicks signify the first sign of interest by a user.
Click-Through Rate is the metric used to understand the effectiveness of your marketing campaign. CTR measures the ratio of clicks to the number of uses who viewed your content.
Installs
After the user has clicked on your content, they should ideally reach a landing page that talks about your product/service briefly.
Optimize the copy and visual elements on your landing page to create intrigue so that the user installs your app.
Keep in mind that you don't need to dive too deep into your product/service details at this stage.
Tip: Highlight the unique selling proposition and key features/benefits of your product or service
Interest
The content and visuals on your app act as your storefront. Use creative visuals to attract users to take action. Utilize rich push notifications and in-app messaging to engage with users to make their first purchase.
"When a user is coming to your platform for the first time, they don't know you, and you don't know them. It's very unlikely that the same structure or funnel will work for repeat users because repeat users may be higher, and new users may be lower. The overall data will be blended, and you won't be able to understand anything."
When you create a separate funnel for acquisition, you'll be able to understand certain things that are not required for new users or certain things that need to be explicitly added for them. You'll understand better once you read the case study of Medlife given below.
Pro Tip: At every level of the funnel, experiment and optimize for better results
User Acquisition Case Study: Medlife
Medlife is an online healthcare platform, which provides pharmacy, diagnostics, and e-consultation in India. The company started as an online platform for medicine delivery and later expanded to offer online doctor consultation and diagnostic services.
Objective: Shift user acquisition from web to app.
Why?
After studying the data for five to six months, Medlife found that app cohorts were stronger than web with a better lifetime value of customers (1 year) who made repeat purchases.
Easier targeting with powerful mobile data analytics.
Mobile data gives a better understanding of user behavior which opens the door to better personalization.
What Medlife did:
1. Experimentation
Setting experiments with multiple new affiliates
Newer events optimization. In the beginning, Medlife was only optimizing for the final conversion. Later, new events were created specifically for user acquisition ( includes: venue for acquisition, CAC for acquisition, the overall number of acquisitions based on city, etc.)
Data from new events explicitly made to track user acquisition on the app was fed into their attribution tools and used for Facebook and Google.
Two levels of reporting setup.
1. Track installs to acquisition percentage and Cost-per-install (CPI) along with Cost-per-action (CPA)
2. Report on the lower funnel. To see how many orders are coming for medicines and how many for healthcare products (skincare products, nutrition, and fitness supplements, etc.)
Note: CAC measures the cost to acquire a new customer, whereas CPA, also known as cost per acquisition, measures the aggregate cost of actions taken by a customer that leads to a conversion. In other words, it measures the cost to acquire something that is not a customer – for example, a registration, trial, activated user, etc.
2. Location
From another set of analyses, Medlife witnessed growth on app from Tier 1 and Tier 2 cities. Focused campaigns on these cities. CAC for these cities was lower.
3. Creatives
Several creatives were discussed with multiple themes. Creatives were built for the most searched healthcare products.
For example, the primary health issue that Medlife found from their customers was diabetes. So to help customers find healthcare products for diabetes easily, most of the creatives on the homepage displayed such products.
4. New landing pages
On the first app launch for new users, a new landing page was created to improve the onboarding flow.
The new landing page focused on trust-building communication because trusting the brand is very important for medicine or healthcare products.
Rather than showing offers on products, Medlife decided to display customer testimonials to build trust.
The onboarding flow also included information on how to use the app. Medlife noticed that users landing on this page had a better acquisition percentage (0.5% – 0.7%)
5. Acquisition strategy based on product
Marketers at MedLife could not have timed the right creatives for pharmaceutical products as people require mental attention.
But most healthcare products can be used by anyone at any time, so the acquisition strategy was based on offering healthcare products to get the users' first order.
After they've become a customer, they would place an order on medicines whenever they are unwell.
Final Words

Building a robust user acquisition strategy enables you to target the right users and convey messages that they connect with to ensure you create an excellent first impression.

The next step involves retaining them for long periods and persuading them to make repeat purchases.

Stay tuned to Rocketium, as we'll be covering the next phases of growth in the upcoming weeks!



Feature image created by vectorjuice – www.freepik.com
Subscribe to our newsletter
Recieve such insightful content on Design & Marketing every month!
Thank you for subscribing.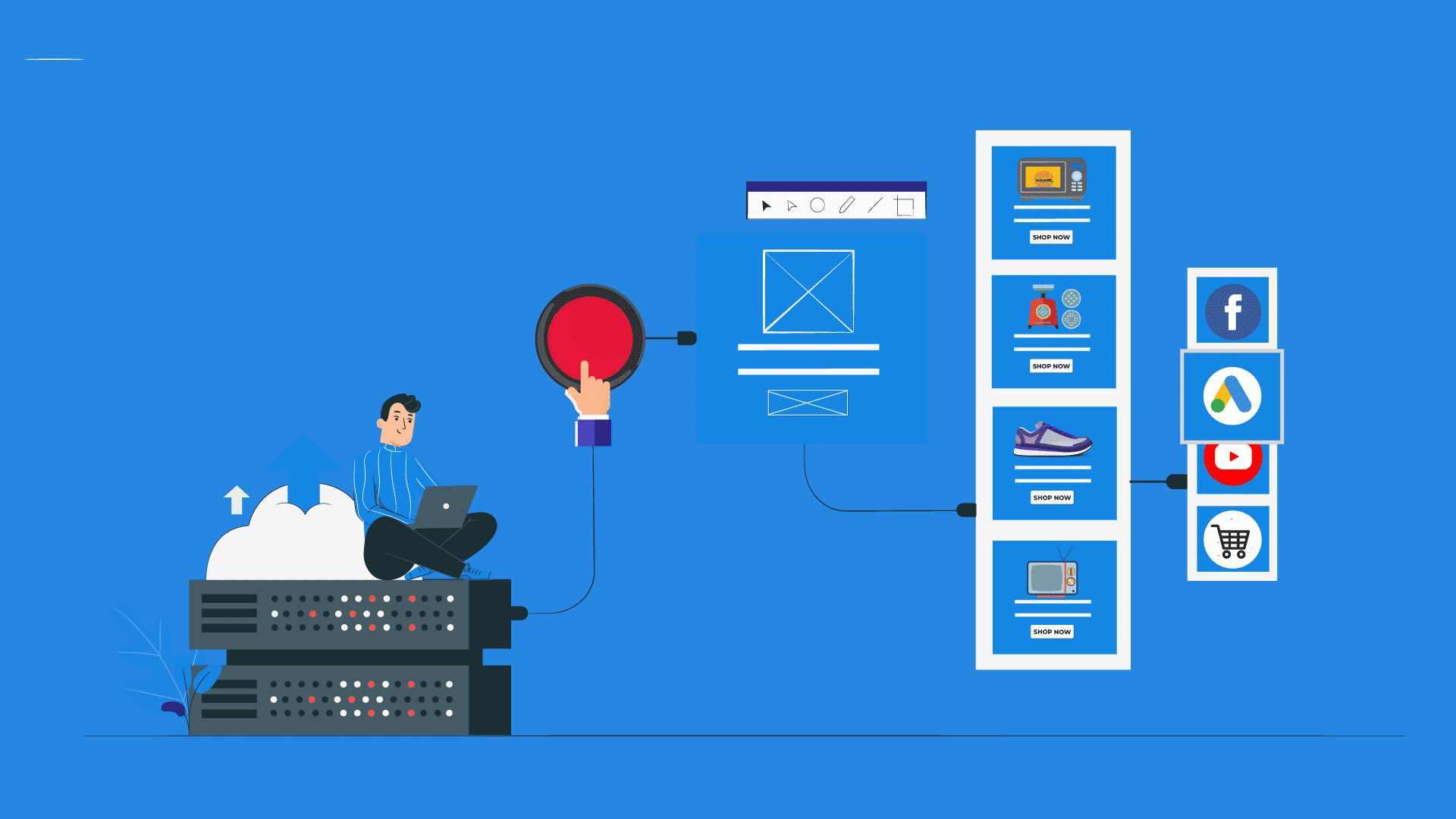 Scale creation with Creative Automation
Automate the creative production process with templatized creation, feed-based scale, and multi-point integration.
Learn more