Traditional buying is shaken to its roots with the impending challenge of safety due to the pandemic. The consumers soon began looking for an alternative. In China alone, the shopping has increased 15-20% points owing to the complete lockdown as the pandemic hit in full force.
While the virus is reshaping retail as we know it today, the uncertainty over consumer behavior in a post COVID world is making the recovery strategy all the more strenuous.
The impact of the crisis on eCommerce hasn't been all positive either. The supply chain, delivery management & fulfilment centres were tasked to cater to 5X the normal order volumes following safety protocols. Although eCommerce brands have breezed through the chaos with speed & agility, the crisis has forced them brands to evolve continuously as per changing consumer need & purchase habits.
With surging order volumes why should eCommerce companies consider cost-cutting
The 'new normal' doesn't necessarily mean consistent demand & uprise in revenue. There is a lot of effort that needs to go in complete digital transformation, bridging the gaps in productivity, process optimization & surge in consumer requests. To create a greater impact in the long run, brands need to figure out an optimal strategy that is cost-efficient & aligned right with the consumer demand.
The shift to automation
Like I had mentioned earlier, the task at hand on priority is process optimization. To streamline the process, eCommerce brands need to identify repetitive tasks, manual overdependency & replace it with automation for swift digital transformation.
The last thing of consideration for any eCommerce brand in this given time is fretting over the optimization, turn around time & scale of the campaigns for awareness & sales.
Campaign optimization with creative automation
We work with a few of the top eCommerce brands in the world to optimize their creative production & management. To hit the revenue targets, the brands have shifted their focus, for the most part, to creativity & fall back onto automation for redundant tasks.
How eCommerce companies reduce creative costs with automation
In eCommerce, the volumes of campaigns run on a daily basis & target distribution channels are enormous. To keep a tab of design requirements, its adherence to brand guidelines, storage & retrieve creatives for future campaigns takes a mammoth effort without a system in place.
This is where Rocketium helps eCommerce brands.
By managing the creation, rework, distribution, analytics & storage all at one place at a fraction of cost, eCommerce brands can lead the campaign efforts successfully. With creative automation, manual interference is minimal & brands can put their minds behind more important tasks. The creatives can be banners & videos.
Solutions by Rocketium in a nutshell
Campaign
The Campaign as a solution comes with Rocketium's robust template creator. To design template using our template creator or hire our talented in-house designers to build a brand-compliant template. Otherwise, brands can also choose to create templates outside of Rocketium & upload a PSD or after effects file.
Since we understand the importance of omnichannel presence for brands we have made the experience of generating creatives in multi-aspect ratios effortless by selecting the desired sizes in one go.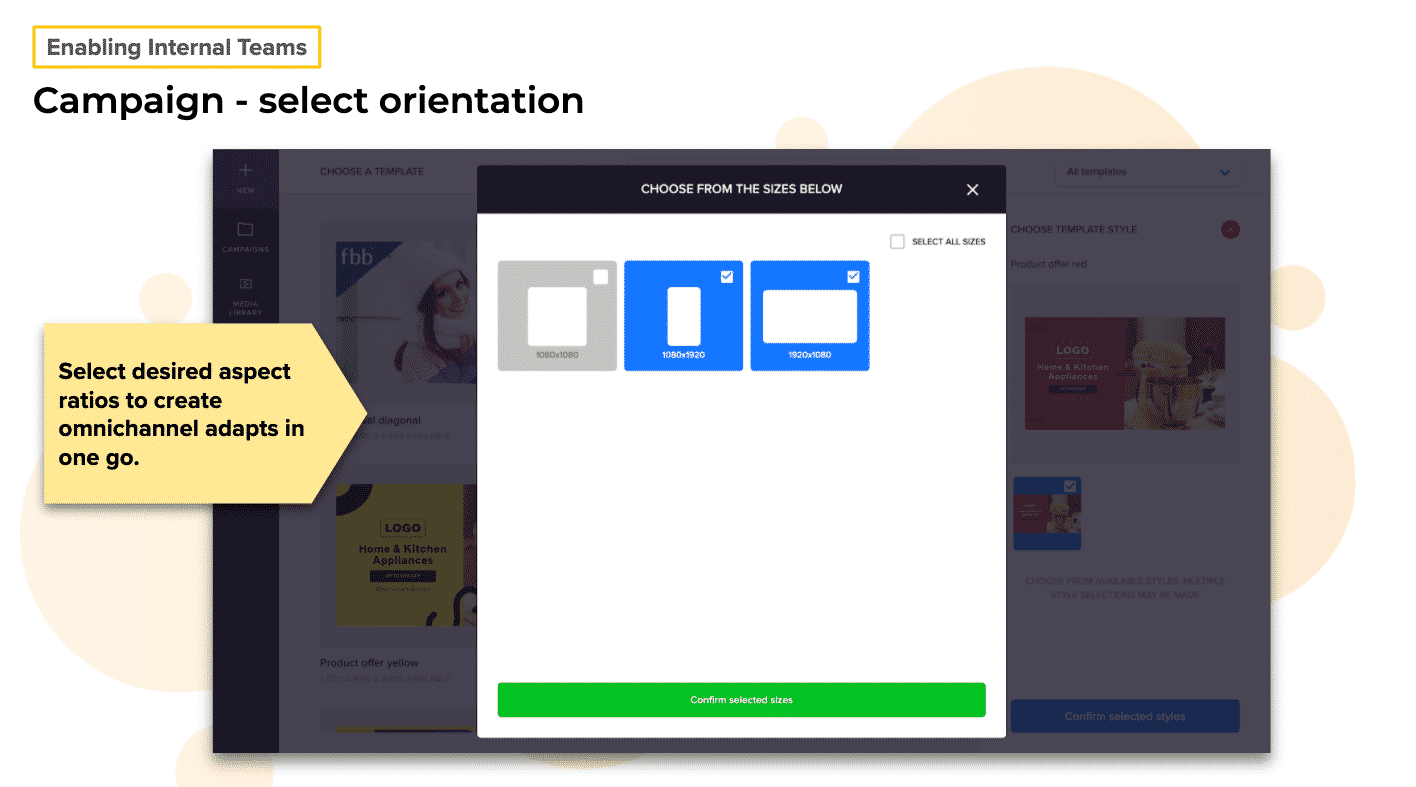 Automation with a minimal manual intervention using Campaign can be achieved in two ways:
Simple form-based interface to modify the inputs – text, image & CTA
Spreadsheet upload feature where information of product, text, CTA are listed on a spreadsheet separated by column & imported directly to Campaign.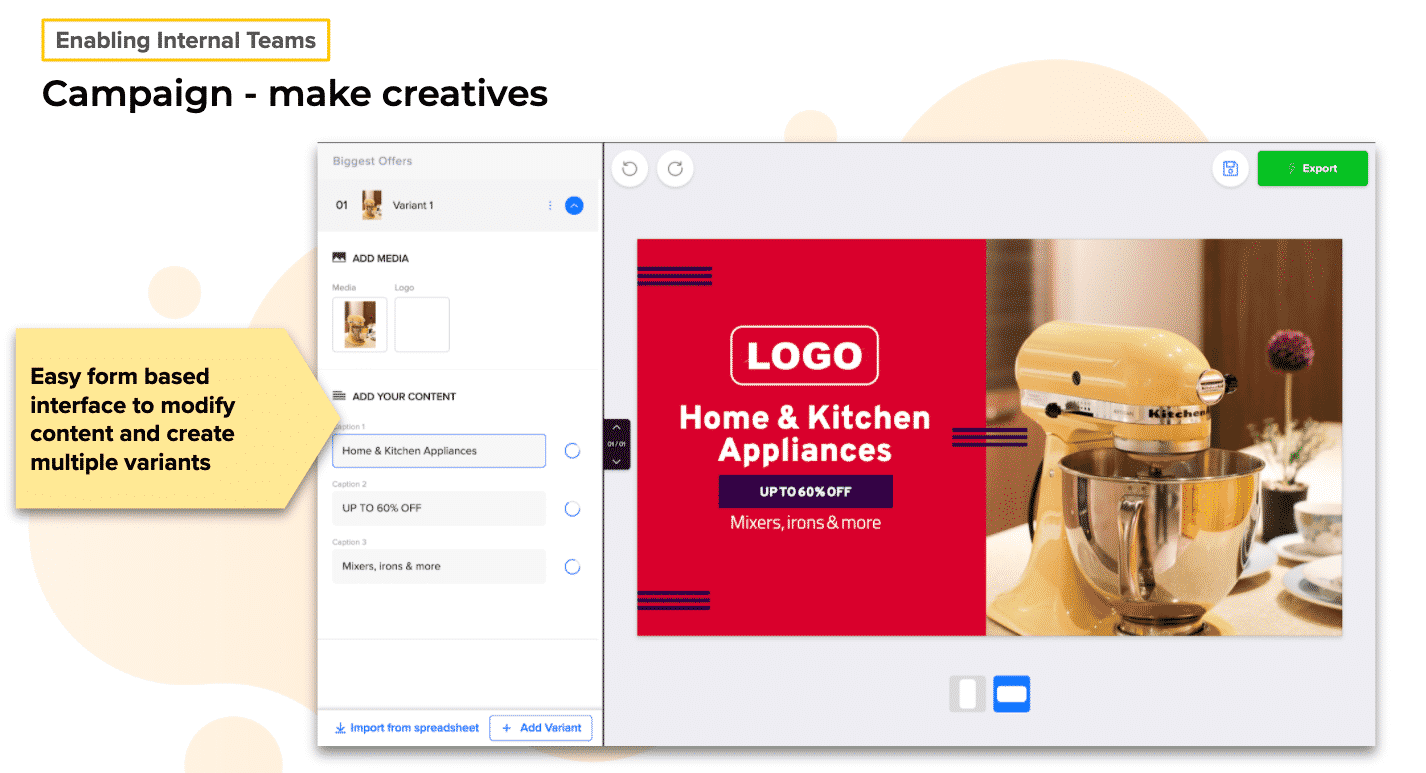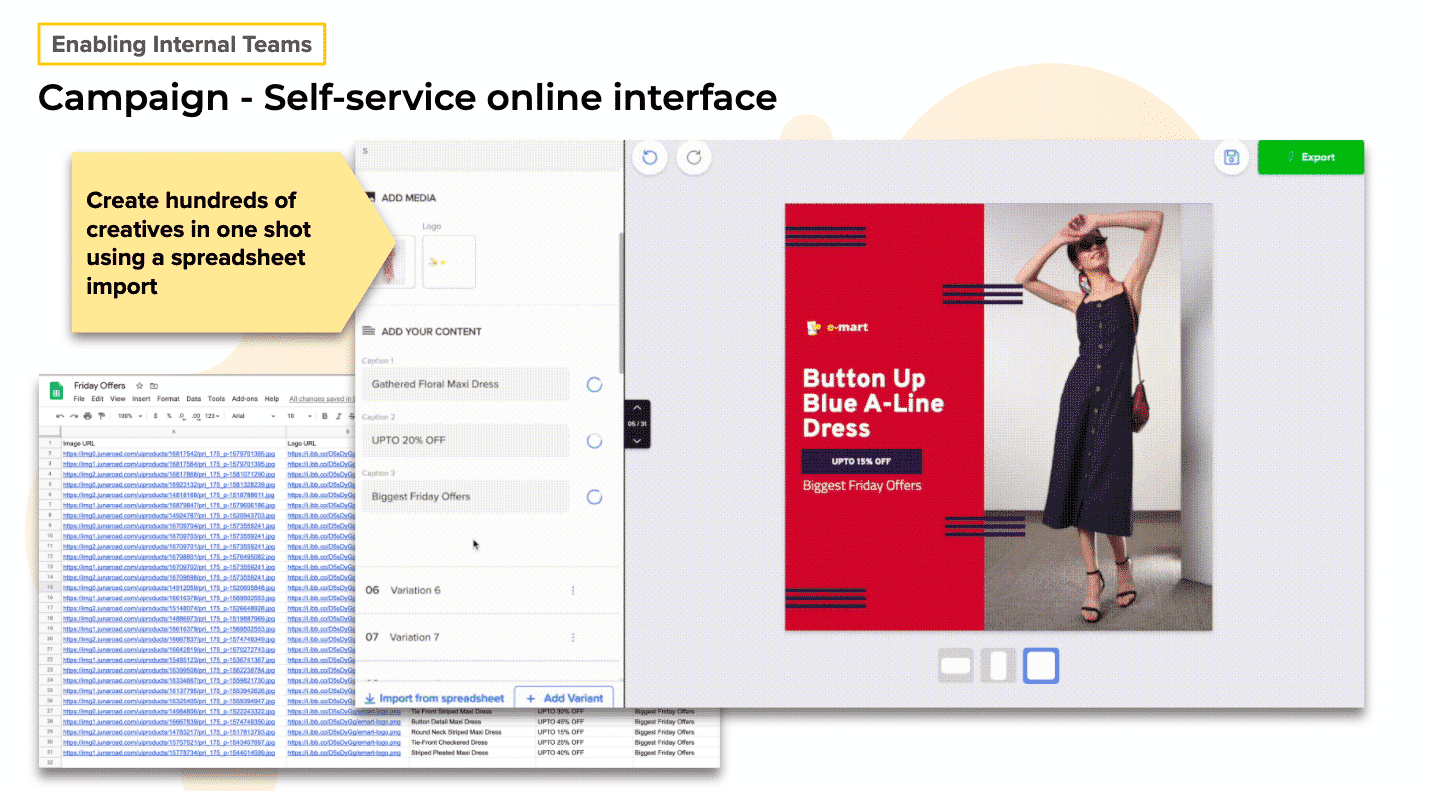 Intelligent template features include – Auto-fit for captions, Auto-align for layouts, & auto-adapts.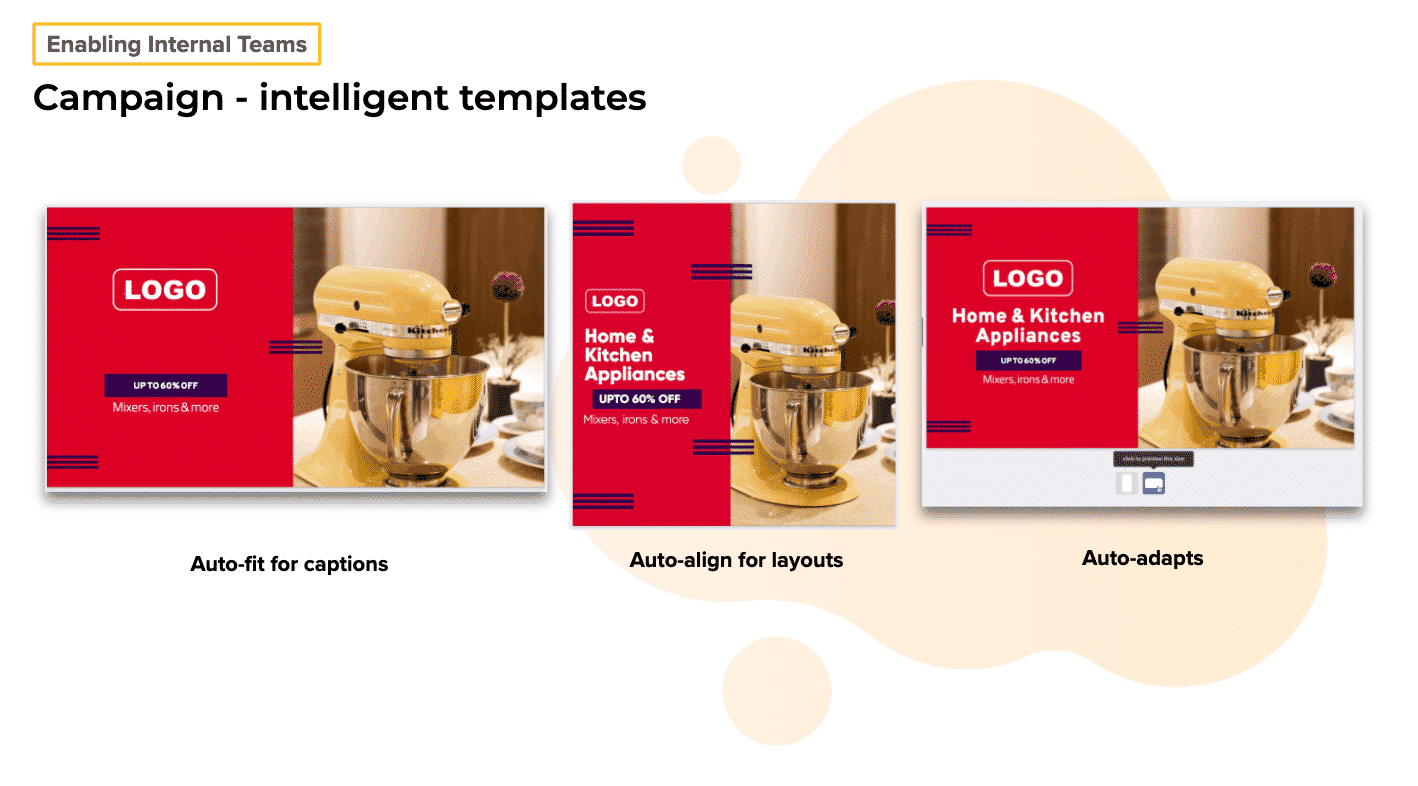 Case study
50+ designers of a large eCommerce platform use this technology to create 1000s of in-app banners and adapt each month.
The performance marketing team of a $1B home services marketplace creates hyper-personalised video and image ads.
The social media team of a large e-commerce company creates omnichannel social media creatives for their ongoing campaigns.
White-label Solution
When external partners are involved there always seems to be conflict over alignment on brand guidelines. To find a common ground, followed by lengthy follow-ups & approval cycles creates a roadblock in successfully meeting the campaign deadlines.
However, Rocketium's white label solution helps connect the two teams to reduce the efforts & comply with stricter brand guidelines while also enabling self-service.
The set up is similar to Campaign with controlled flexibility. It's white labelled & placed in the client's workspace where advertisers can log in & create a banner or video ad. The catch is that the features, access control & template guidelines are set by the eCommerce brand.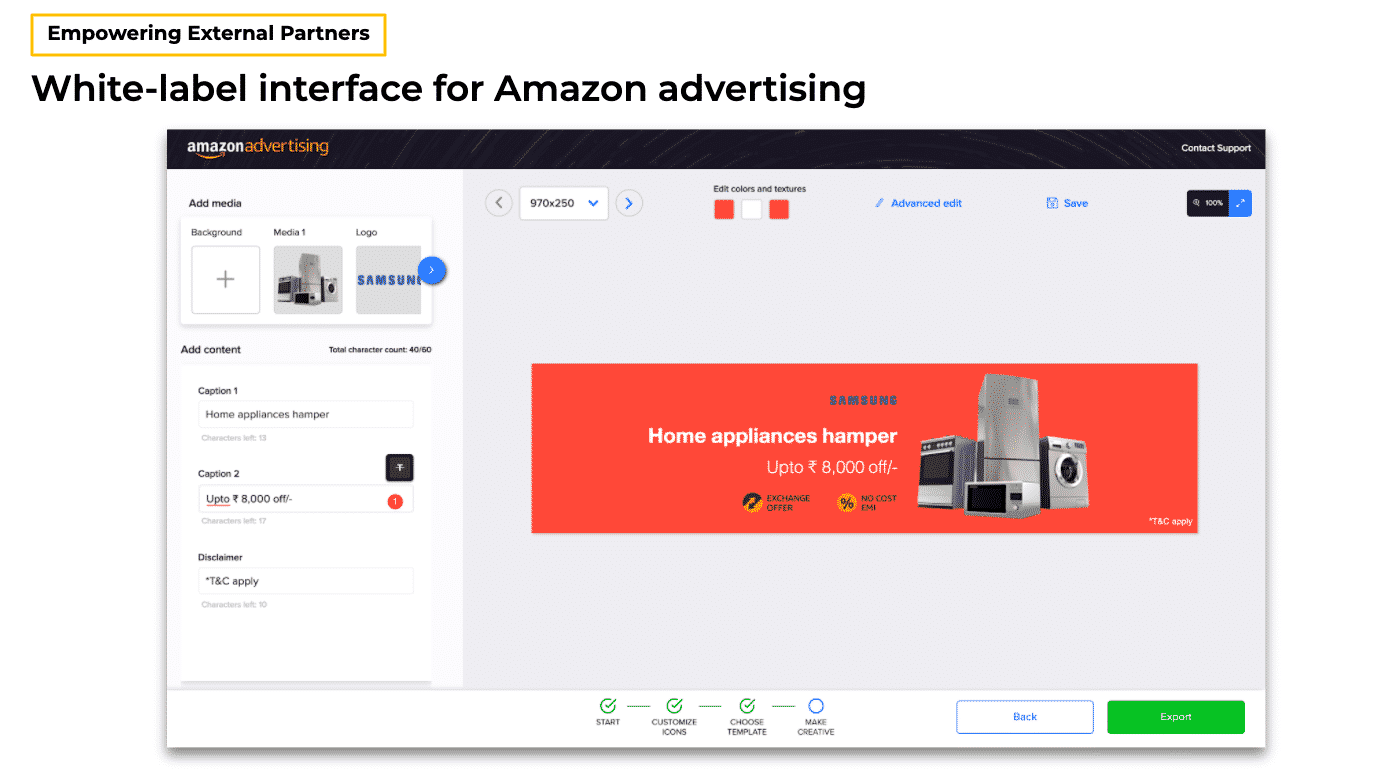 Case Study
An online fashion marketplace in the U.K. enables sellers to create short product videos for the listing page using pre-built templates.
A US-based car listing platform enables over 500 car dealers to create brand-compliant car listing ads in minutes.
A food delivery platform enables restaurants to create offer banners for its mobile app.
How does it save cost
The savings come from the plug & play aspect of the software where you don't have to build your own solution just Whitelabel our solution & plug it. You would be saving heaps on developers, designers & maintenance.
Automation using API
For eCommerce brands looking at implementing a solution with zero manual intervention API is the way forward. A brand with a database filled with structured data(products/listings) all of which can be converted to banners & videos using our API.
Customize, personalize banner & videos at scale, seamlessly.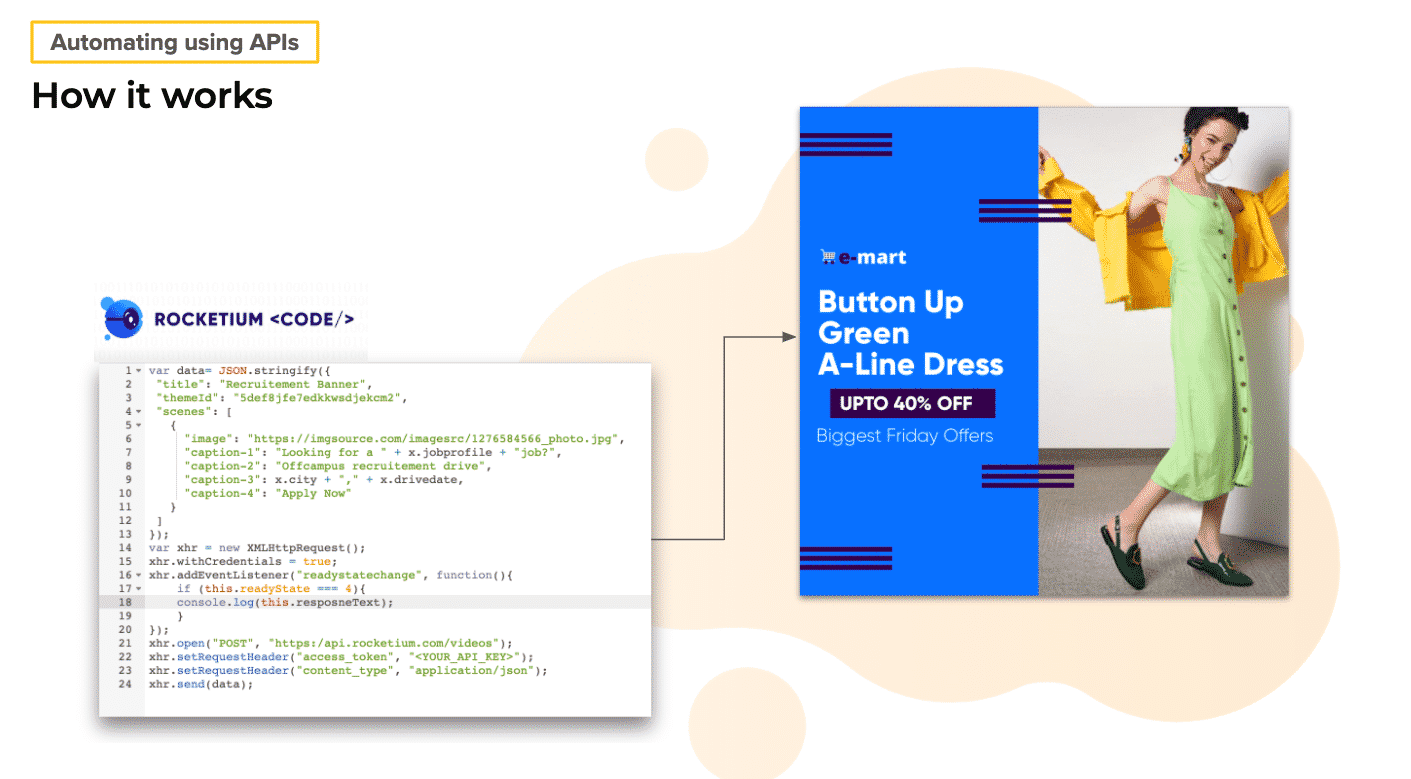 How does it save cost
When scaling creatives is a priority the cost per creative is always high because of the overhead costs such as management, licenses, the equipment etc. But, with automation, as the volume of creatives increase the cost per creative decreases.
Case Study
An e-commerce marketplace programmatically creates product catalogue videos for premium products listed on its platform.
A furniture retail company in Florida is using this technology to send personalized product offers to their 100K customers
A Korean e-commerce marketplace automatically generates abandoned cart gifs to send personalized emails.
How teams & partners benefit from Rocketium's solutions
Campaign – Internal team
Enable performance marketing team to create campaigns around awareness & acquisition at 1/3rd the cost.
Campaign – External partners
Enable sellers on the platform to create banners & videos that are in compliance with the stricter brand guidelines to create an efficient revenue stream.
API – both internal & external
Automatically generate videos & banners with no human intervention by making a call to our API to boost multivariate testing & personalized communication at scale.
[Video Recap] Automation of creatives for eCommerce to fasten campaign turn around time
Watch the webinar presentation & Q&A session.
Or check out the Slideshare below
Need more information?