Meet Milaap
The largest crowdfunding platform in India, Milaap is enables social development through an online peer-to-peer model.
This means that you can go on to their website, and kickstart fundraising campaigns for yourself, charities you support or even your loved ones. These campaigns can be for education, sports, healthcare, disaster relief or personal causes.
Milaap is soon becoming the go-to platform for funding cancer treatment, transplants and other critical emergencies.
How Rocketium fits in the bigger picture
For fundraising campaigns to be successful, Milaap wanted to figure out a way to go viral on social media. And we all have witnessed the how quickly videos blow up on social media and reach millions of views organically.
After reading this article about the power of videos on social, Shruti, the Content Head of Milaap came up with a really good plan to fit in videos in their content strategy.
Before I bore you with any more long-ass stories, check out the infographic (after all, this is what you're here for!):
Click here to get a TL;DR version of this infographic👇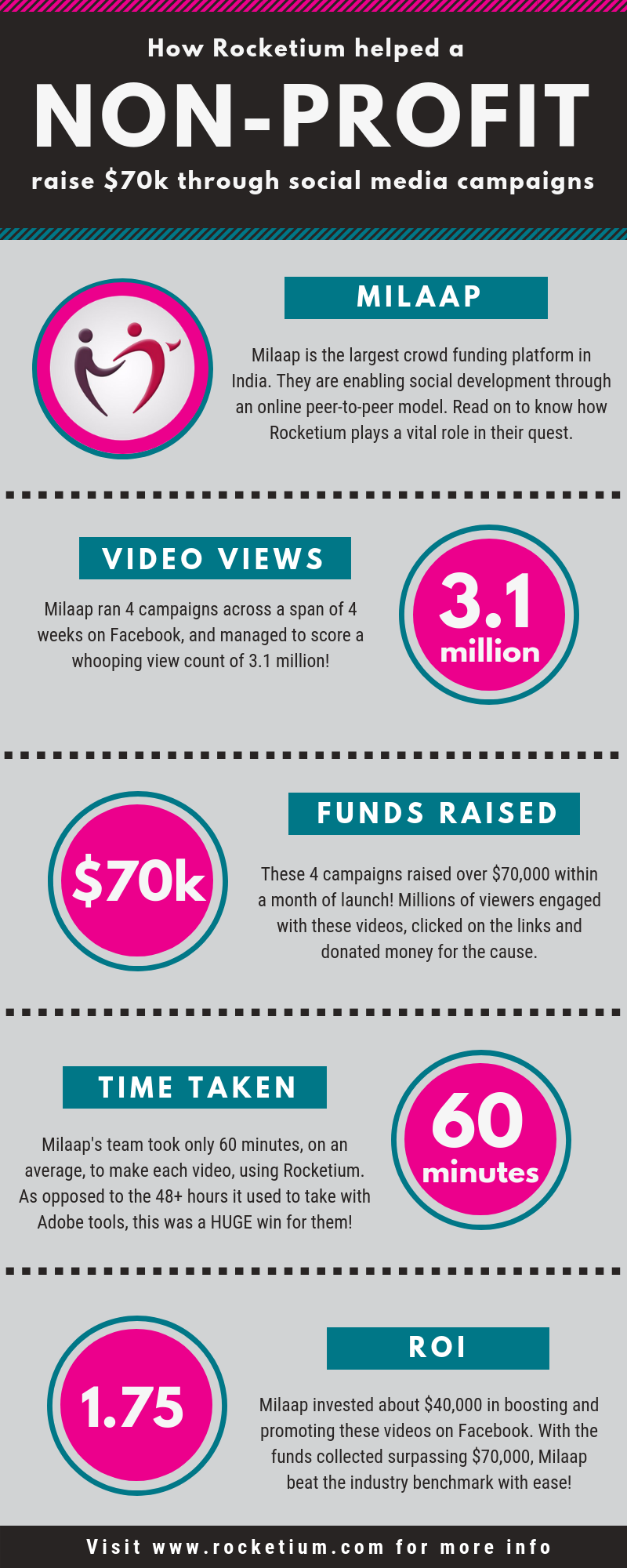 ---
Wanna see your stats blow up like Milaap's? 
---
TL;DR
Here is a quick summary of this infographic:
3.1 million video views on Facebook
When I got off the call with Ramthilak from Milaap, I was carrying the biggest smile on my face. This was because he had told me something so great, that it HAD to be shared:
"Pulkit, our team spent just 60 minutes making a video. We made it live a few days back. Today, we were really surprised to see that one particular video get 1M video views within a week! This has never happened to any of our earlier videos, and we spent days on Adobe trying to make them. Rocketium is a perfect fit for our strategy and our team loves it! We are highly motivated and want to make more and more videos."
$70,000 raised, positive ROI from Rocketium
Over a span of 4 campaigns on Facebook, the videos attracted many potential donors. Over $70,000 were raised with the combined efforts of these campaigns, and Milaap saw an ROI of 1.75!
After putting in about $40,000 behind sponsored posts and videos, the investment in Rocketium paid off. Shruti, the Content Head, was really excited when she shared these numbers with our team.
Today, Milaap's video team depends only on Rocketium to make videos for their social campaigns. They have moved on from Adobe Premiere Pro and After Effects after realising that they are making the exact same videos on Rocketium, in 20X lesser time!
---
We are offering a free 7-day trial of Rocketium. What are you waiting for?
---