Videos at scale, Facebook ads, $50K in donations.
Catalyst MDC operates a virtual bench of digital freelancers, consultants, and partners from Australia and around the world. They have a dedicated team working on digital advertising, content development, social media management, graphic design, and video production.
Bill, the head of planning and implementation, knew that video was eating all other content formats on social for breakfast and that conversions on videos were orders of magnitude higher than text or image.
After switching from Adobe to Rocketium, Catalyst increased social engagement for their clients by 12X, improved website traffic and user acquisition by 35% and saved over 40 hours of video production time. Check out this infographic below: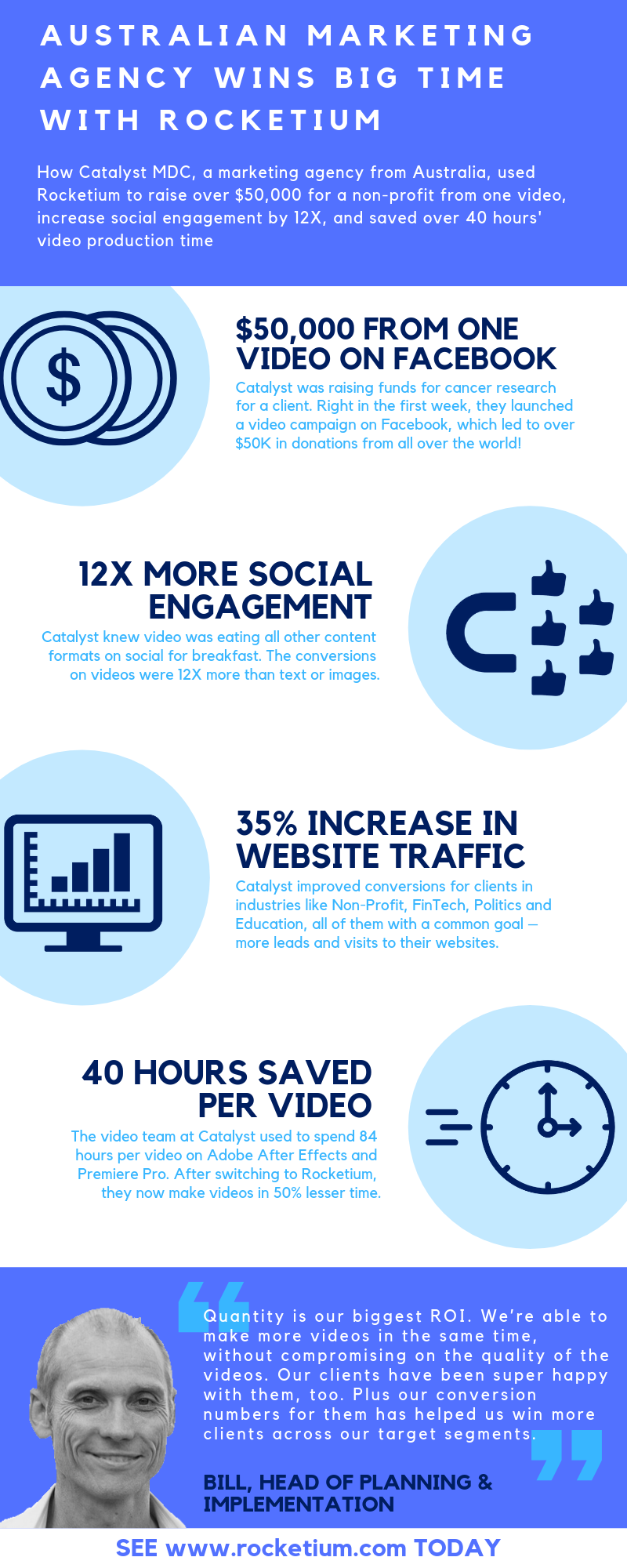 ---
Create thousands of videos at once!
Use Rocketium's video API to make multiple videos at scale in real-time. Easy and hassle-free integration in minutes.
Their challenge
The biggest challenge for Catalyst was producing videos at scale without compromising on quality.
Their team was spending 84 hours a month on Adobe After Effects and Premiere Pro.

Hiring more talent wasn't scalable or cost effective.

They were looking for a video tool that would be simple enough for content writers to use while churning out social-ready videos that are guaranteed to convert.
With Rocketium, they found magic --- and money!
Rocetium exceeded Catalyst's expectations on all three counts.
Right from the trial, it was evident how easy Rocketium is for non-designers.

Rocketium offered over 300+ effects and motion graphics for Catalyst's storytelling.

High-res videos in multiple aspect ratios meant Catalyst's team could use each video optimized for all their promotional channels.
The impact
Right from the first week, Catalyst was able to churn out amazing videos for the clients. This led to:
$50,000 in donations from just one Rocketium video for a cancer non-profit

40 hours per video saving

12x boost in social engagement for their clients across social platforms like

Facebook, Twitter, Instagram, and YouTube

35% increase in user acquisition and website traffic from social media
Rocketium features that killed it for Catalyst
1.

Custom templates and themes
In addition to the library of templates available in Rocketium, the flexibility to make your own reusable templates and themes is a huge time saver. This is what Bill had to say:
"Rocketium has practically no learning curve and fits in my budget. The other thing that I really like about Rocketium is the amount of customization it lets me have in my videos. We can cater to multiple clients' requests from different industries and verticals using one platform. This is a BIG win for us!"
👉 Checkout customization options available in Rocketium here.
2.

Article-to-video converter
Rocketium's built-in blog to video editor lets you bring in your own articles, and uses advanced machine learning and AI to map text and images to scenes in videos. This has proven, time and again, to be a HUGE time-saver for multiple agencies.
👉 Read more about our patented technology here.
3. Collaboration
In-app messages, real-time comments, and Kanban-style video management helps teams save cycles on reviews and approvals.
You can also import blog posts via RSS and use the article-to-video convertor to make multiple videos in minutes!
👉 Explore collaboration options here.
4.

Stock content
With a collection of over 2 billion stock images and footage, agencies don't have to struggle anymore to find the right photo, clip, or background track.
👉 Check out stock content options here.
Here's what Bill has to say about Rocketium
"Quantity is our biggest ROI. We're able to make more videos in the same time, without compromising on the quality of the videos. Our clients have been super happy with them, too. Plus our conversion numbers for them has helped us win more clients across our target segments."