We asked a large number of video marketers from around the globe what their key challenge was when creating videos.
The most common answer was: the video topic.
Most video makers complained that finding the topics to make videos on was a very time consuming and boring process. Figuring out what drives a user to play the video, watch it entirely, and then take the intended action (like signing up, or making a purchase).
So, a couple of us brainstormed and came up with the idea for A NATIVE CONTENT CURATOR!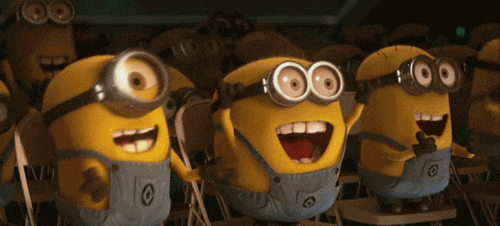 What does the Content Curator do?
This is your very own search engine. Enter keywords, and our bot will crawl the web to find you the most relevant and fresh content in (multiple languages) for you to be inspired by.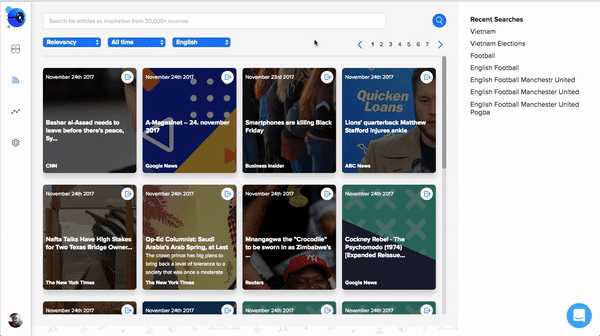 "But, wait, why can I not just Google the research material?"
We love Google. So much so, that we decided to bring a little bit of their awesomeness into our tool.
We made it nifty too, the curator integrates seamlessly into your video workflow and cuts down your research time when creating videos.
Meaning, you can directly import these articles in your video editor and get started on converting them to videos. You cannot do that with Google!
So, now you can set up keywords just like you do on Google except you don't have to rely on email alerts to start creating your video. Just pick articles and share it within the team that is working on the project without ever having to leave the Rocketium platform.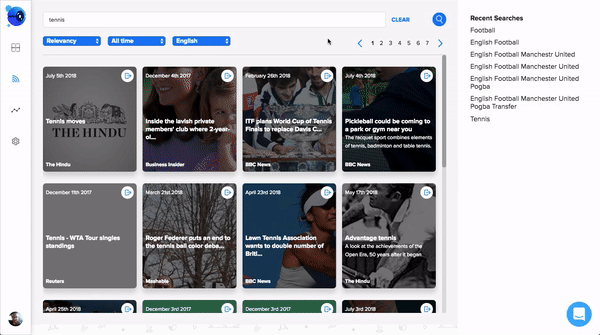 Features of the content curator
1. Recent searches
Access all your recent searches from the tab on your right so you and your team are literally "on the same page" when you are collaborating.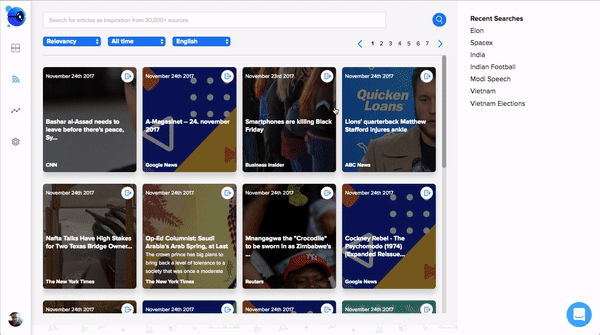 2. Refined search
Add details into your keywords to make it more specific and generate highly relevant results.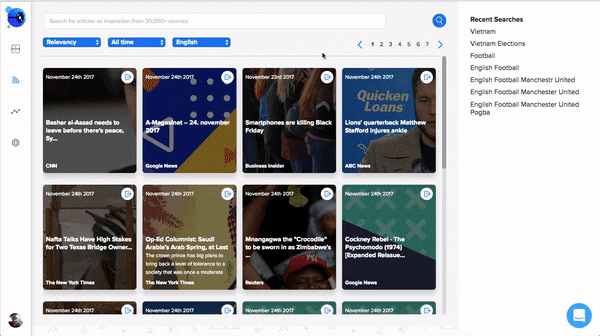 3. Multi-lingual search
Yep, that's right, we said multi-lingual.
You can search for articles in English, Spanish, French,German, Arabic, Chinese and Hebrew.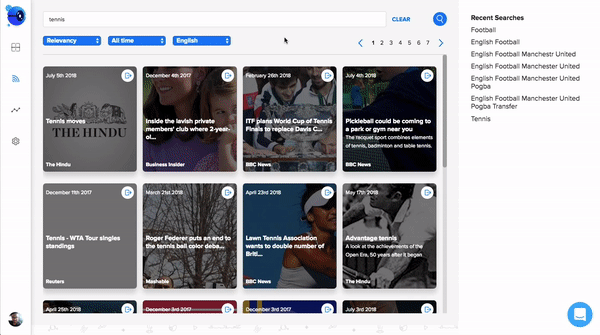 Psst.. want a different language? Just talk to us and we'll get it done 🙂