Introduction
Video marketing is taking over the online community in the last few years with more than 81 percent of organizations reporting to use video content for promotional purposes. It's not unusual to see such a vast interest in multimedia content as a part of marketing strategy since there's already a large interest in all sorts of video. In fact, recent YouTube statistics show that each day there is a billion views of various videos, solely on this platform.
As non-profit organizations need to use their resources effectively, it's of utmost importance to have a marketing strategy that will do the best with limited resources. That's why we've decided to share some tips that can help you send your message loud and clear to a great number of viewers.
Choose the right platform
Posting your video is like posting a billboard, only better. Billboards are stationary while online videos originate on one location but have the ability to pop up almost anywhere. YouTube allows you to embed the link to your video almost anywhere and reach a larger audience that way. Moreover, YouTube has a high traffic and allows you to organize your videos so visitors can easily find your previous uploads.
Make high-quality YouTube videos in 5 minutes with Rocketium.
Furthermore, platforms like Facebook and Instagram also provide a high level of traffic that you can utilize in order to reach the highest possible number of viewers. However, the choice of the platform should also include your target demographics. Not all platforms provide the same demographics in the same extent. Per example, if you're looking for an audience located in the US, you should know that Americans are mostly active on Facebook. In case you're looking to reach Millennials, the younger generation worldwide spends their online days mostly on Instagram and Snapchat.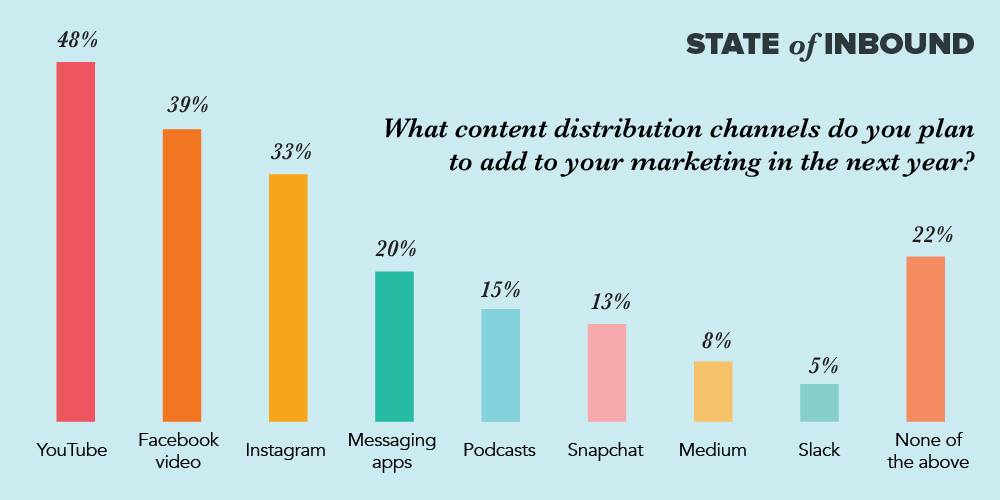 Storytelling
People suck up stories like a sponge sucks the water. Think about the message that you wish to convey to your audience and try to translate it into a visual concept that you can further elaborate into an engaging script for a video content. You could hire an online essay service that could help you in case your storytelling skills are not at the highest level. All you have to do is explain the purpose of your video and let someone with experience do the work for you.
Good storytelling can be achieved through storyboards. If you're good at sketching, present your story in a series of sketches that you can then turn into video more easily.
Adequate format
There are numerous video formats that you can choose from: vlogs, unscripted videos, documentaries, interviews, sketched scripts, etc. All these formats are popular online and have a good audience reception. According to some statistics, Live video will hold 13 percent of online traffic by 2021. Depending on your message choose the video type that most suits your needs.
Save the Children project developed a "one second per day" video which included short, one-second cuts compiled in a single video that depicts how war influences the lives of children. This unusual approach allowed the video to generate more than 60 million views on YouTube.
Rocketium can help you make such gripping videos in simple steps. 
Use real stories to tap into viewer's emotions
In order to make people care about your cause, it's necessary to trigger an emotional response. Arguably the best way to touch someone's heart is to present a realistic story, based or inspired by real events that don't get enough public coverage.
ManKind Initiative did an amazing job with their video that shed some light on the issue of men being abused by women. Their short video showed parallel stories involving a man and a woman and how the public reacts to a woman being harassed by a man and vice versa. The video generated millions of views and started an extensive public debate on the topic of domestic violence.
Do your research
Coming up with the best solution for your video should also include a research of already published videos. You can see what types of video content had the best results in terms of views, reach and audience engagement. This doesn't mean that one should simply rip off other people's work, rather use those sources for inspiration to create your own video according to your own production potential.
Some nonprofits have larger project budgets than others, so if you like the idea behind a high-budget video, it doesn't mean that with a bit of creativity you couldn't achieve the same results with a lesser budget.
Educate the viewers
Just because you're passionate about a certain cause doesn't mean that people around the world share your passion or even have an idea of the problem you're trying to address through your campaign. That's why it is necessary to inform your audience through the video and educate them on the importance and issues related to your cause. Only when people fully understand why your project is important will they be willing to take part and truly care about what you do.
Call-to-action
The purpose of your video should be informing your audience, reaching out to their emotions, and act according to your needs. That's why it's of paramount importance to have a clear call to action that will make the audience understand what you are asking them to do upon watching your video.
Also important, don't have too many requests that would make you look needy but also confuse the viewers regarding the actual purpose of your campaign. Make a strong, easy to understand the call to action that would benefit your campaign goal. Calls for action may include asking people for a donation, taking part in your work, learning more about your cause, or simply sharing your video to help you inform even more people about your work.
Mind the audience
Non-profits can sometimes deal with a sensitive audience, so think about potential triggers in your videos. Placing disclaimers or working on the script to make it acceptable to a more extensive group of viewers is a good strategy. However, not all triggers are bad, some non-profits use emotional triggers to raise more funds. In addition, think about the language you use in order to express your message. If your video is dedicated to a younger audience then try to structure your message both visually and sound-vice in a manner that's easy for young people to process and identify with.
An interesting story that shows the power of addressing the right audience is about a cancer survivor, Carry Rubenstein, who developed a nonprofit that helps terminal cancer patients leave goodbye videos to their friends and family. Carry decided to contact hospitals in order to promote her project, which turned out to be an excellent idea. The success and coverage Carry obtained for her cause would not reach such a high profile if she decided to reach out to a different audience like college students or investment bankers.

Make your videos visible
Social networks are a great platform for extending the reach of your campaign. There are currently more than 3 billion social media users worldwide. Facebook alone has more than 8 billion video views on a daily basis, just think about the potential that fact holds for your campaign. Additionally, use your mailing list to send videos to people who really care. Mailing lists are especially powerful because they include people who already had some sort of engagement with you. Therefore, it will be more likely that someone who is already acquainted with your work will watch and potentially share your video.
It's also not a bad practice to collaborate with online influencers, especially those invested in a niche that relates to your cause. Influencers have a high volume of traffic and a large audience that shares their work all the time. Additionally, working with a high-profile influencer can raise the public trust for your nonprofit, which is important if your organization is not well-known in the outside world.
Pay attention to audio component
Videos are more than just a visual experience, the sound plays an important role in delivering your message. Think about inspirational background music or sound effects that will captivate your audience. There are many online places where you can download various types of music samples to place in your project. In case you have access to a larger budget you can even hire someone to produce audio tracks for your video. Original music score will make you stand out from the crowd, but it can also be a signal of the seriousness of your dedication to the cause.
You can also add a touch of personalization by adding voiceover to your videos.
Use YouTube non-profits feature
As a large company worth billions of dollars, Google is able to help people around the world and those who look for a way to do some good in this world. As a result of Google's public concern, YouTube, as a part of Google, developed a special program that helps nonprofits make the most of their video marketing campaigns.
YouTube Impact Lab provides a series of features that are not available to standard uploaders. As a nonprofit, you get the chance to use "donate" or "call to action" buttons, as well as a number of additional features like tips and help with producing your video. There's also a lot of already made videos that you can use for inspiration to create a stunning video for your campaign. Moreover, there are tutorials and tips that will help you reach a larger audience and hit your target demographics.
Plan pre and post-production process
Creating a video is more than just picking up your camera and working on your story. It includes a series of planning, organizing, and a whole lot of dedicated work after all of the material is captured. Depending on your budget, shooting the video can be really expensive. Paying for the equipment, locations, and the staff is a costly endeavor and not many nonprofits have the means to finance such a project. Additionally, when shooting outside there is always a chance for some external factors to put the shooting on standby, like rain or some other interference that can make you pack your equipment and stop the shooting.
However, producing a video can also be achieved with a limited budget that doesn't include spending money on filming. There are online stock video and photo galleries that you can use to download free or low-cost videos and use them to create your own story.
Hook the viewers
Research indicates that current attention span revolves around 30 seconds. This means that if you don't grab the attention of your viewer in that initial first half-minute period, it's likely that your message will not be received in its entirety. Keep this in mind while working on your video because each view counts. Make those initial 30 seconds as informative and compelling as possible in order to motivate your viewers to keep watching the entire video.
There are plenty of examples that portrait the use of hooks in advertising. Even Google provides a 15 seconds period during which the viewers are unable to skip the commercial. The reason for this is exactly because that's how much time it takes for a viewer to decide if the video is worth watching.

Conclusion
There is no universal recipe for success, however, there are some best practices and statistics that can guide us through campaign development. There are so many other ways to build a good marketing strategy, however, these are most effective by our account. Nevertheless, take all these pieces of advice with a grain of salt, and if they don't work for you, keep searching or better yet, create a strategy on your own. The goal should be reaching as many people as you can and engage them in taking part to support your cause. The road you travel to accomplish this goal is your own.

Let your stories create an impact in the world with the punch of videos.