After setting up a news videos platform, the next challenge for digital journalists and online publishers is getting more traffic and views to their breaking news video.
Off-site news videos consumption is growing faster by the day. Many publishers' news videos had 75–100 million views on social media, far more than they could ever have expected using their own websites!
Here are some news video marketing tips that will help you boost your video metrics on social media:
SOCIAL MEDIA
A report compiled by Hootsuite and We Are Social showed that there are 3.028 billion active social media users around the world as of August, 2017. That means ~40 % of the global population is using social media.
If you want to look for an audience for your breaking news video, it is out there on social media.
About 67% of American adults rely on social media platforms for news. In the United Kingdom this number has gone up from 16% in 2014 to 22% in 2017. In Spain it has increased slightly faster, from 17% to 27%.
Across countries, large demographic divides in how often people use the internet and social media for news
What topics work well on Social Media?
Judith Argila, a Journalism Fellow at the Reuters Institute for the Study of Journalism, conducted content analysis of the 134 most successful social media breaking news videos in February 2017. Here are her findings:
Politics (24%) and Lifestyle & Celebrities (22%) were the topics that featured most highly
Health and Education were at 17% followed by,
Business (11%),
Art & Culture (7%),
Environment, Crime & Security, Science & Tech, and Sport at the bottom of the table at 2%
Texted short videos, i.e. less than 2 minutes where text narration is used over a sequence of images/video clips, without a voice narration, is the most successful type of video in Facebook, Twitter and Instagram.
Are there any good practices for posting videos on Social Media?
A few factors that influence a user to watch videos are:
Video title,
Thumbnail of the video,
Duration,
Brand name
Select your video title wisely, because it should relate to the content of your video. Putting up click-bait video titles and thumbnails may result in users reporting your videos for misinformation. Make short videos (upto 2 minutes). This is a study on how long your videos should be by Wistisa: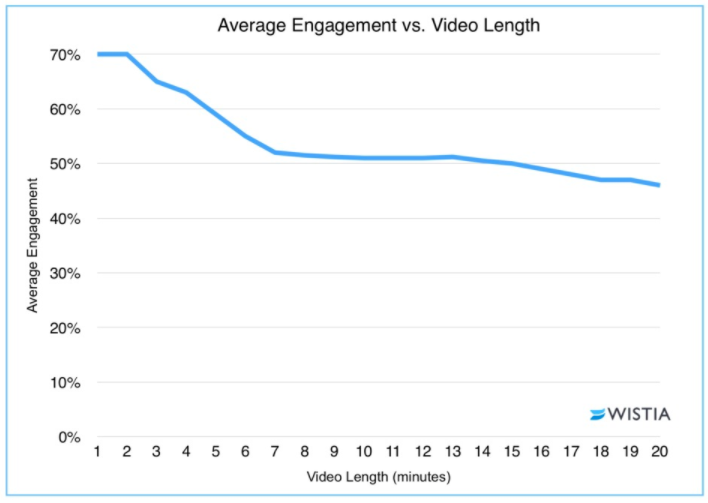 Every video on social media has dedicated space for a description. You should use this space to put up links of detailed news pieces from your own news platform, related to the video.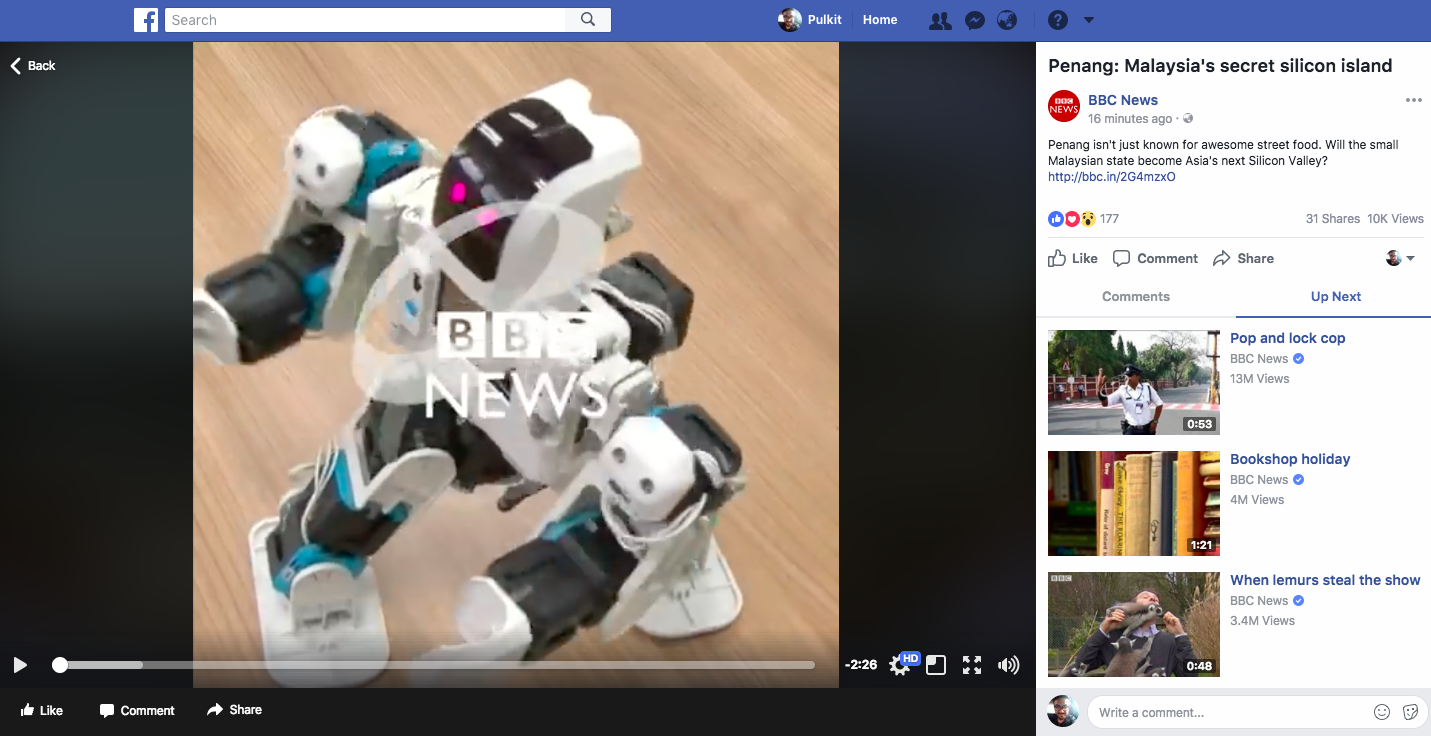 The average number of mobile YouTube video views per day is 1,000,000,000.
73.7% of Facebook users worldwide accessed Facebook via mobile in 2017.
You cannot ignore the fact that in the coming years, the number of users who access social media on their phones is going to increase. Your videos need to be in an orientation which looks the best on mobile phones and on a desktop. You can make videos in 3 different orientations: landscape, square and portrait.
Also, if you are going to link your news platform to the breaking news video you're uploading, then you need to make sure that your website is optimized for mobile phones. If not, the precious clicks you have received will not yield any results because the next button they're clicking is BACK.
How do I know things are going well?
The most common metric you can use to measure the success of a video is video views. But a serious problem arises when you compare audiences across different social media platforms, because every platform has their own definition of a "viewed video".
The definition of a viewed video involves factors such as how many seconds of the video have been watched, whether the user clicked play or the video autoplayed, or what percentage of the video player was visible in the user's screen at the moment of watching.
If your goal is to drive traffic to your news platform, then the number of views or the amount of minutes your video has been viewed goes to the backseat. The number of clicks on the links is the primary metric you need to track.
What Social Media Platforms Are Good to Promote Your Breaking News Video?
Facebook
Facebook gets over 8 billion average daily video views with 500 million people watching 100 million hours of Facebook videos every day.
Videos on FB receive 135% more organic reach on average than an image. Videos earn the highest engagement rate, despite making up only 3% of content. This means your breaking news video will have a higher chance of reaching to a larger audience in lesser time when you compare other video platforms.
YouTube
YouTube has 1.5 billion logged-in monthly users from over 90 countries who watch 1 billion hours of video content everyday (Source: Expanded Ramblings)
It is the world's second largest search engine. Among millennials, YouTube accounts for two-thirds of the premium online video views across devices. If you are publishing a breaking news video that appeals to the 18+ age group, YouTube is a wonderful platform to experiment with.
Here is a wonderful infographic created by our friends over at Vlogging Guides. It has a lot of statistics that highlight the importance of YouTube as as a platform to get more views for your videos. Do check it out!
Snapchat
178 million daily active users watch 10 billion videos daily on Snapchat. Between Facebook, Instagram, Snapchat and Twitter, Snapchat was the most preferred social network among teenagers in the United States.
Snapchat videos generate around 10 billion views everyday. Snapchat video ads receive 5X more swipe up rate than average CTR on comparable platforms.
Instagram
Instagram has 800 million monthly active users, and 500 million daily active users. Search interest is 3X higher for Instagram stories than for Snapchat stories, and brands post 2X as many Instagram Stories than Snapchat stories.
Sponsored Instagram videos garner 3X as many comments than sponsored Instagram photos.
90 percent of Instagram users are younger than 35. Once again, this is a great platform if your breaking news video targets a younger audience.
Twitter
With more than 40 languages supported, Twitter has 330 million monthly active users (MAUs).
74% of Twitter users say they use the network to get their news. Tweets with videos are 6 times more likely to be retweeted than tweets with photos, and 3 times more likely to be retweeted than tweets with GIFs.
Reddit
Reddit has 8 billion monthly page views with 542 million monthly users browsing more than 850,000 subreddits from 217 countries.
58% of Reddit users are between the ages of 18-29.
---
Rocketium makes it extremely easy to create a breaking news video within a few minutes. Do check it out.