NEW FEATURES
---
Walkthrough

Curious to find out what that button does? Want to know what this feature is? Lost yourself while creating a video for the first time?

You will find indicators all over the Rocketium editor now.

Clicking on them gives you the required information you seek.


You can access the help centre from within the editor itself.

Facebook Ads

You can now use Rocketium to make ads for Facebook and add them directly to your Facebook Ad Library.

How this works:

After you publish your video, head over to the Dashboard and click on the "Share" button next your ad.
Once the pop-up opens, select Facebook, and then in the dropdown select Facebook Ads.
Connect your Facebook Ads account.
Give a title to your video and add some description. You can select multiple pages by selecting the dropdown.
Click on Share Video and your video will be added to your Facebook Ad library.
NOTE: To access your video in the Facebook Ad Library, follow these steps:
Select a Marketing Objective (Awareness, Consideration or Conversion)
Click on Ad in the left panel.
Choose Single Video as your ad format.
Scroll down (just a bit!) and click on Browse Library.
You will find your Rocketium video here.
---
UPDATES
---
The Templates option has now moved to the Themes tab.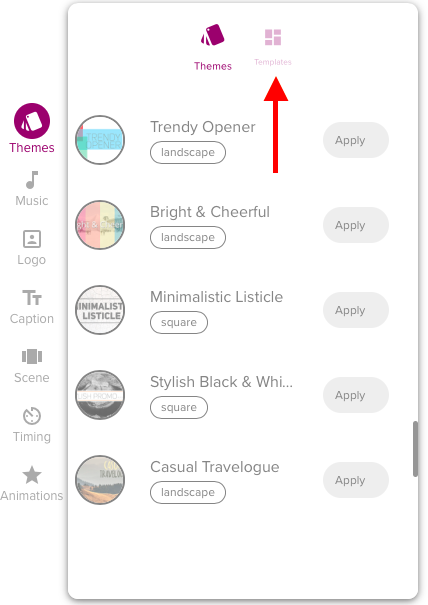 Lets say you select the "Trendy Opener" theme. This tab will breakdown the theme into its different scenes. You can then choose to apply the settings of any scene of "Trendy Opener" to your current scene.